Jump to recipe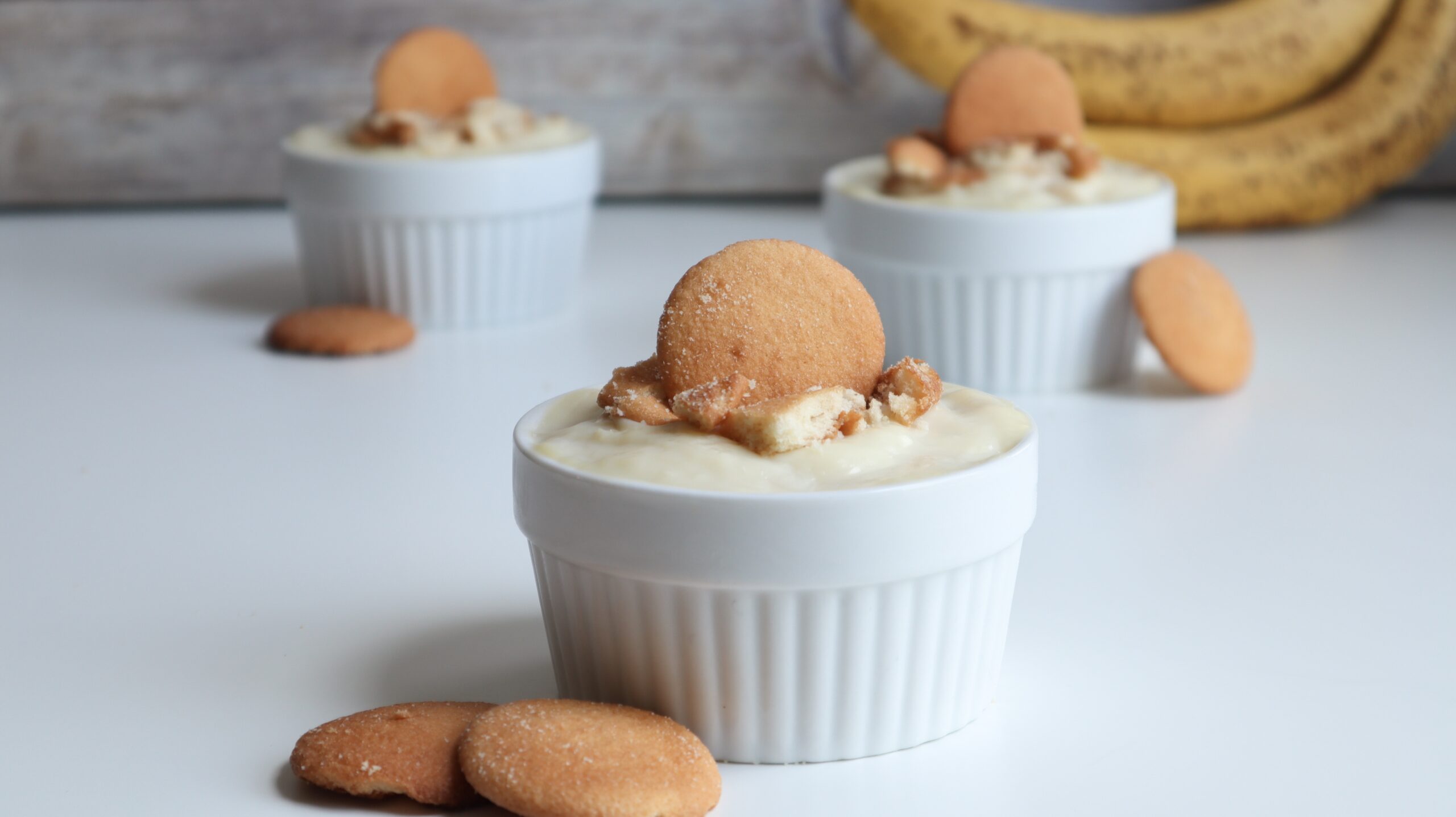 This Banana Pudding is one of the easiest desserts to make during this "quarantine time". It reminds me a lot of the "Venezuelan Marquesas" I used to make with my cousin when we were about 10 years old. It was one of the first desserts we learned to prepare on our own without an adult present! HA! It was so good and so easy. We used to make it with layers of chocolate pudding and Maria cookies.
If you want an easy dessert this weekend, or something easy to make with the kids, this is seriously the easiest Banana Pudding Recipe and it is made from scratch with items you probably already have in your kitchen.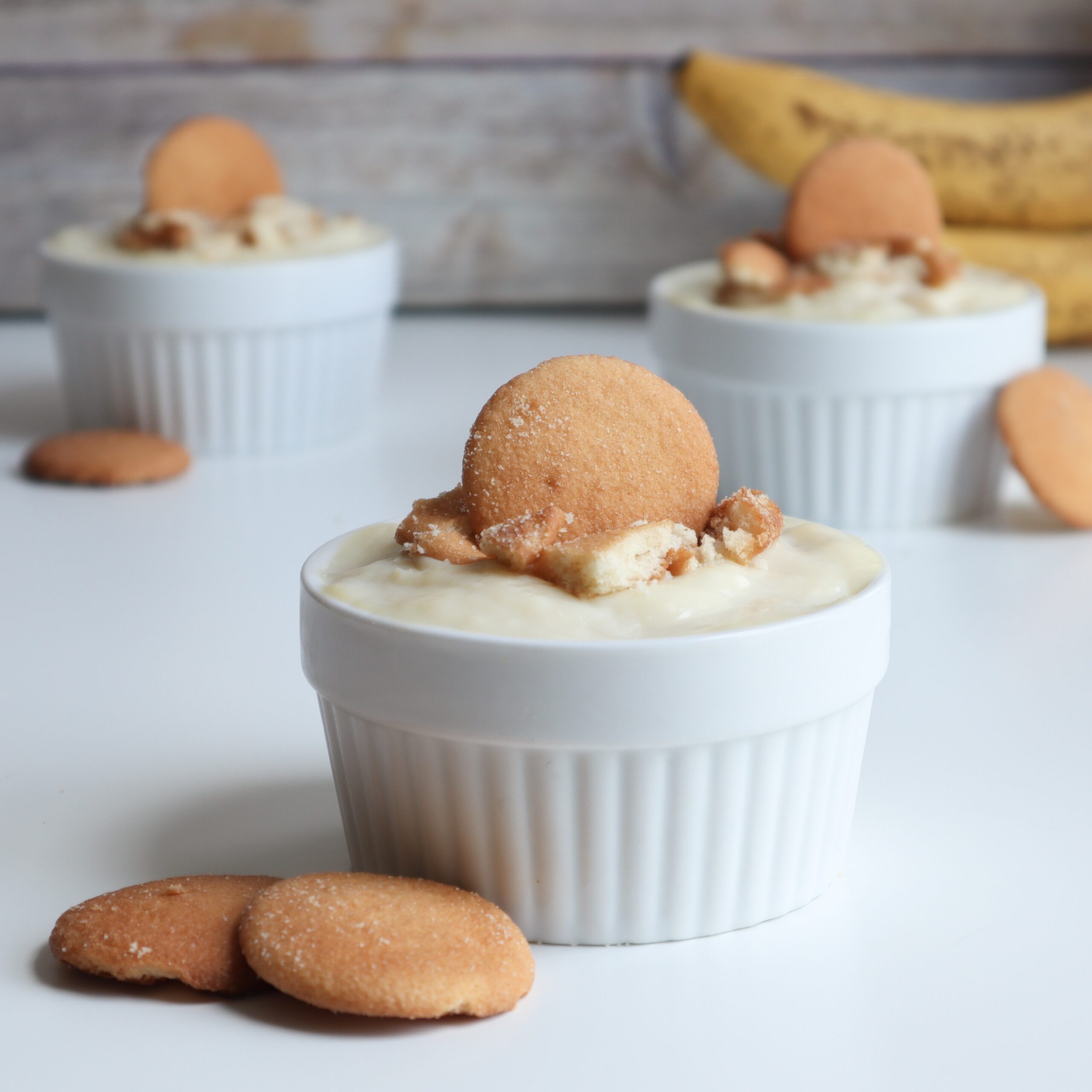 During this quarantine times its not easy to find flour or yeast, so this recipe is ideal, it has NO flour, NO Yeast! 🙂 Win Win!
This recipe for Banana pudding has only a few ingredients and the only thing you really need is a sauce pan and a bowl, no need to turn on the oven or grease pans or mix endlessly.  All ingredients with the exception of the banana and the cookies are mixed on the sauce pan, heated until it boils and becomes thick. Then all you need to do is layer on a bowl with the bananas and cookies in ramekins (I like these ones!) or a glass bowl (like this one!)
I've never had Banana pudding ever in my life before until I tried it from Magnolia Bakery in NYC. I doubt mine is on that same level, but I am pretty sure it is good enough to satisfy my craving. You probably can add whipped cream or meringue on top to make it fancy. I honestly wanted to keep it simple for today.
I wish I could have taken more pictures of the whole process for you all, but as I am trying to learn to create videos, I it is all a mess every time I try it so bare with me until I figure this out or feel free to send me tips and ideas 🙂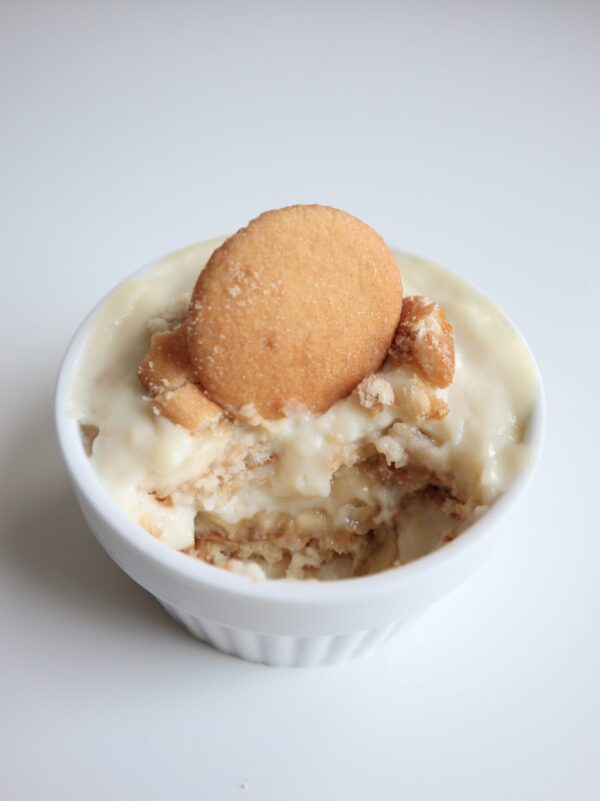 Ingredients
2 cups milk
1/4 cup sugar
2 egg yolks
3 tablespoon cornstarch
1/4 tsp salt
1 tsp vanilla extract
1-2 medium bananas (not super ripe, it needs to be firm)
1 cup Nilla wafers (Vanilla wafers)
Whipping cream (for topping, optional)
Instructions
In a 2 quart sauce pan mix milk, sugar, egg yolks, cornstarch and salt and cook under medium heat whisking constantly until mixture becomes thick and starts to bubble.
Continue whisking to avoid milk from burning on the bottom of the pan.
Once it is think enough to cover the back of a spoon, remove from the heat and add mix in the vanilla extract.
Let cool for 15 minutes before layering.
Serve a layer of pudding in ramekins, followed by a layer of vanilla wafers and sliced bananas, repeat layers of pudding, vanilla wafers and bananas until reaching the top. You can also use an glass bowl or pan to layer the dessert.
Top with crushed wafers and refrigerate for at least 4 hours. Serve cold.
Banana pudding will hold for up to 3 days in the refrigerator.