Traducir a Español
Jump to recipe
Ok guys, I know lately it is all about the cookies, but I still have the Christmas fever going on! I will be short with these…This is my master recipe for any kind of sugar cookie, if you are looking for a simple sugar cookie just complete the recipe until the baking of the cookies in the shape you prefer, with sprinkles, with chocolate sprinkles or anything you want to add on them. If you'd like to sandwich them and make more magic happen then just keep going with the entire recipe!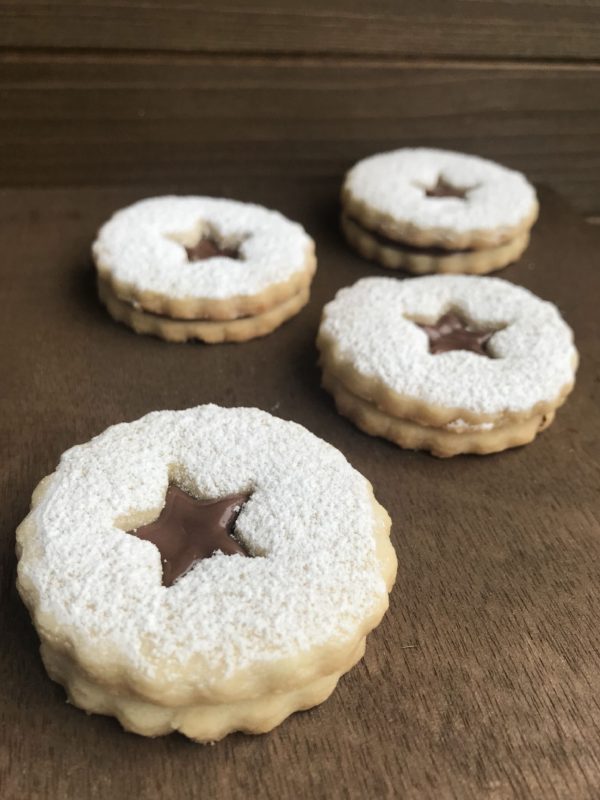 These cookies are originally Linzer Cookies, with the difference that Linzer Cookies have grounded/chopped almonds in the dough. I decided to make them with the plain old sugar cookies and we became addicted to them. It is also a nut-free recipe if you skip the Nutella.
When working with Sugar Cookie dough I like to keep it cold. Minimum handling of the dough, and rolling it out between two wax papers. This helps me have an even thickness and lift the cookies easier after they are cut. Cold dough is SO MUCH EASIER to handle than room temperature dough. The wax paper also prevents the rolling pin from sticking to the dough and avoids extra flour going into your cookie which can make it hard and dry. Overall, cold dough + wax paper for rolling = easy to make sugar cookies.
After placing the cut cookies on the sheet and before baking them, I always put them in the freezer for about 3-5 minutes until the cookies are frozen. After, they go straight into the preheated oven. I find this to be extremely helpful because it makes the cookie keep its shape, specially for cookies that have more difficult shapes (stars, letters, man or animal shapes…)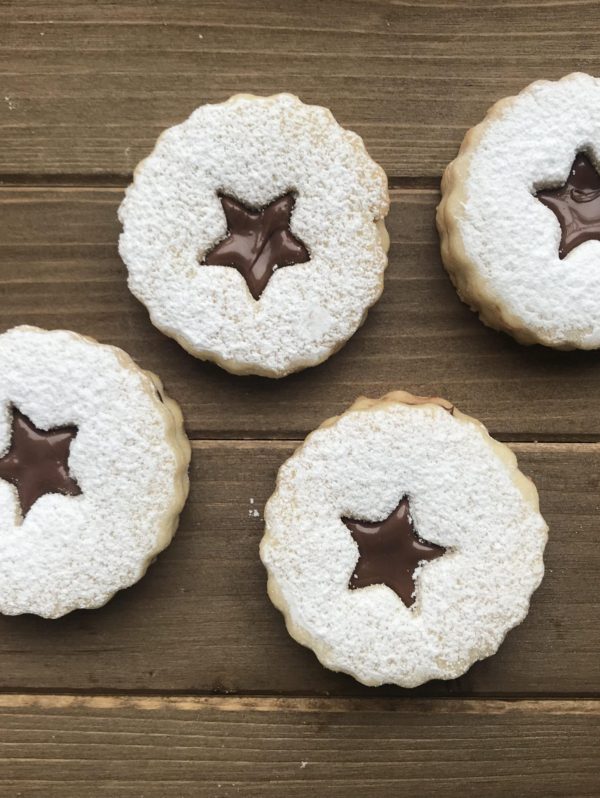 Here you will get one recipe, many flavors as you can change the filling to anything you like. Strawberry jam, peanut butter, dulce de leche, fruit preserves…anything you like and anything your guests like too 🙂
Ingredients
3 cups flour (Do not pack firm)
1 tsp. baking powder
1 cup unsalted butter
1 cup sugar
1 large egg
1 tsp. vanilla extract
1/4 tsp salt
Nutella, Strawberry Jam or filling of preference
Instructions
In a medium bowl mix dry ingredients: flour, baking powder and salt.
In the bowl of an electric mixer with a paddle attachment beat together unsalted butter and sugar until light and fluffy, about 2 minutes. Add in egg and vanilla, mix until well combined.
With the mixer on low speed, slowly add in dry ingredients 1 a cup at a time. Mix until dough forms and begins to come together and is well combined.
Take it out on the table, roll it into a disc and wrap it in plastic wrap. Refrigerate for about 30 minutes. You want the dough to be firm and cold but not hard. If it is too hard let sit on the counter for a few minutes until it softens up and becomes easier to roll.
Line a cooking sheet with parchment paper and preheat the oven to 350F.
On a clean, lightly floured surface roll dough to 1/4 inch thickness. I usually work with one half of the disc at a time. Using your favorite 3 inch (7.5cm) cookie cutters, cut rounds, triangles or squares and place them about 1 inch apart on the prepared cookie sheet. Using a smaller cookie cutter with the same or different shape, cut the centers of half of the cookies on the baking sheet. It should be every other cookie so you can have even amounts of the bottom and top cookies. Working with the same dough, form a ball and roll again to cut out the remaining cookies. Repeat with the other half of the disc.
If before baking the cookies you see they are TOO soft and shiny, place the baking sheets in the freezer for a couple of minutes to chill the dough. This will help the cookie keep its shape and not spread so much when baking.
Depending on the size and thickness of your cookies, bake for about 12 minutes or until lightly browned around the edges. Remove from oven and let it cool on a wire rack.
Assembly
Place the baked cut out cookies (top cookies with smaller cut on the center) on a baking sheet and with the help of a sieve, dust them lightly with powdered sugar. On another tray, spread a thin layer of Nutella on the bottom cookie (full cookie!). Gently sandwich both cookies together, being careful not to touch the powdered sugar too much. If your cookies are too thick, you can use a small piping bag and piping tip to fill out the center of the cookie to make it look filler. In my case they were very thin so I did not do this step.
Store the cookies in an air tight container in the fridge or enjoy immediately 🙂
Notes:
- You can change the Nutella to dulce de leche, any kind of fruit jam, peanut butter, or any spread of your liking!
- Filled cookies will soften when stored. If you prefer crisp cookies, assemble the same day you will serve them.
- Sugar cookies can be made in advance, you can freeze the dough, freeze the shaped cookies, or freeze baked cookies. When wrapped tightly with minimum air, they will last for a bit longer than 3 months (unfilled! just the cookie!)