Traducir a Español
Jump to recipe
These cookies are just PERFECT. I apologize if the pictures do not make this cookie any justice, but please try this recipe out and let me know what YOU think!  I couldn't resist and I had to have one right when they came out of the oven. The crunchy edges and soft center melted my soul.
A quick tip I always mention when melting butter especially if you are doing it with the help of a microwave is to do it in intervals of 15-20 seconds and stir in between intervals. Sometimes heating up butter real quick on the microwave will cause it to explode! and let me tell you what a mess that will make inside the microwave…
A second tip I will give you is that you can also make these cookies in a smaller size, just keep in mind you will need to reduce the baking time since they will cook faster than a large huge cookie. Sometimes they will not be nice and browned but they are actually already baked so be careful not to overbake. The worst thing that can happen if you overbake is to have a very crunchy cookie, and there is a lot of people that like that too, the flavor will still be incredible.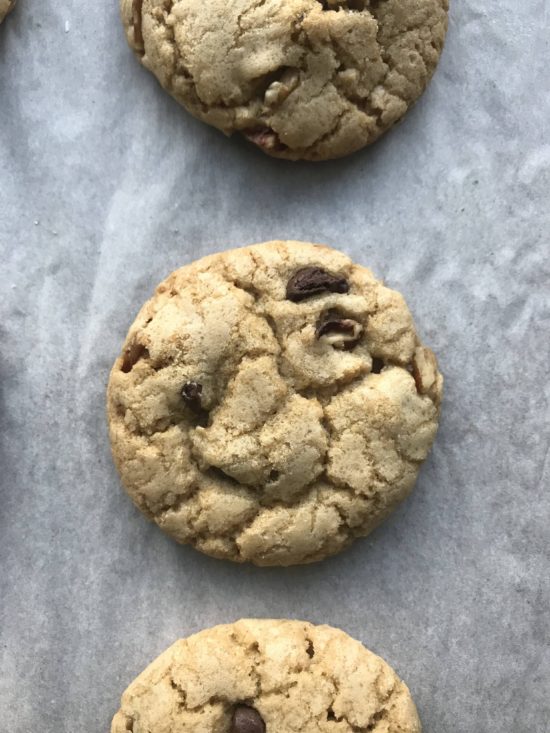 The chewiness of these cookies is so good when baked right. Be careful not to overmix the dough as it can make the cookie hard. If you decide to fold the dry ingredients as well as the chocolate chips and pecans, you will need to use those nice arms muscles as it can be a bit difficult to mix all that by hand but definitely worth it.
The dough will be on the wet-sticky side. Do not add more flour to them! They are perfect that way. Once I had to make over 60 of these cookies so I made 2-double recipes, measured the dough, formed the balls and froze them raw on cookie sheets lined with parchment paper. Once they were hard enough to keep their shape I stored them in Ziploc bags inside the freezer until ready to bake. The day I had to bake them I just took them out, placed them on lined cookie sheets, defrosted them to room temperature and baked them. PERFECTO!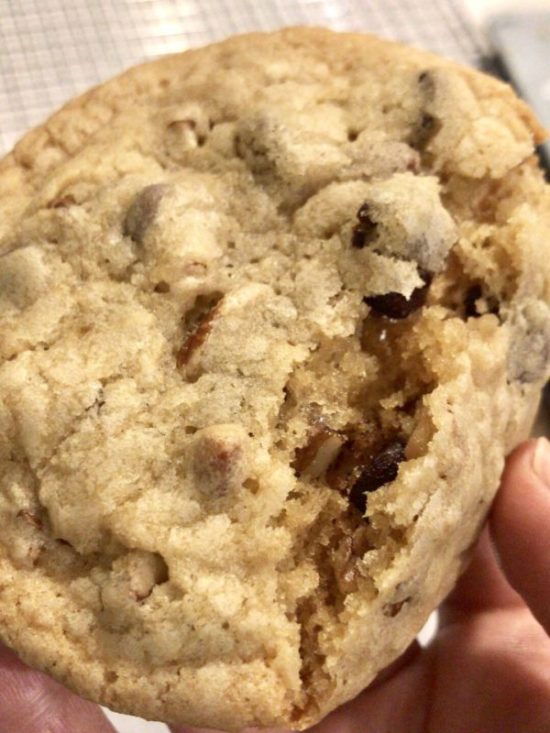 Ingredients
2 cups all purpose flour
1/2 teaspoon baking soda
1/2 teaspoon salt
3/4 cup unsalted butter melted, cooled to room temperature
1 cup packed brown sugar
1/2 cup white sugar
1 tablespoon vanilla extract
1 egg room temperature
1 egg yolk room temperature
1 cup chocolate chips (your preference semi-sweet or milk or dark chocolate)
1/2 cup chopped pecans (you can substitute with Walnuts or Almonds)
Instructions
Melt butter in microwave and set aside to let it cool.
Preheat oven to 325 F degrees and Line 2 cookies sheets with parchment paper.
Sift the dry ingredients: flour,baking soda and salt
In the bowl of your mixer on medium-high speed cream melted butter with sugars for about 5 minuted until fluffy and incorporated.
Beat in the egg, egg yolk and vanilla extract until for another 5 minutes until the mixture is lighter in color and looks creamier.
On low speed and with the paddle attachment, add the dry ingredients into the batter just until it is incorporated and there is no more dry flour. Do not over mix. Fold the chocolate chips and nuts into the batter.
Measure the dough out with a large-medium sized ice cream scoop. You can also weigh them around 50-60 grs per cookie. The bigger the cookie the more chewy.
Using your hands roll the dough into a ball and place on the cookie sheet, 2-3 inches apart from each other.
Bake 15 minutes or longer until edges are brown. Remove cookie sheet from the oven and place on a cooling rack for about 10 minutes. Remove cookies to wire rack and cool completely.
Amazing recipe slightly adapted from Bunny's Warm Oven