Affiliate Disclosure: This blog may contain affiliate links. This means that if you click on a link and make a purchase, we may earn a commission. However, please note that we only recommend products and tools that we use and genuinely like. We always prioritize our readers' best interests. By clicking on these links, you won't incur any additional costs, but it will help us keep this site running. Thank you for your support!
Traducir a Español
Jump to recipe
It is almost the Christmas day and as we wait all I can think of or want to eat is COOKIES! What a better time of the year to bake cookies other than the holiday season. December…ahh it if was a dessert it would for sure be a huge cookie. I love how cookies are a kick of #TBT in your mind. Cookies are one of my first memories in baking and I have realized it is also one of the best memories a lot of friends have from the Holiday season when they were little. Family baking days are the best always, Pinwheel cookies, Sugar cookies, Oatmeal cookies, Gingerbread Men (or Women!!) cookies. All so cute and all so good.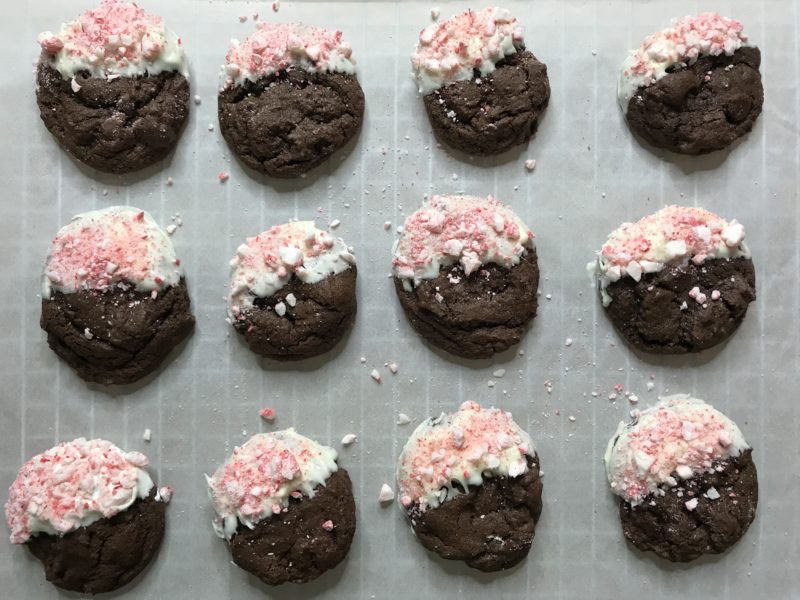 If you are looking for some Peppermint – Chocolatey combination, this cookie is definitely a good one. It is seriously delicious and fun to make! When using crushed candy canes I always go for the soft candy cane stick type, those chubby sticks that could melt on hot chocolate. Since this recipe doesn't require adding the peppermint candy after it is baked, it is totally fine to add, I promise you will still have candy cane bits after you sprinkle it on top of the melted chocolate portion. It is soft and so nice when you bite into the cookie 🙂
Sometimes Cookie recipes require chilling, this helps for several reasons. One of them is because it is much easier to handle a chilled cookie dough than a room temperature cookie dough, especially if the dough is on the less dry side. Second, it really helps the cookie maintain its shape once it is in the oven because with heat, the butter will begin to melt and we do not want a flat cookie with these ones!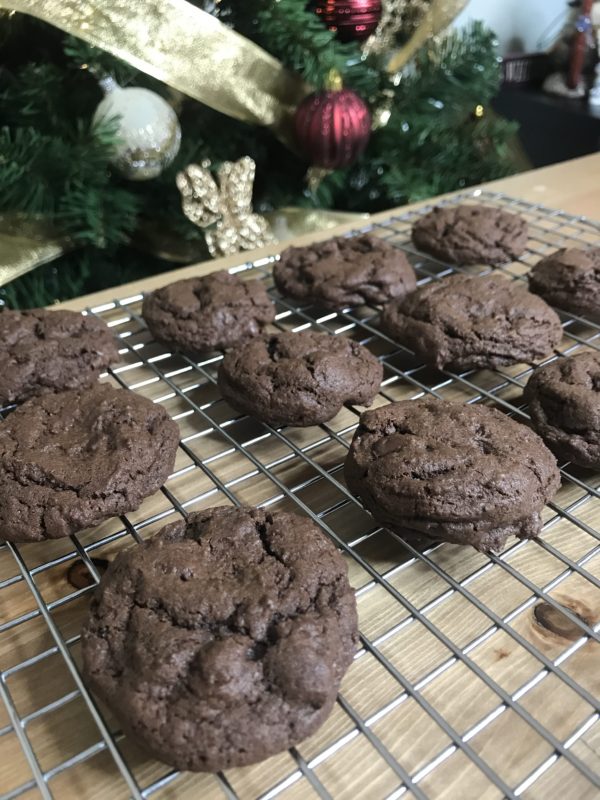 Another variation for this cookie is to add peppermint extract instead of vanilla extract. I liked keeping this separated on this one, but you can also add chocolate chips to the dough and have that triple chocolate cookie thing going on all the way!!
Ingredients
2 cups all-purpose flour
1/2 cup Cocoa powder sifted
1 tsp baking soda
1/2 tsp salt
1 cup unsalted butter at room temperature
1/2 cup granulated sugar
1 cup light-brown sugar packed
2 large eggs room temperature
1 tsp vanilla extract
1 bag white Candy Melts or white chocolate, melted
vegetable shortening or vegetable oil as needed to thin candy melts
crushed candy canes - I like using the soft type peppermint sticks.
Instructions
Whisk dry ingredients in a medium bowl: Flour, cocoa powder, baking soda and salt.
Beat butter and sugars in the bowl of a stand mixer until light and fluffy, for about 2 or 3 minutes. Add eggs one at the time mixing well between each addition and add vanilla extract. On low speed, gradually add flour mixture and mix until just combined.
Chill dough for at least 30 minutes to 1 hour or overnight.
Preheat oven to 350°F and line baking sheets with parchment paper.
Using a cookie scoop (regular medium size worked for me), portion dough onto baking sheet about 1.5 inch distance between each cookie. Bake for approximately 10-12 mins, or until the middle is just set. Cookies will deflate a bit once they are cooled.
Cool on pans for 5 mins then transfer to a wire rack to cool completely.
Melt white chocolate in microwave with 20 second intervals mixing every time, or in a double boiler. Avoid water to even touch the chocolate.
Dip cookies in melted white chocolate, place on a parchment lined baking sheet and sprinkle with crushed candy canes. Let it set completely (if you can!!) and enjoy 🙂