Traducir a Español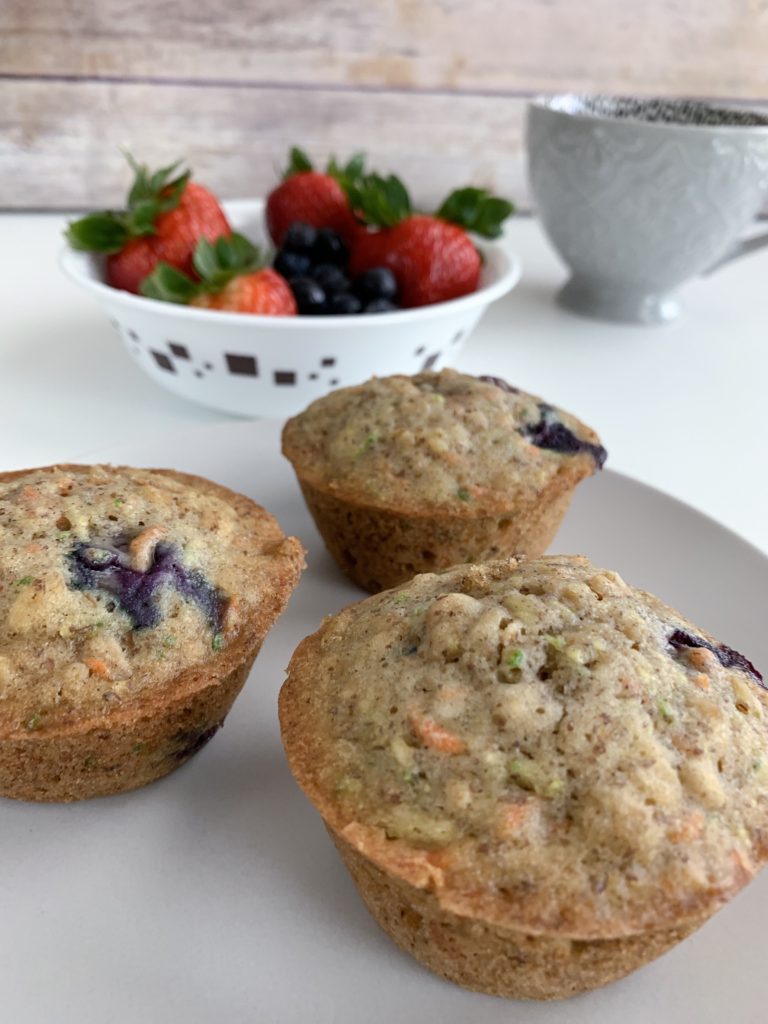 MUFFINS – June 12, 2019
Blueberry Zucchini and Carrot Protein Muffins
These Blueberry Oat Zucchini and Carrot Muffins are packed with nutrients and make for an ideal breakfast on-the-run option, they're soft and delicious!
Jump to Recipe
These delightful muffins are absolutely delicious and one of my favorite breakfast options to make ahead and freeze. I first tried these from Costco and fell in love with them. How soft the crumb was and how fresh they felt after being frozen and reheated in the microwave. Although it sounds way too good to be true, I much prefer making my own treats at home as I can control what goes in them, resulting in healthier and more customized options, free of preservatives or other chemicals like food colorings.
Why you will love them?
If you struggle to get your green in and are making an effort to eat more fiber and protein, these are great! I won't lie to you and tell you these are sugar-free, gluten-free, flour-free, low-calorie muffins because THEY ARE NOT! But they are loaded with Zucchini, carrots, oats, and delicious sweet Blueberries!
These muffins can be frozen and can quickly save your morning breakfast if you are always in a rush or if you need a quick pre-workout treat before heading out. When we are rushing for work or to the gym, I heat up a muffin and out the door, I go!
I am sure we can continue to adjust these muffins to make them healthier, however, this version you see here is absolutely DELICIOUS and moist, and soft! You could substitute honey, coconut sugar, or stevia for the sugar although the quantity required may vary. You could also substitute the vegetable oil for coconut oil if that is for you, and the flour for a gluten-free version or other low-carb option.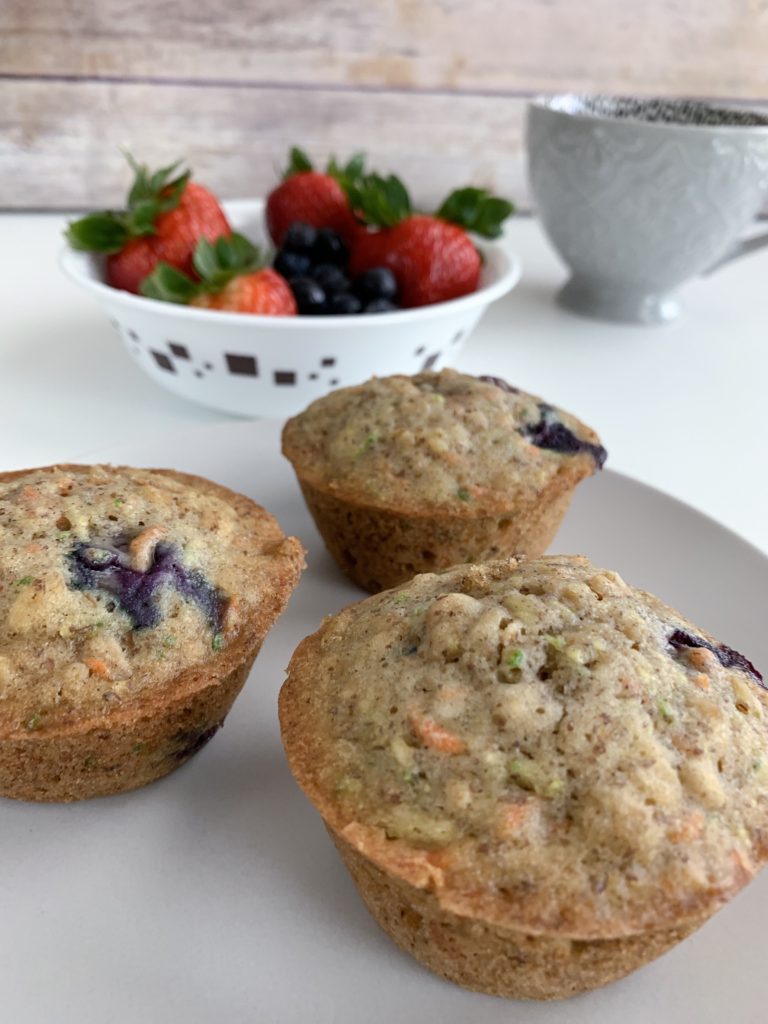 Ingredients for Blueberry Oat Zucchini and Carrot Muffins
All-purpose flour: gives the perfect crumb without any leavening agents.

Can sub for gluten-free flour or a mix of oat flour and almond flour.
Rolled oats: adds fiber and structure to the cake.
Protein powder: optional if you'd like to add protein. Make sure your protein powder works well for baking or the muffins can turn out rubbery. I like to use Quest Vanilla Protein Powder

Baking powder: leavening agent to rise the muffins

Baking soda:

leavening agent to rise the muffins.

Cinnamon: is optional, but the cinnamon kinda makes up the whole zucchini/carrot cake vibe.

Salt: highlights and balances the sweet notes.

White sugar: add sweetness and keeps the muffins light in color.

Vegetable oil: Adds moisture and softens the crumb.
Vanilla extract: the perfect essence to pair up with cinnamon and carrot flavors.
Eggs: Add richness, structure, and volume to the muffins.
Zucchini and Carrot: Veggies that will add flavor and moisture to your muffins.
Blueberries: fresh is the option for this recipe, although you can use frozen. If you do, do not thaw. Can sub with cranberries or leave it out entirely.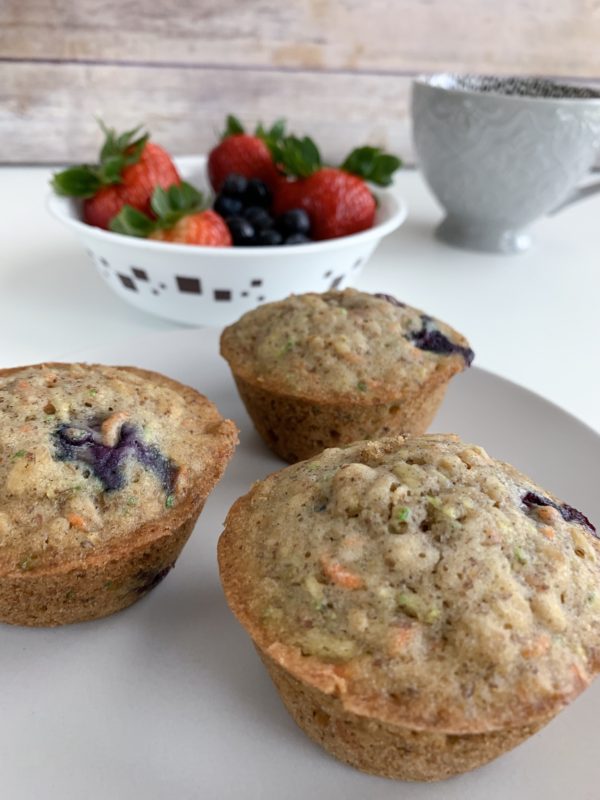 Blueberry Oat Zucchini and Carrot Protein Muffins
These delightful muffins are packed with nutrients from zucchini, carrots, blueberries, and oats and make for an ideal breakfast on-the-run option.
Ingredients
1 1/2

cups

all-purpose flour

180 grams

1/2

cup

rolled oats

45 grams

1/2

or 1 full scoop of protein powder

Optional – I use Quest – Vanilla flavor

3/4

tsp

baking powder

about 4 grams

3/4

tsp

salt

4.5 grams

3/4

ground cinnamon

2 grams

1/2

tsp

baking soda

3 grams

3/4

cup

sugar

150 grams

3/4

cup

vegetable oil

6 oz or 175ml

2

large eggs

1

cup

finely grated carrot

approx. 100grams

1

cup

finely grated zucchini

approx. 100 grams

1/2

tsp

vanilla extract

2.5 ml

1

cup

blueberries

or cranberries! frozen or natural (approx. 190 grams)
Instructions
Preheat oven to 375℉ and grease a 12 cup muffin/cupcake pan with nonstick spray or butter and set aside.

In a medium bowl whisk your dry ingredients: flour, oats, protein powder, baking powder, salt, cinnamon and baking soda.

In a large bowl whisk sugar, oil, eggs, grated zucchini and carrot and vanilla.

Add dry ingredients to wet ingredients folding gently with a spatula until just incorporated. Fold in your berries carefully or you will end up with blue batter!

With the help of a regular size ice cream scoop, divide batter evenly in the prepared cupcake pan and bake for 25 minutes or until muffins are golden brown and the tops bounce back when touched or a toothpick inserted in the middle comes out clean.

Cool pan on a wire rack for 10 minutes before removing muffins, With the help of an offset spatula or knife remove the muffins and let cool completely on a wire rack before storing.
Notes
To freeze, cool muffins in the refrigerator (so they won't break apart) and place 2-4 muffins in a freezer zip-lock bag, remove the excess air, and store them in the freezer for up to a month. You can also individually wrap it with plastic cling and pop it in the freezer.
To defrost, remove all wrapping and place in the microwave for 1-2 minutes (check at 1 minute to avoid overheating and drying the muffin). If muffins were stored in the refrigerator, warm them up for 20-30 seconds only.