Traducir a Español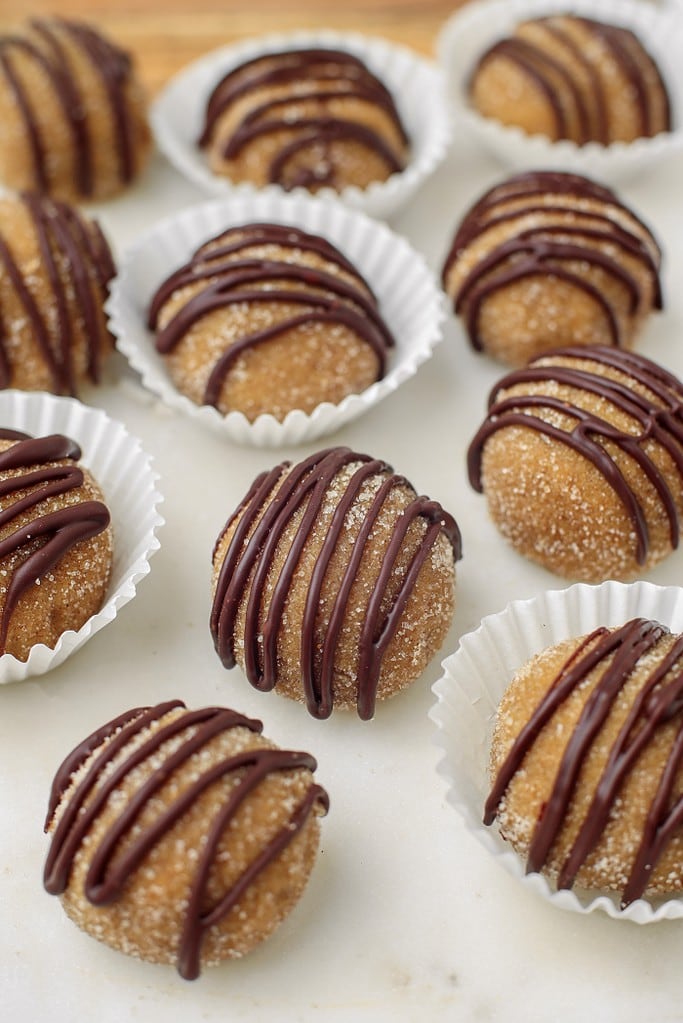 CANDY – MAY 25, 2023
Churro Brigadeiros
These brigadeiros are chewy and fudgy, a traditional brazilian dessert now infused with cinnamon, creating these easy-to-make Churro Brigadeiros.
Jump to Recipe
In the first place, let's start by talking about what Brigadeiros are. Brigadeiros are fudgy truffles made from condensed milk, butter, and chocolate or cocoa powder. Also, they are originally from Brazil. Even though I am not brazilian myself, I truly love these little desserts and think they are the easiest, most enjoyable truffle out there.
Originally, traditional brigadeiro recipes call for sweetened condensed milk, cocoa powder, butter, and chocolate sprinkles for coating. Then, these ingredients are cooked together over low heat, and continuously stirred until the mixture thickens and reaches a fudgy consistency. This mixture is then shaped into small balls, rolled in chocolate sprinkles, and placed in small paper liners.
While classic brigadeiros are the most common, there are variations of this treat. For example, adding different flavors like coconut, nuts, or fruit purees. In my case, I made Churro brigadeiros combining the flavors of dulce de leche, cinnamon and chocolate that you would normally have on delicious churros – hopefully you will love them too!
Everyone loves Brazilian brigadeiros for their smooth, chocolaty goodness. So, imagine elevating these treats by adding the warm, cinnamon-sugar essence of churros. Ah yes! Indeed! Churro brigadeiros, is a mouthwatering combination!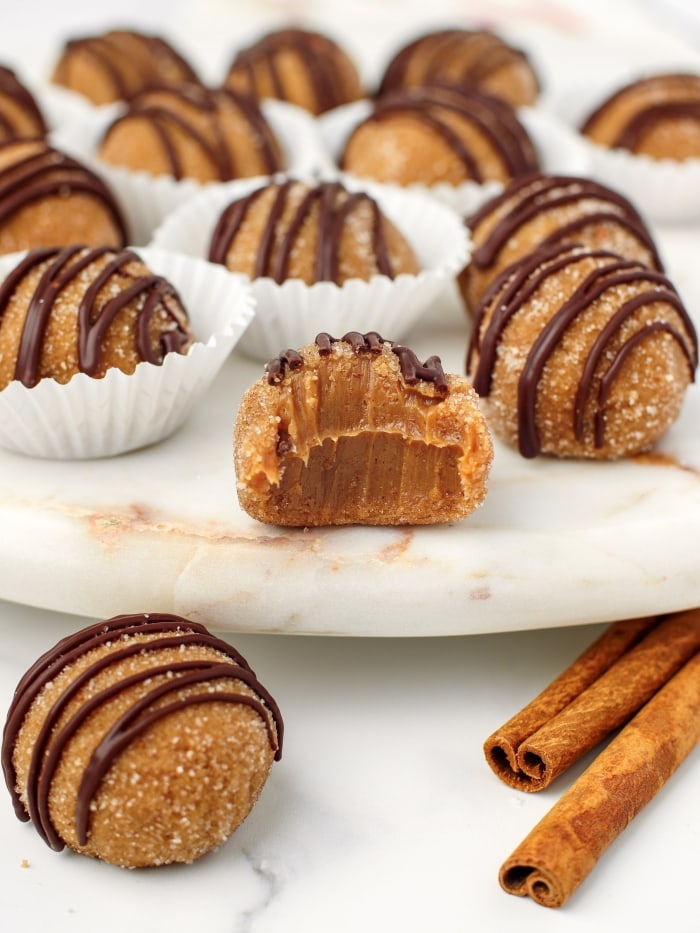 Why you will love it?
Firstly, Brigadeiros are so delicious and satisfying on their own. Specifically, because of its rich and creamy texture contrasted by the topping which typically is somewhat crunchy.
Now, let's dive into this recipe for Churro brigadeiros. I have omited the cocoa powder and added dulce de leche and cinnamon. The combination of traditional brigadeiros, the dulce de leche and the cinnamon sugar creates a dessert with a unique texture. Each bite is so smooth, with the crunch from the cinnamon sugar and the chocolate drizzle on top.
This dessert brings back childhood memories of enjoying churros, while also introducing a delicious innovation to share with your loved ones. You can also create other variations from this dessert to make them even more delicious.
Additionally, the recipe requires minimal ingredients and can be prepared without any baking. They are also naturally gluten-free and can be made in advance and stored for several days.
" "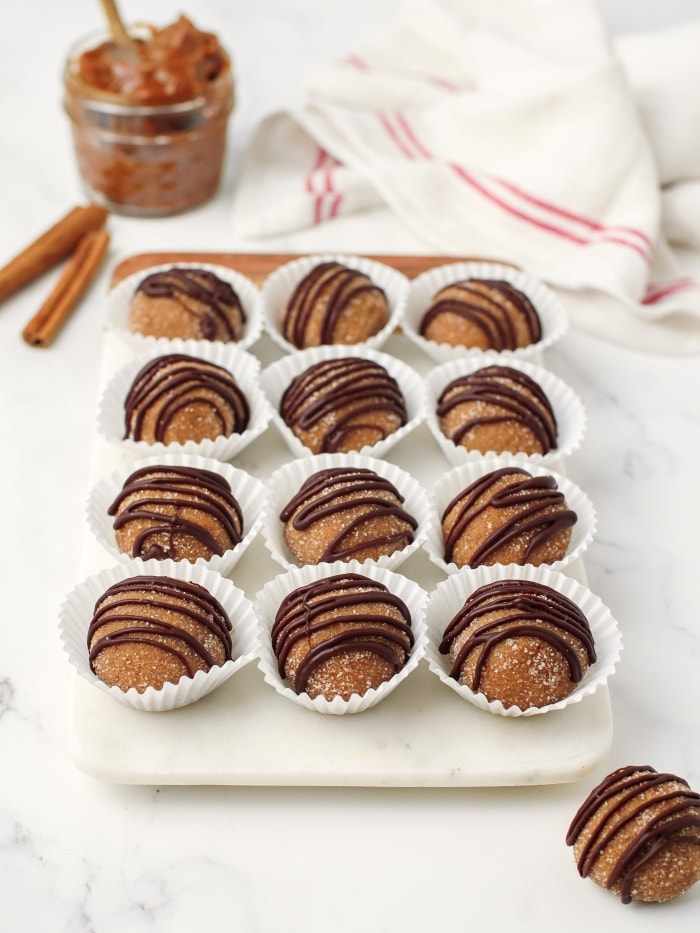 Ingredients for Churro Brigadeiros:
To make a batch of churro brigadeiros, you'll need the following ingredients:
Condensed milk: sweetened condensed milk is the base for its creamy texture and sweetness.
Dulce de Leche: This will be the main flavor in your brigadeiros, choose one that you truly enjoy on its own. This one is my favorite.
Butter: butter contributes to the smooth texture of brigadeiros.
Cinnamon: the essence of churros. They immediately remind you of cinnamon sugar churros.
Sugar: Granulated sugar adds a touch of sweetness and that classic churro crunch. Can also substitute for crystal sugar.
Chocolate callets or chips: These are optional for decoration and some added flavor.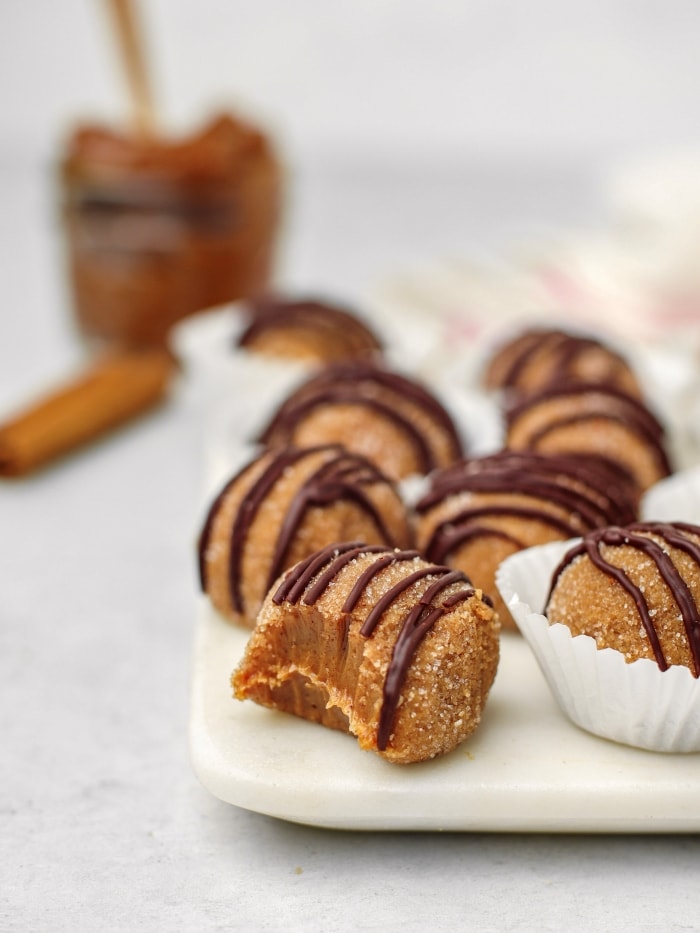 Tips for making the best Churro Brigadeiros
Be patient: it requires constant stirring over low heat for the perfect consistency. This may take 15-20 minutes, but the results are worth the effort. Keep the heat low and constantly stir to prevent scorching and avoid any lumps.
Use a Dulce de Leche that you truly enjoy: since it gives it the dulce de leche flavor in your brigadeiros, make sure it is one that you enjoy on its own. This is my favorite.
Experiment with coatings: While the classic brigadeiros are traditionally coated with chocolate sprinkles, churro brigadeiros are an opportunity to explore other coatings.
Be creative with presentation: Once rolled and coated, you can place them in decorative paper liners or arrange them on a platter, top them with dulce de leche, or leave them as is.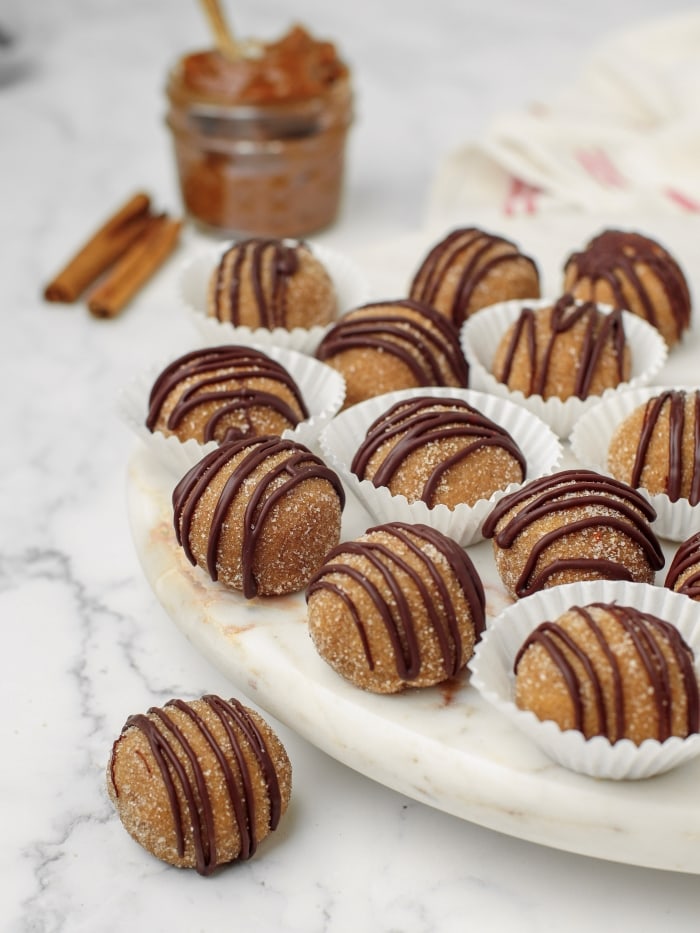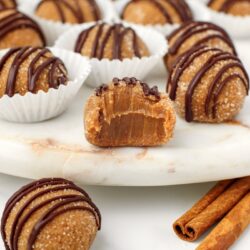 Churro Brigadeiros
These brigadeiros are chewy and fudgy, a traditional brazilian dessert now infused with cinnamon, creating these easy to make Churro Brigadeiros.
Ingredients
Brigadeiro fudge
1

tablespoon

of butter

15 grams

1

can of condensed milk

14 oz

½

cup

of dulce de leche

about 150 grams

1

teaspoon

cinnamon
To roll
1/4

cup

crystal sugar

50 grams

1/4

tsp

cinnamon powder

¼

cup

chocolate chips or callets – optional

45 grams
Instructions
Brigadeiro mixture:
In a pan over medium-low heat, melt the butter.

Once melted, add the condensed milk, dulce de leche and cinnamon, mix until you get a homogeneous mixture and all the ingredients have incorporated together.

Continue mixing non-stop until you can see the bottom for 3-5 seconds when you run a spoon across the diameter of the pan. The mixture should be much thicker now. This process will take about 15 minutes.

Place the brigadeiro fudge on a greased plate or bowl and let it cool for about 30 minutes to 1 hour in the refrigerator.
To roll the brigadeiros:
In a small bowl, combine the sugar with the cinnamon.

With buttered hands and with the help of a spoon or a small cookie scoop, scoop some of the brigadeiro fudge and roll between your palms to form a smooth ball.

Roll each ball over the cinnamon sugar and place in a serving plate or small baking cups. Do this process until you are done with the mix. You should have 18-20 brigadeiros depending on the size.

Optional: In a small microwave safe bowl, carefully melt the chocolate in 30 second intervals or with the 'melt chocolate' setting of your microwave if available. Be careful not to burn it or it will seize. Transfer to a small piping bag and trim the tip just a tiny bit. Drizzle the brigadeiros in zig-zag motion with chocolate.

Store the brigadeiros in the refrigerator and serve cold.
Video