Affiliate Disclosure: This blog may contain affiliate links. This means that if you click on a link and make a purchase, we may earn a commission. However, please note that we only recommend products and tools that we use and genuinely like. We always prioritize our readers' best interests. By clicking on these links, you won't incur any additional costs, but it will help us keep this site running. Thank you for your support!
Traducir a Español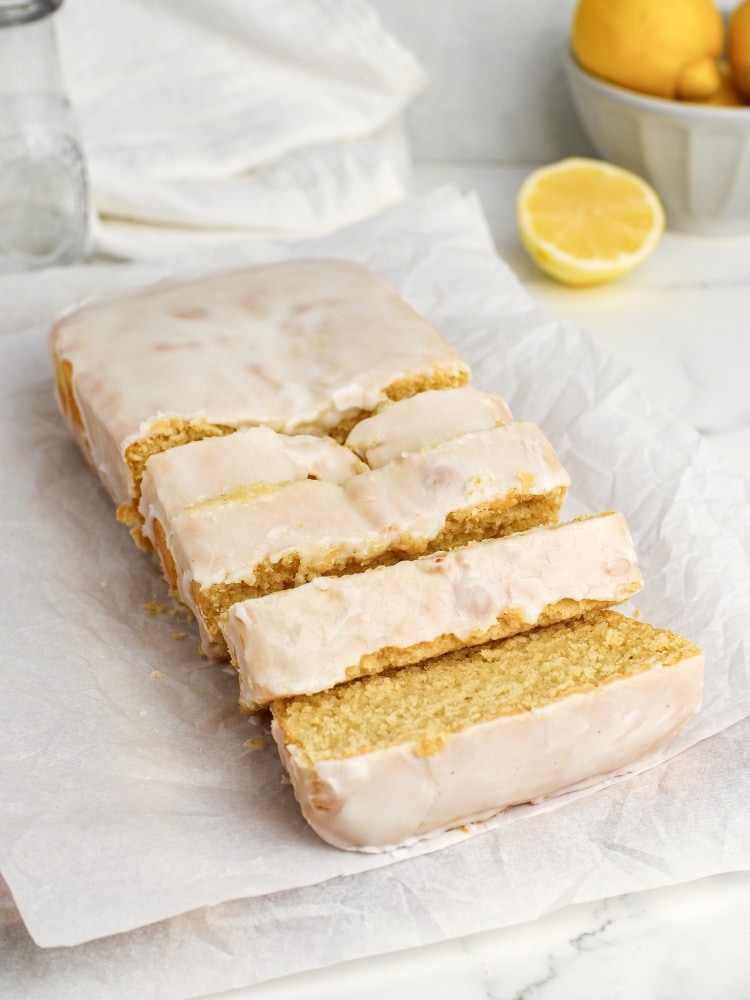 CAKES – MAY 26, 2023
Lemon Loaf – Gluten Free
This gluten-free Lemon Loaf has nothing to envy regular loaves, it is bursting with refreshing citrus flavors and a moist, tender crumb, and it is gluten-free!
Jump to Recipe
Attention to all lemon lovers and gluten-free people, get ready for this delicious Gluten-Free Lemon Loaf! It is bursting with refreshing lemon flavors and has a moist and tender texture. This version of lemon loaf is so good, you won't think about regular lemon loaves!
Here is the thing, I am making intentional changes to reduce my gluten consumption. I never thought I would if you asked me a couple of years ago. But, life happens and you start working and connecting with your own body and although I may never become fully gluten-free, I will incorporate more gluten-free dessert recipes into my life.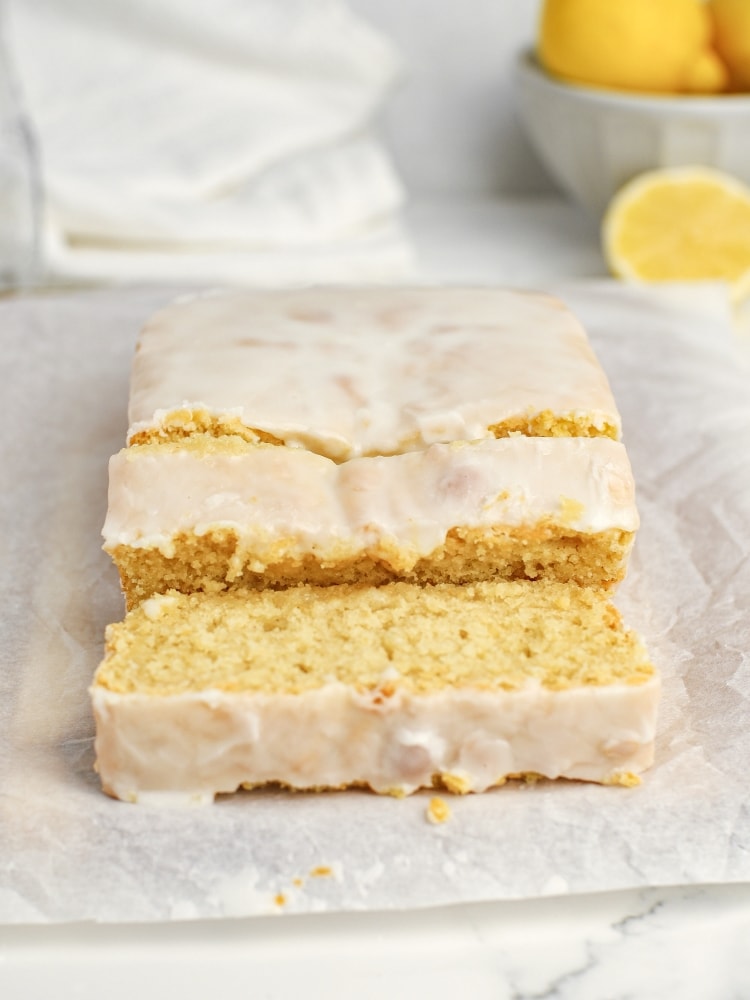 Why you will love it?
To begin with, this gluten-free lemon loaf has the perfect balance of bright lemon flavor, with a delicious lemony glaze that won't make you miss a regular gluten-full loaf. In addition, it is soft, moist, and just delicious in every bite.
Secondly, did I mention it is gluten-free? If you follow a gluten-free lifestyle and want to explore new recipes, this recipe is a game-changer. By swapping traditional flour with gluten-free alternatives and adding an extra egg, you can savor the deliciousness without compromising on taste or texture. It's a win-win for everyone at the table.
Lastly, it is very simple to put together as it has minimal ingredients and straightforward instructions. It is very easy to put together all in one (ok, two!) bowl. For the most part, you can whip this up with just a whisk, a bowl, and any cake mold you have on hand. So, let's get you baking this to enjoy it as an afternoon treat without the added gluten.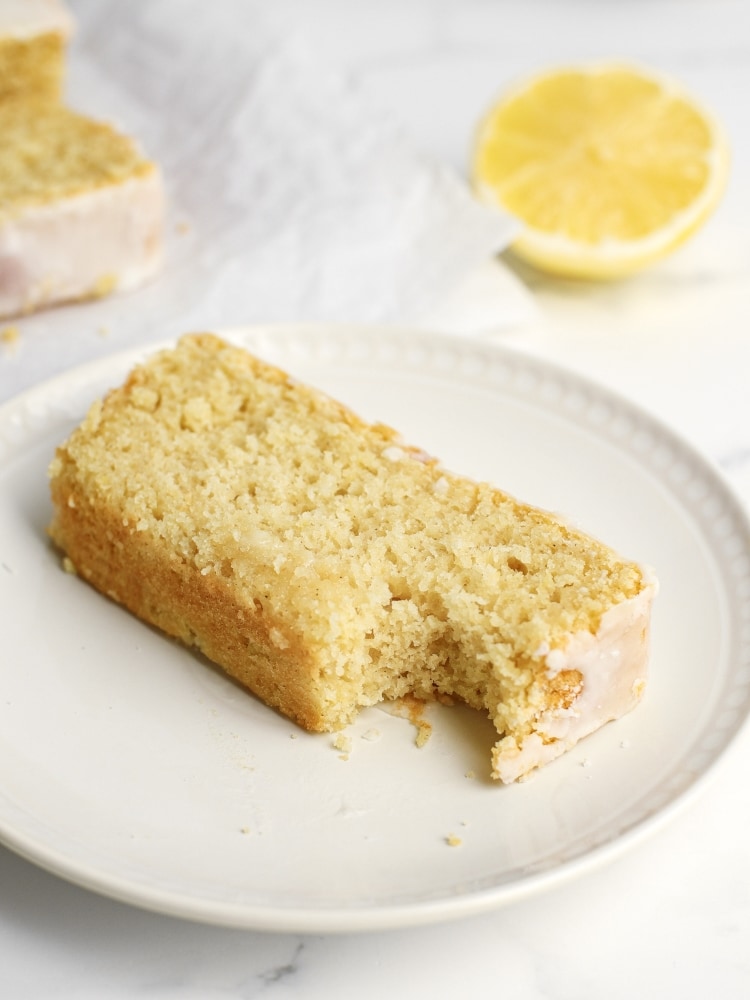 Ingredients for Gluten-free Lemon Loaf.
To make this delicious lemon loaf, you will require the following ingredients:
Gluten-free flour: A blend of gluten-free flour, such as rice flour, almond flour, and tapioca flour, mimics the texture and structure of traditional wheat flour. It ensures a moist, tender crumb and a cake that holds together beautifully. This is the one I use.
Sugar: white granulated sugar sweetens the loaf and keeps the lemon flavor sharp.
Lemons: you will use zest and juice of approximately 2 lemons.
Butter: unsalted butter is the choice here. Use it melted but not hot.
Eggs: the addition of an extra egg ensures the ingredients bind together. Otherwise, it will be too crumbly.
Vanilla extract: gives it a nice extra boost in flavor.
Sour cream or Greek yogurt: adds moisture and helps to bind the ingredients.
Milk: adds moisture. Full fat, 2%, or vegan milk works here.
Salt: balances and highlights.
Baking powder: your leavening agent to help that loaf rise beautifully.
Powdered sugar: the main ingredient for the glaze. Along with lemon juice and milk, it sets into a beautiful matte glaze.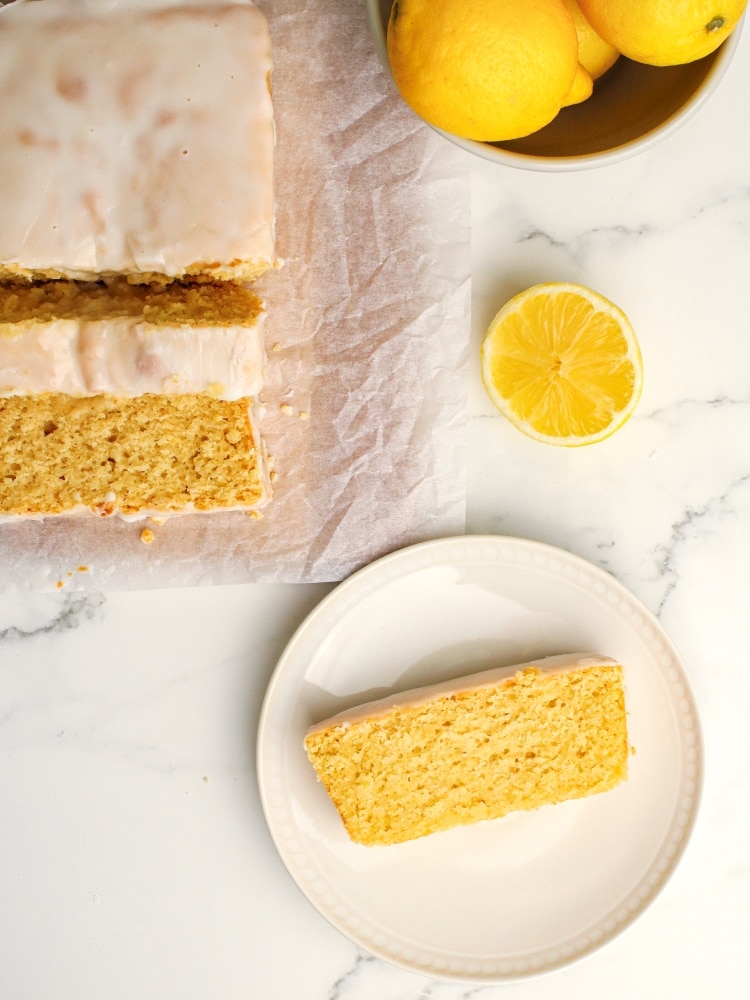 Tips for making the best Gluten-free Lemon Loaf:
Flour selection matters: When choosing gluten-free flours, opt for a high-quality blend specifically formulated for baking. Generally, these blends usually contain a mix of various flours and starches, ensuring a better texture and flavor in your final product. Some of them include xantham gum which is even better to help the ingredients bind together. My favorite is this one.
Don't skimp on moisture: Since gluten-free flours tend to absorb more liquid, it's crucial to incorporate ample moisture into the batter. For this reason, Greek yogurt or sour cream, lemon juice and milk, all play a role in keeping the loaf moist and tender. Be sure not to overmix the batter, as it can lead to a denser texture.
Let it cool completely: Allowing the loaf to cool for 15-20 minutes in the pan before transferring it to a wire rack ensures that it retains its shape and prevents it from crumbling.
Check the consistency of the glaze before pouring: You want the glaze to be a drip-able consistency. For example, if it is too runny, it will become almost see-through and completely run off your loaf. On the contrary, if it is too thick, it won't drip naturally. Adjust accordingly adding more or less powdered sugar or lemon juice.
Let your glaze set after pouring it: once the loaf has cooled, pour the glaze over and wait until it sets before cutting it so that it develops a nice crust and it stays in place. Also, you can cut before – who's stopping you? – however, the glaze may run off the slices.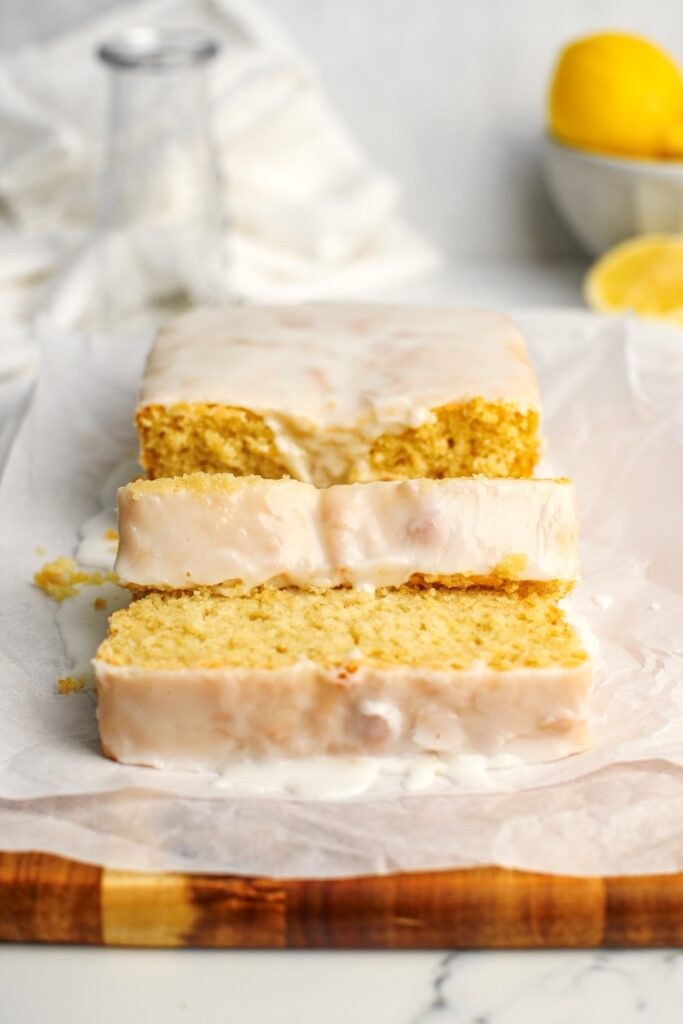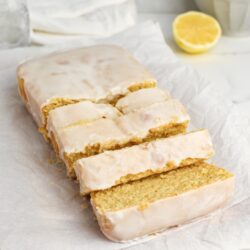 Lemon Loaf – Gluten Free
This gluten-free Lemon Loaf has nothing to envy regular loaves, it is bursting with refreshing citrus flavors and a moist, tender crumb, and it is gluten-free!
Ingredients
For the loaf:
1

cup

granulated sugar – 200 grams

zest of 2 lemons – about 2 Tablespoons

1/2

cup

unsalted butter

melted – 1 stick – 4 oz

3

eggs

room temperature

1

teaspoon

vanilla extract

2

tablespoons

lemon juice

30 ml

1/4

cup

sour cream or Greek yogurt

4oz or 60 grams

1/4

cup

milk

4 oz or 60 ml

1 2/3

cups

gluten-free flour

200 grams

1/2

teaspoon

salt

2 1/2

teaspoons

baking powder
For the Lemon Glaze:
1 1/2

cups

powdered sugar

175 grams

1

Tablespoon

lemon juice

15 ml

pinch

of salt

1

teaspoon

vanilla extract
Instructions
Preheat the oven to 350°F and line a 9×5" loaf pan with parchment paper or grease well with vegetable oil. Set aside.

In a large bowl, combine the granulated sugar and lemon zest using your fingers to rub the sugar and the lemon zest together. This helps the zest release and infuse the sugar with lemon flavor.

Add the melted butter to the sugar mix and whisk to combine well. Next, add the vanilla extract and the eggs one at a time, mixing well between each addition until fully combined.

Incorporate the sour cream, milk and lemon juice. It is normal if the mixture curdles a little bit.

Mix in the gluten-free flour (can substitute by all purpose flour, too!), baking powder, and salt. Whisk until the batter is smooth and no lumps remain. Do not over-mix if using regular all-purpose flour to avoid gluten development.

Pour the batter into the prepared loaf pan and bake at 350°F for 45 minutes to 1 hour, or until a toothpick inserted into the middle comes out mostly clean.

Let cool in the pan on a wire rack for 15 minutes. Remove from the pan and let cool completely on the wire rack.

While the bread cools, prepare the lemon glaze. Combine all ingredients for the lemon glaze in a medium bowl and whisk together. Adjust the consistency by adding more lemon juice for a runnier glaze, or more powdered sugar for a thicker consistency. The ideal consistency should be thick but it still flows out of the spoon. Pour glaze over the top of the loaf after it has cooled. Let it set completely before storing and cutting (don't be like me :P, I couldn't wait!).
Video