Traducir a Español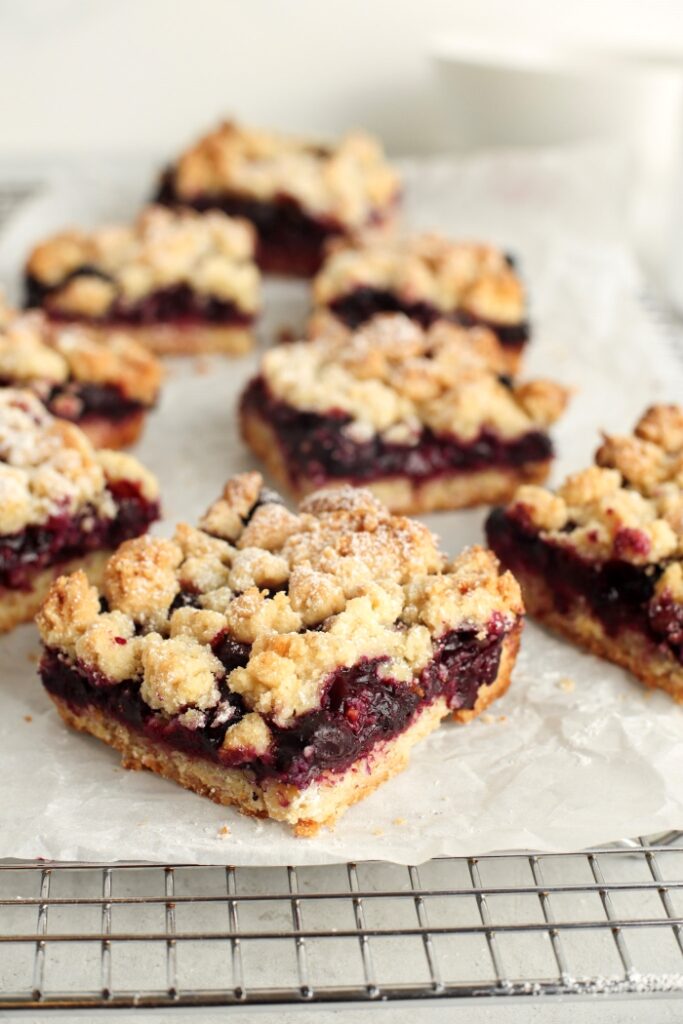 BARS – APRIL 17, 2023
Lemon Blueberry Crumb Bars
This small batch recipe for Lemon Blueberry Crumb Bars has a sweet and juicy blueberry filling and a delicious buttery, and tangy crust and crumb topping.
Jump to Recipe
The juicy blueberry and the tangy flavor of the lemon complement each other perfectly and taste like spring and summer. The flavors of the crumb highlight the rest of the ingredients well and leave you craving more with the delicious buttery aftertaste.
The very first time I had lemon blueberry bars, specifically, a-crumb bar was a couple of weeks ago. I mean…I was today years old when I had a crumb bar! No kidding! And honestly, I didn't have great expectations but when I had it, I realized I needed to make these for myself, and also bring a recipe to you (I got you!). It was the most satisfying flavorful bit of any bar I have ever had.
If you haven't had a crumb bar, you are seriously missing out. They may not be this extravagant-mouth-dropping dessert, but I promise they are totally worth having!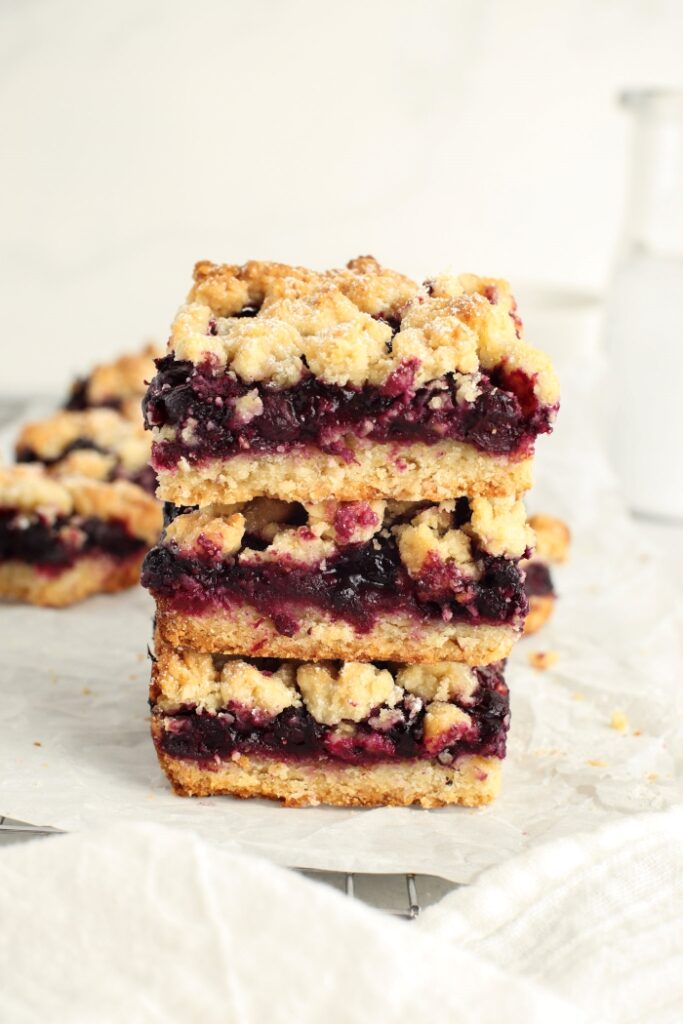 Why you will love them?
This recipe is very easy to make. The crust and the top crumb are made of the same dough. Yes! You mix it all together and then split them to create your base and the crumb top. In addition, this recipe uses frozen blueberries and with a few additions, it creates a delicious juicy filling inside the oven. The blueberries pop and 'caramelize' creating this thicker, glossy, gorgeous jelly inside.
The buttery crumb is amazing! Thanks to the butter and the egg yolk, its smooth flavor and the perfect amount of lemon zest leave you wanting more. Pair that with the sweetness of the blueberry filling and it makes the most beautiful bar! Besides, it is a great way to use that extra egg yolk you have sitting in your refrigerator.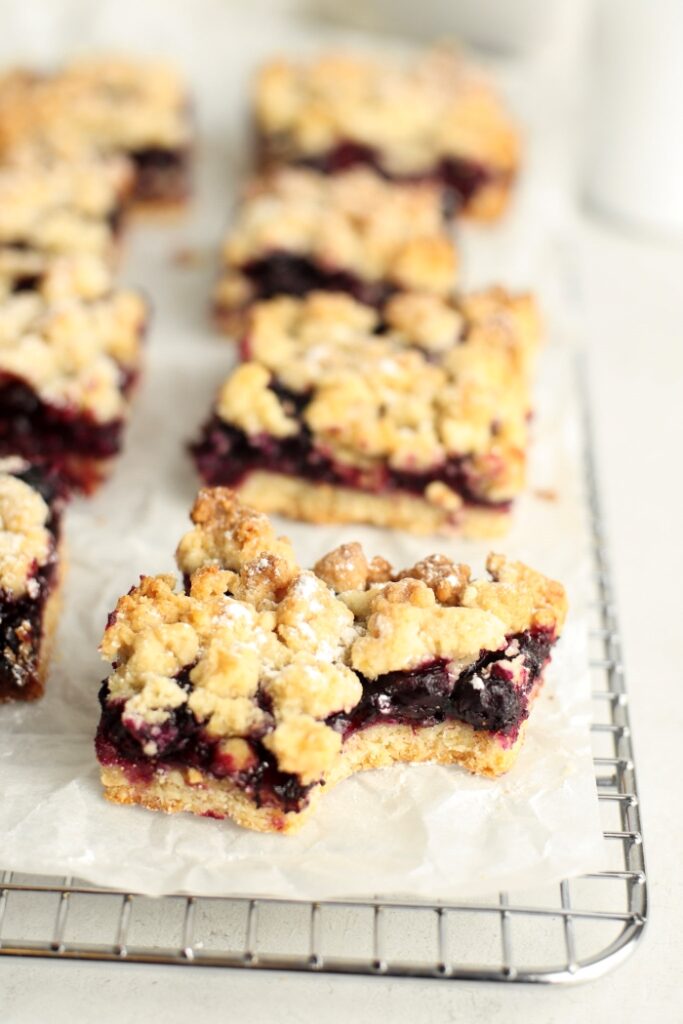 Ingredients for Lemon Blueberry Crumb Bars:
I originally tested the recipe with a portion of brown sugar, however, it felt too caramel-y when combined with lemon. Hence, all white sugar works out perfectly to bring out the sharp flavors of lemon and also gives you a nicer, crunchier crumb.
Here are the simple ingredients you will use:
Crust and Crumb:
Butter: unsalted, cold, and cubed so that it incorporates well and creates a crumbly top.
Sugar: white sugar is the choice in this recipe to let the lemon shine through and crisp up the crumb.
Salt: deepens the buttery flavor
Egg yolk: enriches your crumble.
Flour: all-purpose as it keeps the dough light for the perfect crumb.
Rolled oats: adds nutty flavors to the bars. Can substitute with steel-cut oats if you don't have a food processor, or with all-purpose flour.
Filling:
Blueberries: frozen work great to keep your filling thick. Fresh works as good but may need to cook longer to dry up, or add more cornstarch to thicken.
Sugar: white sugar sweetens just right.
Cornstarch: thickening agent. Will activate in the oven when the filling boils.
Lemon juice: brightens the filling and brings out that sweet and refreshing blueberry flavor.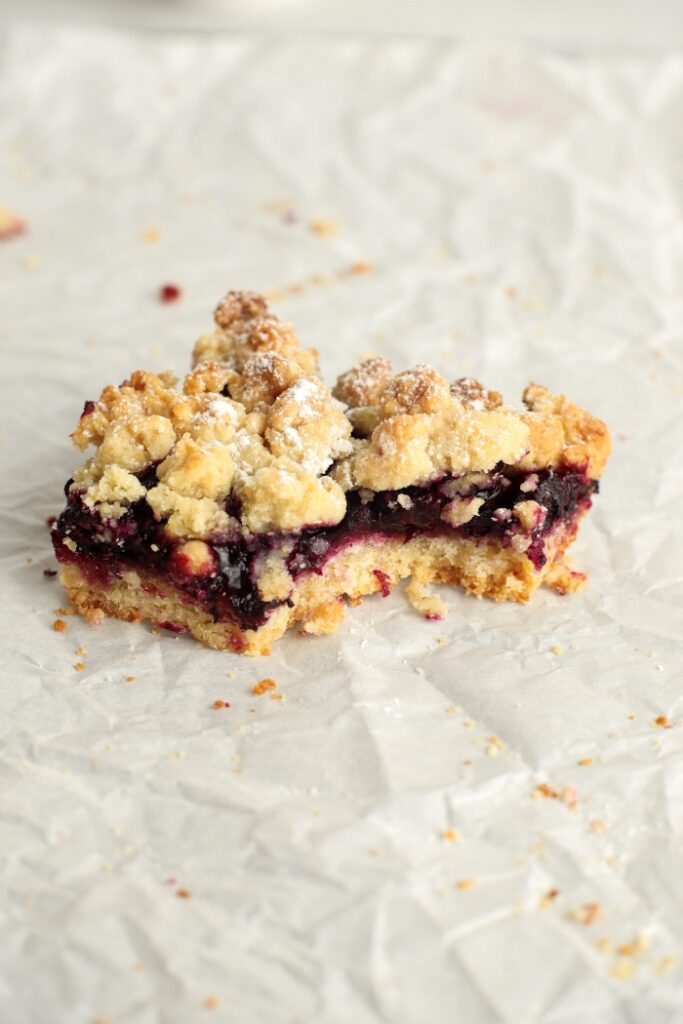 Tips for making the best Lemon Blueberry Crumb Bars:
Mix the crumb ingredients together until just combined. After incorporating the butter, the crumb should resemble wet sand and stick together when you press it.
Do not add more than 1 tbsp lemon juice to the crumb. It will make a wet crumb that can result in a soggy bar.
When adding the crumb on top of the blueberries, leave your crumb in medium size clumps for better texture. Too small and it may not look right and too big and they may not crisp up in the oven or will take longer to brown.
Using frozen blueberries will give you a thicker filling, this is also important to not end up with a soggy crust. Fresh blueberries contain more water and the bar can be too wet to crisp up.
Bake the base first for about 10 minutes to give it some advantage before adding the filling ingredients. This helps ensure a crunchy base that holds itself and the toppings better.
If you don't have a food processor and don't like the texture of large oats in your crumb, you can use steel-cut oats.
This recipe makes a small batch of about 8 bars using a 9×5″ pan like this one. If you desire to make more bars, use a 9×13″ pan and double the recipe.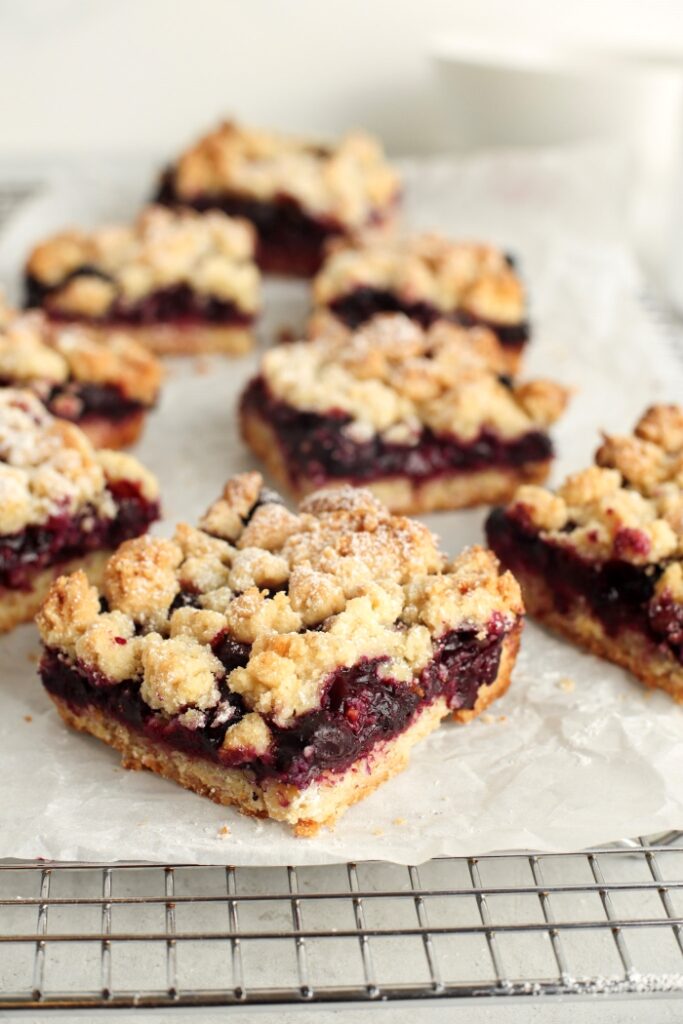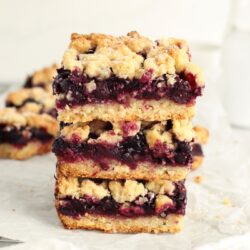 Lemon Blueberry Crumb Bars
This small batch recipe for Lemon Blueberry Crumb Bars has a sweet and juicy blueberry filling and a delicious buttery, and tangy crust and crumb topping.
Note: to make a 9×13 size pan, double the recipe
Ingredients
Crust and Crumb:
½

cup

butter

cold and cubed

½

cup

sugar

1 ¼

cup

all purpose flour

½

cup

rolled oats

⅓

tsp

salt

Zest of 1 large lemon

1

egg yolk

½

tbsp

lemon juice
Filling:
250

gr

frozen blueberries

2

tbsp

sugar

1

tbsp

cornstarch

½ to 1

tbsp

lemon juice
Instructions
Crust and crumb base dough:
Preheat the oven to 350℉. Grease and line a 9×5" pan or loaf pan leaving a parchment paper overhang on the sides (use a 9×13" pan for double recipe).

In a large bowl or in the food processor add the sugar, flour, oats, lemon zest and salt and mix until well combined. If using a food processor the rolled oats will be cut up in tiny pieces and mixed up with the flour – you will barely notice them.

Add the cut cold butter pieces and pulse until it resembles wet sand. Add the egg yolk and the lemon juice, process for a few seconds just until a dough forms. Do not overmix.
Blueberry Filling:
In a small bowl, mix together the frozen blueberries, sugar, cornstarch and lemon juice until the blueberries are well coated.
Assembly:
Add ⅔ of the dough into the prepared pan and using your hands or a spoon press firmly and evenly around the bottom of the pan. Bake for 10 minutes.

Remove the crust from the oven and add the filling mixture on top, distributing evenly. Crumble the remaining dough mixture on top.

Bake for 55-65 minutes or until the top is light golden brown.

Allow to cool for 20 minutes before unmolding. Gently pull the parchment paper by the overhang and lift the bars, transferring to a serving plate. Cut them into squares and serve. Store at room temperature.
Video