Traducir a Español
Jump to recipe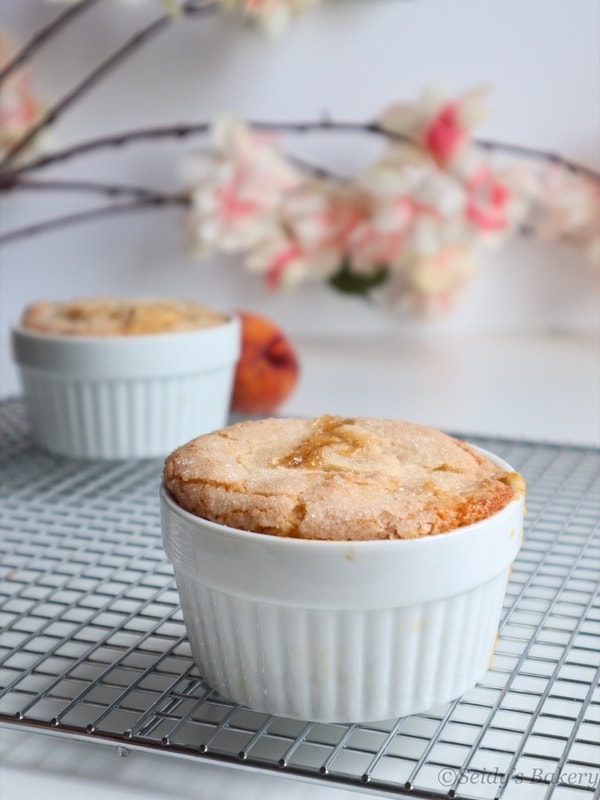 Welcome to Florida's Peach Season. Late Spring/ Early summer is when you will start seeing lots and lots of peaches at the grocery store, they are in season, juicy and sweet and the price doesn't get any better. What a better time than now to make all kinds of peach dessert, Peach Pie, Peach Cobbler, Peach Galette, Peaches and cream bars…uff! There are so many recipes I've seen and I am going nuts to make them all NOW!. Peaches are definitely one of my favorite fruits and I wish they were around longer.
Peach Cobbler is a dessert that makes me happy, tried it for the first time at a restaurant served with vanilla ice cream. Unfortunately for this recipe I do not have vanilla ice cream at home, but you will enjoy this with or without ice cream. Its warm, buttery crust and juicy filling will make you smile and feel so warm and cozy inside.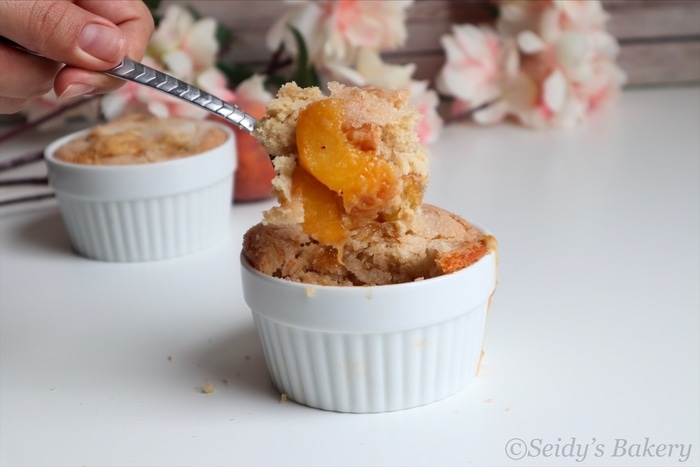 This Peach Cobbler Recipe for two is ideal if you want to only have a bit and move on to the next dessert, or if you don't have much flour leftover (all it needs is 1/2 cup). If you'd like to make a full recipe for this Peach Cobbler you can quadruple the recipe and make it on a 9×13 tray, or 8×8. Whatever you decide to bake it in, make sure to place a baking pan on the bottom to catch any drips. If the sides of your bowl/pan are not high enough some peach syrup will spill out while baking and you don't want to deal with removing burnt caramel from your oven, or that burnt caramel smell!
Go on, try this and let me know what you think. Let me know if it makes your soul smile and feel comfort like it does to me.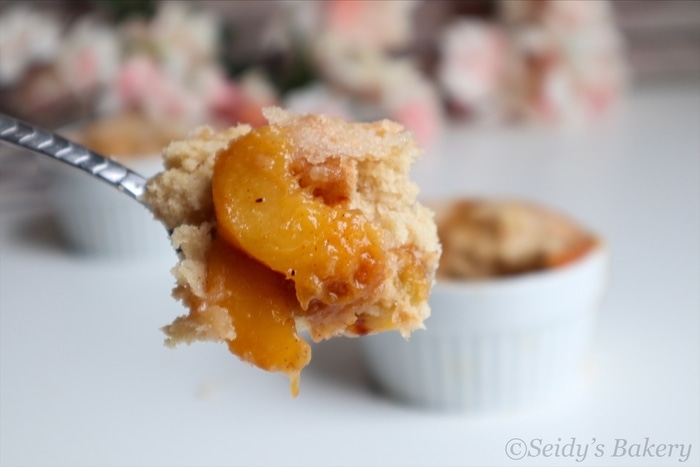 Ingredients
For filling:

2-3 ripe peaches (1-½ cup sliced)
1 tbsp white sugar
1 tbsp brown sugar
Dash of cinnamon
Dash of nutmeg
½ tsp cornstarch
½ tsp lemon juice

For Cake topping:

½ cup all purpose flour
2 tbsp white sugar
2 tbsp brown sugar
½ tsp baking powder
¼ tsp salt
3 tbsp unsalted butter, cold
2 tbsp boiling water

For topping

1 tbsp white sugar
Instructions
Grease 2 ramekins and preheat the oven to 400 F.
In a large bowl, add peaches, 2 tbsp each white sugar and brown sugar, cinnamon, nutmeg, lemon juice and cornstarch and mix gently until combined.
Divide peaches mixture into ramekins and bake for 10 minutes in the preheated oven.
Place a baking try underneath the ramekins to catch any spills.
While peaches are in the oven, in a medium bowl mix the cake topping ingredients together except the boiling water. Mix with your hands or a fork to cut the butter into the dry ingredients until it resembles coarse meal or wet sand.
Add boiling water and stir until just combined.
After peaches have baked for 10 minutes, carefully remove from the oven and top with cake mixture, dividing evenly between the 2 ramekins.
Sprinkle 1 tbsp white sugar dividing evenly and bake for 25-30 min until top is set and light golden.
Remove and let cool for 10 minutes. Serve warm with vanilla ice cream (optional but recommended!)