Traducir a Español
Jump to recipe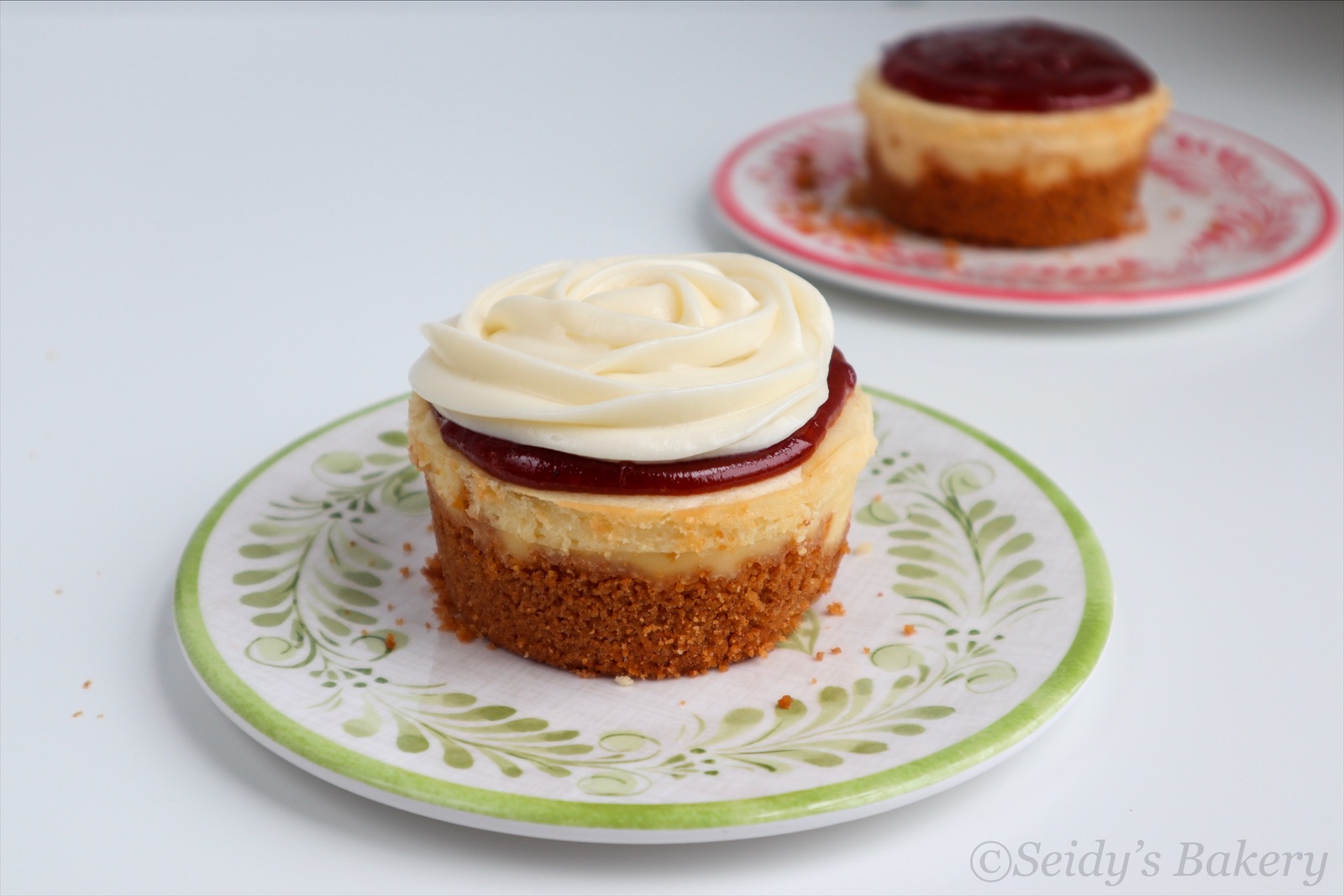 These little cheesecakes are a mini version of my large cheesecakes and let me tell you, the secret is definitely in the heavy cream! It makes it so smooth, and soft and fresh. I doubt I will ever turn to the sides to look at another cheesecake recipe.
The first time I made this recipe was with Guava swirled in the middle, then a sour cream frosting, and more guava swirled in it. It was for our first Christmas Eve in the USA and I made it to share at a friends house. We all loved it so much I don't think we had any leftover. From that day, I am hooked on this recipe, AND on always having guava paste in my pantry to whip up this recipe in an instant. If you have visited Miami, you know how popular Guava and Cheese are, and especially if they are together. How delicious!! Guava and cheese pastelitos are life!
So now, lets get down to business. I am going to share more recipes that yield smaller amounts since we are all locked up at home during these quarantine times and some of us *ahem ahem* have a family of only 2. And in my case, I want to eat a little bit of a dessert and jump right up to the next recipe to try a new dessert (YES! I declare myself GUILTY!!).
This recipe is ideal for 2 small ramekins (like these ones!) and only take a few minutes to put together. PLEASE, do not eat cheesecake right out of the oven, unlike bread, cheesecake needs time to cool down and refrigerate for at least 5 hours. I've found that the longer I wait (even 2 days) the better the flavor of the cheesecake.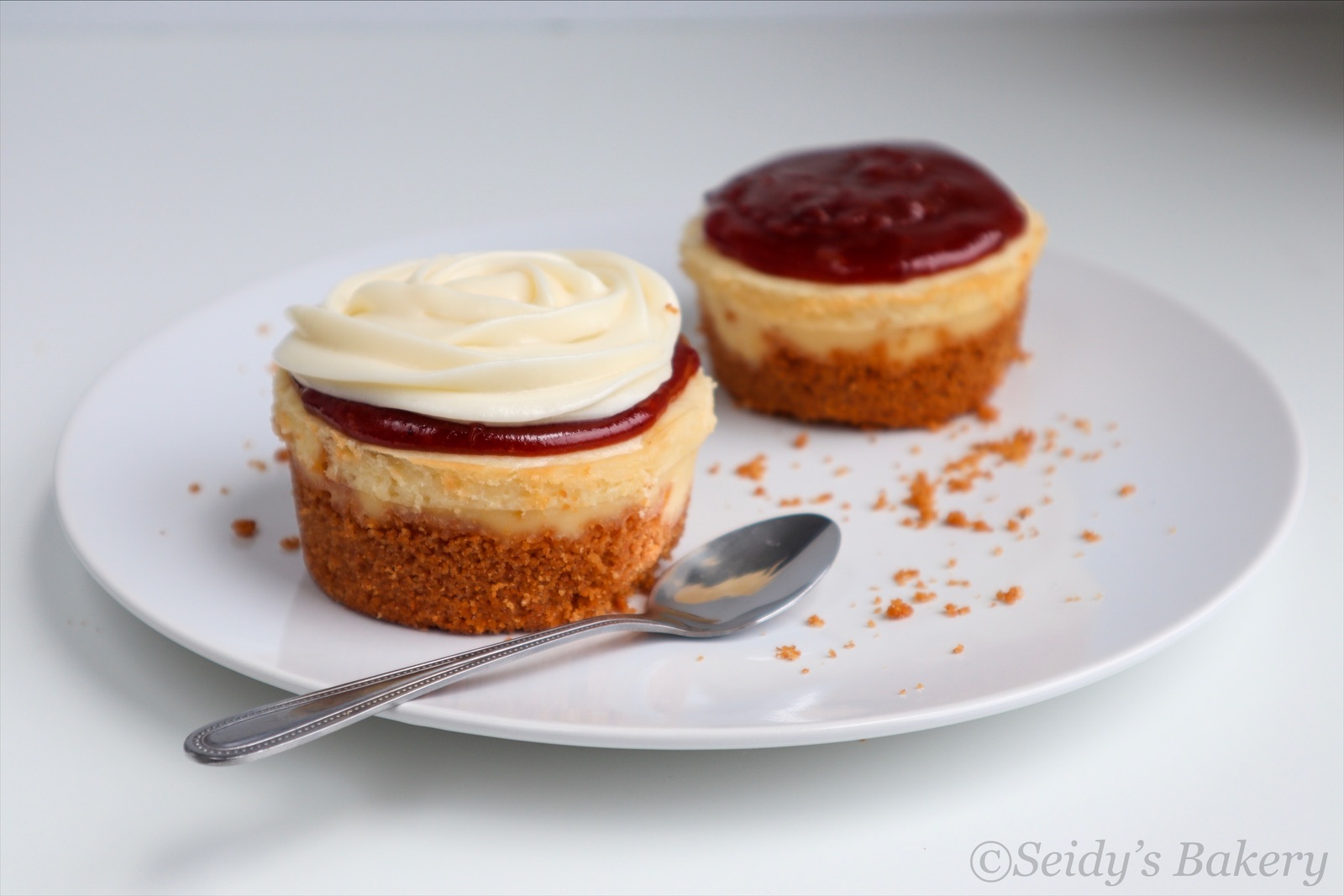 See Notes at the end for some fun substitutions!
Ingredients
For crust:

1/2 cup graham cracker crumbs*
2 tbsp butter
1 tbsp sugar

For cheesecake filling:

8oz (1 pkg) cream cheese
1/4 cup sugar
1 tbsp flour
1 egg
1/2 tsp vanilla
1 tbsp heavy cream

For topping

5oz. Guava paste or your favorite topping!**

For frosting

2 oz cream cheese at room temperature
2 tbsp unsalted butter at room temperature
3/4 cup icing sugar
1/4 tsp vanilla extract
Instructions
Grease 2 ramekins and preheat oven to 350 F. In a bowl, melt butter and mix in graham cracker crumbs. Divide between the greased ramekins, pressing against the bottom and sides to form an even layer. Chill in the refrigerator.
Mix cream cheese in the bowl of a stand mixer or with a hand mixer until smooth, add sugar and flour and mix until well combined. Do not over mix. Add in egg and vanilla extract mixing until incorporated. Add heavy cream and mix just until combined.
Divide cheesecake mixture over the two ramekins and bake for 25-30min or until the cheesecake is set and only has a slight wobble in the middle. Be careful to not over bake the cheesecake. The cheesecake should not brown on top.
While cheesecake is baking, cut guava paste in small squares and add to a microwave safe bowl with 1-2 tbsp water. Microwave in 30 second increments mixing well each time until guava has completely melted and is smooth. ***
Once cheesecakes are baked, remove from the oven and let cool completely on a wire rack, top with guava paste and refrigerate over night or 8 hours before serving.
To make the frosting, in a bowl whisk cream cheese and butter until smooth and well combined, add icing sugar and vanilla extract and continue mixing until well blended. Ice cheesecakes with a piping bag and a star tip or just add a big dollop on top of the guava paste.
Notes
 * You can sub the graham cracker crumbs for 4-5 oreo cookies. Decrease butter to 1 tbsp and remove sugar. Using a food processor blend cookies to form crumbs, add butter slowly while mixing to combine until it looks like wet sand.
** You can use any topping of your preference. Cherry filling, nutella, dulce de leche, Caramel, Banana foster, strawberry jelly, fresh fruit, you name it!
*** If you are using guava jam that comes in a jar and is a bit softer than guava paste, use as is or water down just a little bit until you get a spreading consistency.