Traducir a Español
Jump to recipe
And we meet again! This bars are incredibly amazing. You can also just make it into a pie plate, and make Coconut Cream Pie with Ganache on the bottom. First time I made these was on 2015, while visiting my sister. I remember how fast they were gone once I served them. My parents, my aunts and uncles and my sister devoured these. Truly…I wish I could make them more often, but there is so much to bake!!
On the recipe, it is preferable to make this on a 9×13 inch plate. The first time I made them was on a 9×15 inch (that is what my sister had) and it is totally fine. Keep in mind the smaller the dish, the taller they will be, and the larger the dish, the shorter these will be. You could probably half the recipe and make it into a 8×8 inch square dish. Just play with it and eye it a little bit. If your pans are not exactly the same proportion then you can measure how much thick you want your crust to be and how much of the chocolate and coconut pudding you want to pour into the dish.
You can also hold on to the frosting, cut the bars with just the pudding (when it is completely set and cold) and then top each individual piece. I think this way you are able to play more with the frosting and how it looks. Frosting the entire sheet at once will work just as well. Just please, read the notes. Use good quality Heavy Whipping cream such as Land-o-Lakes, it whips better than a low fat/quality whipping cream and you will absolutely notice the difference. See how velvety and smooth the frosting looks? Whipping until you have the right consistency, not over whipping, and using a high quality cream are key to delicious frosting.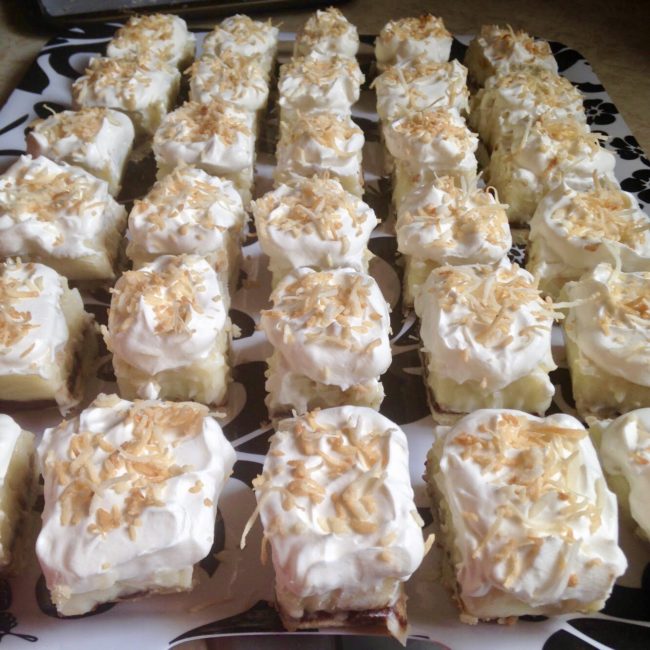 Please go ahead and give these a try. If you like Coconut, Coconut cream pie, chocolate, and short bread. this is the right path for you! If you have questions or notes please leave it on the comments at the end of this post. We can all improve this recipe and make it even more AMAHZING!
Ingredients
CRUST:
2 cups all-purpose flour
1/2 cup powdered sugar
1 cup (2 sticks) butter, cut into 1 tablespoon
GANACHE:
1/4 cup heavy whipping cream
6 ounces (1 cup) semisweet chocolate chips
COCONUT CREAM FILLING:
3 cups half-and-half (sometimes I use full fat or regular 2% milk)
3 cups coconut milk
4 eggs
1 1/2 cups granulated sugar
2/3 cup cornstarch
1/2 teaspoon salt
1/2 teaspoon coconut extract (optional)
1/2 teaspoon vanilla extract
1 1/2 cup sweetened, flaked coconut (can use unsweetened too!!)
WHIPPED CREAM TOPPING:
2 cups heavy whipping cream (high quality cream)
4 tablespoons powdered sugar
1/2 cup shredded coconut, toasted
Instructions
Preheat the oven to 350°F. Line a 9x13-inch baking dish with foil or parchment paper and leave about 3 inch overhang on the long sides of the dish remove the bars after baking.
Combine flour and powdered sugar in a large bowl. Cut the butter into the dry ingredients and combine until it resembles wet sand. You can do this with the help of a food processor, two knives or forks.
Press the mixture evenly throughout the prepared baking dish. Bake for 16 minutes or until the crust is light golden brown. Remove from the oven and cool completely on a wire rack. Do not remove from the baking dish.
While the crust is baking, place the chocolate in a medium bowl. On a small sauce pan, bring the heavy cream to a simmer (you can microwave in short 20 second intervals until you notice it bubbles a little) cream should not come to a full boil. When the cream starts to simmer, remove from the head and pour over the chocolate. Cover and let it sit for 2 minutes. Stir until ganache comes together and becomes shiny and smooth, with chocolate completely melted and incorporated.
Once the crust has cooled, pour the ganache over the bottom of the crust and smooth to the sides. Place in the fridge to set until the ganache has set, and is completely cooled.
In a large saucepan, while the crust and chocolate are cooling, combine half-and-half (or milk if using), coconut milk, eggs, sugar, cornstarch, and salt and whisk until dissolving the cornstarch. Bring to a boil, whisking constantly until it the mix has become very think, like pudding.
Once thickened, remove from the heat. Here you can choose to strain your filling. This will help get rid of any cooked eggs or lumps in your pudding. I usually never do this step as I whisk the mix thoroughly before heating up, until I have a very homogeneous mixture. Add and mix in the coconut (if using) and vanilla extracts and coconut (not toasted!). Remove baking dish from the fridge and pour the filling over the chilled ganache. Refrigerate the bars until firm and set for 4 hours or overnight.
For the topping, in the bowl of a stand mixer or on a tall bowl with a handheld electric mixer, combine heavy whipping cream and powdered sugar and mix on medium-high speed until soft peaks form and the cream has become thick and holds it shape. DO NOT OVERMIX, you will get straight up butter (see notes).
Spread the cream over the filling and sprinkle with the toasted coconut. Keep in the fridge until ready to serve. Use the foil or parchment overhang to carefully lift the bars from the pan. Cut into squares or rectangles pieces and serve.
Notes
- Using high quality heavy cream is important, especially if being used to whip and frost cakes. Cheap and low quality heavy cream will break up and curdle as soon as it starts fluffing up while mixing it, then stabilizers like unflavored gelatin are required and still while using it, I would not recommend it. The difference when using high quality heavy cream is incredible. You will get a smooth, glossy, fluffy frosting and you will know when it is ready without it curdling and splitting. - For toasting the coconut, spread it out on a baking sheet and bake at 350F for 2-5 min, keep an eye on it because it goes from nice golden toasted, to brown 'oh I burned the coconut' in the blink of an eye!!



Recipe adapted from one of my favorite bloggers: Mel's Kitchen Cafe