Traducir a Español
Jump to recipe
In late celebration of Pi Day, I'd love to share this AMAZING recipe with you! It is chewy, yummy, and a total deliciousness! When I saw this recipe a couple of years ago I was very skeptical. I don't really like Pecan Pie, I don't enjoy the texture and the thought that I was eating only corn syrup disgusted me and I never enjoyed pecan pie, but I DO LOVE PECANS! So I thought…hey! let's try something new no? I mean, it had our favorite fruit: Cranberry, and white chocolate! Worst-case scenario if we didn't like it was to give it away or freeze it for later. Oh but let me tell you, WE LOVED THIS PIE!!! My husband said this was the best pie ever (I am sensing a theme here…). We really enjoyed it, the chewy inside of this pie was 'MAGICAL' as my husband described it. I couldn't believe how good it was, so I had to make another recipe for my parents and brother that were visiting in the next two weeks, they all loved it, but my husband did the most haha!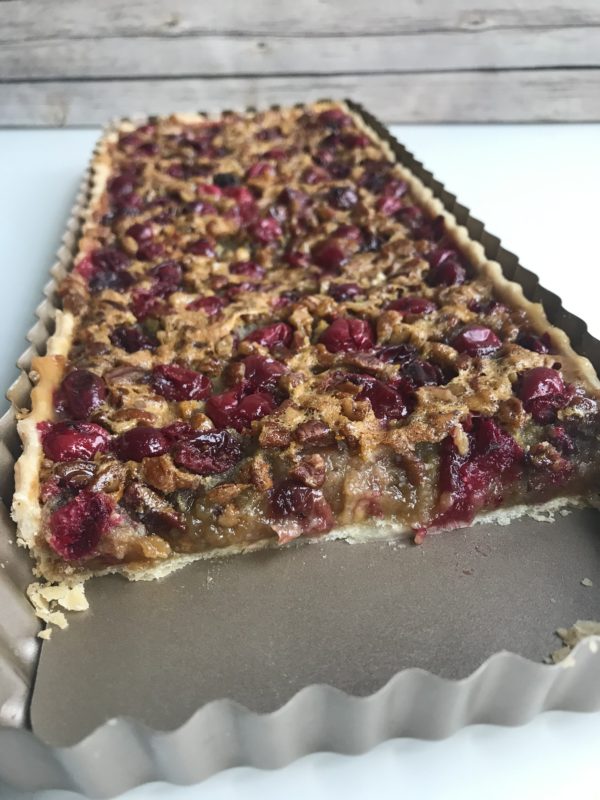 BAKING NOTES:
The crust is my favorite crust, you can find the recipe HERE.   For this recipe, you only need half a recipe 🙂
The baking time may take more or less time depending on your oven. I suggest keeping a close eye on your tart.
Place a cookie sheet under the tart pan, or on a lower rack. Filling my spill when baking. Grease your pan so if overspilling occurs it doesn't stick terribly causing a 'super glue' effect.
I recommend not testing the doneness by inserting a knife. I realized it actually damaged my perfect looking pie. So you can try with a toothpick, or just tap your finger really lightly over the center of the pie. It has to set and golden just a little bit, you don't want to burn the candy filling or it will be hard to chew on the edges.
Eating it cold is SO good, but if you are more of a 'warm pie' person like me, you can warm it up just a little bit and serve it with Vanilla Ice Cream *IN LOVE!*
The original recipe calls for 3/4 cup of light corn syrup. I cut that to 1/2 just because I don't love to use corn syrup. It worked just fine.
Ingredients
Half a recipe of my Pie Crust Recipe
1 cup fresh or frozen cranberries
1 cup pecan halves
1 cup white baking chips
3 large eggs
3/4 cup packed brown sugar
3/4 cup light corn syrup
2 tablespoons all-purpose flour
1 teaspoon grated orange zest
Instructions
Start by preparing the pie crust and letting it cool inside the refrigerator for about 30min to 1 hour.
Preheat oven to 350°F. Over a lightly floured surface, roll out pie crust to 1/8 inch thick in a rectangular shape large enough to fit a rectangular 14x6inch tart pan with removable bottom, you can also use a round or square tart pan 8 or 9inch.
Sprinkle with the cranberries, pecans and chocolate chips evenly on the pie crust and set aside.
In a small bowl, whisk the eggs, brown sugar, corn syrup, flour and orange zest until well combined. Pour evenly over the pie crust with cranberries, pecan and chocolate chips previously prepared.
Bake 45-50 minutes or until the tart has set. You can test also test inserting a toothpick in the center and comes out clean. Let it cool on a wire rack and refrigerate for at least 3 hours before serving.
Recipe slightly edited from: Taste of Home