Traducir a Español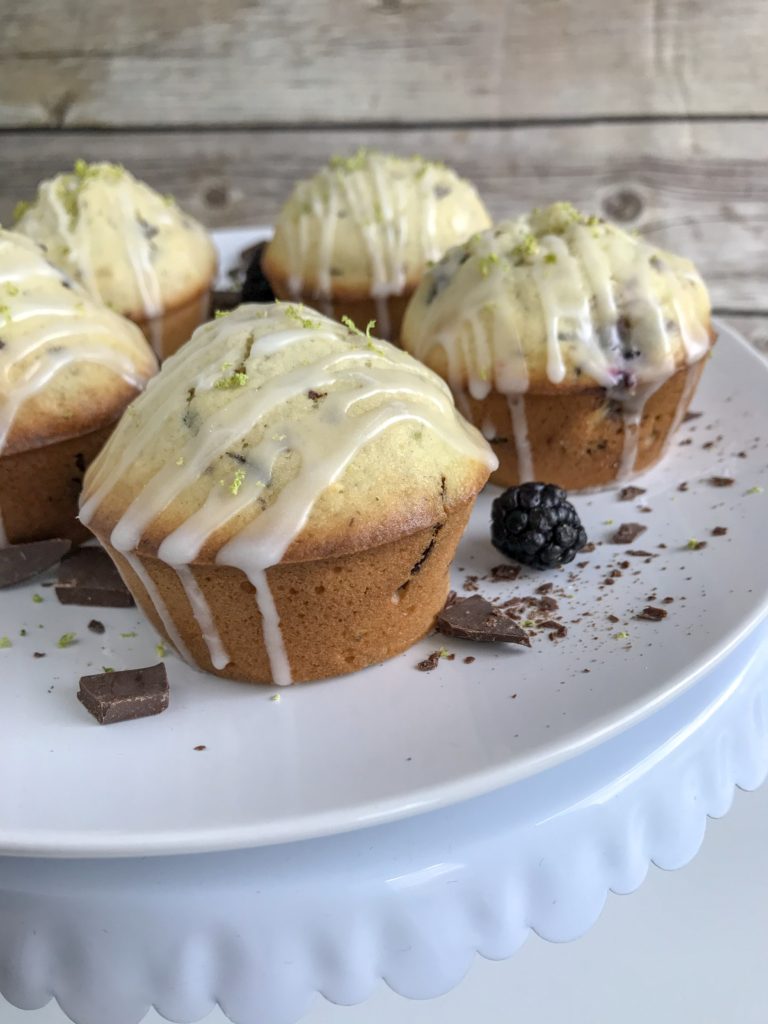 MUFFINS – APRIL 8, 2019
blackberry lime chocolate chunk muffins
These soft, melt-in-your-mouth Blackberry Lime Chocolate Chunk Muffins are bursting with the tangy flavor of limes, sweetness from the blackberries, and the perfect indulgent touch of chocolate.
Jump to Recipe
These muffins are the perfect treat for a warm spring afternoon and an amazing spring twist on chocolate chunk muffins. They are soft and delicious with the perfect combination of limes, blackberries, and chocolate. At first, it may seem an odd combination to have limes and dark chocolate together but trust me on this one, you will love them if you already enjoy those flavors separately. The blackberries seem to be the perfect bridge to bring those other two together for their sweet and tart flavor.
I've created variations of these substituting the lime zest for lemon or orange zest and it always turns out delicious!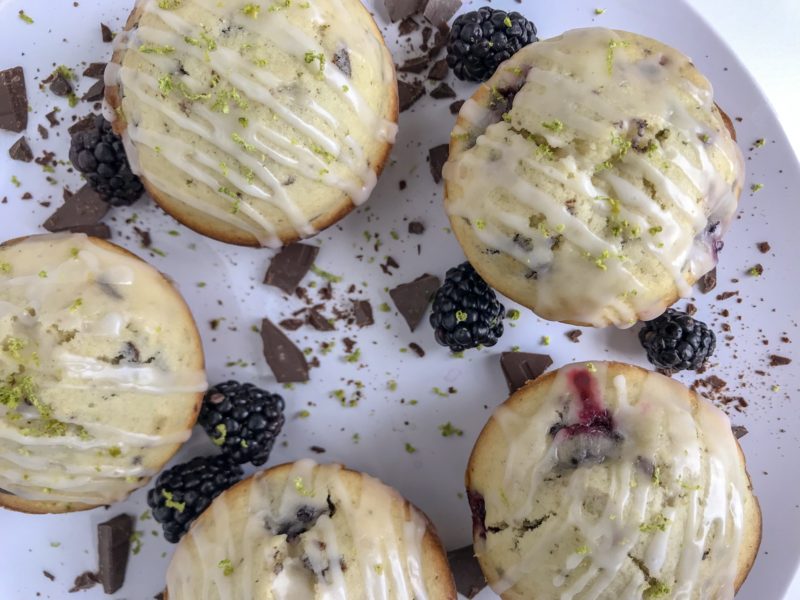 Why you will love them?
The flavor combination comes together amazingly well, even if limes and chocolate seem like a surprising pair. The blackberries serve as the bridge connecting the lime zest and the chocolate chunks since they go pretty well with both and at the same time, the flavor profile of blackberries is tart and sweet. You will taste all of the flavors in every bite, and not one flavor is too overpowering, they balance each other out and work together to create this magical flavor!
Also, they are soft but dense at the same time, making them sturdy and indulgent muffins, and they are pretty easy to put together. There is not much preparation of the ingredients previous to just combining it all together and scooping the batter into your muffin pans.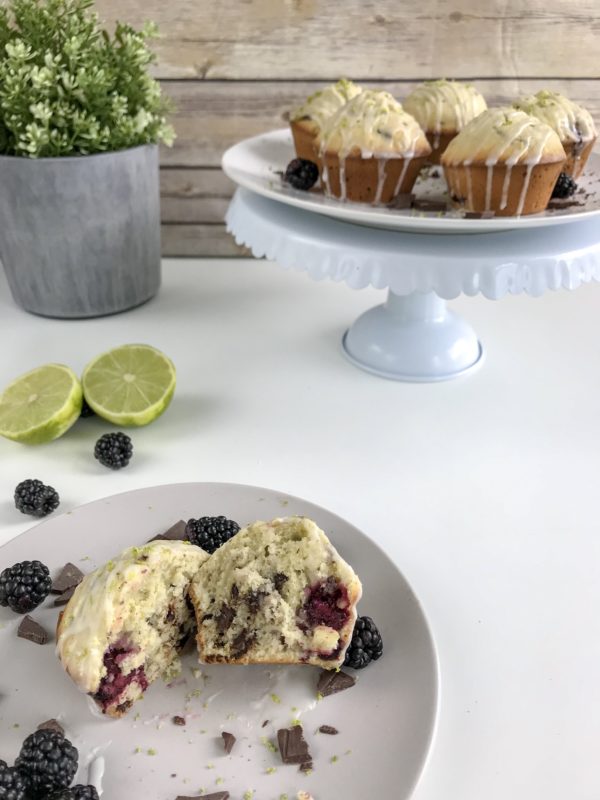 Ingredients for Blackberry Lime Chocolate Chunk Muffins:
Butter: unsalted, melted, and cooled.
Milk: can use full fat or 2%, at room temperature
Eggs: binding agent and responsible for that cake feel.
Limes: the zest to infuse the batter with its delicious tangy flavor, the juice for the icing.
Flour: all-purpose is our choice here. Perfect crumb every time.
Sugar: white sugar works perfectly with the flavor profile of these muffins.
Baking powder: rising agent.
Salt: always deepens flavors
Blackberries: fresh blackberries are ideal for these muffins and add the perfect amount of moisture.
Dark chocolate: chopped into chunks. Can also use chocolate chips.
Powdered sugar: for the icing, mixed with the lime juice to make them dissolve and set quicker onto our muffins.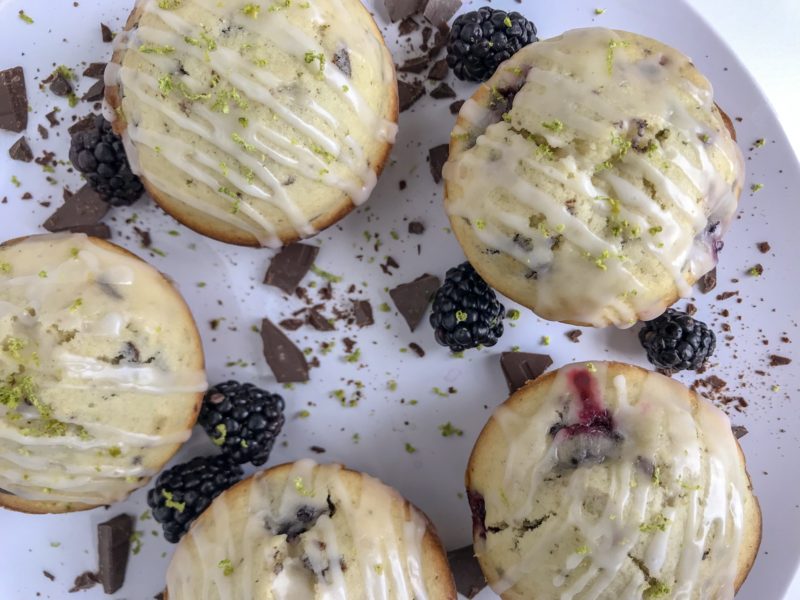 Blackberry Lime Chocolate Chunk Muffins
These soft, melt-in-your-mouth Blackberry Lime Chocolate Chunk Muffins are bursting with the tangy flavor of limes, sweetness from the blackberries, and the perfect indulgent touch of chocolate.
Ingredients
For the muffins:
1/2

cup

unsalted butter

melted and cooled

1/2

cup

milk

room temperature

2

eggs

room temperature

1

tsp.

grated lime zest

can sub for orange

2

cups

all-purpose flour

3/4

cups

sugar

2

tsp.

baking powder

1

tsp.

salt

1 1/2

cups

fresh blackberries

1/2

cup

chopped dark chocolate
For the drizzle:
1

cup

icing sugar

2-3

tbsp

lime juice

can sub for orange juice
Instructions
Preheat your oven to 350 F and coat your muffin/cupcake tin with non-stick cooking spray or line it with cupcake liners. Set aside.

In the bowl of an electric mixer add melted/cooled butter, milk, eggs, and lime zest and beat with the paddle attachment on medium speed until well combined, about 2-3 minutes. With the mixer on low, slowly incorporate the flour, sugar, baking powder, and salt, and beat until just incorporated.

Gently fold in the blackberries and chopped chocolate. Being careful not to smash the blackberries into the batter.

Using an ice cream scoop place the muffin batter into the prepared muffin tin, dividing it evenly between the 12-muffin tray.

Bake for 25-28 minutes or until muffins are lightly golden and a toothpick inserted in the center comes out clean.

Remove from the oven and allow the muffins to cool in their tin for about 10 minutes. Remove the muffins and transfer them to a wire rack to cool completely.

While the muffins are cooling prepare the sugar drizzle. In a small bowl add icing sugar and mix adding 1 tbsp of lime juice at a time. Add only enough lime juice so that it is not dry but be careful not to add too much as it will become too runny. You want a sort of condensed milk consistency.

Once cooled, drizzle the muffins with the sugar/lime mix and let dry. Muffins can be stored in an airtight container at room temperature for up to 2 days (if they last!). Muffins are better the same day they are baked.