Jump to recipe
Where do I even start with these…..Oh yeah, BEST MUFFINS EVER!
I've tried this recipe a couple of times now, and I can officially say I love it. It is so easy to put together and so easy to make variations. The original recipe I read had orange peel. I changed it for Lime and I my husband wouldn't stop raving about them. I honestly think he is definitely my biggest fan although he will prob not ever read all of this! (Ha!).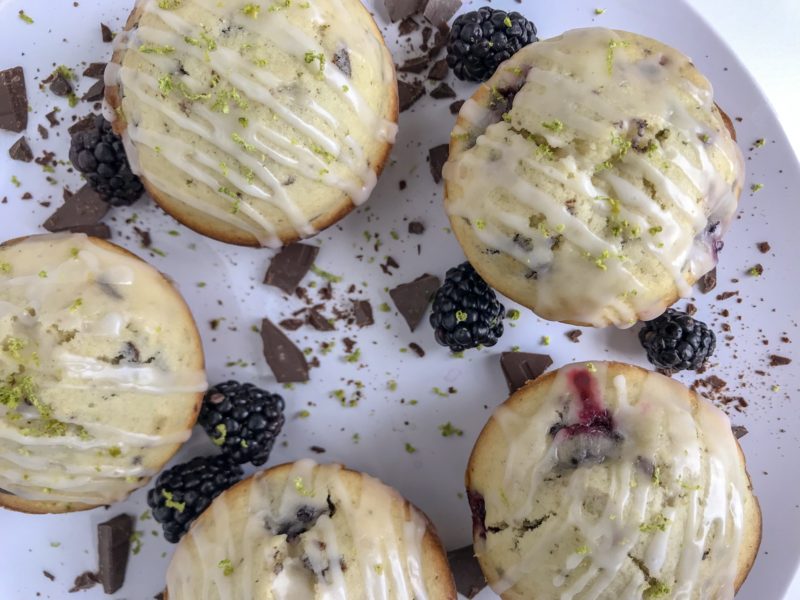 For the ingredients that make this muffin the amazing muffin they are, you can chop your own chocolate or buy the bag of chocolate chunks (feel free to use white chocolate, dark chocolate or milk chocolate!) and you can substitute the blackberries for strawberries, raspberries, peaches, blueberries…just remember to wash them thoroughly and let them drip or dry them a bit to remove the excess of water going into your muffin batter.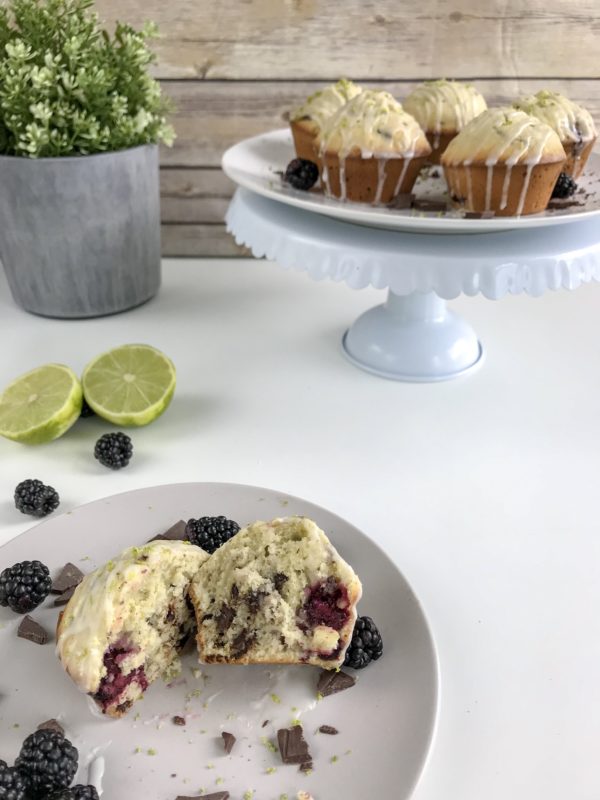 Ok, let's get baking and Happy Easter!
Ingredients
1/2 cup unsalted butter, melted and cooled
1/2 cup milk, room temperature
2 eggs
1 tsp. grated lime zest
2 cups all-purpose flour
3/4 cups
2 tsp. baking powder
1 tsp. salt
1 1/2 cups fresh blackberries
1/2 cup chopped dark chocolate
Drizzle
1 cup icing sugar
2-3 tbsp lime juice
Instructions
Preheat your oven to 375 F and coat your muffin/cupcake tin with non-stick cooking spray. Set aside.
In the bowl of an electric mixer add melted/cooled butter, milk, eggs, and lime zest and beat with paddle attachment on medium speed until well combined, about 2-3 minutes. With the mixer on low, slowly incorporate the flour, sugar, baking powder and salt, beat until just incorporated.
Gently fold in the blackberries and chopped chocolate. Being careful not to smash the blackberries into the batter.
Using an ice cream scoop place the muffin batter into prepared muffin tin, dividing it evenly between the 12 muffin tray.
Bake for 25-28 minutes or until muffins are light golden and a toothpick inserted in the center comes out clean.
Remove from the oven and allow the muffins to cool in their tin for about 10 minutes. Remove the muffins and transfer them to a wire rack to cool completely.
While muffins are cooling prepare the sugar drizzle. In a small bowl add icing sugar and mix adding 1 tbsp of lime juice at a time. Add only enough lime juice so that it is not dry but be careful not to add too much as it will become too runny. You want a sort of condensed milk consistency.
Once cooled, drizzle the muffins with the sugar/lime mix and let dry. Muffins can be stored in an airtight container at room temperature for up to 2 days (if they last!). Muffins are better the same day they are baked.