Traducir a Español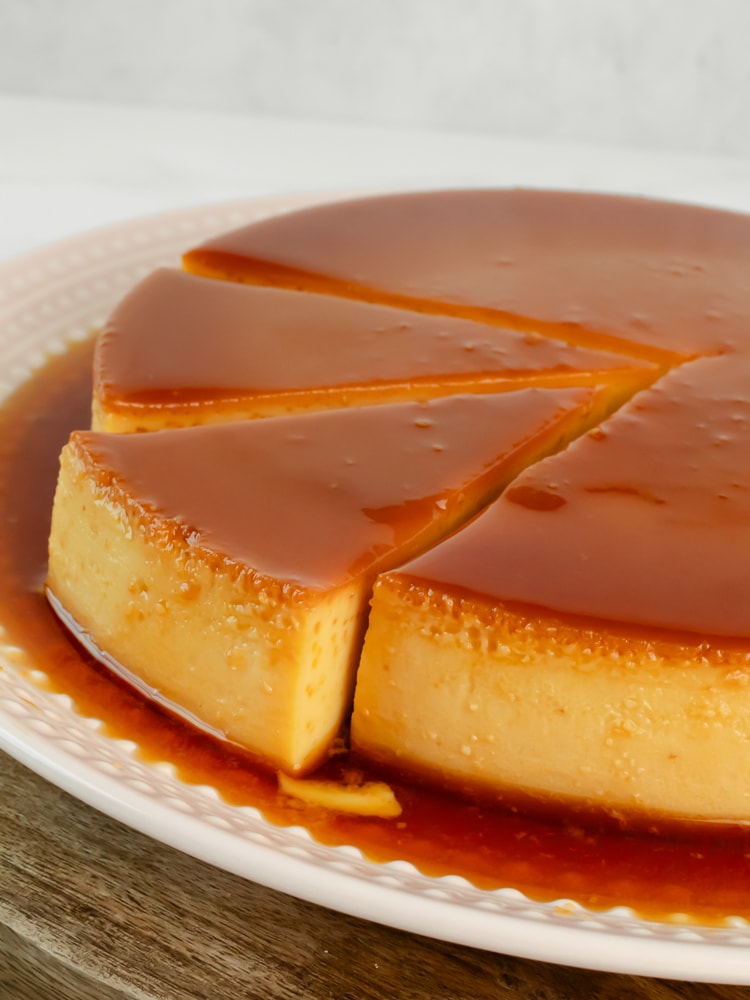 Venezuelan Flan – Quesillo
This Venezuelan Flan called Quesillo is a mouthwatering, decadent dessert with rich caramel flavors and unmatchable creaminess!
Jump to Recipe
If you have followed me for a while you'd know I was born and raised in Venezuela. One of the many desserts I love is this delicious, creamy and glossy flan. In Venezuela, it is called quesillo because it is supposed to resemble cheese (queso) with the little holes inside. However, holes in your quesillo has been an ongoing debate since some people enjoy it absolutely smooth, while others say it needs to have the little holes, otherwise it isn't a Venezuelan quesillo.
I grew up with my mom's and aunt's quesillos. They were all very different in texture, some included rum, some others included orange peel, or even raisins. Nonetheless, I enjoyed my mom's best because it was absolutely smooth, no holes, glossy and melt-in-your mouth delicious. I know, I may be biased. But that is my favorite way to enjoy Quesillo!
Quesillos were typically served at birthday parties, in combination with serving cake, jello and ice cream. Talk about that combo right there!! But still, those were the best days and you are learning a bit more about Venezuelan culture right here.
How is this Venezuelan version different from any other flan?
All flans are different and many countries have their own version. Some are made with whole milk, evaporated milk, cream or heavy cream, all eggs or only egg yolks. The result is a different flan each time due to the ingredients varying, yielding a more creamy or rich flan. In this case, Venezuelan flan is mostly made using all parts of the egg, condensed milk, regular whole milk, vanilla and rum. Some say it isn't Venezuelan if it doesn't have rum, however, I digress…although I may not have known when the ones I ate growing up had it or not.
For this version of the Quesillo I added spiced rum, and although it is totally optional, it does add a bit of flavor that melds so perfectly with the caramel. You can also use white rum if that is all you have on hand.
If you would like to try another delicious flan recipe, check out this Coconut Flan Recipe.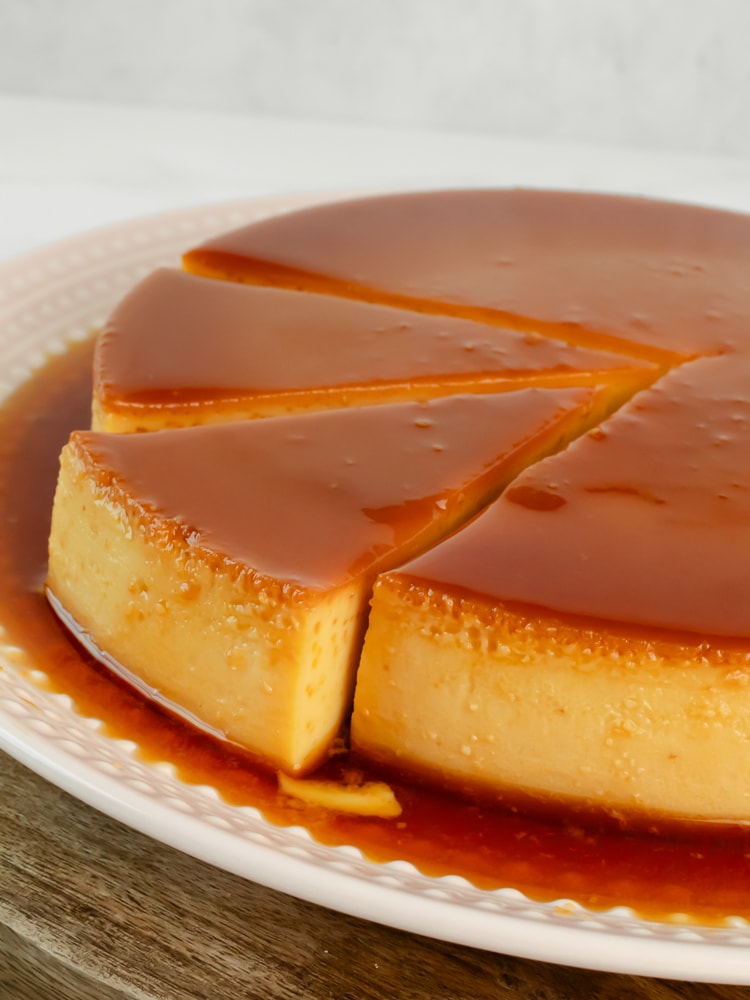 Why you will love it?
Venezuelan Quesillo is a rich, decadent dessert. In my experience, I believe it is a bit firmer than your regular flan recipe, however, that is what sets it apart. The firmness but still creamy texture, the perfect caramelization of the caramel – a darker caramel in my opinion – and the little holes holding extra caramel sauce in every bite.
Additionally, it feels like a very light dessert. Not in terms of calories, but in terms of fullness. You will probably want to easily eat more than 1 slice, because even if it has tons of caramel sauce, it isn't too sweet. The fusion of the bitter but sweet caramel, and the creamy flan is the perfect combination. Trust me, you will inhale this dessert in 2 seconds.
Lastly and most wonderfully, it is a nostalgic dessert for many that also happens to be gluten-free! None of the ingredients added have gluten in them so it makes them extra special to share with everyone at your table and keep everyone happy. Be mindful of the addition of alcohol as some people may be allergic or not able to consume it although most likely the alcohol part of it will evaporate during baking.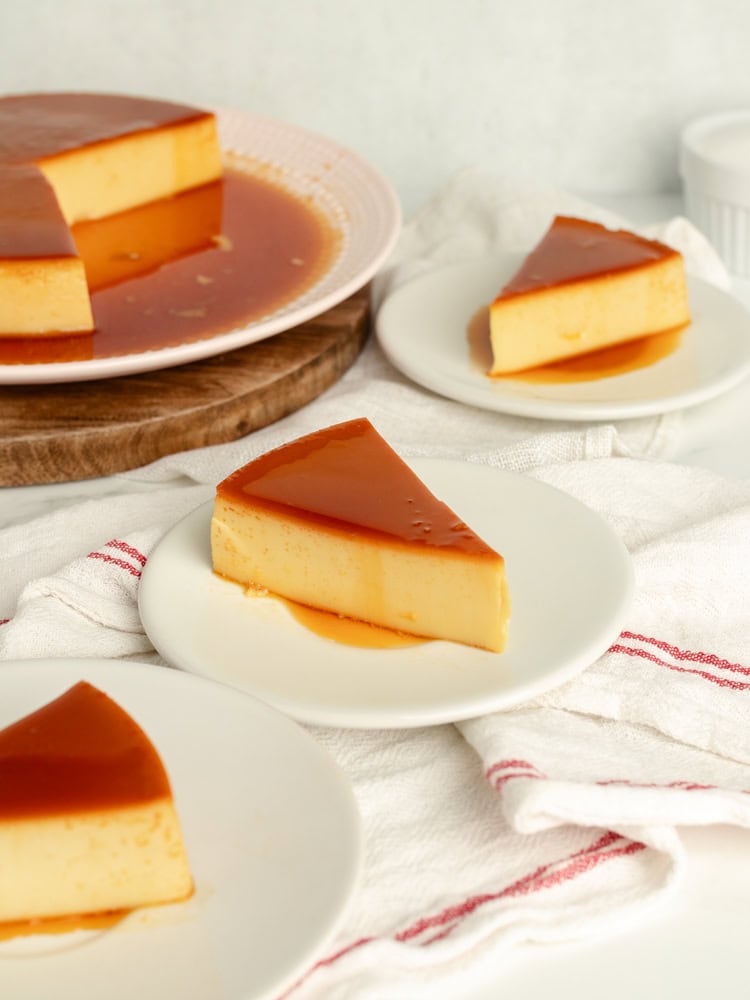 Ingredients for Quesillo – Venezuelan Flan:
Now that we've piqued your curiosity, let's dive into the essential ingredients you'll need to create your very own Quesillo Venezolano at home. Don't worry, these ingredients are readily available and easy to find, so you can whip up this delightful treat whenever the craving strikes!
Here's what you'll need:
Eggs: are the backbone of this dessert, lending richness and texture to the custard.
Sweetened Condensed Milk: it brings sweetness and creaminess to the flan. I always go with this brand, or this one.
Whole Milk: you can also substitute for evaporated milk for a richer flan.
Rum: I've used spiced rum, but you can also use white rum or no rum at all. It is optional.
Vanilla Extract: complements the flavors of caramel and adds a warm, aromatic note to the flan.
Granulated Sugar: is required to create the caramel sauce that coats the bottom of the flan mold, adding a delightful touch of sweetness and a caramelized kick.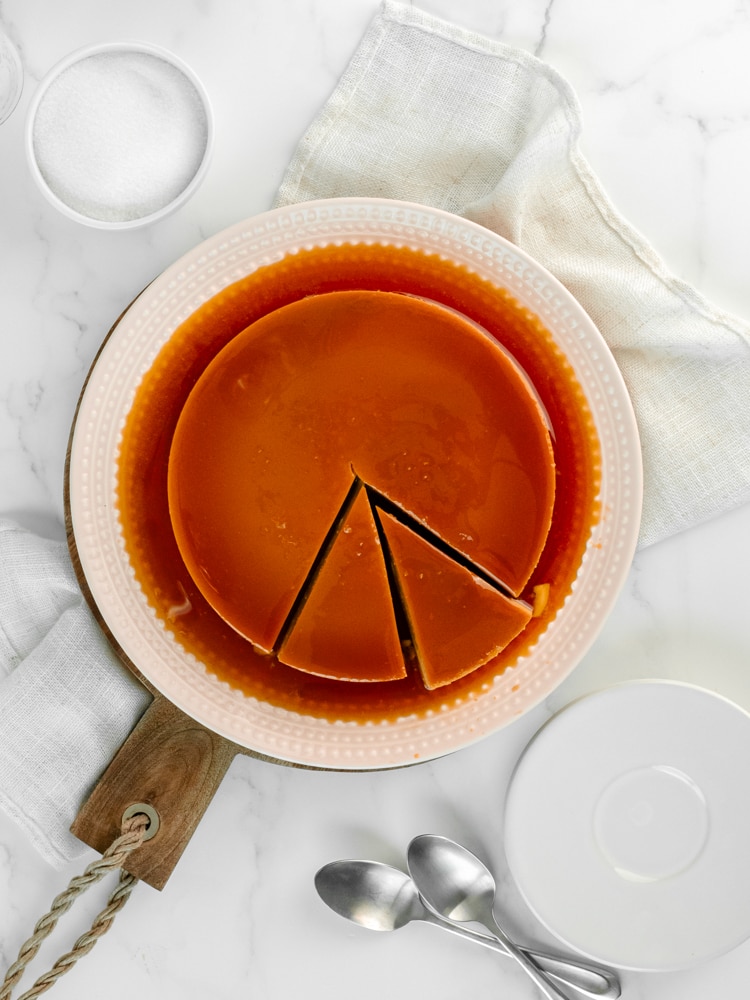 Tips for making delicious Quesillo – Venezuelan Flan:
Ready to perfect your flan? I've got some handy tips to ensure your Venezuelan Flan /Quesillo turns out absolutely divine. So pay close attention and let's get baking!
Be Patient with the Caramel: The caramel topping is the crowning glory of your Quesillo Venezolano. When making the caramel, allow it to turn a deep golden brown to achieve that perfect balance of sweetness and bitterness. Keep a watchful eye, as it can quickly go from golden to burnt!
Mix It Up Thoroughly: To achieve that velvety smooth texture, make sure to whisk the eggs and milks together until well blended. Take your time and be thorough with your mixing to ensure a consistent and luscious flan. Using a blender is the easiest and fastest way.
Embrace the Water Bath: Baking your Quesillo Venezolano in a water bath is key to its success. This gentle cooking method prevents the custard from curdling and ensures even heat distribution, resulting in a creamy, silky flan. So don't skip this step! I use this 7 inch cake mold inside a larger baking dish like this one. You can also bake them in small individual ramekins. Bake time will vary.
Cool It Down: Once your flan is baked to perfection, resist the urge to dig in immediately. Allow it to cool at room temperature before refrigerating for at least 8 hours before unmolding. This will help it set properly and intensify the flavors. Trust me, the wait will be worth it!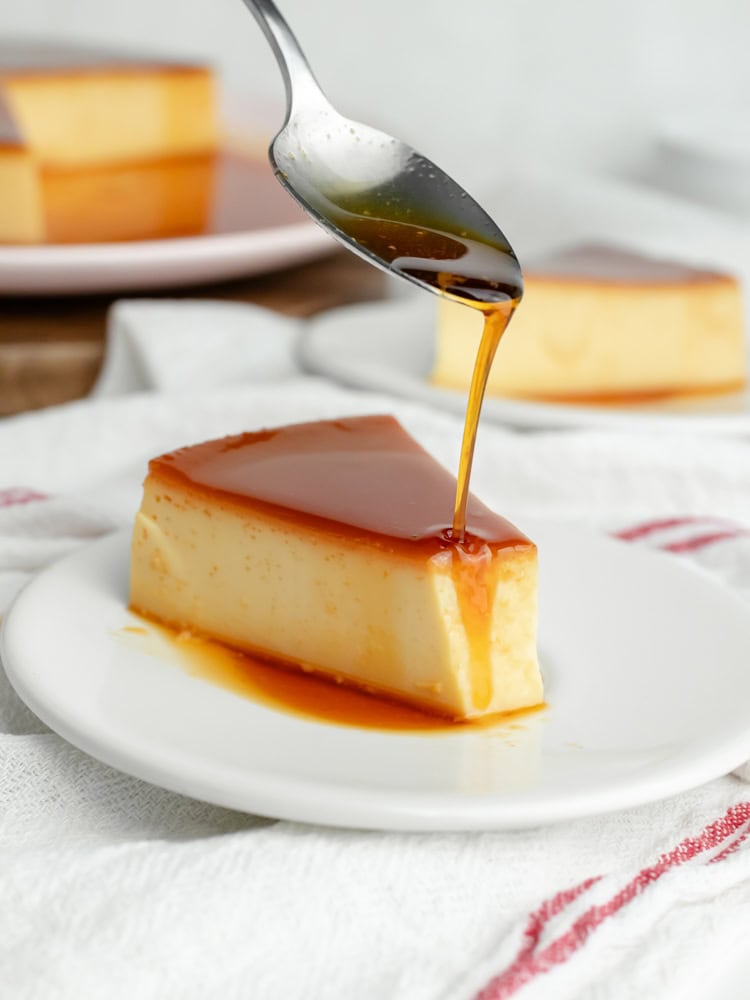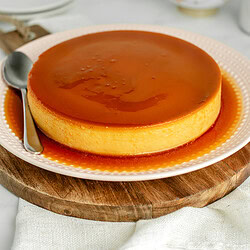 Venezuelan Flan – Quesillo
This Venezuelan Flan called Quesillo is a mouthwatering, decadent dessert with rich caramel flavors and unmatchable creaminess!
Ingredients
For the flan / quesillo:
5

eggs

1-14

oz

can of sweetened condensed milk

400 ml)

1 ¾

whole milk

400 ml – use the same can as the condensed milk to measure

1

tablespoon

rum – optional

1

teaspoon

vanilla extract
Instructions
Preheat oven to 375℉ and grab a 7-8 inch wide by 3-inch tall cake pan (can use any mold, as long as it is large enough to fit the mix).

Start by preparing the caramel. Place sugar in the cake mold or flan mold you will use and place it over medium heat on your stove. Do not touch or stir the sugar until it has completely melted, only shake the pan softly using oven mittens to avoid burning yourself. The cake mold gets very very hot so be careful. Gently swirl the caramel inside the pan to incorporate any dry bits of sugar, and heat until the caramel turns a golden color. Keep an eye on the caramel, as soon as it turns amber remove it from the heat and swirl it over the bottom and up the sides of the cake pan to coat well. Set aside to cool and harden while you prepare the flan mix.

Make the flan mix: In a blender, add the eggs, condensed milk, heavy cream, rum, and vanilla extract. Blend at medium speed for 30 seconds to 1 minute. Blend until the mix is well combined and pour carefully over the pan with the hardened caramel.

Bake the flan: Place the cake pan into a larger baking dish, filling the larger baking dish with water until it reaches more than halfway up the sides of the cake pan – this is what's called a bain marie – and cover your flan pan with foil. Bake for 60 to 90 minutes or until a knife inserted in the middle comes out clean and almost dry and the flan's center jiggles a bit when shaken.

Cool the flan: Transfer the flan to a cooling rack and let cool to room temperature. Then refrigerate for at least 4 hours before unmolding.

Unmold the flan: To unmold, once completely chilled, place the pan in about 1-2 inches of warm water, so the caramel at the bottom softens again. Run a knife or a spatula through the edges of the pan. Place an inverted serving plate over the pan, hold it tightly, and quickly turn it over to release the flan and serve.

Keep refrigerated: This Venezuelan flan, just like any flan, needs to be stored in the refrigerator and served cold. I prefer placing it in a cake carrier or an airtight container. It also lasts about 4-5 days in the refrigerator – if only you don't eat it all before!
Video