Traducir a Español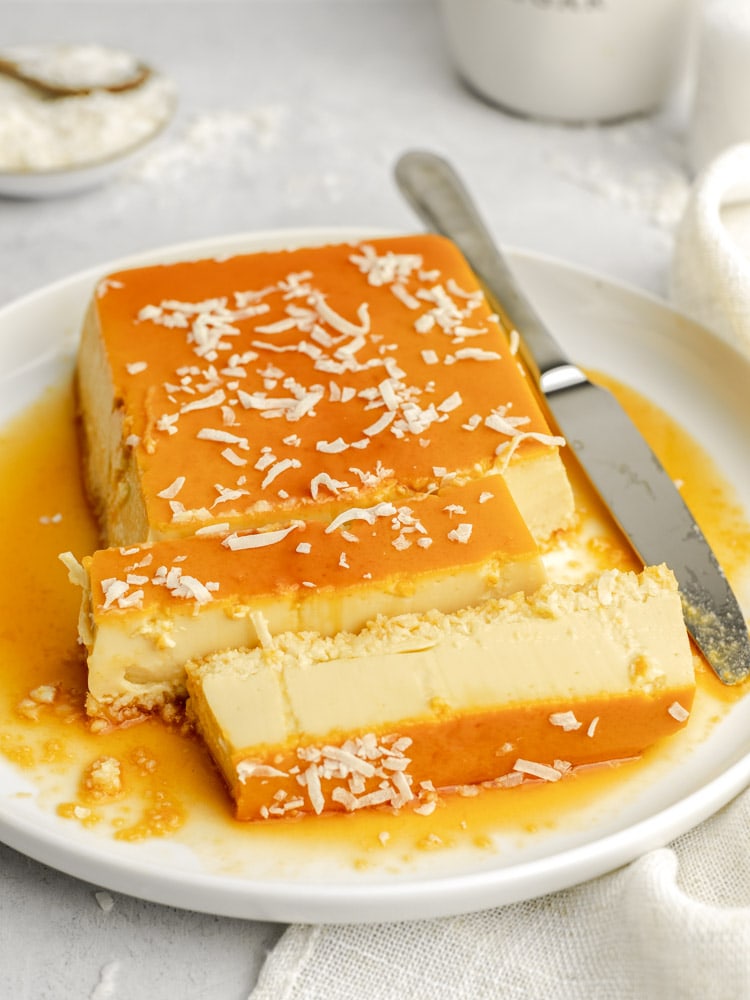 Coconut Flan (Caribbean/ French Antilles Flan)
Creamy and golden dessert with a velvety-smooth texture infused with the tropical flavors of coconut. This Coconut Flan is also known as French Antilles Flan, Caribbean Flan, or West Indies Flan.
Jump to Recipe
This creamy, delightful dessert is topped with a caramel sauce that adds a contrasting caramel flavor, and a sweet coconut base that is created during the baking process. It combines the richness of sweetened condensed milk with the tropical flavors of coconut milk and will for sure become a favorite in your own kitchen.
I've always explored foods and desserts from other cultures. So recreating this Coconut Flan with its origins linked to the French Antilles and the Caribbean not only felt right but exciting to bring to you! All of Latin America has a slightly different version of flans. In Venezuela, we call it Quesillo and it has a bit of rum and a texture with little holes – hence the name Quesillo, it looks like cheese – that are created from baking the flan longer than usual.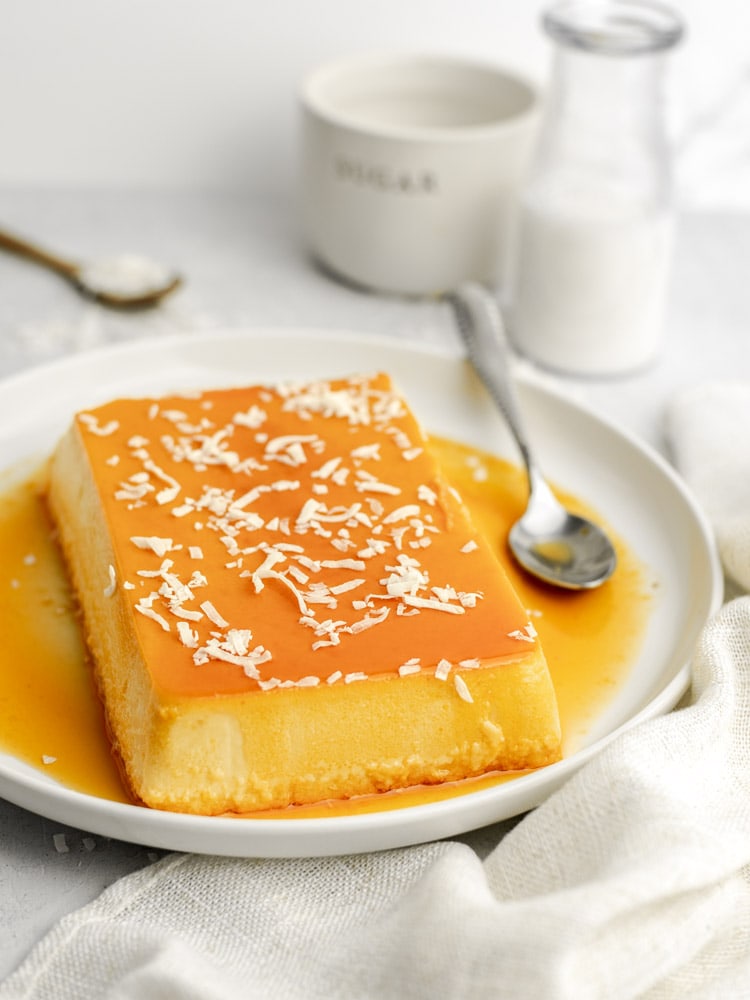 Why you will love it?
This decadent dessert is creamy and rich. Its delicate texture and perfect balance of firmness and silkiness will leave you wanting more and although it has a caramel sauce, it is not overwhelmingly sweet, which facilitates eating more than one serving.
Secondly, this version of flan has coconut delivered by two sources, so if you are a fan of coconut, you are in for a treat! Creamy, canned coconut milk, and delicious shredded coconut. The coconut milk adds that extra flavor to the flan, while the shredded coconut bakes at the top of the dessert and creates some sort of coconut base once the dessert is unmolded and served. It adds that special chewy texture we all love about coconut.
Lastly, this dessert is not only delicious because of its texture, but it is also extremely easy to make and creates this elegant, shiny, and beautiful dessert that seems out of a professional bakery. You can bake this in a 6 or 7-inch round cake pan, in a loaf pan, or in several ramekins.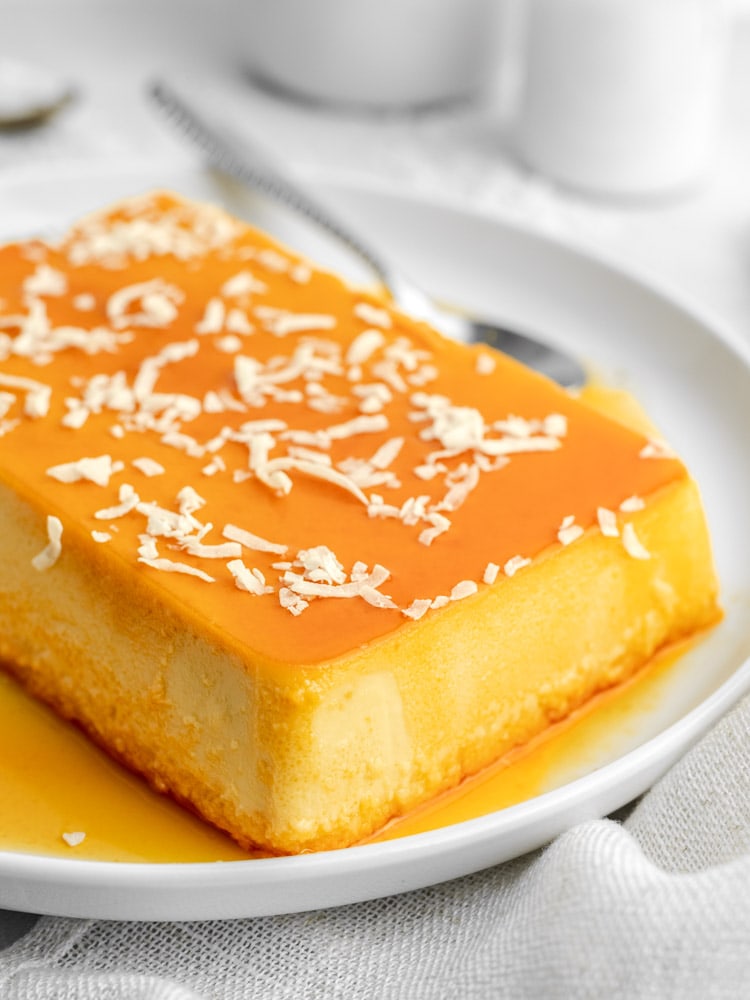 Ingredients for making Coconut Flan:
Now, let's gather the simple yet essential ingredients you'll need to create your very own Coconut Flan:
Eggs: are the backbone of this dessert, lending richness and texture to the custard.
Sweetened Condensed Milk: it brings sweetness and creaminess to the flan. I always go with this brand, or this one.
Coconut Milk: Adds a tropical twist and intensifies the coconut flavor. Look for a good quality brand like this one or the Thai Kitchen brand.
Unsweetened Shredded Coconut: adds extra coconut flavor and creates the coconut base.
Granulated Sugar: is required to create the caramel sauce that coats the bottom of the flan mold, adding a delightful touch of sweetness and a caramelized kick.
Vanilla Extract: complements the flavors of coconut and adds a warm, aromatic note to the custard.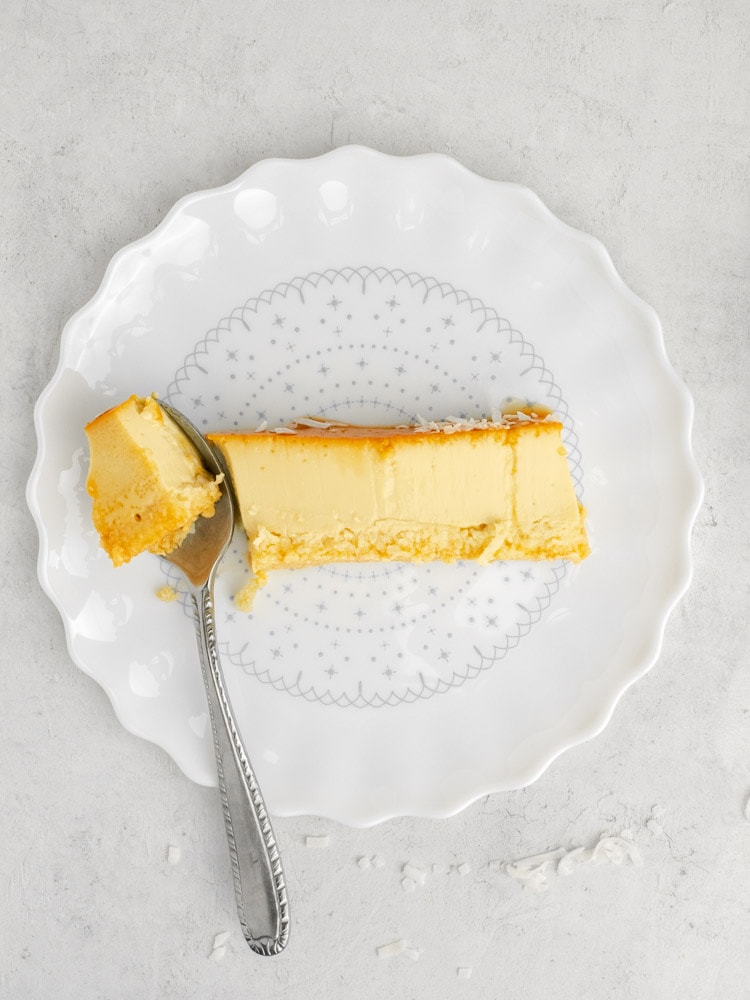 Tips for making the best Coconut Flan:
Now that we have our ingredients ready, let's dive into some handy tips to ensure your Coconut Flan turns out absolutely spectacular:
Caramel Care: Pay extra attention when preparing the caramel sauce. Use a heavy-bottomed saucepan and heat the sugar over medium heat, swirling occasionally, until it turns into a rich amber color. Be careful not to burn it!
Let the caramel harden before adding the custard mix on top to prevent them from blending together.
Smooth Custard: To achieve a silky-smooth custard, make sure to blend the ingredients for at least 30 seconds and ensure they are fully combined before pouring into the mold.
Bake the flan in a water bath (bain-marie) to achieve even heat distribution and prevent cracking. Place the flan mold in a larger pan filled with hot water, ensuring the water level reaches halfway up the sides of the flan mold.
Chill Time: After baking, let the flan cool to room temperature before refrigerating it. Allowing it to chill for a minimum of 4 hours (or preferably overnight) will enhance the flavors and ensure a perfect set.
Unmolding it: After chilling, place the flan mold in a larger pan filled with hot water for 5-10 minutes to help loosen the caramel and run a knife over the sides of the pan before inverting it onto your serving platter.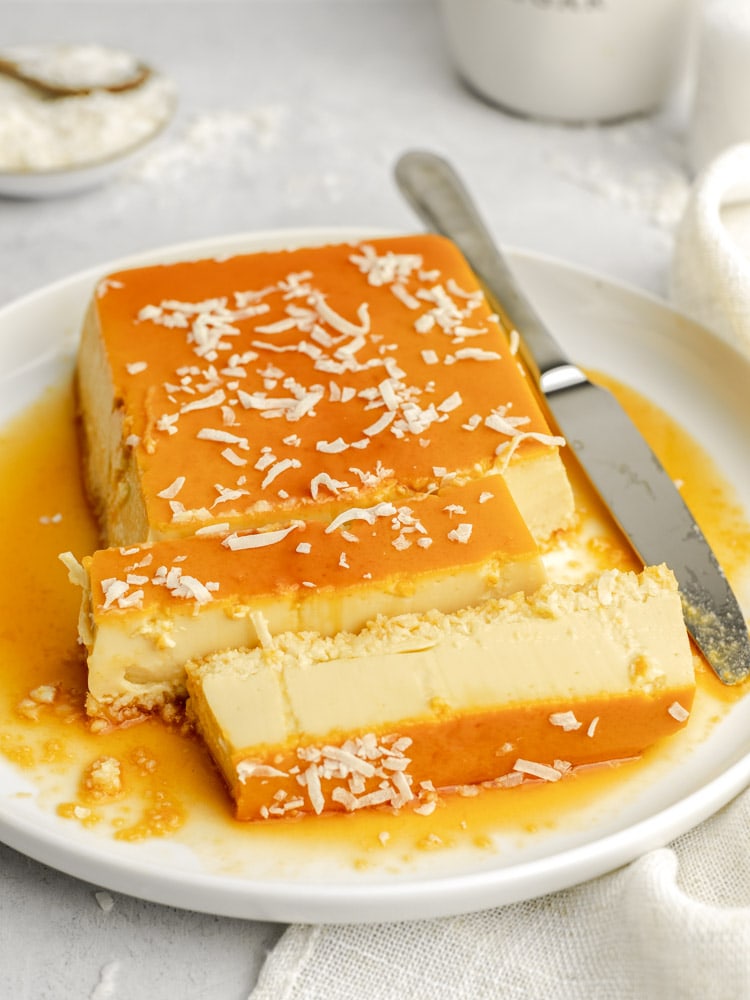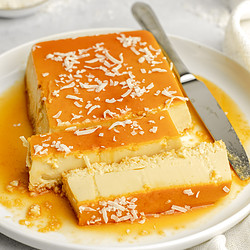 Coconut Flan (Caribbean/ French Antilles Flan)
Creamy and golden dessert with a velvety-smooth texture infused with the tropical flavors of coconut. This Coconut Flan is also known as French Antilles Flan, Caribbean Flan, or West Indies Flan.
Ingredients
4

eggs

1-14

oz

can sweetened condensed milk

400 ml

1- 13.5

oz

can coconut milk

350ml

1

tsp

vanilla extract

1

cup

unsweetened shredded coconut

95 grams plus extra for garnish
Instructions
Pre-heat the oven to 350°F and grab an 8×5 inch loaf pan to keep at arm's reach – DO NOT grease.

Make the caramel. In a small saucepan, add the sugar and heat over medium heat without touching or stirring. Let the sugar melt, bubble, and turn amber in color, swirling or shaking the pan occasionally. Do not leave the stove while this is happening. When the caramel reaches an amber color, remove it from the heat and pour evenly over the bottom of your loaf pan. Set it aside while it cools and hardens while preparing the flan mix.

Add the eggs, condensed milk, coconut milk, vanilla extract, and shredded coconut in a blender, and blend for 30 seconds to 1 minute, until all the ingredients have fully combined. Pour the flan mixture into the loaf pan over the hardened caramel.

Place the loaf pan into a larger baking dish, filling the larger baking dish with water until it reaches about halfway up the sides of the loaf pan – this is what's called a bain Marie. Bake for 55-65 minutes, until the top is lightly golden and firm to the touch but the center of the flan still jiggles a little when shaken. Transfer the pan to a cooling rack and let cool completely. Refrigerate for at least 4 hours before unmolding.

To unmold, once completely chilled, place the pan in about 1-2 inches of warm water, so the caramel at the bottom softens again. Run a knife or a spatula through the edges of the pan. Place an inverted serving plate over the pan, hold it tightly, and quickly turn it over to release the flan and serve cold, sprinkling coconut on top if desired.
Video