Traducir a Español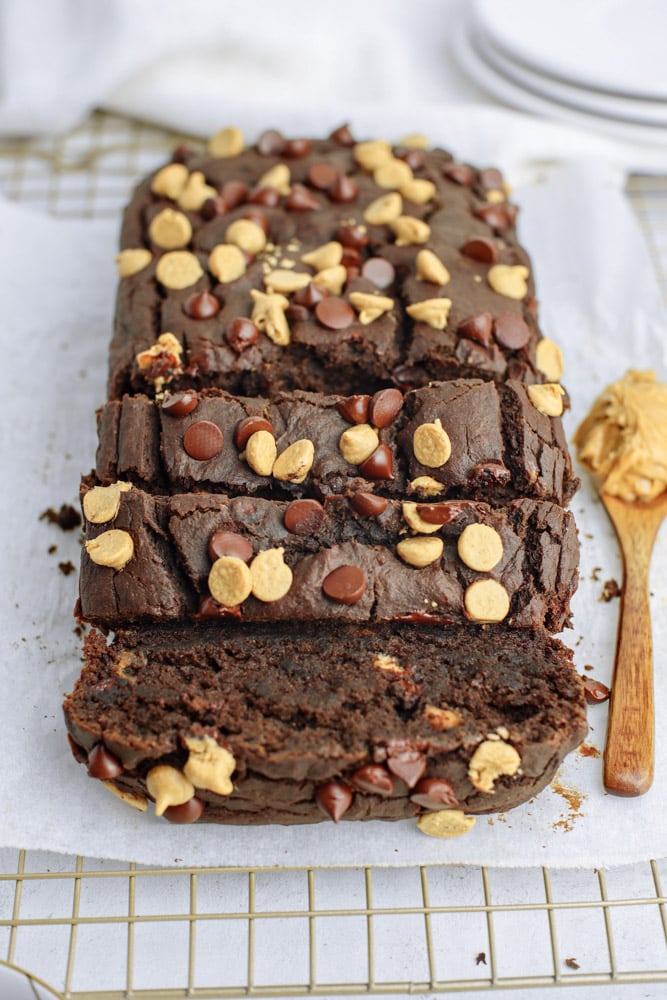 BREADS – JUNE 9, 2023
Healthy Peanut Butter Chocolate Banana Bread
This moist and delicious banana bread is a healthy version of peanut butter chocolate banana bread. It is gluten-free, dairy-free, and vegan! Plus, it uses coconut sugar.
Jump to Recipe
If you haven't yet had enough Banana bread, let me introduce you to this Gluten-Free, Healthy Peanut Butter Chocolate Banana Bread. It is a healthier version of chocolate banana bread and keeps some allergies in consideration. It is gluten-free, dairy-free, and vegan, too! Plus the sugar used is coconut sugar.
I must say I was impressed. Since it turned out delicious, rich, and moist, and you won't be able to taste the difference! Keep in mind that because it is gluten-free, the bread is more crumbly than your regular banana bread. Nonetheless, absolutely delicious and worth it!
On another note, if you prefer making a regular indulgent version of this, check out my Double Chocolate Banana Bread recipe.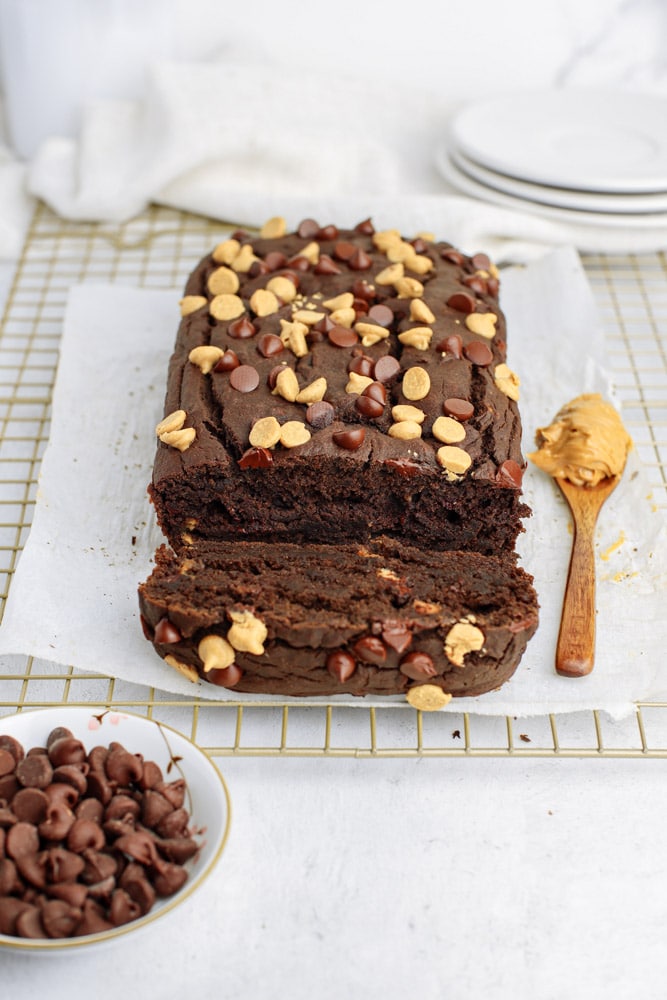 Why you will love it?
To start, the flavor combination of this bread is delicious. This is a moist and tender banana bread infused with the richness of creamy peanut butter and the irresistible flavor of chocolate.
Secondly, it is gluten-free, dairy-free, and vegan without compromising on flavor and texture. In addition, it uses coconut sugar to sweeten this dessert. Compared to regular banana bread, this recipe takes into consideration the struggles of gluten intolerance and the desire to enjoy delicious baked goods without any discomfort. That's why we've crafted this recipe to be entirely gluten-free, ensuring that everyone can indulge in the joy of freshly baked banana bread.
Lastly, it is seriously easy to make. Even if you aren't an experienced baker, banana bread is always one of the easiest things to bake and this is no exception. So if you start now, it will be ready in a few hours, however, if you wish to save more time, you can cut baking time by making these into muffins like I do in my Banana Muffin recipe. Otherwise, use your trusty loaf pan.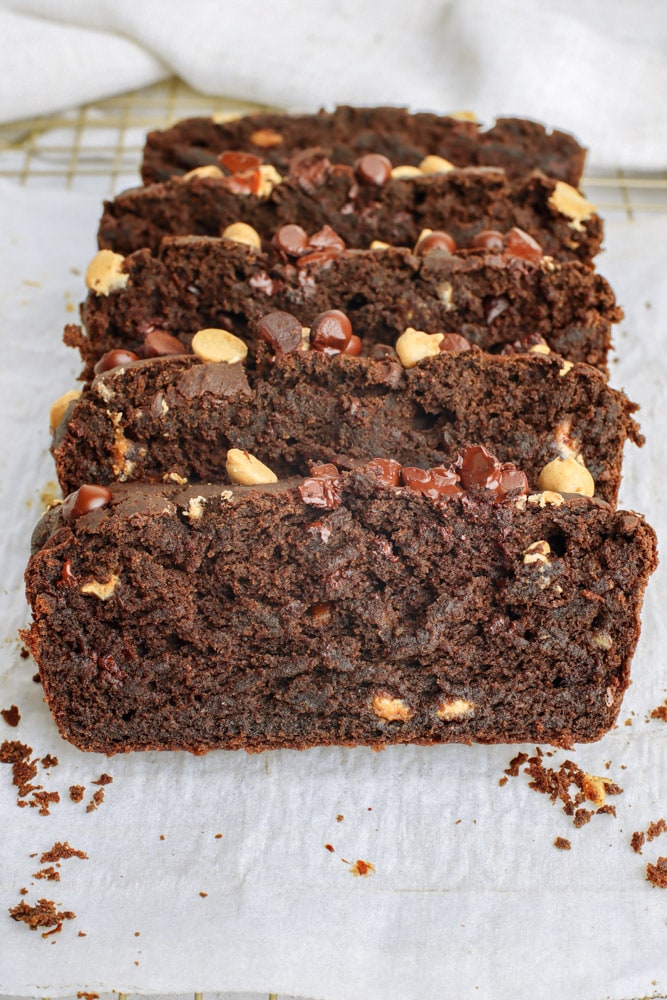 Ingredients for Healthy Peanut Butter Chocolate Banana Bread
These delightful ingredients come together to create a healthy, allergy-friendly treat (with the exception of peanut allergies, of course!). Here's what you'll need:
Ripe Bananas: not only provide natural sweetness to the bread but also lend a moist and tender texture.
Gluten-Free Flour: Look for a high-quality gluten-free flour blend, which will serve as a perfect substitute for regular flour. It ensures the bread remains light and fluffy without compromising on taste or texture. However, you can substitute for all-purpose flour if you have no limitations on gluten consumption. I use this brand.
Cocoa Powder: Cocoa powder is your source of chocolate flavor. Use one that you love. You can substitute the same quantity for more gluten-free flour to make Peanut Butter Banana Bread.
Peanut Butter: Creamy or chunky, it's your choice! It adds richness and a nutty flavor to the bread. I like this version of Skippy's Peanut Butter.
Oil: Use vegetable oil or olive oil, too. In my case, I used Coconut oil.
Plant-based milk: II used Oat milk. Substitute for any plant-based milk you have. I prefer unsweetened.
Sugar: I used Coconut sugar. Can substitute for the same amount of brown or regular granulated sugar. I've been using this Big Tree Farms Organic brand and love it!
Baking Powder and Baking Soda: leavening agents give the bread that perfect rise, making it light and fluffy.
Vanilla Extract: A touch of vanilla extract enhances the overall flavor profile.
Cinnamon: adds extra flavor and a nice kick to the chocolate flavors.
Salt: always balances and highlights sweet notes.
Chocolate Chips or Peanut Butter chips: although optional, the chocolate chips bring a delightful contrast to the bread, adding pockets of melted chocolate throughout your bread. Make sure they are allergy friendly, too! This is the chocolate chip brand I use.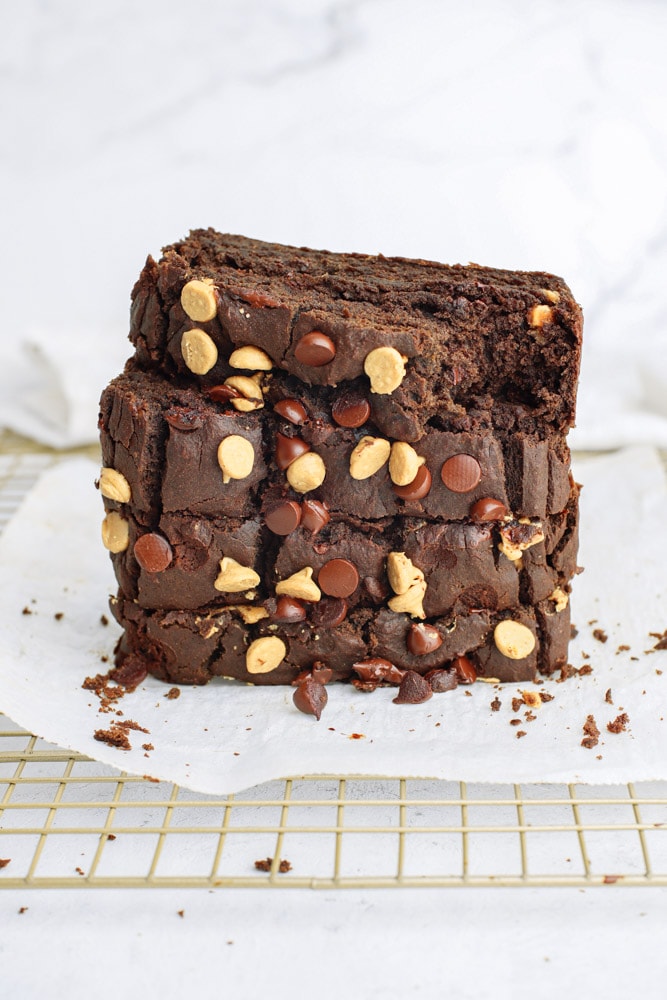 Tips for making the best Healthy Peanut Butter Chocolate Banana Bread
Now that we've got our ingredients lined up, let's make sure we achieve baking perfection. Here are some handy tips to ensure your Gluten-Free Peanut Butter Chocolate Banana Bread turns out just right:
Use ripe bananas: Overripe bananas work best for this recipe, as they're sweeter and mash more easily. Plus, they impart a stronger banana flavor.
Mix batter gently: When combining the wet and dry ingredients, be gentle with your mixing to avoid overmixing. Since overmixing can result in dense or tough bread, which we want to avoid. Also, a few lumps are absolutely fine!
Add extra mix-ins: You can toss in some chopped nuts, shredded coconut, or even a sprinkle of cinnamon to elevate the flavors even further.
Keep an eye on the baking time: Ovens can vary, so it's important to monitor your bread as it bakes. Insert a toothpick into the center, and if it comes out clean or with just a few crumbs then it is ready.
Let it rest in the pan for 2-3 hours: Because it has no gluten, the bread is more crumbly than usual. Therefore, letting it cool in the pan will help the bread keep its shape and be easier to handle when you are unmolding it.
Leave an overhang of parchment paper over the sides of the loaf pan to make unmolding an easy task, without messing up your beautifully baked bread.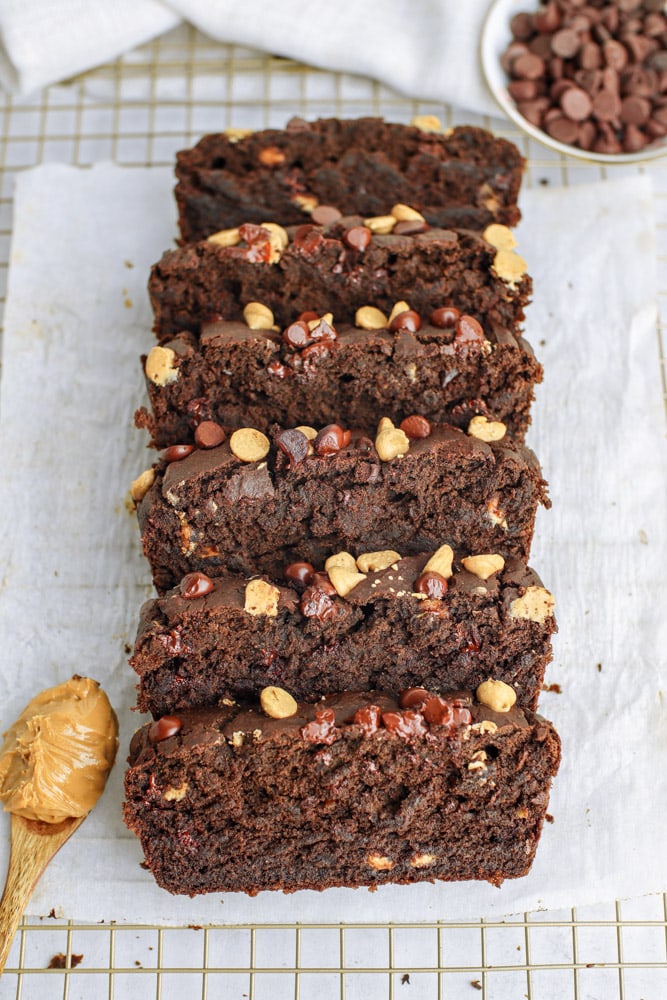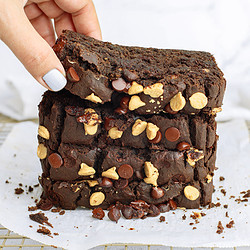 Healthy Peanut Butter Chocolate Banana Bread
This moist and delicious banana bread is a healthy version of chocolate banana bread. It is gluten-free, dairy-free, and vegan! Plus, it uses coconut sugar.
Ingredients
1

cup

very ripe bananas mashed well

equivalent 2-3 large ripe bananas, about 354 grams

⅓

cup

Peanut butter unsalted

85 grams

⅓

cup

Coconut oil melted or light olive oil

80 ml

½

cup

Unsweetened oat milk – any plant based milk works.

120 ml

½

cup

Coconut sugar – or any granulated sugar you like

85 grams

1

teaspoon

Vanilla extract

5 ml

½

teaspoon

Salt

1

cup

Gluten-free flour

115 grams

½

cup

Unsweetened cocoa powder

55 grams

2

teaspoons

Baking powder

8 grams

½

teaspoon

Baking soda

1

teaspoon

Ground cinnamon

4 grams

1/4

cup

Gluten free, vegan chocolate chips

45 grams, optional

¼

cup

Gluten-free peanut butter chips

45 grams, optional
Instructions
Preheat oven to 350°F (180°C). Grease and line a 9-inch x 5-inch loaf pan with parchment paper leaving some overhang to remove the bread easily.

In a plate or a bowl, mash the ripe bananas with a fork or a potato masher until almost no lumps show. Measure 1 cup of mashed banana and set aside.

In a large mixing bowl, add the peanut butter, coconut oil, and vanilla extract. Mix until well combined.

Add the mashed bananas and whisk to combine well. Stir in milk, coconut sugar, and vanilla extract.

Gently fold in the flour, cocoa powder, baking powder, baking soda, and cinnamon until all the dry ingredients have incorporated well.

Fold in chocolate chips and peanut butter chips if desired.

Transfer the batter to the prepared loaf pan and bake until a pick inserted in the center of the loaf comes out clean, about 50 – 55 minutes.

Cool down on a wire rack for 2-3 hours before slicing. It will be very moist and crumbly when it is hot.

Unmold the banana bread by gently pulling the parchment paper overhang and let cool and serve.

Store at room temperature for up to 3 days or up to 5 days in the fridge in a sealed container.
Video