Traducir a Español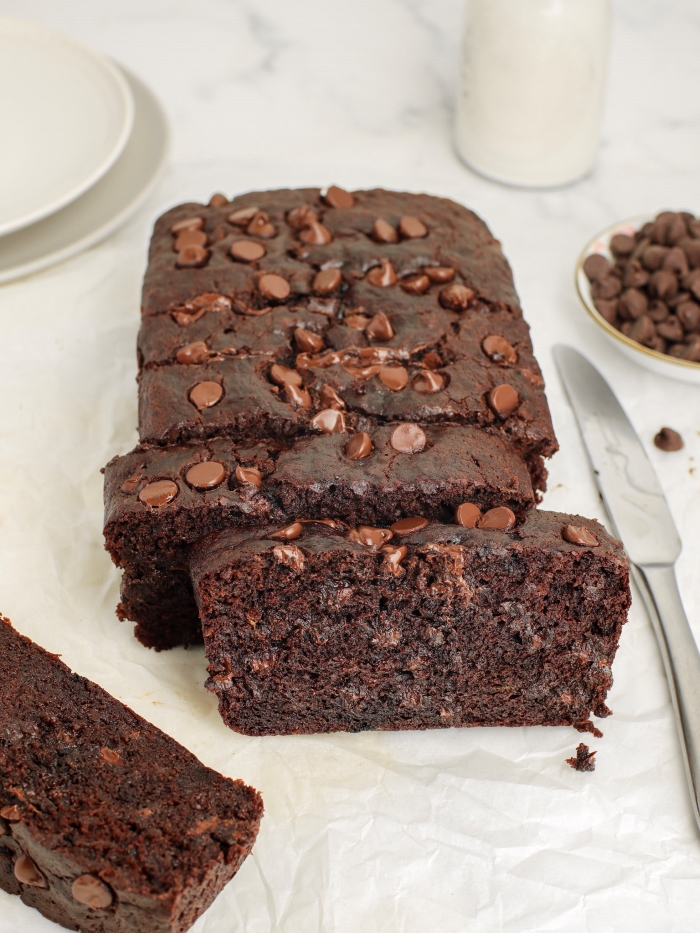 BREADS – APRIL 21, 2023
Double Chocolate Banana Bread
This double chocolate banana bread recipe is very easy to make and is loaded with bananas and rich chocolate flavor, creating the perfect flavor combo with a moist and tender crumb.
Jump to Recipe
If brownies and banana bread had a baby, it would be Double Chocolate Banana Bread! It truly is a combination of flavors made in heaven and the ultimate treat for chocolate and banana lovers.
You can rarely go wrong in the "chocolate version" of things and this DOUBLE chocolate banana bread is not an exception. It is filled with delicious chocolate chips that melt in the oven making every bite completely rich and indulgent.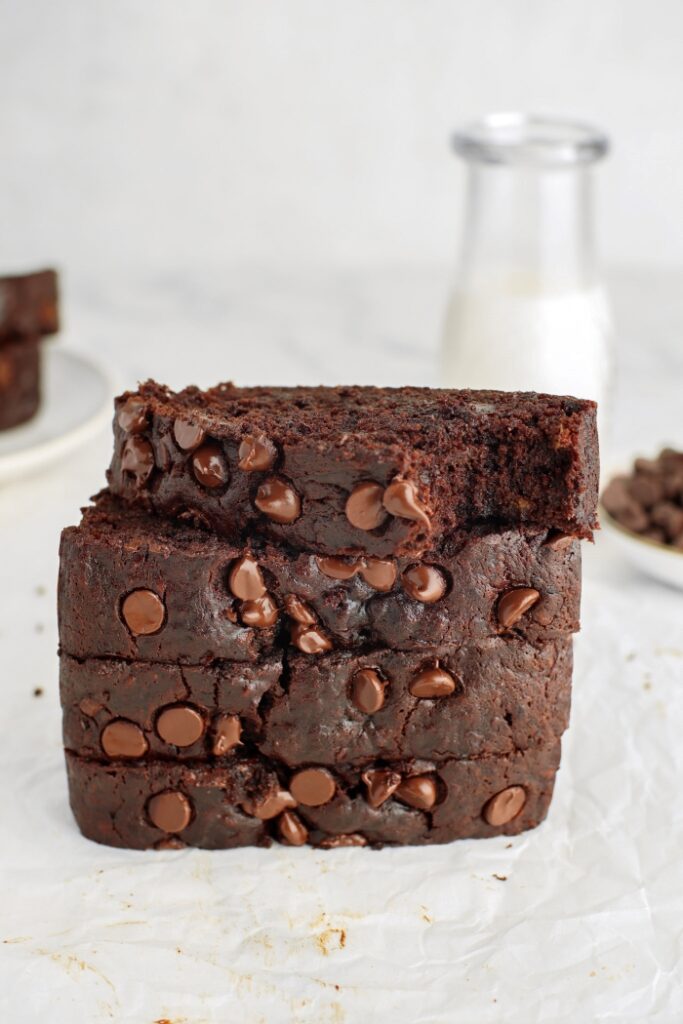 Why you will love them?
This recipe is an alternate version of your regular banana bread, and it is perfect! It is ideal to make when you want banana bread, but are tired of your usual plain banana bread. This one adds that extra-rich chocolate flavor from the cocoa powder and the chocolate chip mixed in the batter.
Think of this double chocolate banana bread as a hybrid between the richest, fudgiest chocolate cake (or perhaps Brownies!) and your traditional banana cake. Two positives, make an extra positive!
This recipe can have many variations as well. For example, for a fluffier loaf, you can add one more egg. Whereas if you prefer baking it into muffins, you can just bake them in a muffin tray as I do in my Banana Bread Muffins recipe.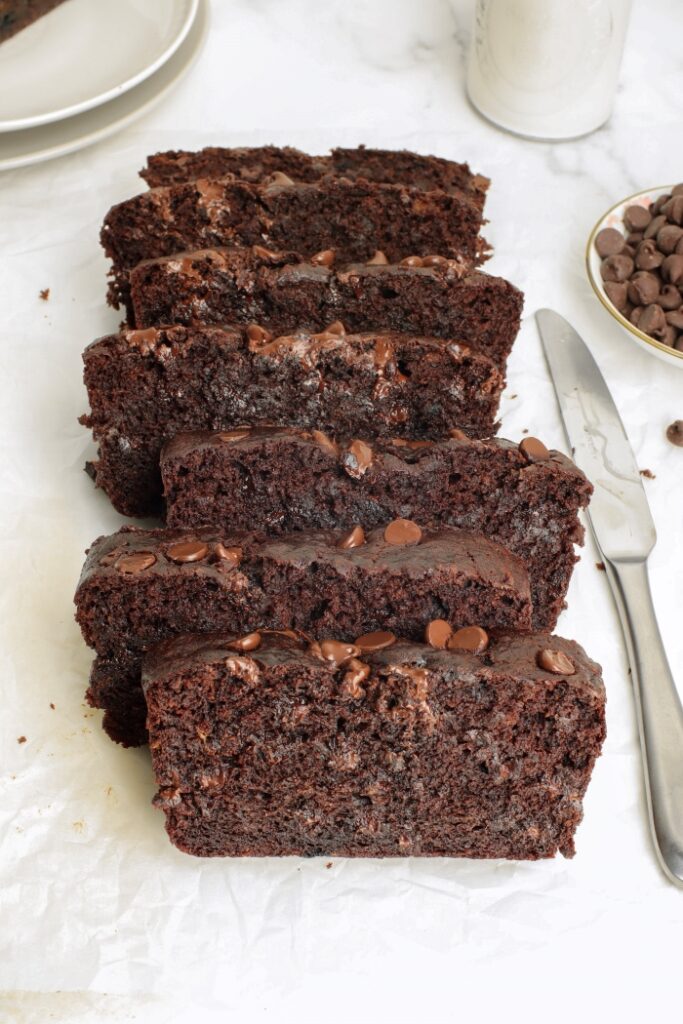 Ingredients for Double Chocolate Banana Bread:
This recipe calls for several different ingredients, all of which will add moisture, flavor, and structure. However, there are a few substitutions available that I mention in the list below, like for example using all white sugar instead of a mix of white sugar and brown sugar.
All-purpose flour: gives the perfect crumb without any leavening agents.
Cocoa powder: Your source of chocolate flavor for the bread. Choose a cocoa powder that you really like.
Baking soda: your leavening agent, reacts well with the acidity of cocoa to rise the bread.
Salt: highlights and balances the sweet notes, especially with chocolate.
Ripe Bananas: wouldn't be banana bread without bananas! Adds flavor and moisture to the bread.
Eggs: Add richness, structure, and volume to the cake. Use two eggs for more cakey bread.
Vanilla essence: perfect to enhance flavor.
White sugar: add sweetness.
Brown Sugar: add moisture and sweetness with a caramelized flavor. Can substitute for all white sugar.
Butter: unsalted butter is the choice here so we can control the salt that goes in. Makes the bread rich in flavor. Can substitute for all oil amounts.
Vegetable oil: Adds moisture and softens the crumb. Can substitute for all butter amounts.
Greek yogurt: contributes to moisture while softening the crumb. Can substitute for sour cream or buttermilk.
Chocolate chips (these are my favorite!): it goes perfectly with bananas (optional).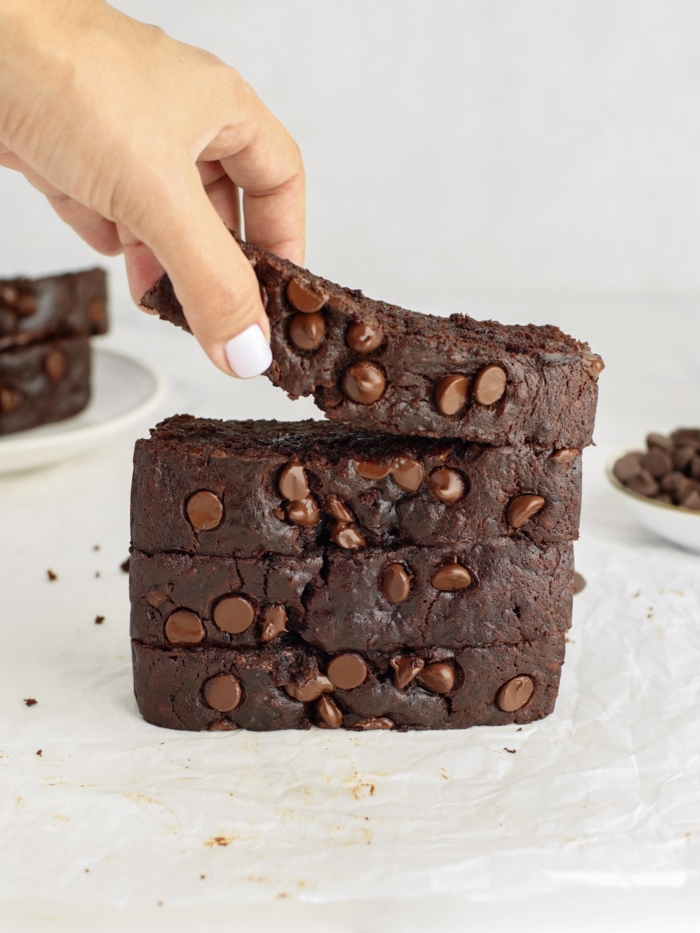 Tips for making Double Chocolate Banana Bread:
Have all ingredients at room temperature: This way they will incorporate evenly without suffering the shock of cold ingredients.
Measure flour correctly: a common mistake with baked goods is measuring flour. Measure flour either by weight or by spooning it into your measuring cup and leveling it with the back of a knife. Avoid scooping it directly with the measuring cup.
Use ripe bananas only: ripe bananas are sweeter and mash-up pretty easily to combine with the rest of the ingredients.
Sift your dry ingredients: especially if your cocoa powder is crumbly. Alternatively, they should break up easily when mixing all the dry ingredients with a whisk.
Don't overmix: Overmixing leads to gluten development, which translates to dense and heavy bread, which is not what we are looking for here. You want your bread to have a light and moist crumb. If you have watched The Greatest British Bake Shop, it is what Paul Hollywood calls a "stodgy" bread (aka. Heavy, dense bread!)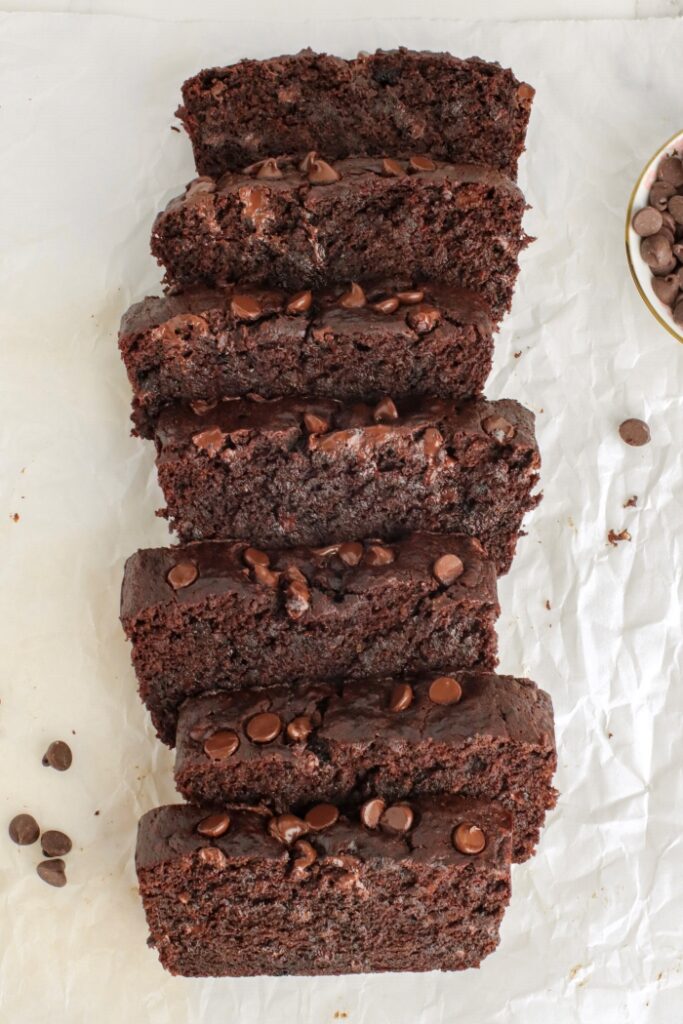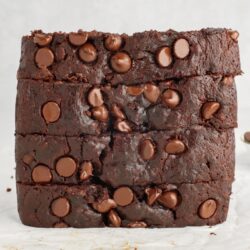 Double Chocolate Banana Bread
This double chocolate banana bread recipe is very easy to make and is loaded with bananas and rich chocolate flavor, creating the perfect flavor combo with a moist and tender crumb.
Ingredients
1

cup

all-purpose flour

115 grams

½

cup

cocoa powder

55 grams

1

teaspoon

baking soda

4 grams

¼

teaspoon

salt

3

medium very ripe bananas mashed well

about 354 grams

1

egg

50 grams without shell

1

teaspoon

vanilla

5 gr

½

cup

sugar

100 grams

½

cup

brown sugar

100 grams

¼

cup

unsalted butter

57 grams – melted and slightly cooled

¼

cup

vegetable oil

60 ml

2

tablespoons

greek yogurt or sour cream

30 grams

1

cup

chocolate chips and more for the top

180 grams
Instructions
Preheat the oven to 350F. Grease and line a loaf pan with parchment paper (leaving an overhang to pull the bread out of the pan) and set aside.

In a medium bowl, combine flour, cocoa powder, baking soda and salt. Set aside.

In a large bowl, mash the bananas with a fork and add the egg, vanilla, butter, oil and greek yogurt. Whisk until combined.

Add the sugar and the brown sugar, whisk well for about 1 minute until fully incorporated.

Add the dry ingredients to the bowl of the wet ingredients and mix or fold gently just until combined and some streaks of flour remain.

Fold in the chocolate chips and mix to distribute well. Continue folding gently until there are no more streaks of flour in your batter. Do not overmix.

Pour batter into your prepared pan and top with additional chocolate chips. Bake for 50-70 minutes or until a toothpick inserted in the middle comes out with just a few crumbs.

Remove from the pan and let cool for 20 minutes in a wire rack. Let the bread sit inside the pan while it's cooling. One cooled, gently pull the sides of the parchment paper overhang and place on top of a wire rack to cool completely.

Bread can be stored at room temperature in an airtight container for about 5 days.
Video
Notes
This recipe can be made into muffins. Just portion your batter into muffin tins, fill each muffin cavity with 2/3 of the batter, and bake for around 20-25 minutes or until the muffin springs back when pushed gently with a finger, or until a toothpick inserted in the middle comes out with just a few crumbs.