Affiliate Disclosure: This blog may contain affiliate links. This means that if you click on a link and make a purchase, we may earn a commission. However, please note that we only recommend products and tools that we use and genuinely like. We always prioritize our readers' best interests. By clicking on these links, you won't incur any additional costs, but it will help us keep this site running. Thank you for your support!
Traducir a Español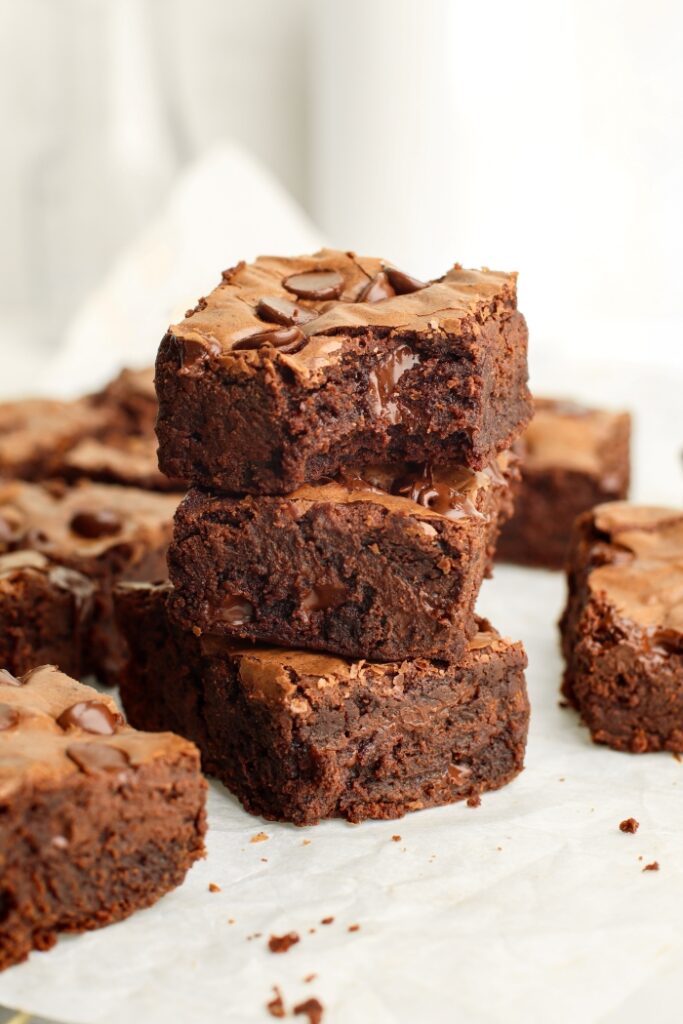 The Best brownies
These are my ultimate chocolate brownies and the best brownies ever! They have a glossy and crackly top, a fudgy center, and the perfect cake rise to check all your "perfect brownie" boxes.
Jump to Recipe
Whether you've them with ice cream at a restaurant or tried thousands of recipes at home, brownies are sure to bring back beautiful nostalgic memories.
I feel like we are always on the hunt for the perfect brownies. We try many recipes, we test boxed brownie mixes and yet, we continue to search as if we haven't found THE ONE.
With that said, from now on, you can always make this recipe and thank me later!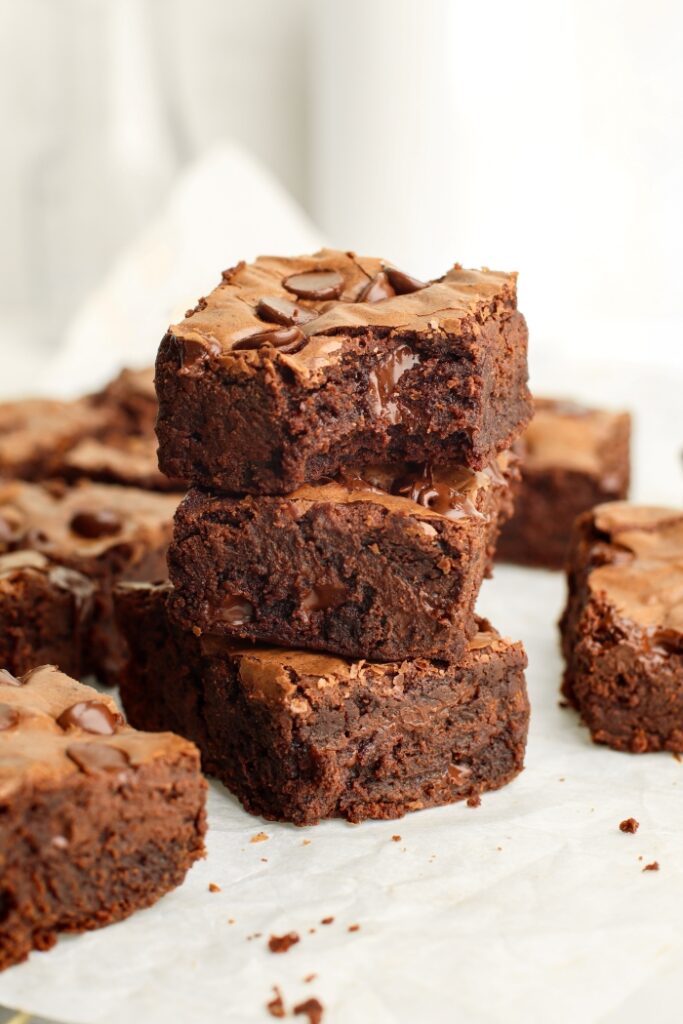 Why you will love them?
The best brownies ever have that fudgy center, glossy crackly top, crunchy corners, and that satisfying cake bite. These are smooth, rich, and absolutely indulgent and are made with just cocoa powder. That means, there is no need to melt chocolate or even buy a chocolate bar.
These brownies aren't your traditional mix all in together and bake, but they are simple enough that anyone with a saucepan, a bowl, and a cake mold can bake it. Plus, it really comes together within minutes, plus the baking time and cooling time (as if you could wait for it to cool!).
To add to that, they are pretty versatile when it comes to add-ins! In my case, I add chocolate chips or chocolate crunch for that extra gooey-ness in the center when it's still warm, or that crunchiness when it's cold, but you can definitely leave those out if you prefer a plain brownie.
What's even better is that you can enjoy these right out of the pan with a spoon straight while it is still hot out. Or wait to eat it once it has cooled and it will still be amazing. They also freeze perfectly for snack time in a few weeks.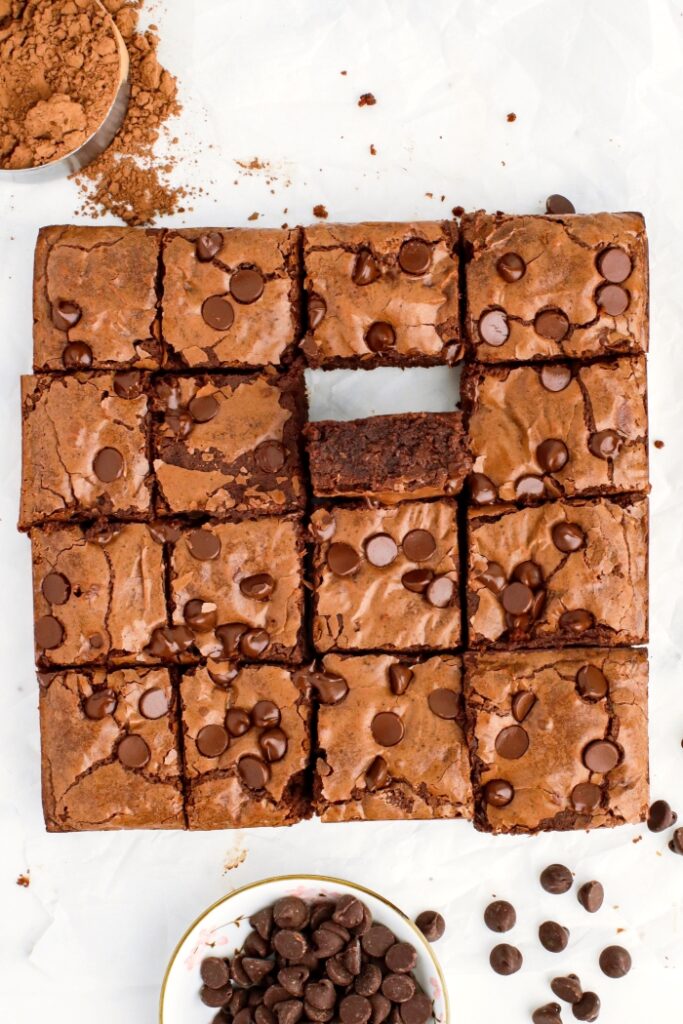 Ingredients for the best brownies:
I know, boxed brownies are way easier to put together, but nothing beats homemade brownies from scratch! They are so worthy and you will only need 7 ingredients.
Butter: Unsalted butter is always a favorite so we can control the amount of salt that goes in. If you use salted butter, skip adding the salt later. It may still result in a saltier brownie though.
Sugar: White sugar will give you that crackly and glossy top and of course will sweeten your dessert. Half of the sugar will go with the butter and the other half with the eggs.
Eggs: you will need 3 for this recipe. You can also use just 2 eggs for a fudgier brownie.
Cocoa powder: choose a high-quality cocoa powder. This is your only source of chocolate flavor for the brownies and can affect how rich or dull the brownies will turn out.
All-purpose flour: all-purpose flour gives it the necessary structure and crumb for the brownies.
Salt: boosts chocolate flavor always!
Chocolate chips: it's optional, but worth it if you like them. You can sub for chocolate chunks or chopped chocolate pieces.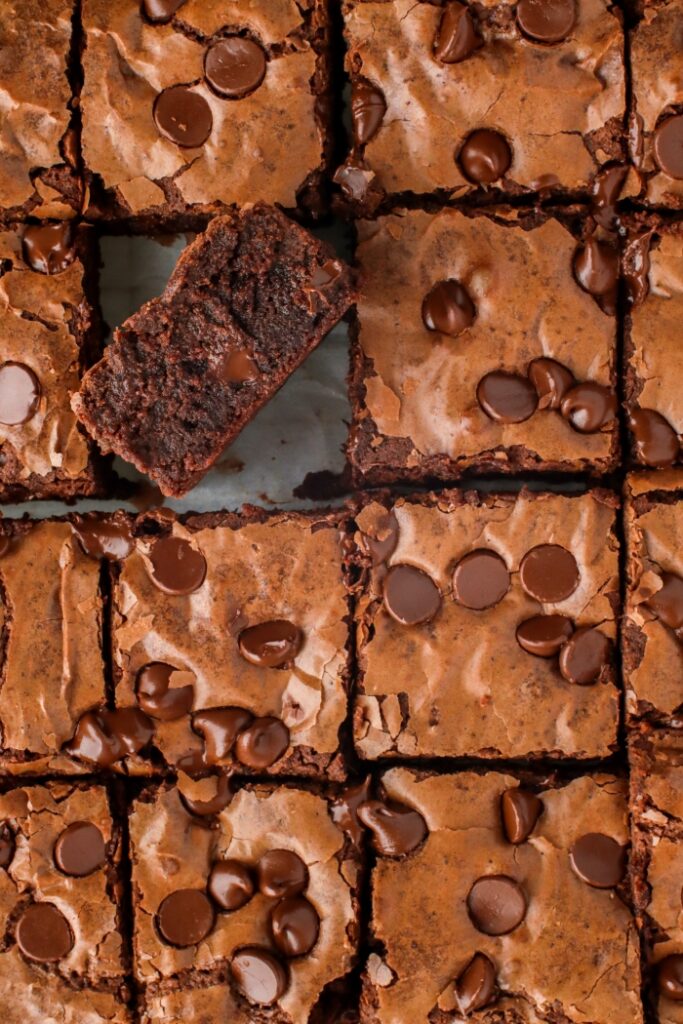 Tips for successfully making the best brownies:
The number one rule of baking brownies is: DO NOT OVERBAKE! Yes, it will still have a gooey/raw-like center when you remove it from the oven but that is essential for your brownie texture. Baked goods continue baking once they are out of the oven because of the heat it still contains within themselves and the pan they are in.
As the butter melts with the sugar, whisk the mix so that the sugar dissolves a little bit in the butter. Heat just only until the butter is fully melted.
Whisk the eggs with the sugar vigorously until the sugar is almost dissolved. The mixture will look a bit glossy and foamy. This is ESSENTIAL for your crackly top. Do not skip it.
Let brownies cool almost completely before removing them from the pan. Removing it too early may make the brownie fall apart.
To cut the perfect brownies, always wait for the brownies to fully cool and use a sharp large knife and wipe clean after each cut. For a high-end presentation, you can remove all the edges first before cutting into slices, however, you may miss one of the best parts of the brownies.
Mix the flour and cocoa only until combined and no streaks of flour remain.
Best results are achieved when using a straight-side 8×8 metal pan, however, you can also use a Pyrex glass pan. You may need to add a few minutes to the baking time as glass conducts less heat than metal.
When lining your pan, leave an overhang with the parchment paper to remove brownies easily from the pan much easier. The usual technique of inverting the pan will break that beautiful smooth, glossy, and crackly top.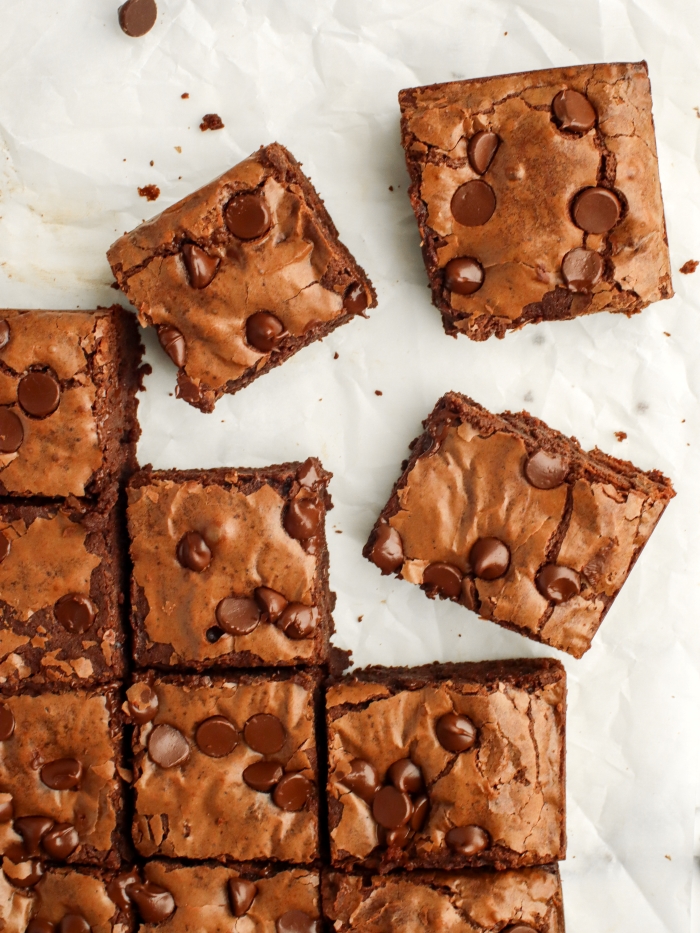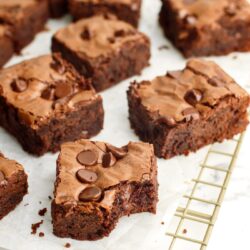 The BEST Brownies
These are my ultimate chocolate brownies and the best brownies ever! They have a glossy and crackly top, a fudgy center, and the perfect cake rise to check all your "perfect brownie" boxes.
Ingredients
¾

cup

butter

6 oz

1 ⅔

cup

sugar

350 grams – divided

3

large eggs

⅔

cup

of cocoa powder

65 grams

1

cup

all-purpose flour

120 grams

½

tsp

salt

1

cup

chocolate chips plus more for the top

170 grams
Instructions
Preheat the oven to 350°F. Grease and line a straight sided 8×8 square pan with parchment paper leaving an overhang to pull the brownies out of the pan and set aside.

In a small saucepan over medium-low heat, combine butter and ⅔ cup of the sugar until butter is melted. Whisk frequently to prevent burning until all butter is melted and sugar is almost dissolved. It should look glossy and smooth, set aside to cool.

In a separate bowl, whisk the eggs with the remaining 1 cup of sugar and whisk vigorously until the mix begins to slightly foam and the sugar has incorporated well into the eggs.

Make the batter: Gradually whisk the butter mixture into the egg mixture. Make sure the butter isn't piping hot and incorporate gradually while mixing to prevent the eggs from cooking.

Sift together the all purpose flour, cocoa powder and salt over the bowl with batter. (Alternatively to avoid sifting: add flour, cocoa powder and salt in a separate bowl and whisk to break up any lumps before adding to the egg mixture). Mix in or fold gently into the batter until it is fully incorporated and no streaks of flour remain.

Fold in chocolate chips and pour into the prepared pan.

Top with additional chocolate chips if desired and bake for 30 to 35 minutes. The top of the brownie should be set and have a few cracks. Do not overbake or they will become dry and cakey.

Let cool completely on a wire rack before unmolding.

To unmold the brownies: gently pull the parchment paper by the overhang and lift the brownie, transferring to a serving plate. Cut them into squares and serve.
Video
Notes
If you would like to make a small batch, half the recipe and bake in an 8 1/2″ by 4 1/2″ loaf pan, or a similar loaf-size pan.