Traducir a Español
Jump to recipe
Sometimes we search on the internet like crazy people for very good recipes. Turns out, most of the ingredients we buy already have an UH-mazing recipe on the back of the package. And so it's the case with many Chocolate chips, Cocoa powder and M&Ms bags! This recipe was made straight from the bag of a Mini M&M Baking Chips (green bag!).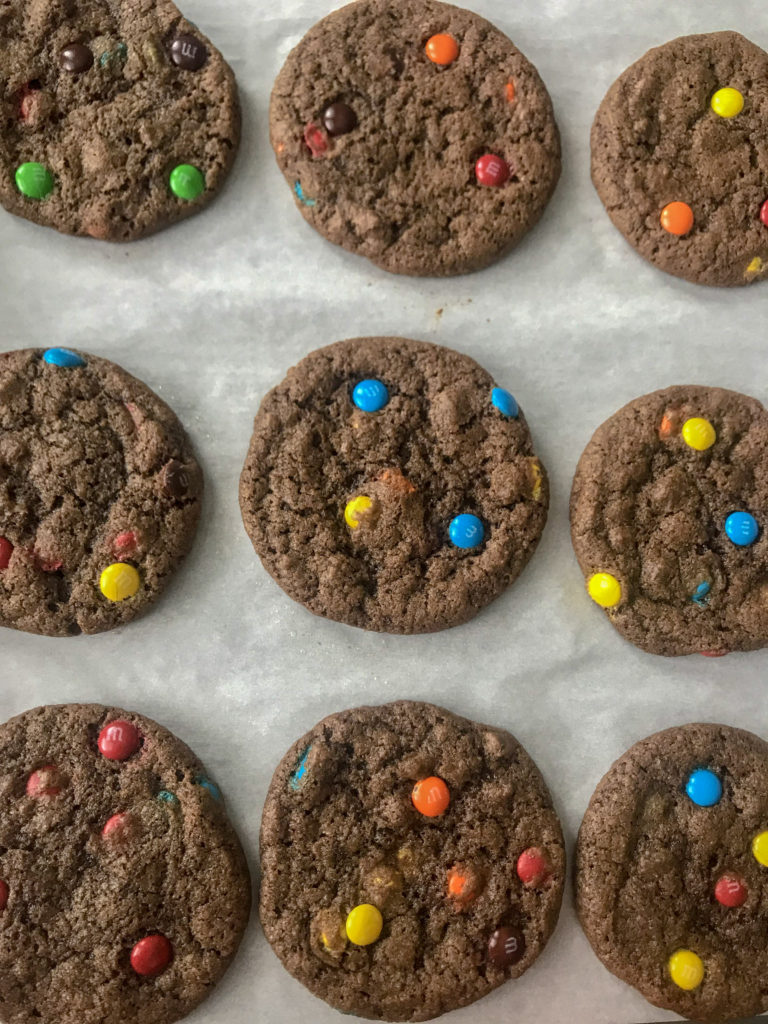 I have tried multiple recipes like this one. One time I tried Triple Chocolate Cookies from a white chocolate chip bag and it was one of the best ever! I should post these soon! So, when I saw the recipe behind the M&M bag I didn't doubt it would be a great one too. If you google recipes with this name you will find a thousand more, probably all really good ones and I think it is because cookie dough can be very forgiving when it comes to modifications. On this recipe for example, you could make your cookies more Chocolatey if you substitute an additional 1/3 cup of Cocoa for the 1/3  of flour. You can also add coarse salt on top of each cookie dough ball before baking to have a Salted chocolate version. Possibilities are endless! And honestly the texture will depend on how long you bake the cookies.
If you decide to go with the Chewy version, just cook on the shorter amount of time, in this case between 7-9 minutes. When you remove the cookies from the oven they will still look under baked, but they will bake more when letting them rest in the pan and they will set. Always keep in mind cookies keep baking on the sheet even when they are out of the oven.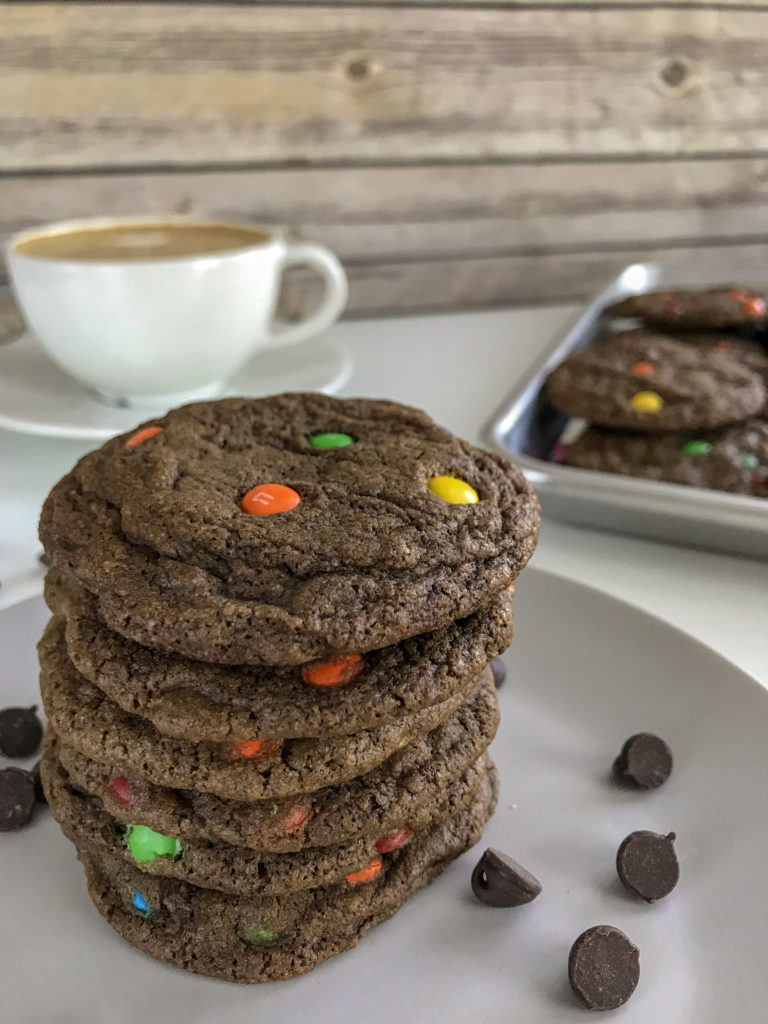 Cooling the dough is also important unless you don't really have the time or don't care much on how they look. If the cookie dough is cold, it will help your cookie maintain its round and chubby shape. If you bake them at room temperature, the cookies will come out flat but the taste will not be compromised. It is really all about preference!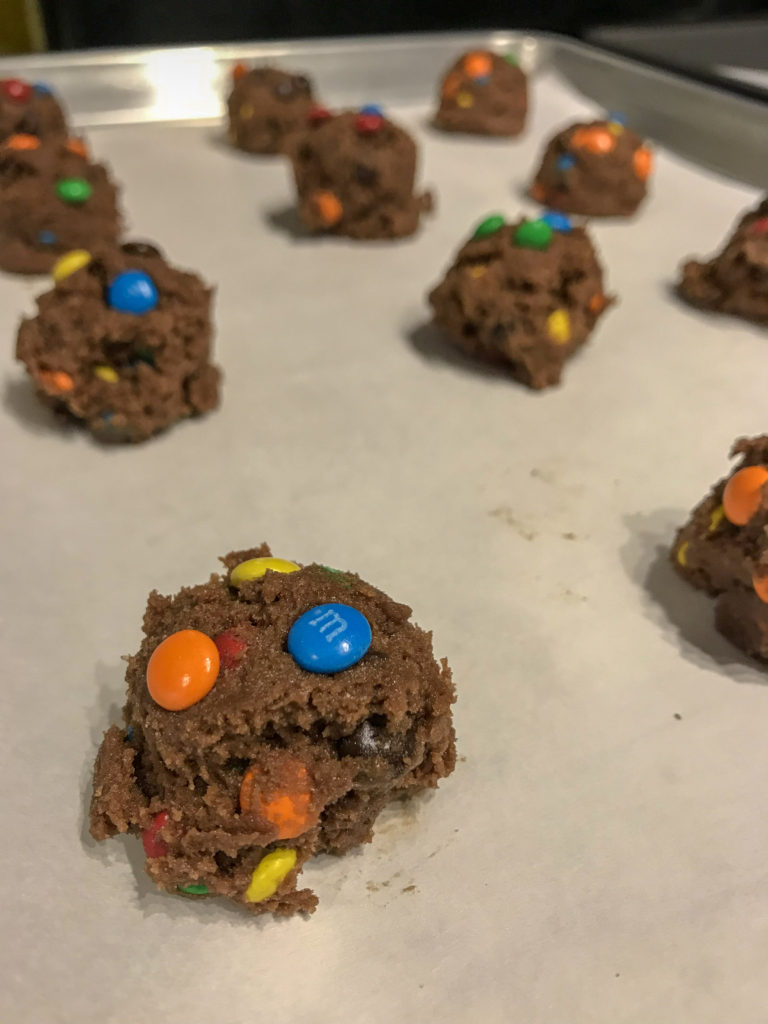 Now, lets get baking!
Ingredients
1 cup (2 sticks) unsalted butter room temperature
1 cup granulated sugar
3/4 cup brown sugar
2 large eggs
1 tbsp vanilla extract
2 1/3 cup all-purpose flour
1/3 cup cocoa powder
1 teaspoon baking soda
1/2 teaspoon salt
1 cup chocolate chips
1 bag mini M&Ms baking chips
Instructions
In the bowl of a stand mixer fitted with the paddle attachment cream butter with sugars for 2 min until light and fluffy.
Add eggs one at a time until combined, add vanilla until blended.
In a separate bowl, whisk flour, cocoa, baking soda and salt. Add into the mixing bowl and mix until dry ingredients are just incorporate. Do not over mix.
Add mini M&Ms and chocolate chips and fold with spatula until it is well distributed in cookie dough.
Chill dough in the refrigerator for at least 30 min. Ideally 1-2 hours. (this helps cookies keep their shape in the oven)
Preheat oven to 350 F and line cookie sheet with parchment paper. Using a mini ice cream scoop, scoop out dough directly onto the pan. You can also roll about 2 tbsp of dough with your hands. Place on baking sheet about 2 inches apart. Bake for 7-12 minutes. Less bake time will give you softer-chewy cookies and longer time will give you crispy cookies.
Remove from the oven and let cookies cool on the sheet, on top of a wire rack.
Carefully remove cookies from sheet and enjoy!
Notes
Note: Cookies can be stored in an air tight container for about a week. You can also use cling- film to wrap them in groups of 3-6 cookies, save inside a ziplog bag and freeze until ready to eat! 🙂 Recipe adapted from the Mini M&M Baking Chips bag