Traducir a Español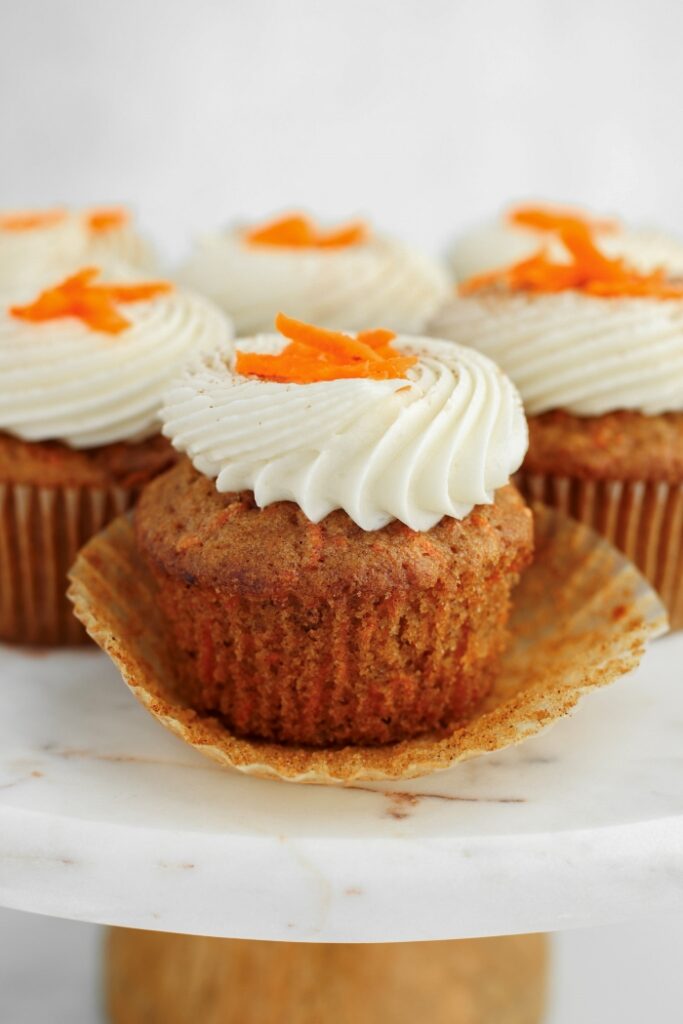 CUPCAKES – APRIL 26, 2023
Carrot Cupcakes with cream cheese frosting
These carrot cupcakes with cream cheese frosting are moist, flavorful, and topped with a decadent and tangy cream cheese frosting that perfectly complements the sweetness of the carrot cake.
Jump to Recipe
Carrot cupcakes with Cream Cheese Frosting are a classic dessert that everyone loves. They are moist and flavorful. Topped with a decadent and tangy cream cheese frosting that perfectly complements the sweetness of the carrot cake.
Carrot Cupcakes are ideal for the spring and fall seasons, but honestly, I would have them every single day if I could! Carrot Cupcakes were a favorite growing up, and it was one of the first cupcakes I ever made on my own! They were just not that pretty then. But in my favor, they were always tasty and we would enjoy it so much and looked forward to when the next batch would be baked as soon as they were gone.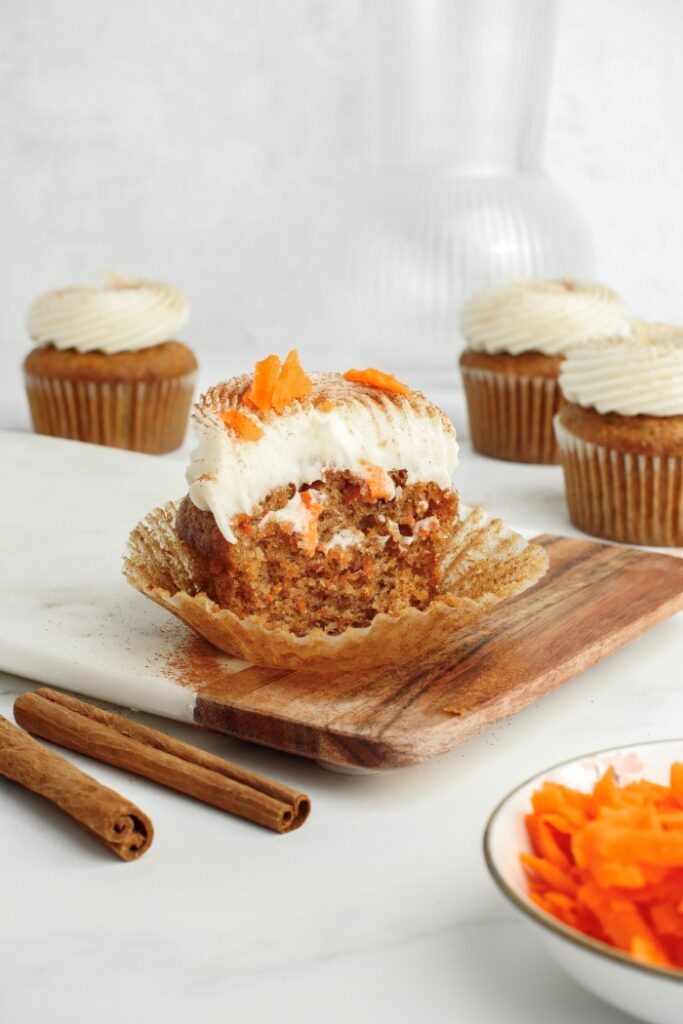 Why you will love them?
I mean, WHO doesn't love carrot cupcakes? These carrot cupcakes are so soft, tender, and moist and have the perfect amount of spices that make them feel like a hug in a cupcake.
This recipe has very basic ingredients and unlike other recipes, it does not have crushed pineapple, which makes it even more approachable and easier to put together on short notice. That is, considering you always have about 3 carrots and a few spices in your spice repertoire!
Now, let's make some room to talk about cream cheese frosting. This is THE frosting to add to carrot cakes or cupcakes. Why, you say? I have no idea. It just goes perfectly together. I'd say the tangy cream cheese frosting is perfect to balance but also highlight the sweetness and the spices of the carrot cupcakes. Plus it adds a creamy, decadent layer that elevates the cupcakes to the next level.
Also, even though they are still a dessert, they are healthier than any other cupcake. They are loaded with carrots, a healthy vegetable that has so many vitamins, minerals, and fiber. At least, it increases the nutritional value of your dessert besides adding incredible color and flavor.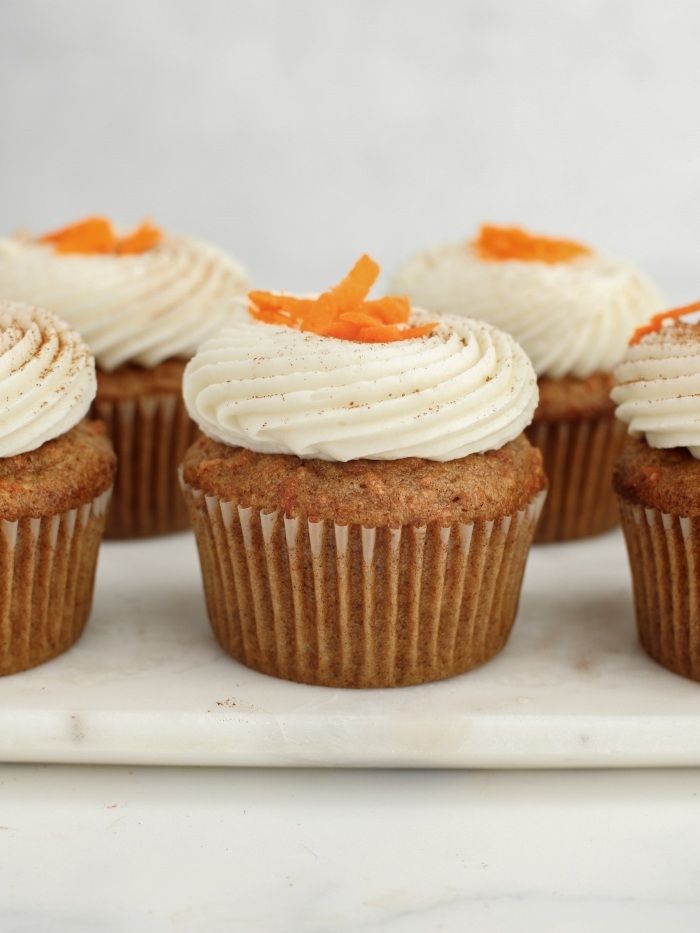 Ingredients for Carrot Cupcakes with Cream Cheese Frosting:
Here are the ingredients you will need to make carrot cupcakes with cream cheese frosting:
For the cupcakes:
Flour: All-purpose flour is the choice. It is the base of the cupcakes and provides structure.
Baking soda: This helps the cupcakes rise and adds tenderness.
Baking powder: This helps the cupcakes rise.
Cinnamon: ground cinnamon will add warmth and flavor.
Nutmeg: finely ground is best to incorporate well in the cupcakes. This adds warmth and flavor.
Ginger: powdered is the best bet here. It works with the rest of the spices to bring out a delicious taste without being overpowering like fresh ginger would be.
Salt: This balances the sweetness and deepens the flavor.
Sugar: I use all white granulated sugar here. It sweetens the cupcakes and keeps them light.
Vegetable oil: Adds moisture to the cupcakes.
Eggs: This binds the ingredients together and gives it that cakey crumb.
Carrots: finely grated is best to incorporate into the batter well and give it a smooth texture. They add moisture, flavor, and nutrition to the cupcakes.
Vanilla extract: adds that delicious vanilla flavor.
For the cream cheese frosting:
Butter: unsalted and at room temperature. Adds a smooth texture to your frosting.
Cream cheese: Adds tanginess and creaminess. Use full-fat, block-style cream cheese. Cut into cubes and add it while it is still chilled.
Powdered sugar: This sweetens the frosting and helps thicken it.
Vanilla extract: This adds vanilla flavor.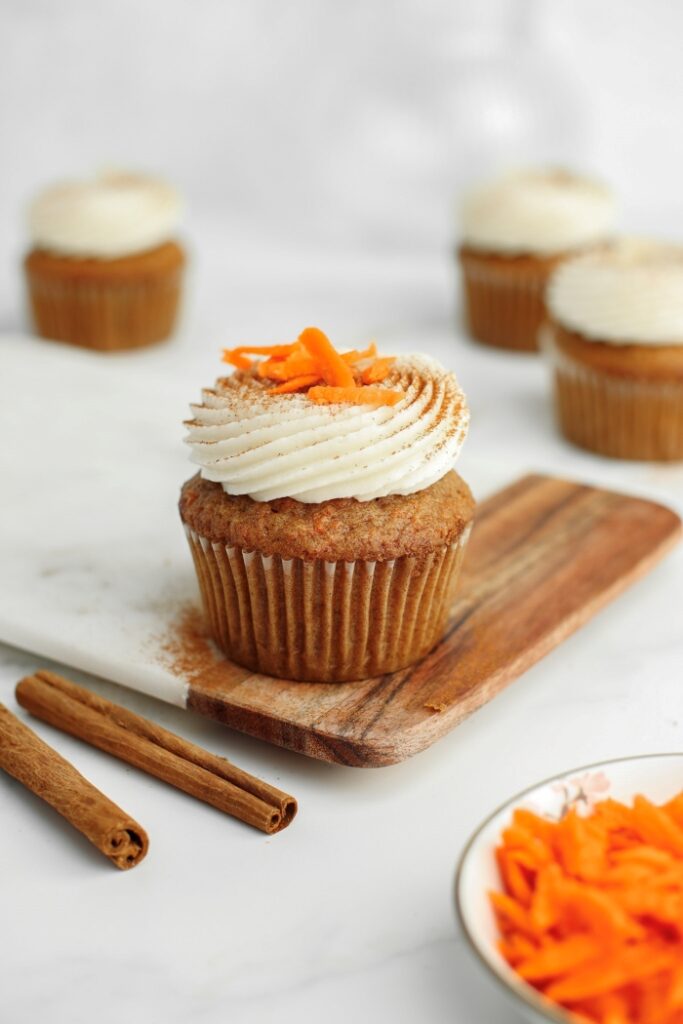 Tips for making the best Carrot Cupcakes with Cream Cheese Frosting:
Grate the carrots finely: Finely grated carrots will blend better into the batter and provide a more even texture. If you like chunky carrot cupcakes, grate them with a coarse grater. I use the fine julienne grater on that same grater or the fine grater of my food processor.
Measure the grated carrots: all carrots come in different sizes, so suing 2-3 carrots may yield different quantities of grated carrots depending on the carrots you use, or even the country you're in. Grate them finely, and measure them by packing them into a measuring cup.
Peel the carrots: some recipes mention using the entire carrot. Somehow when I use it with the peel, the peels inside the cupcake after baking turn bright green, and although it is safe to eat, it is NOT pretty. It's just a reaction that happens between the peel and baking soda.
Don't overmix the batter: Overmixing the batter can lead to tough cupcakes. Mix until the ingredients are just combined.
Use room temperature ingredients on the cupcakes: Room temperature ingredients will blend better and create a smoother batter.
Use full fat, block style, chilled cream cheese (Philadelphia is my favorite): this will ensure your frosting is creamy and thick. Do not use any fat-free or whipped, tubed version.
Use cupcake liners: This makes it easier to remove the cupcakes from the tin and prevents sticking.
Let the cupcakes cool completely before frosting: If the cupcakes are warm, the frosting will melt and slide off.
Don't overbeat the frosting: Overbeating the frosting can cause it to become runny. Beat until just smooth and creamy.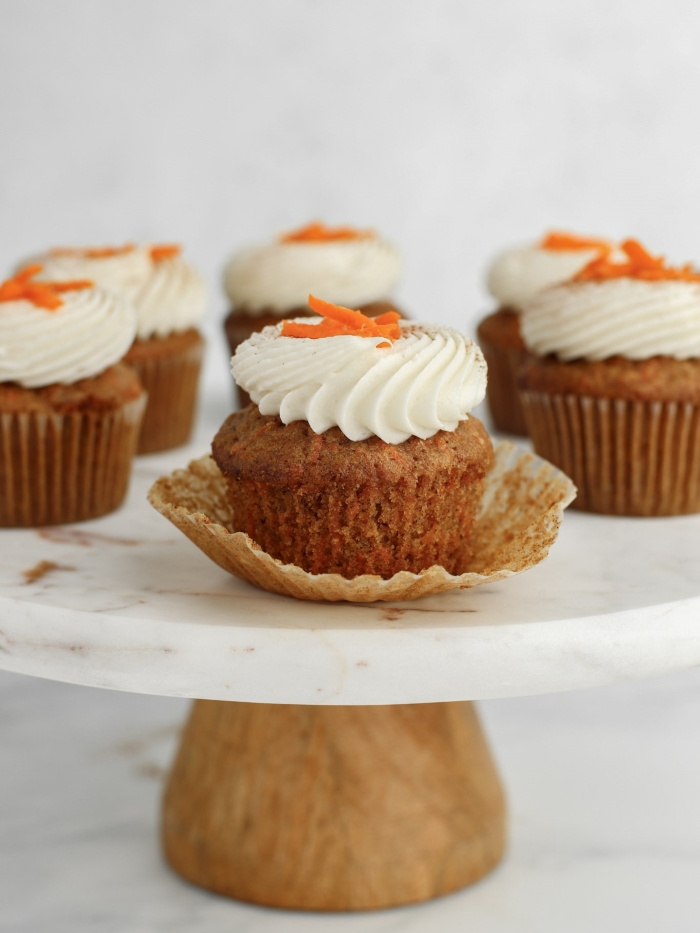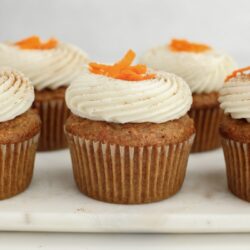 Carrot Cake with Cream Cheese Frosting
Carrot cupcakes are a classic dessert that everyone loves. These cupcakes are moist, flavorful, and topped with a decadent and tangy cream cheese frosting that perfectly complements the sweetness of the carrot cake.
Ingredients
For Carrot Cupcakes:
1

cup

all-purpose flour

120 grams

1

tsp

cinnamon

¼

tsp

nutmeg

¼

tsp

ground ginger

1

tsp

baking soda

½

tsp

baking powder

¼

tsp

salt

1 ½

cup

grated carrots

200-225grams, about 2 carrots

⅔

cup

vegetable oil

158 ml

¾

cup

sugar

145 grams

2

eggs

¾

tsp

vanilla extract
For Cream Cheese Frosting:
½

cup

butter – 1 stick

softened at room temperature

½

cup

cream cheese – ½ block or 4oz

2

cups

powdered sugar

1

tsp

vanilla
Instructions
Carrot Cupcake:
Preheat oven to 350℉ and line a cupcake pan with cupcake liners.

In a medium bowl combine flour, cinnamon, nutmeg, ground ginger, baking soda, baking powder and salt.

In a large bowl with a whisk, beat oil and sugar well for about 2-3 minutes. You can also use an electric mixer or a stand mixer for this step. Beat until the sugar is well combined into the oil.

Add the eggs, one at a time beating between additions until incorporated. Mix in vanilla.

Mix in flour mixture in three parts, whisking until just combined.

Fold in the shredded carrots until incorporated, distributing well in the entire batter and scraping the sides of the bowl.

With a regular size ice cream scoop, scoop batter into prepared cupcake pan. Fill about ⅔ of the way. Do not overfill or they will overflow.

Bake for 20-23 minutes until the top of the cupcakes spring back softly when pressed down with your finger.

Let them cool inside the pan for about 10 minutes before removing to a wire rack to cool completely before frosting them.
Cream Cheese Frosting:
In a large bowl with an electric mixer or in the bowl of a stand mixer fitted with the paddle attachment, beat butter until light and creamy. About 2-3 minutes.

Slowly add in powdered sugar 1 cup at a time. Beat on medium high for 3 minutes.

Add chilled cream cheese one cube at a time. This will allow it to combine with the mixed butter and become the perfect spreadable and pipeable consistency. Beat until smooth and no lumps remain.

Fill a piping bag fitted with your preferred piping tip and pipe the frosting onto the cupcakes. Decorate with chopped nuts, grated carrots or a sprinkle of cinnamon.
Video