Traducir a Español
Jump to recipe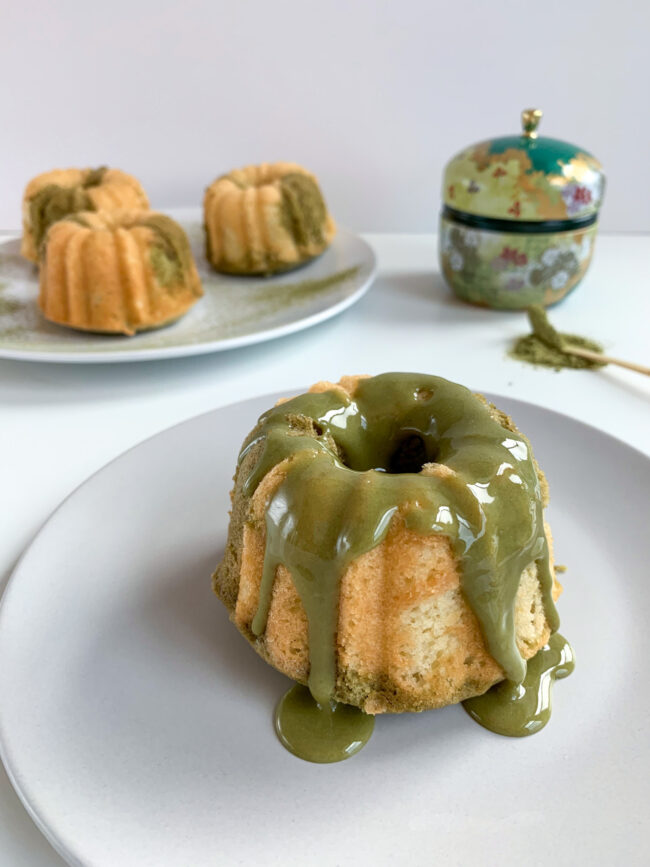 I wasn't sure what to expect the first time I made these Matcha Swirl Mini Bundt Cakes, but I knew two things: I love Matcha desserts, and I really like vanilla. So I thought making this would be great…but it wasn't great…it was AMAZINGLY delicious, so much so that I have made it already a couple of times and every single time I think: "Wow, this is reaaaally really good, this is seriously the best vanilla bundt cake recipe combined and even much better combined with Matcha!".
This post has been sponsored by Baahtcha and I have used their delicious Matcha powder to create this recipe.
Now, you can make this recipe and leave out the Matcha part and you will have delicious, fluffy, dense, soft vanilla cake. PLUS! This recipe can be doubled and made into a 10 cup bundt cake pan. For this time, we are making 6-7 Matcha Swirl Mini Bundt Cakes with this pan that I love.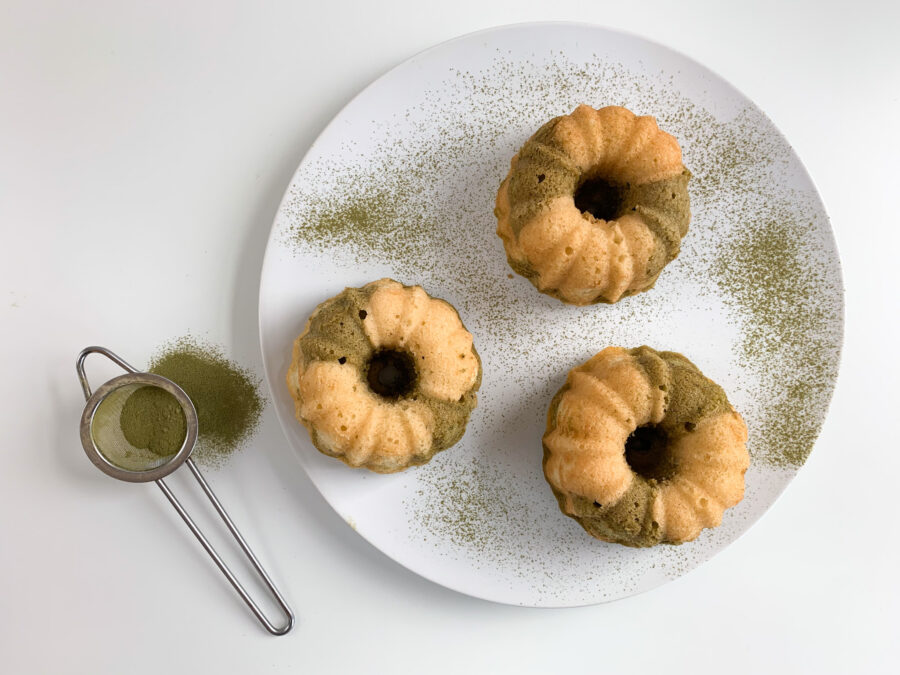 With this pan for Mini Bundt Cakes one of the most important things to have a successful dessert is to grease them properly. Grease with butter or spray and run a brush through it to make sure it reaches all nooks and crannies of the cake mold. Then you can lightly flour them (or not!) depending on how perfect you want your cakes to be! I personally always use my special non-stick cake mix and it works wonders! Non-stick cake mix is made of equal parts of flour, oil, and shortening and mixed all well together, then brush onto the pans.
Firstly you will start creaming the sugar and butter together in a stand mixer or with a handheld mixer until it is very light in color and looks fluffy. This is great to incorporate air into our mini cakes and create that texture.
Second step is to incorporate the eggs, one at a time, then the vanilla until well combined. I usually leave the eggs mixing for a good 1-2 full minutes. Then add half the flour until just combined, add all of the Greek Yogurt and mix, then add the rest of the flour again mixing until just combined. Don't over mix.
Separate half of the batter in a separate bowl and add the sifted matcha powder. Mix until well combined to avoid dry spots. Then add one spoonful at a time, alternating the two batters. Once they are filled, run a knife clockwise to swirl the two batters together creating that marble effect.
Bake at 325F for about 25 minutes or until the top is golden-brown and the cakes spring back when lightly poked with your finger. Let cool for 10 minutes before flipping the pan. Flip the pan on a wire rack and let cool completely before glazing them. 
For the glaze, all we need is icing sugar, milk, vanilla, and matcha (optional). If you like more matcha flavor on your cakes you can incorporate 1-2 tsp of matcha to the ingredients of the glaze and then mix thoroughly. If you would prefer a white icing on your cakes you can skip this and then just dust with some matcha for decoration.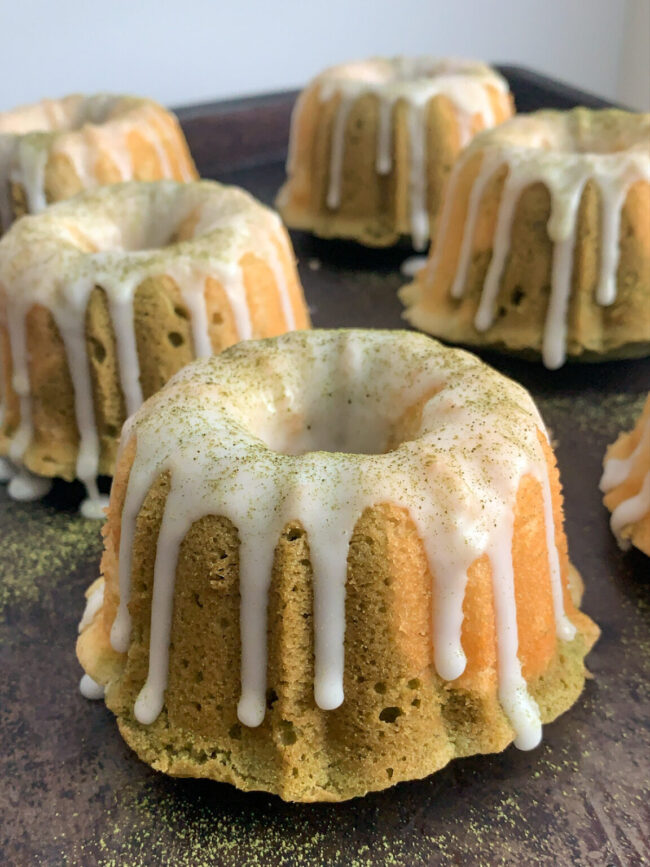 I want to hear how this goes for you!! Drop me a note or tag me on Instagram @seidysbakery if you prepare this recipe!
Ingredients
1 stick (8 tablespoons) unsalted butter, at room temperature, plus more for the pan
1 ½ cups all-purpose flour, plus more for flouring the pan
¼ teaspoon salt
⅛ teaspoon baking soda
1 ¼ cups granulated sugar
3 large eggs
½ tablespoon pure vanilla extract
½ cup (4 ounces) sour cream or greek yogurt
1 tablespoon Matcha powder
For the glaze:
¾ cups powdered sugar
1 tablespoon milk
1-2 teaspoons Matcha powder
1 teaspoon vanilla extract
Pinch of salt
Instructions
Preheat the oven to 325°F (117°C) and generously grease a mini bundt (I like to use this one) pan and dust lightly with flour getting into all the nooks and crannies. Tap out excess flour.
In a small bowl sift the flour, salt, and baking soda. Set aside.
In the bowl of a stand mixer set with the paddle attachment, cream the butter and sugar together on medium-high speed until well combined, about 2 minutes. Scrape down the sides of the bowl as needed. Add eggs one at a time, beating well after each addition and stopping to scrape the sides of the bowl after each addition. Add vanilla and mix until combined.
With the mixer on low, add half of the flour mixture. Add the sour cream and continue to mix on low until incorporated. Add the remaining flour and beat just until combined. Do not overmix or you will end up with a tough cake. Batter should be light and fluffy.
Pour half the batter into a medium bowl and set aside. Add Baahtcha matcha powder to the batter in the mixer and beat until combined.
Spoon batter into prepared pans, alternating between the matcha batter and the vanilla batter. Fill each bundt cake cavity 2/3 full. Swirl with a skewer, chopstick or knife.
Bake for 20-25 minutes or until the top is golden-brown and the cakes spring back when lightly poked with your finger. Remove from the oven and let cool on a wire rack for 5 minutes. Carefully invert the pan on the wire rack giving the pan a little shake to release the cakes. Allow bundt cakes to cool completely on the wire rack before icing.
For the glaze: Add all glaze ingredients in a small bowl and whisk until well combined. You can add more or less Baahtcha Matcha powder depending on your taste. Add more milk or icing sugar to adjust consistency if desired. Drizzle bundt cakes and serve!
Bundt cakes can be covered and stored at room temperature for 1-2 days or in the refrigerator for up to 5 days.
Notes
This recipe can be doubled and baked in a 10 cup bundt cake for about 45-50 minutes or until golden on top and the cake springs back when you poke softly with your finger.
Recipe adapted from https://www.thekitchn.com/