Traducir a Español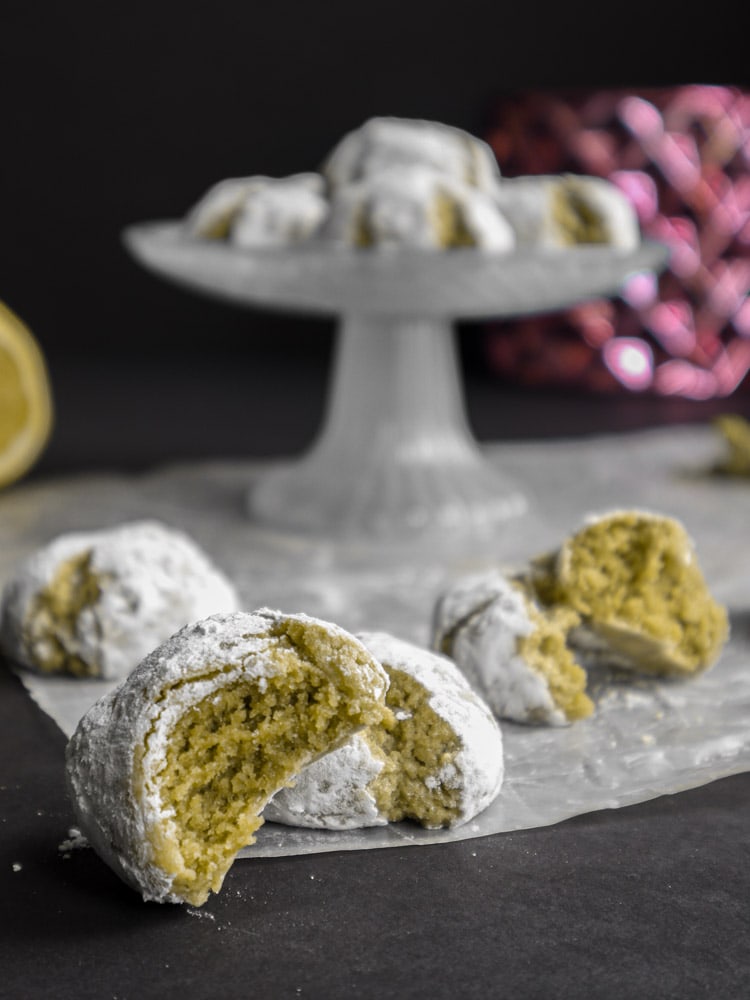 COOKIES – JULY 1, 2020
Soft Matcha Amaretti Cookies
Soft and full of almond and matcha flavors, these Matcha amaretti cookies will surely brighten your afternoon tea and will keep you coming for seconds.
Jump to Recipe
These cookies somehow take me back to my childhood even though I've never baked them before. The flavor reminds me of Amaretti cookies my parents used to buy during the Holidays. They were a tan color, tiny and crunchy (not like the ones in this recipe that are so soft and chewy!) but I always enjoyed them so much with my afternoon coffee or tea.  I guess the reason we ate them during the December holidays was that it was the only time in the year when all imported items from Italy would become available at the grocery stores, hence, they would arrive at our tables!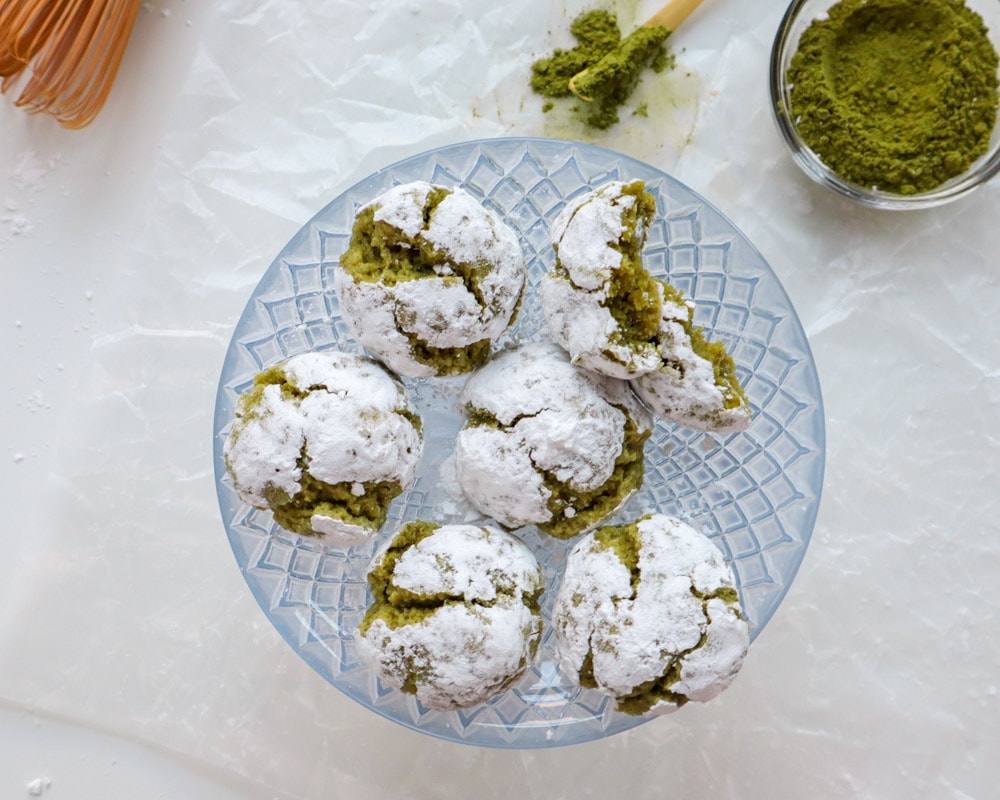 Why you will love them?
These Matcha Amaretti Cookies are so simple and easy to make, it doesn't take much effort to put together. Having a stand mixer really helps for beating the egg whites with the sugar much quicker, but it can also be done using a handheld electric mixer.
On another note, the ingredient list is fairly short and simple. You will be able to find most of the ingredients easily in your local grocery store or online. Remember to use your favorite matcha since that will be the only matcha flavor source in your recipe.
Lastly, the texture of these cookies is out of this world! Absolutely delicious, soft, slightly crunchy outside, melt-in-your-mouth type of texture. I cannot praise it enough and believe me when I say, it will be difficult to have just one and walk away.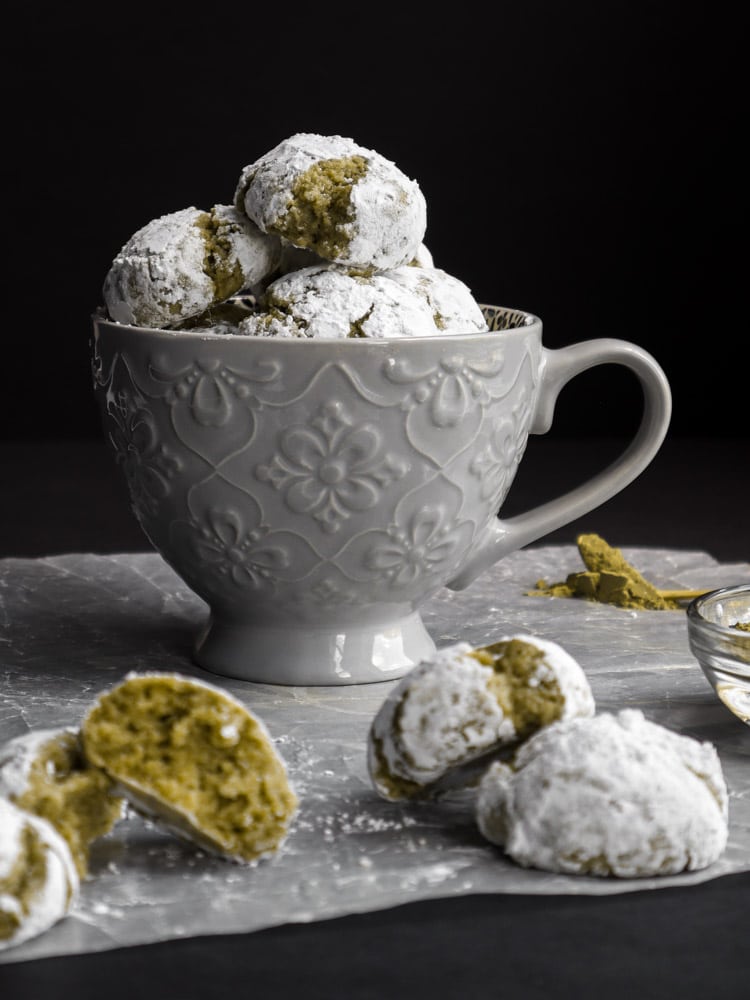 Ingredients for Soft Matcha Amaretti Cookies
As I mentioned, the list of ingredients is short and simple. Here is what you will need:
Almond flour: this is the essence of your cookie and will form the dough and add flavor. The brand I use is this one and I get it at Costco.
Granulated sugar: sweetens and softens the cookie.
Matcha powder: adds flavor. Use one that you enjoy the flavor of. I wouldn't necessarily use a ceremonial grade for this, but a culinary grade works perfectly.
Salt: highlights sweet notes.
Egg whites: helps the dough incorporate while keeping the dough light and fluffy.
Lemon juice: adds a tiny bit of freshness and moisture.
Almond extract: enhances almondy flavors!
Powdered sugar: as needed. Make sure yours says it is Gluten Free for a completely gluten-free cookie.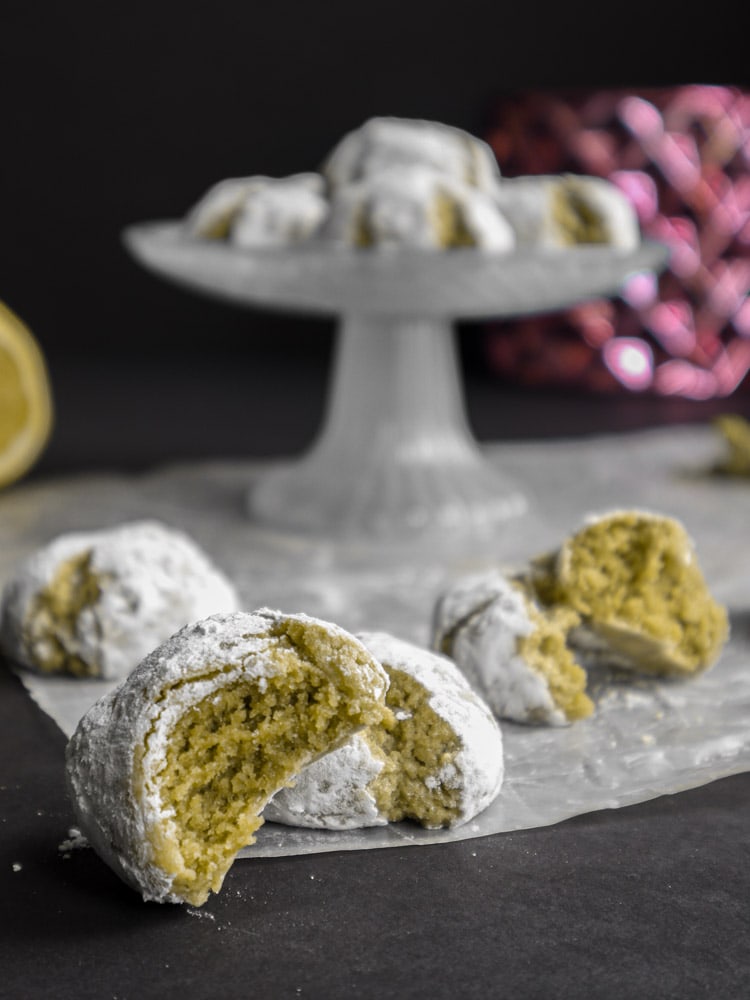 Tips for successfully making Soft Matcha Amaretti Cookies
Beat egg whites until stiff peaks form: to achieve this, make sure your whisks and bowl are clean, keep this in mind as a greasy bowl or whisk can make your egg whites stay flat and no matter how much you beat it, it won't whip to a fluffy white foam. You can wipe them with vinegar to make sure there is no grease in the bowl or whisks.
Buy premade almond flour: homemade almond flour can turn out too fine, too thick, or could start to release oils during the grinding process, this will make your cookies flat and not show the proper texture.
Use a cookie scoop: to make all your cookies consistent in size. Also, the dough will be very thick and sticky so the cookie scoop facilitates the process.
Use double cookie sheets for baking: These cookies are meant to stay soft and chewy with very minimal to no browning at all, so using light baking trays and double trays will help with this.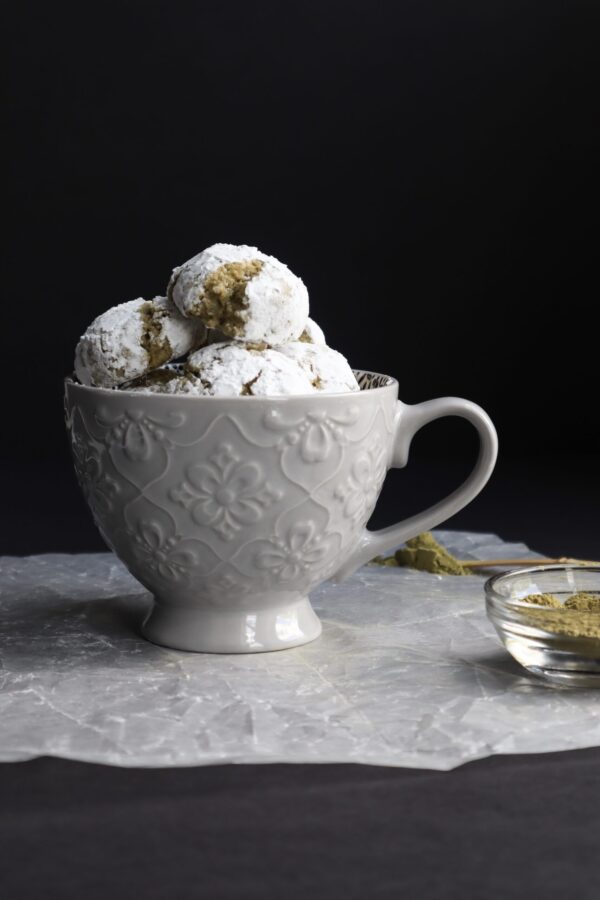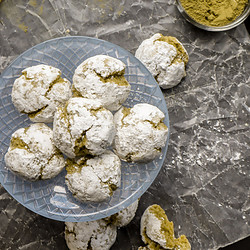 Soft Matcha Amaretti Cookies
Soft and full of almond and matcha flavors, these Matcha amaretti cookies will surely brighten your afternoon tea and will keep you coming for seconds.
Ingredients
2 1/4

cups

200g almond flour, sifted

1

cup

200g granulated sugar

1

tablespoon

5g matcha powder

⅛

tsp

salt

2

large egg whites

1/4

teaspoon

lemon juice

1/2

teaspoon

almond extract

confectioners' sugar

as needed – make sure its gluten free for a true gluten free recipe
Instructions
Preheat the oven to 300°F (150°C) and stack two baking sheets (preferably light in color) and line the top cookie sheet with parchment paper. Stacking will prevent the cookies from browning too much in the oven.

In a large bowl sift the almond flour, sugar, matcha powder and salt, and whisk to combine. Set aside.

In a clean bowl of a stand mixer set with the whisk attachment, beat the egg whites with lemon juice until soft peaks form.

Add almond extract and beaten egg whites to the almond flour mixture and mix until well combined and until all the egg white has been incorporated, you can use a spatula or your hands. It will be a very sticky dough.

Place confectioners' sugar in a deep bowl and dust your hands with it. With the help of a small cookie scoop, scoop and roll dough into a ball, then roll into the powdered sugar, for a gluten free version skip the confectioners' sugar unless using a GF confectioners' sugar. Arrange on parchment paper about 1 inch apart from each other as these will expand a little bit.

Bake 30-35 minutes until the tops are cracked if using double baking sheets. If you are not using double baking sheets, bake for 20min and keep an eye on the cookies so that they don't brown too much. Longer baking time will give you a crunchier cookie.

Remove from the oven and let cool for 10 minutes on the baking sheet. Carefully remove cookies onto a wire rack to cool completely. Cookies will be very soft when coming out of the oven and may break if removing them before they have cooled.

Store cookies on an airtight container for up to 5 days.