Jump to recipe
This cake is one of my husbands favorite,  to be honest, one thing that keeps me baking these type of cakes is mostly him! He doesn't really enjoy icing (buttercream or anything thick covering his desserts!) and I could try to convince him but there is no success. I don't enjoy eating frosting either, but I love decorating and practicing with buttercream that no one in this house will eat.
For my dear love I have to make yummy cakes like this, fruity, fresh, spongy, soft…every time he eats this cake he says "This is the BEST cake, forever!" and that makes me so happy 🙂 Definitely try this one out, it is very easy to put together.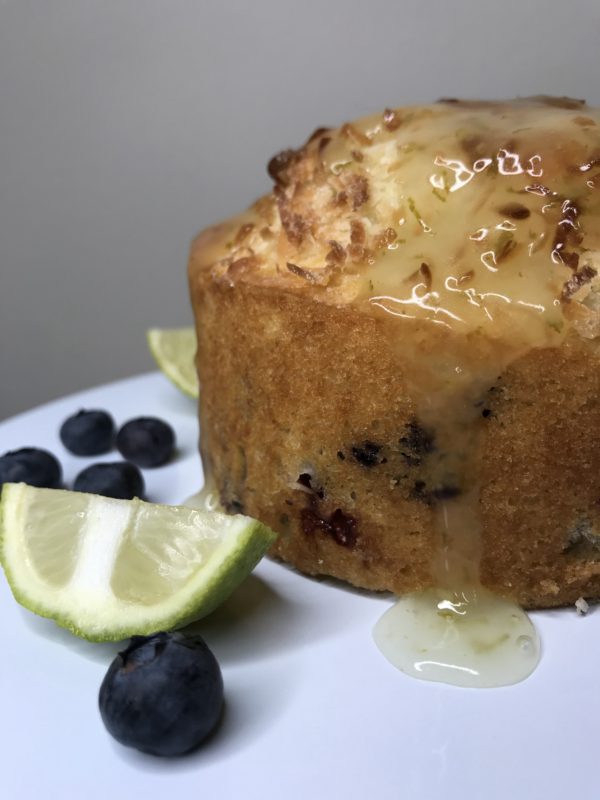 Blueberry Coconut Cake with LIME Sauce, the original recipes all call for Lemon, but I am being true to myself, I do not enjoy lemon as much as I enjoy lime. Growing up in Venezuela, the names for these fruits are backward to us, plus, there is no lemon over there, we only had Limes (green ones!) so you can expect I will swap every recipe that has lemon, for lime. I feel limes has a more sharp flavor, fresher…and lemon just reminds me of Lysol (lol!! great job on the smells Lysol! you got them almost identical!)
This cake is way better eaten the same day it is made, something like almost straight out of the oven, warm and with warm glaze. If you store it in the fridge make sure it comes back to room temperature, specially if you don't enjoy cold cakes. This seriously is like a huge pancake, when you see the ingredients and instructions you may agree with me. Look at the inside! Blueberries burst all over the place.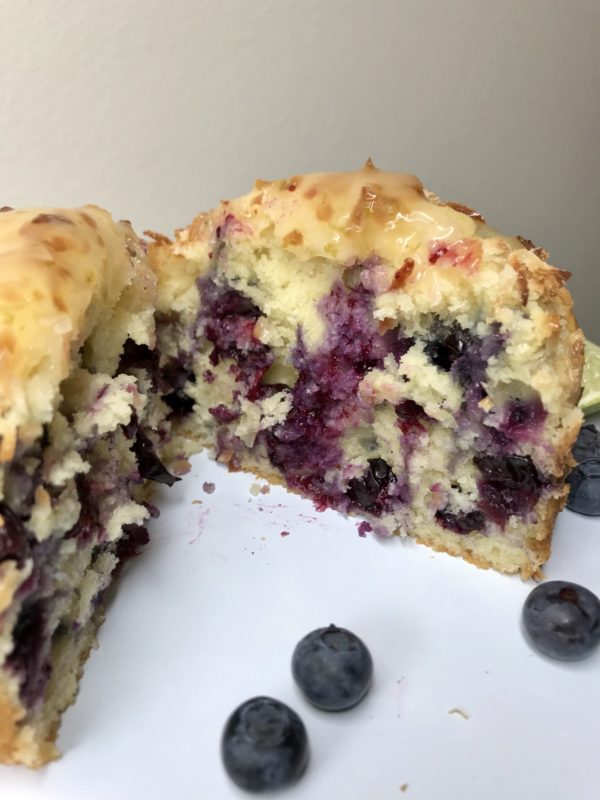 You could make this cake in a 9×13 inch square pan or in 1-9 inch pan. If you have a small family like mine and want dessert just for one day, feel free to half this recipe. I always make half a recipe in a 8×8 inch pan. In this post, I made it into two 4×2 inch round pans, they are tiny and will grow upwards. This will increase your baking time as the center will take longer to bake.
Blueberry Coconut Cake with Lime Sauce
Notes
You can substitute Cranberries for Blueberries and Lemon for Lime.

Ingredients
For the Cake
2 cups all-purpose flour
1 cup granulated sugar
1 tablespoon baking powder
1/4 teaspoon salt
2 large eggs
1 cup milk
1/2 cup vegetable or canola oil
1 1/2 cups fresh or frozen blueberries
2 tablespoons all-purpose flour
1 cup sweetened coconut flakes
For the glaze
1/2 cup granulated sugar
4 1/2 teaspoons cornstarch
1 teaspoon grated lime zest
1 cup water
1 tablespoon butter
2 tablespoons fresh lime juice (from about 1 lime)
Instructions
Preheat the oven to 350F and lightly grease a 9X13-inch square pan or baking dish.
In a large bowl, mix flour, sugar, baking powder and salt. In a separate bowl, whisk eggs, milk and oil.
With a rubber spatula, stir the wet ingredients into the dry ingredients just until moistened.(like pancakes! do not over mix).
Wash and dry the fresh blueberries (no need to wash or thaw frozen blueberries if using) and toss them in a bowl with the 2 tablespoons of flour. This will prevent the blueberries from falling to the bottom of the cake. Fold them into the cake, be careful to not overmix or you will break the blueberries and batter will turn blue.
Pour the batter into the prepared pan. Sprinkle the top of the cake with the coconut and bake for 18-25 minutes or until a toothpick inserted in the center comes out clean. Bake time will depend on cake pan size. Cool the cake in the pan on a wire rack. If making it in small pans like I did and to get the cake out of them, run a small spatula though the edges of the cake and turn the cake upside-down onto a plate. With the help of another plate, turn the cake upright and voila! Some of the coconut may fall out of the cake.
For the sauce, in a small saucepan combine the sugar, cornstarch and grated lime zest. Whisk in the water until well blended and bring the mixture to a boil over medium-low heat, stirring frequently and cook for about 2 minutes at a boil until the mixture is thickened. Remove the pan from the heat and stir in the butter and lime juice. Use warm or at room temperature.
Drizzle each piece with lime sauce before serving.
Recipe adapted from one of my favorite bloggers Mel's Kitchen Cafe