Traducir a Español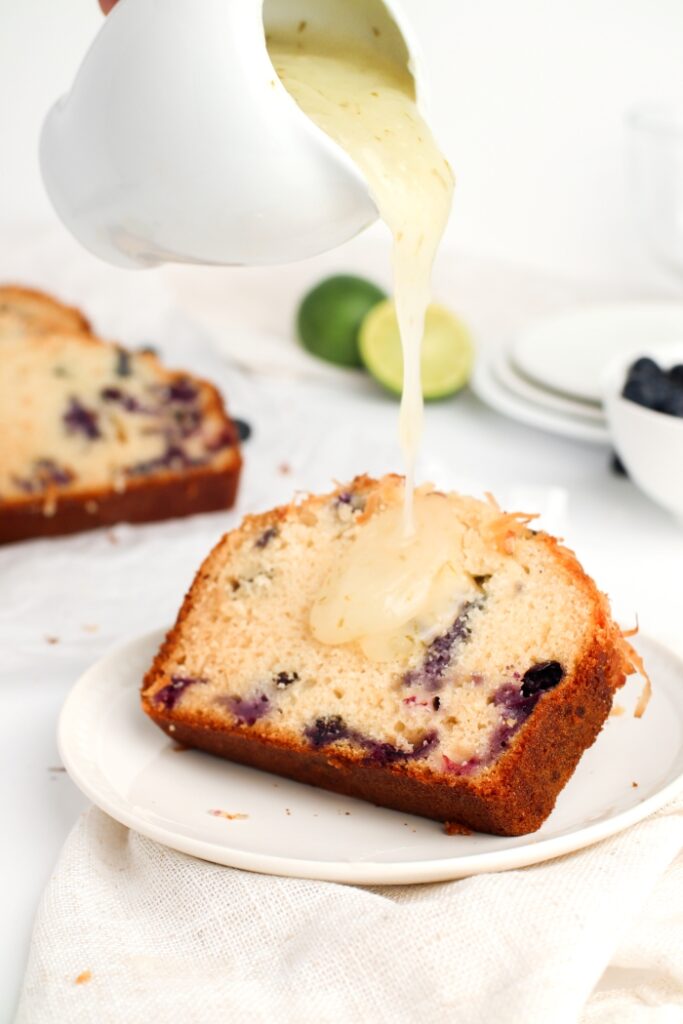 CAKES – MARCH 31, 2023
BLUEBERRY COCONUT CAKE WITH LIME SAUCE
This blueberry coconut cake is a deliciously moist and flavorful treat, made even better with a tangy lime sauce drizzled on top. A must-try for any dessert lover!
Jump to Recipe
This blueberry coconut cake is soft and moist, is topped with sweetened coconut for an added crispy bite, and is served with a mouth-watering lime sauce.
Why you will love it?
This cake is a very simple recipe, and it is made with easy-to-find ingredients. Additionally, you can put this together in just a few minutes! It is the perfect spring recipe to bring to your easter get-together.
The blueberries will burst inside the cake adding that sweet and tangy flavor to your cake, while the coconut on top will toast in the oven, adding more texture to an otherwise very soft cake. The best part is the lime sauce. It adds that elegant dessert vibe, glossy and warm, rich in flavor, and coating each slice for a perfectly refreshing combination.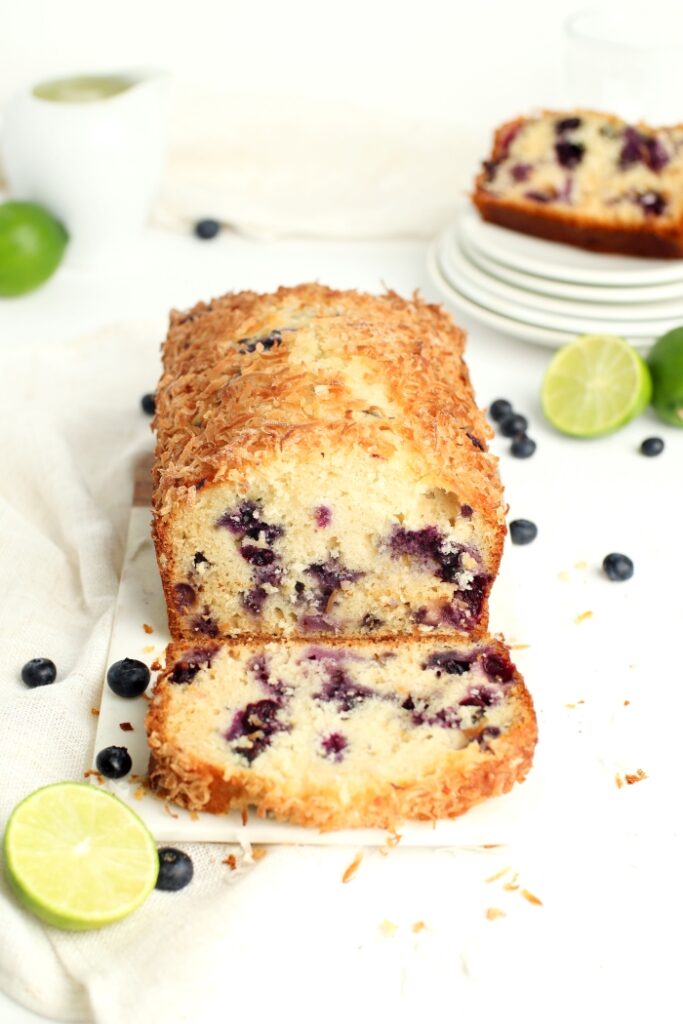 Ingredients for blueberry coconut cake with lime sauce:
All-purpose flour: gives the perfect crumb without any leavening agents.

White sugar: add sweetness and keeps the cake light in color.

Baking powder: your leavening agent to rise that cake.

Salt: highlights and balances the sweet notes.

Eggs: Add richness, structure, and volume to the cake
Milk: contributes to moisture while adding flavor and softening the crumb.
Vegetable oil: Adds moisture and softens the crumb.
Blueberries: fresh is the option for this recipe, although you can use frozen. If you do, do not thaw.
Coconut Flakes: sweetened coconut flakes will become slightly caramelized while baking. Can sub for unsweetened.
Limes: the original recipes all call for lemons, but I prefer limes. Feel free to substitute lemons for the limes.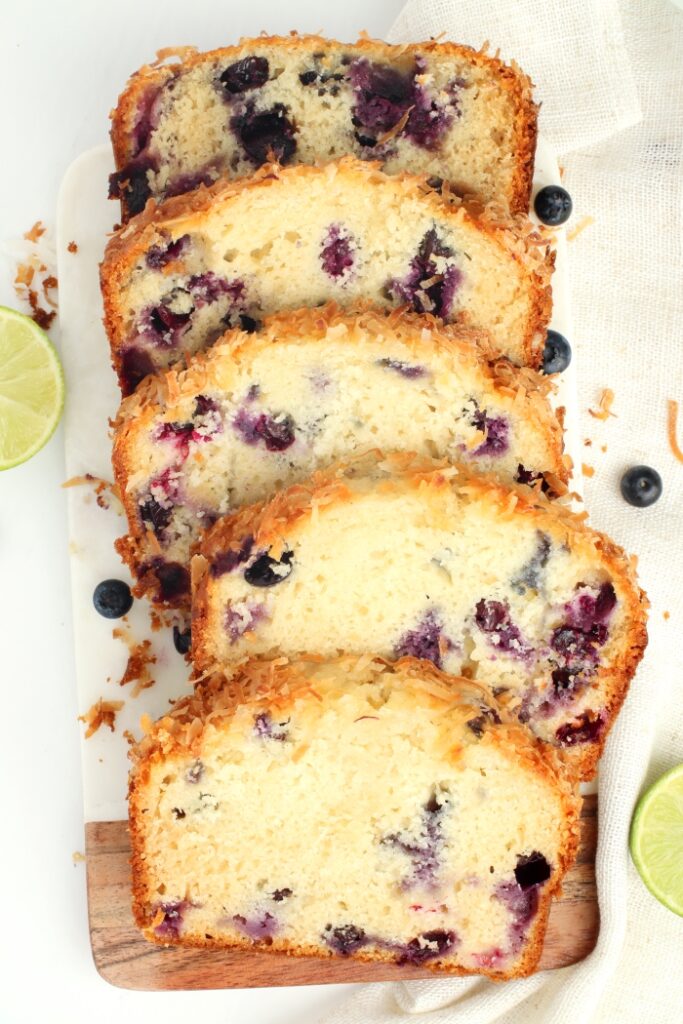 Tips for variations:
You could make this cake in a 9×13 inch square pan or in a 1-9 inch pan. If you have a small family like mine and want dessert just for one day, feel free to half this recipe. I always make half a recipe in an 8×8-inch pan. In this post, I made it into two 4×2-inch round pans, they are tiny and will grow upwards. This will increase your baking time as the center will take longer to bake.
This cake is way better eaten the same day it is made, almost straight out of the oven, warm and with a warm glaze, although you can always enjoy it at room temperature. If you store it in the fridge make sure it comes back to room temperature, especially if you don't enjoy cold cakes.
Gently dry the blueberries after washing them and before adding the 2 tablespoons of flour. When folding the blueberries do it carefully and try not to smash them or it will make your batter purple. If using frozen blueberries add them directly without thawing them, otherwise, they will release liquid and will make your batter purple.
You can substitute blueberries for fresh or frozen cranberries, and lime for oranges.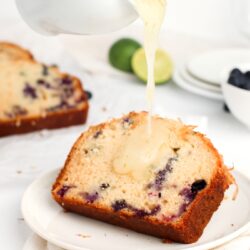 Blueberry Coconut Cake with Lime Sauce
Blueberry Coconut Cake, topped with fragrant toasted sweetened coconut and served with a mouth-watering lime sauce.
Ingredients
For the cake
2

cups

all-purpose flour

250grams

1

cup

granulated sugar

200 grams

1

tablespoon

baking powder

14.4 grams

1/4

teaspoon

salt

2

large eggs

1

cup

milk

250ml/ 8 oz

1/2

cup

vegetable or canola oil

120ml/ 4oz

1 1/2

cups

fresh or frozen blueberries

about 250 grams

2

tablespoons

all-purpose flour

7-8 grams

1

cup

sweetened coconut flakes

about 80 grams
For the sauce
1/2

cup

granulated sugar

100 grams

4 1/2

teaspoons

cornstarch

14 grams

1

teaspoon

grated lime zest

1

cup

water

250ml/ 8oz

1

tablespoon

butter

14 grams

2

tablespoons

fresh lime juice

30ml/ 1oz from about 1 lime
Instructions
Make the cake
Preheat the oven to 350℉ and lightly grease and line a loaf pan with parchment paper. See notes for other pan sizes.

In a large bowl, mix flour, sugar, baking powder and salt. In a separate bowl, whisk eggs, milk and oil.

With a rubber spatula, stir the wet ingredients into the dry ingredients just until moistened. (just like pancakes! do not over mix).

Wash and dry the fresh blueberries (no need to wash or thaw frozen blueberries if using) and toss them in a bowl with the 2 tablespoons of flour. This will prevent the blueberries from falling to the bottom of the cake. Fold them into the cake, be careful to not overmix or you will break the blueberries and batter will turn blue.

Pour the batter into the prepared pan. Sprinkle the top of the cake with the coconut and bake for 50-60 minutes or until a toothpick inserted in the center comes out clean. During the last 10 minutes, check your loaf, if the coconut starts to brown more than a golden brown, cover the top with foil and continue baking. Bake time will depend on cake size. Cool the cake in the pan on a wire rack.

Remove the cake from the oven and let cool for at least 15 minutes before unmolding the loaf. If made in a 9x13in pan, you can leave it in the pan, cut and serve directly from it.
Make the sauce
For the sauce, in a small saucepan combine the sugar, cornstarch and grated lime zest. Whisk in the water until well blended.

Bring the mixture to a boil over medium-low heat, stirring frequently to avoid burning. Cook for about 2 minutes at a boil until the mixture is bubbly and thick.

Remove pan from the heat and stir in the butter and lime juice. Reserve in a glass container or serve immediately. You may need to reheat it or stir with adding a bit of water if the sauce thickens too much when cold.

Drizzle each piece with lime sauce before serving.
Video
Notes
You can substitute blueberries for cranberries and lime for lemon.
You can bake this cake in a 9×13 inch. Adjust baking time to 18-25 minutes or until a toothpick inserted in the middle comes out with just a few crumbs.
There is no need to remove this cake from the pan, you can cut and serve directly from the pan.
You can also half the recipe and bake in an 8×8-inch pan. Adjust baking times to 18-20 min or until a toothpick inserted in the middle comes out with just a few crumbs.
The type of pan you use will affect baking time. If using glass pans, the baking time will be longer as glass conducts less heat than metal.
Darker metal pans would be slightly less time, or reduce baking temperature to 325F as darker pans conduct more heat.
---
Recipe adapted from one of my favorite bloggers Mel's Kitchen Cafe