Traducir a Español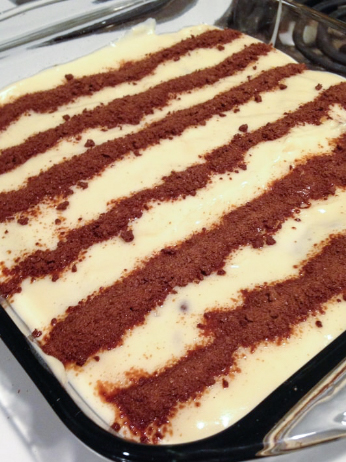 PIES – APRIL 20, 2020
postre de milo – colombian dessert
Postre de Milo is an easy and loved-by-all, Colombian dessert that is known for its creamy condensed milk pudding layered between Ducales saltine crackers and Milo chocolate powder. It will surely satisfy your sweet tooth!
Jump to Recipe
Postre de Milo is a delicious creamy dessert made with condensed milk pudding, Ducales saltine crackers, and Milo chocolate powder, it will surely be a hit at your home. Though I am not Colombian, my friend Natalia introduced me to this delightful dessert and it has been a favorite!
When she gave me the recipe she was very insistent that I had to make it with Crema de Leche (cream of milk) and not Media Crema. Even so, I must confess I have cheated on the original recipe and used other kinds of canned milk when I couldn't find Crema de Leche. So you can feel free to do the same if it is difficult to find it in your area. I promise you will be able to make the same delicious dessert!
Now, before I continue, this post is not sponsored, BUT, I have never had Milo before in my life until I was introduced to this dessert, and I became a fan! In Venezuela, we had Toddy as our chocolate milk powder option and never in my life, I had imagined there was something called Milo that existed beyond just Colombia and was pretty popular!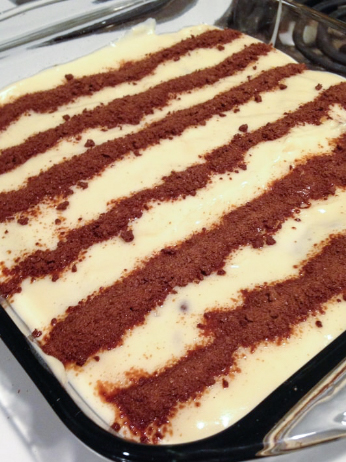 Why you will love it?
This deliciousness called Postre de Milo (in English Milo Dessert) will change your "quick desserts" game. It takes literally 10-15 minutes to put together, you don't need fancy equipment or a mixer and you can adapt this recipe and make it your own style, maybe adding some Dulce de Leche or Nutella in between the layers. Also, the pudding made with condensed milk gives you this amazing texture and flavor that you can make just to enjoy on its own. You will be tempted to eat it right out of the saucepan by the spoonful.
Although this dessert is NOT too pretty, I promise you will love love love love its flavor!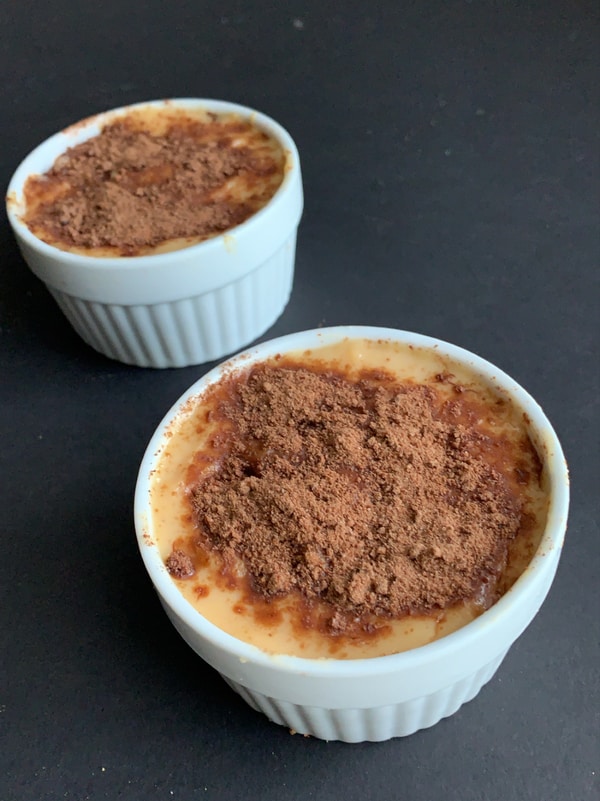 Ingredients for Postre de Milo / Milo Dessert:
The ingredients for this recipe are specific to the original recipe, and you will be most successful using such ingredients. Substitutions may affect the 'legitimacy' of the recipe, especially the crackers as Ducales aren't as salted as your traditional saltine and have a different texture and flavor. I have linked the ingredients to purchase on Amazon in the list below if that helps!
Condensed milk: you will need one full can. Any kind of regular condensed milk works. I have not tested this recipe with sugar-free, low fat or coconut milk condensed milk.
Cream of milk: also reads as Crema de Leche in the Hispanic section at your grocery store. You will need 1-7.6oz can. If you cannot find it, substitute it with 1 cup of heavy cream or canned "media crema"
Milk: Regular full-fat milk is preferred to add richness to this dessert, however, you can substitute with 2% fat milk.
Cornstarch: your thickening agent. Absolutely necessary in this recipe or it will turn into a soup.
Milo: as much as you like and need.
Ducales Crackers: the original Colombian recipe uses Ducales – you can find these in the Hispanic section at your grocery store. You can substitute for your favorite saltine crackers as long as they aren't extra salty!
And one last thing, if you half this recipe you can make just 2 ramekins of this dessert and convert it into a recipe "for two"!
Tips for Success
The best results are obtained when you use the ingredients listed without substitutions.
Your chances of finding these ingredients in your local grocery store are pretty good. Most grocery stores have a Hispanic section where you will find these. If not, amazon or a local Hispanic-specific market should have these ingredients.
Constantly mix the pudding while it's cooking. The milk tends to burn very quickly at the bottom of the pan if not mixed and will give you a burnt flavor and pieces of burnt milk in your pudding.
The size of the pan is not as important. What is important is having a pan that will allow you to make at least three layers of cookies, pudding, and milo, like a lasagna. Hence, a smaller dish will give you more layers, and a larger dish will give you fewer layers. You can also layer in individual cups and serve directly in them.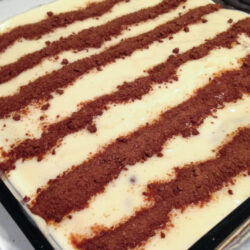 Postre de Milo (Colombian dessert)
An easy and loved-by-all, Colombian dessert that is known for its creamy condensed milk pudding layered between Ducales saltine crackers and Milo chocolate powder. It will surely satisfy your sweet tooth!
Ingredients
1

can

14oz condensed milk

1

can

7.6oz cream of milk or 1 cup of heavy cream

1

cup

milk

2

tbsp

cornstarch

Milo – as much as you like

Ducales cookies

Galletas Ducales, found in the Hispanic section at your grocery store
Instructions
In a medium saucepan over medium heat mix condensed milk and cream of milk.

In a small bowl or cup, add milk and mix in with cornstarch until well combined. Add it to the saucepan, stirring constantly to prevent lumps in the mix.

Continue cooking over medium heat. From this moment, do not stop stirring the mix until it's done. Stir constantly with a wire whisk to prevent milk from burning at the bottom of the pan.

Bring to a boil for about 1 minute until the mixture has thickened. Remove from the heat.

In an 8×8 square pan or 8-inch round, add a layer of milk pudding covering the bottom of the pan, and sprinkle Milo powder with the help of a spoon on the entire surface. The amount of Milo in each layer depends on your personal preference. Add a layer of the cookies, arranging evenly. Follow with pudding and repeat this process until you have used all the milk mixture. You will have leftover cookies and Milo powder for another use.

Cover with plastic wrap and cool in the refrigerator for at least 6-8 hours before serving. Must be served cold.