Traducir a Español
Jump to recipe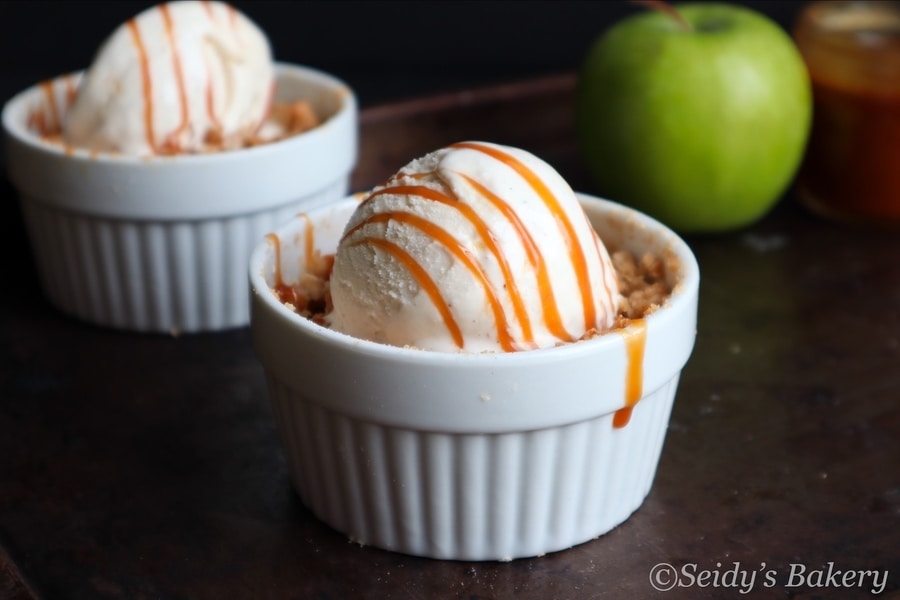 Apple apples apples! I just love them. They are so versatile whether it is for a dessert like Apple Crisp for two, or any other dessert or snack. Most apple desserts will call for Granny Smith apples as their firm texture won't disappear when baking them, and their distinctive tart flavor will keep your dessert from being TOO sweet and will give you the best flavor for an apple pie filling. Granny Smith Apples will forever be my favorite kind!
This recipe is fairly simple, it only has a few ingredients and if you are making this for two, you only have to use just a little amount of flour (I've heard people are running short on flour or not finding it at the grocery stores because of the pandemic). And yes, this recipe was adjusted for only 2 servings since it is only the two of us at home. As I said last week, I want to try the dessert and move on to the next recipe for you all and trying to finish eating a whole 9×13 dish of Apple Crisp for an entire week would keep me from making other desserts sooner! This recipe is also great if you want to have a dessert just one day without any leftovers.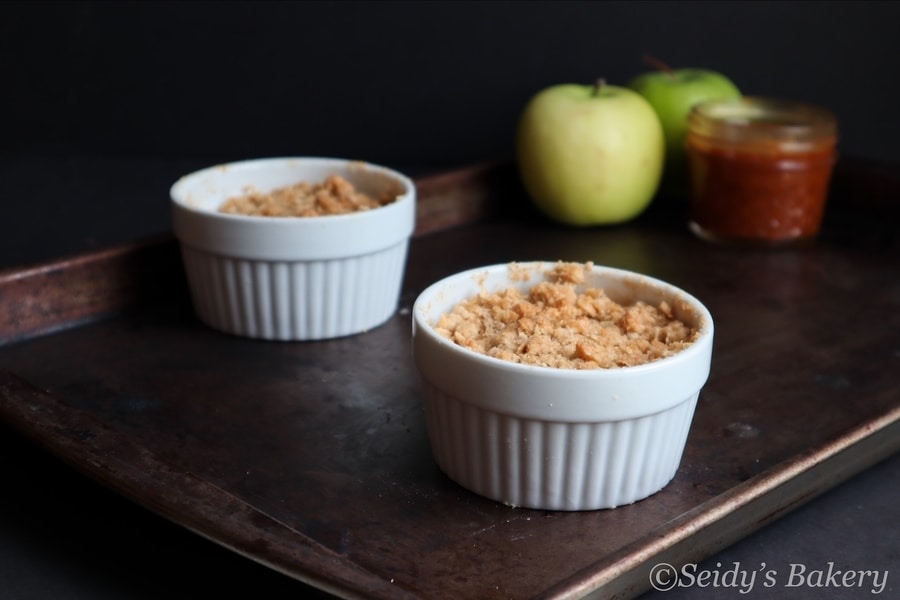 Also, if you want a "healthier" version or "allergy-free" version of the recipe there is only few substitutions you would need to make. For example for a lactose free version you can substitute butter for coconut oil. For a Gluten free version you can swap the all purpose flour for almond flour and make sure to use gluten free oats. A sugar-free version is also possible if you substitute the brown sugar for monk fruit or stevia (or the sweetener of your choice). In addition, if you want to top it off with something other than vanilla ice cream, I'd mix up a small amount of greek yogurt with vanilla extract and top my "healthy-fied" dessert with that.
When I ran the poll on Instagram asking you guys what recipe would you prefer, if Apple Crisp or Apple Pie, I was seriously surprised to see Apple Crisp winning! (80% to 20% and those were more than 60 votes!). I had not expect Apple Crisp winning at all, but I guess you know too how GOOD and easy it is to make this versus how much work goes into making pie crust at home and just the thought of going to the store to buy some made you anxious.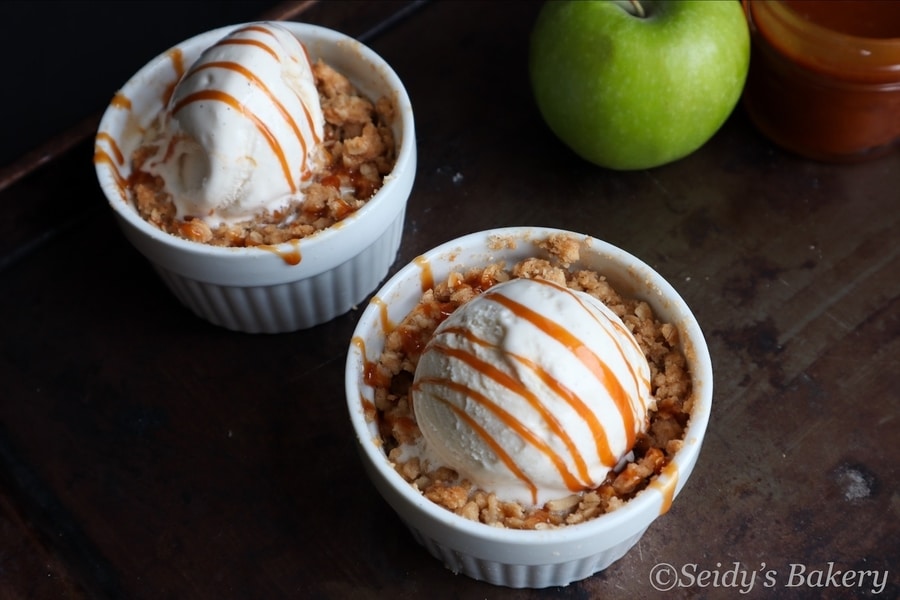 Enough has been said on the history of this recipe on this blog! Lets move on to the fun part: baking it and of course, EATING it!!
I've created this step by step slides below so you see really how easy it is to make, and only in a few steps! Don't forget the ice cream!
Apple Crisp for two
Apple Crisp is one of the easiest desserts to put together. There is barely any mixing involved. The filling is gooey caramelized apples (like a pie) covered with a crunchy layer that creates an amazing contrast to the soft filling. Think of it as a very easy Apple Pie recipe without pie crust. You can top this with vanilla ice cream for a restaurant style dessert at home!

Ingredients
For the filling:

2 large Granny Smith apples peeled, cored, and chopped - about 2 cups (I used 3 small apples)
1 tablespoon all-purpose flour
2 tablespoons brown sugar
Dash of cinnamon
½ tbsp lime juice (a tiny squeeze)

For the topping:

1/4 cup all-purpose flour
3 tablespoons old-fashioned rolled oats
2 tablespoons brown sugar
1/8 teaspoon cinnamon
tiny pinch of salt
2 tablespoons unsalted butter cold and cubed
Instructions
Preheat oven to 350F and lightly grease 2 small ramekins or mini pie dish and set aside
In a small bowl mix all filling ingredients and fold to coat apples well with sugar mix. Divide evenly between ramekins.
In a medium bowl mix all topping ingredients except butter and whisk to combine. Add butter cubes and mix with a fork or your hands until it crumbs together. For this step I've used a mini food processor and pulsed about 2-3 times. Distribute topping evenly on top of apples filling previously prepared.
Bake for 25-30 minutes until the apples are cooked and the topping is light gold brown. I cooked mine for about 34 minutes as I like mine very crispy and apples very gooey!
Remove from the oven and let cool on a wire rack for 5 minutes. Serve with vanilla ice cream and caramel syrup if you have some!.
Notes
1. For an 'allergy-free' or 'healthy' version you can make the following changes:
*Butter -> Coconut Oil.
*All purpose flour -> Almond Flour
*Brown Sugar -> Monk fruit/ Stevia
2. You can easily double or triple this recipe and make it in a larger deep dish or 8x8 dish, depending on the amount of your apples and topping.