Affiliate Disclosure: This blog may contain affiliate links. This means that if you click on a link and make a purchase, we may earn a commission. However, please note that we only recommend products and tools that we use and genuinely like. We always prioritize our readers' best interests. By clicking on these links, you won't incur any additional costs, but it will help us keep this site running. Thank you for your support!
Traducir a Español
Jump to recipe
Pumpkin Spice Cake!! I mean, Happy Thanksgiving!!….what a better time of the year to have this gorgeous cake! Although I live in Florida and the weather doesn't get that cold, it is cold enough for me to enjoy hot chocolate with marshmallows, a nice fireplace or some joyful fall desserts! Now that I have moved to Tampa, it definitely gets more chilly than Miami which makes me happier for enjoying colder weather comfort foods!!
This cake can be made in a budnt pan,  2-8inch or 2-9inch pan, whichever you prefer. Just know that if you are baking this in a different pan just like I did with the snowflake pan, you could probably get 2 of these. Remember most of times cake pans shouldn't be filled more than 2/3. The first time I baked this, the cake was rising very high (Hello Pumpkin mountain!!) and it was extremely difficult to bake inside while the edges were browning too much.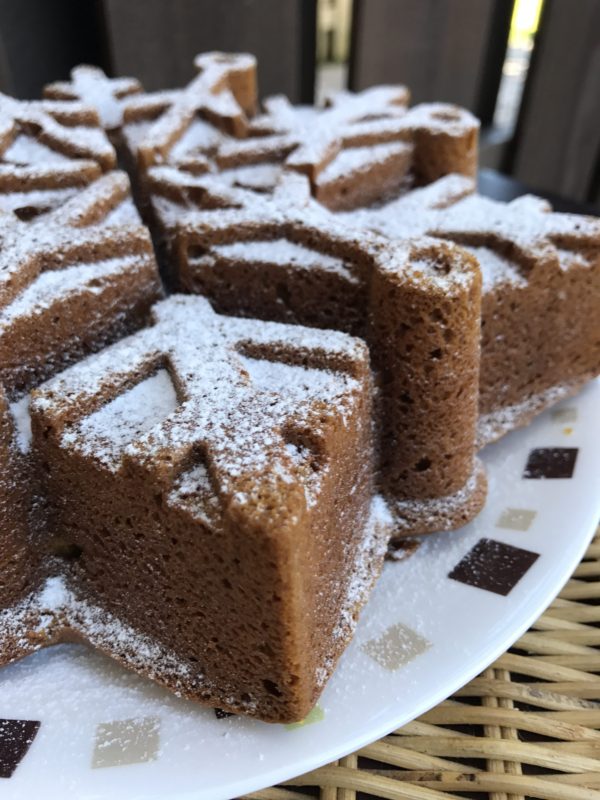 Another recommendation for this type of pan is to grease and flour it very well, otherwise, you could find yourself praying when turning it upside down.  Note: I also use my special mix of equal parts of oil, crisco and flour and it always works wonderful, I mean, look at the details on this cake!!
To top this cake remember you can get creative, I love cream cheese frosting, Chocolate ganache, and just regular icing sugar with Pumpkin Spice Cakes. It just depends what you like and how much time and ingredients available you have on your hands.
Ingredients
2 cups sugar
1 cup vegetable oil
4 eggs
1 (16 ounce) can pumpkin puree (NOT PIE FILLING)
3 cups all purpose flour
1 teaspoon salt
1 teaspoon baking soda
1 1/2 teaspoons baking powder
2 teaspoons ground cinnamon
1 teaspoon ground ginger
1/2 teaspoon nutmeg
Instructions
Preheat the oven to 350F. Spray a Bundt pan with nonstick spray, grease and flour or use the special non-stick mix (equal parts of oil, crisco and flour).
In a small bowl whisk all dry ingredients together: flour, salt, baking soda, baking powder, cinnamon, ginger, and nutmeg.
In the bowl of an electric mixer, cream sugar and oil on medium speed. Add eggs one at a time, mixing well after each addition.
Add the pumpkin puree and mix well until you have a homogeneous mix.
Lower the speed and gradually add the dry ingredients to the wet ingredients. Mix together until the flour is incorporated.
Spoon the batter evenly into the Bundt pan, and smooth out the top. (remember if you are trying out new shaped pans, don't over fill it)
Bake your cake for 45-55 minutes or until a toothpick inseretd in the middle of the cake comes out clean. You can also use your finger and see if the cake bounces back again.
Remove the cake from the oven, and let it cool in the pan for 15 minutes.
Cool on a wire rack in the pan for 15 minutes and then invert it to remove it from the cake pan.
Let the cake cool before frosting. Even if applying just icing sugar, it could melt if the cake is too hot.
If you decided to cover with icing sugar, use a fine sifter to distribute the sugar evenly over the top.