Traducir a Español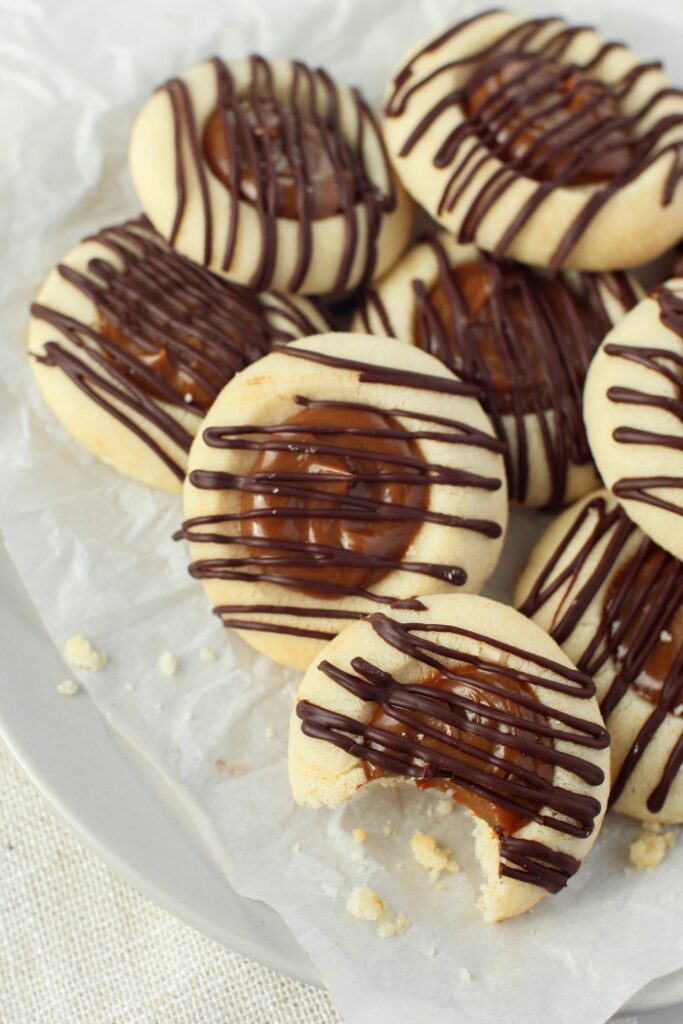 COOKIES – MARCH 24, 2023
Dulce de Leche Chocolate Thumbprint Cookies
These dulce de leche chocolate thumbprint cookies are egg-free, buttery shortbread cookies with delicious creamy dulce de leche filling that pairs deliciously well with chocolate, perfect for a Twix combination.
Jump to Recipe
Dulce de Leche Chocolate Thumbprint Cookies are amazing, egg-free, buttery shortbread cookies with delicious creamy dulce de leche filling that pairs deliciously well with chocolate. It's a favorite and definitely fun and easy to make.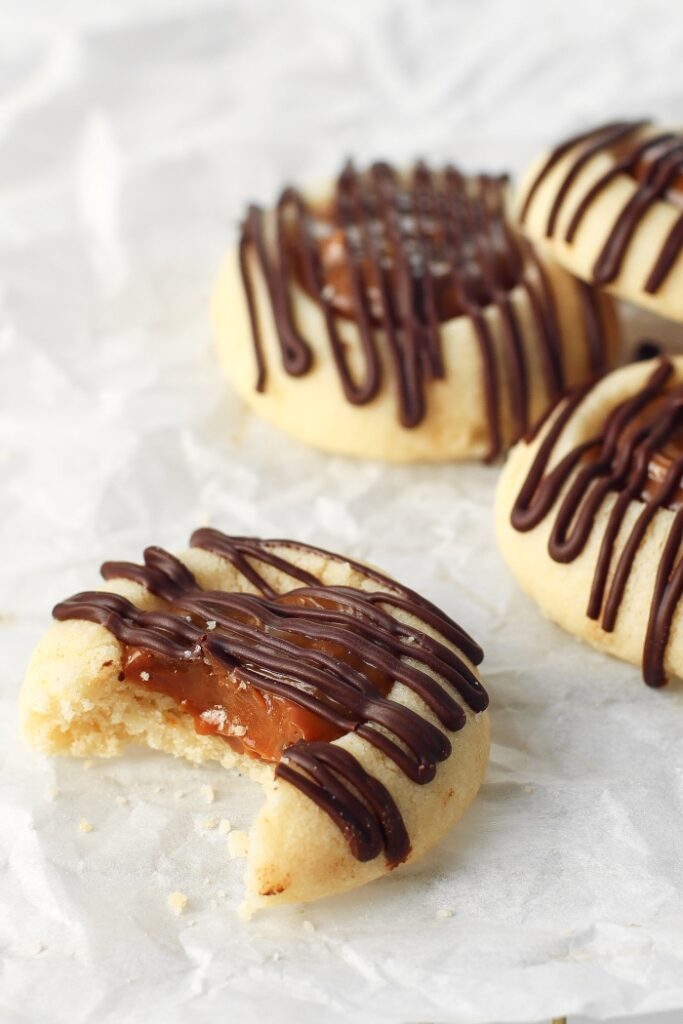 Why you will love them?
These cookies are very easy to make and come together in a heartbeat. I think this a great beginner's recipe to tackle with both minimal ingredients and equipment. Additionally, these are very versatile! Try different kinds of fillings: chocolate ganache, cooked jams, peanut butter, and more. I've made them with salted caramel and left out the chocolate and they turn out so good.
When it comes to the rest of the ingredients, they are pretty straightforward and won't have you running to the grocery store for just a teaspoon of baking soda.
Ingredients for dulce de leche chocolate thumbprint cookies
Unsalted butter: the star of the show. Unsalted butter allows us to control the amount of salt that goes into a recipe.
White sugar: keeps them light in color and crisp when they bake, alternatively, you can use powdered sugar for an even more delicate crumb.
Salt: highlights and balances the sweet notes
All-purpose flour: gives the perfect crumb without any leavening agents.
Dulce de leche: soften slightly by mixing in some heavy cream/milk if too stiff.
Chocolate callets (these are my favorite!) or chocolate chips: any brand should work as long as they are properly melted. Chocolate chips are more forgiving and made to set faster.
Oil: helps add shine to the chocolate and makes them harden quicker. Chocolate is optional!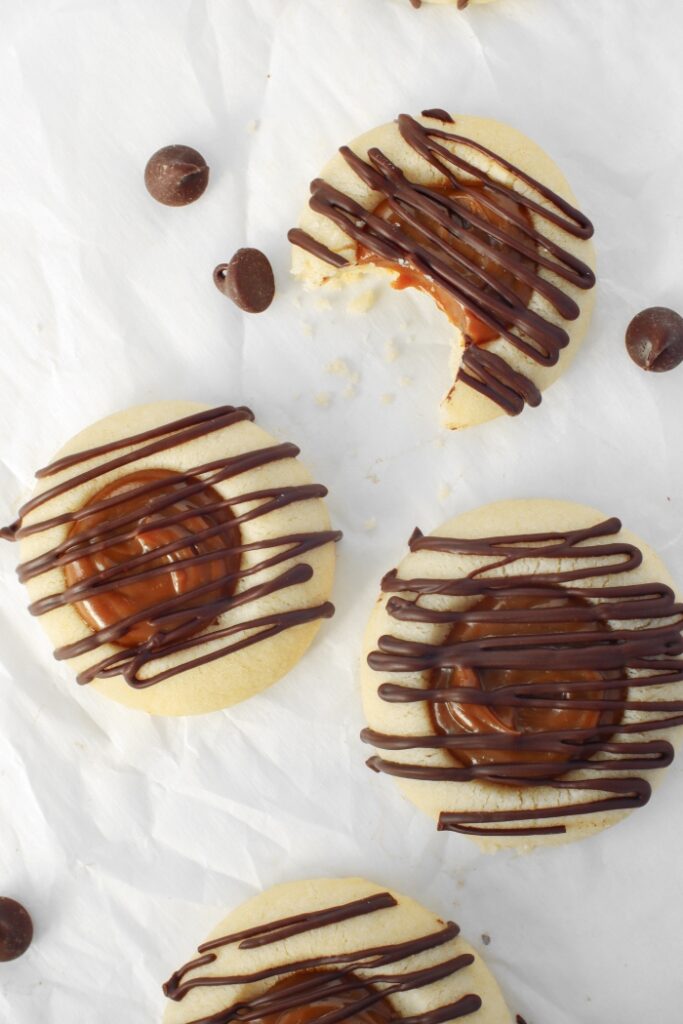 Tips for success:
Room temperature butter, even on the colder side, will be better than warm, almost melted butter as this will help you keep the shape of the cookies.
It is better to roll a few cookies at a time and immediately indent them to prevent cracking. The cookie dough will dry out a little bit if you let them sit. By rolling all of the cookies first and then indenting them I realized they would crack and rerolling was needed as the warmth of my hand would soften the dough a bit and give it that elasticity when indenting them.
Indenting them with an upward item such as a small tube is easier than indenting them with the back of the measuring spoon. With the spoon, they stuck a bit and grabbing the cookie to separate it will deform it and will ruin your perfectly round cookies
The cookies will spread so better to leave about 2 inches between them, bake multiple trays if needed.
Because all ovens are different and the size of your cookies will vary, start checking your cookies at minutes 16-20 or so. Look for those slightly pale golden edges. The bigger the cookie, the longer the time it will take inside the oven. Do not increase the temperature or you risk melting all the butter away from your cookie before it is fully baked.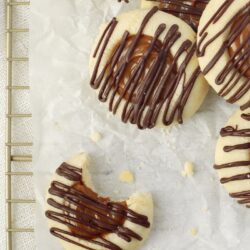 Dulce de Leche Thumbprint Cookies
Egg-free, buttery shortbread cookies with delicious creamy dulce de leche filling that pairs deliciously well with chocolate.
Ingredients
1

cup

unsalted butter softened at room temperature

227 grams / 2 sticks

2/3

cup

white sugar

150 grams

1/4

tsp

salt

2 1/4

cups

all-purpose flour

270 grams

1

cup

dulce de leche

about 190 grams or 7oz

1/2

cup

chocolate callets or chips

56 grams

1

tsp

vegetable oil

5ml
Instructions
Preheat the oven to 325°F and line a cookie sheet with parchment paper or silicone mat.

In a large bowl and using an electric mixer, cream together the butter, sugar and salt until light and fluffy.

Add in the flour and combine until smooth. The dough will come away from the bowl.

Scoop the dough and roll into balls (1-1/2 inch balls, about 2 teaspoons, you can also use a mini ice cream scoop) and place on the prepared cookie sheet about 2 inches apart.

Using your thumb, the back of a measuring teaspoon, or the cap of a bottle, make an indentation in the center of each ball by gently pressing down. If the edges crack, it is best to reroll and try again so the finished cookie has a clean look.

Bake for around 20-25 minutes or until the cookies are just set and the bottom edges have browned lightly.

Remove from the oven. While they are still warm, if desired, repress the indentations in case they have lost their shape during baking. Let cool slightly on the cookie sheet.

Transfer cookies to a wire rack to cool completely.

Spoon dulce de leche to fill each thumbprint. You can use a pastry bag, or two teaspoons. If dulce de leche is too thick, place in a microwave safe bowl and heat in 15-second increments until it melts and softens a bit.

Melt the chocolate chips in a microwave safe bowl in 15 second increments until fully melted. Add in the butter and stir until smooth. Using a knife or pastry bag, drizzle the chocolate on top of the cookies in a zig-zag pattern.
Video
Recipe adapted from an old Fine and Cooking Cookie Magazine.