Jump to recipe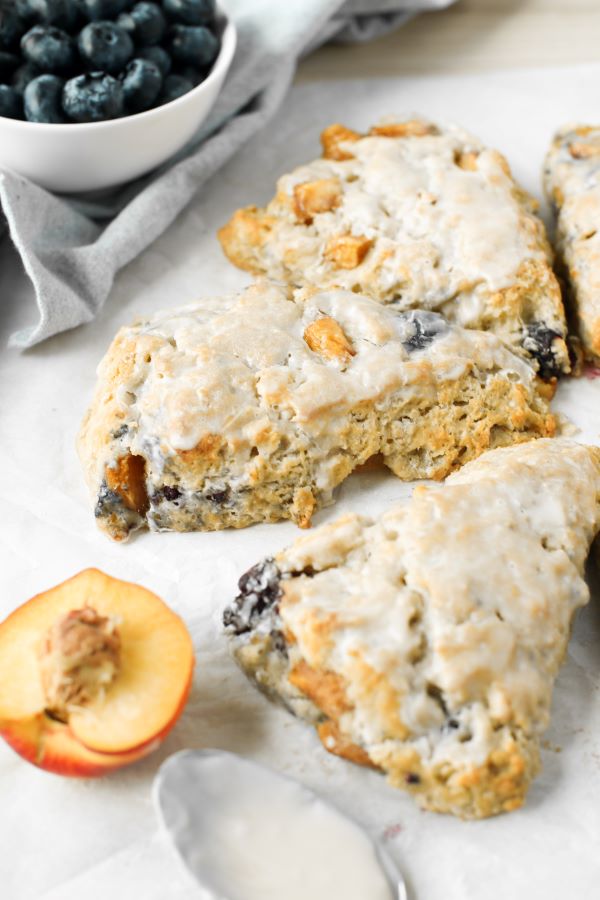 These scones are perfect with a beautiful latte or your favorite warm drink. It's like a hug, in a dessert. The combination of sweet peaches with tart blackberries and blueberries makes this a delicious pastry. Soft, crumbly, and buttery is how I would describe scones.
As I am recipe testing a lot of desserts and pastries, I'm remembering how EASY scones are to make and I will share with you many more recipes (chocolate scones anyone?!). Just know that if on your first attempt, they don't work out, don't give up. Try going over some tips and be careful to not overmix, I feel those are the key to making the perfect scones.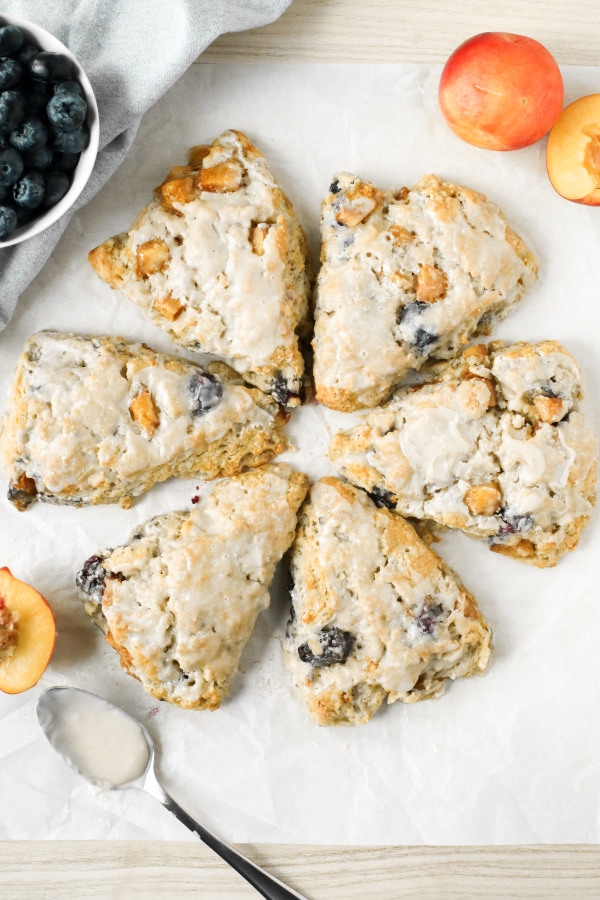 Ingredients
2 1/2 cups all purpose flour (325 grams), plus a few tablespoons for flouring the counter
1 rounded teaspoon baking soda (9 grams)
2 rounded teaspoons cream of tartar (9 grams)
3 1/2 tablespoons granulated sugar (45 grams) plus about 3 tbsp
dash salt
9 tablespoons cold salted butter (1 stick + 1 tbsp, about 128gr)
1 large egg
3/4 cup buttermilk (6 ounces)
1 teaspoon fresh lemon zest
1 teaspoon vanilla extract (5 grams)
3/4 cup fresh peeled and cubed peaches (90 grams)
1/3 cup fresh blackberries, cut in half (about 45 grams)
1/3 cup fresh blueberries (about 45 grams)

For the Glaze:

1 cup powdered sugar (130 grams)
3-4 tablespoons heavy cream plus more if needed
1/2 teaspoon vanilla extract
Instructions
Preheat the oven to 425ºF and line a baking sheet with parchment paper.
In a medium bowl add the flour, baking soda, cream of tartar, sugar and salt.
Cut cold butter into small cubes and add with the flour mix to a food processor.
Pulse the food processor slightly until the butter is mostly combined and the mix looks like wet sand. You can also use a pastry cutter or two forks to combine flour and butter in a bowl. Do not overmix if using a processor. Add mix back to the medium mixing bowl and set aside.
In a small bowl, whisk together the egg, buttermilk or milk, zest and vanilla. Set aside.
With the help of a spatula, make a well in the center of the bowl with the flour. Pour in the milk mixture.
Use a rubber spatula to mix the batter, just until just combined and incorporate the fruit by folding gently.
Sprinkle a couple tablespoons of flour onto a clean table.
Turn the dough out onto the table and flip it over so the floured side is up.
Make a disk that is about 1¼ inches thick and about 8" in diameter.
Use a bench scraper or a larger thick knife to cut the disk into 8 triangles.
Carefully lift and place the scones on a baking sheet lined with parchment paper.
Sprinkle the tops of the scones with raw sugar. Optional: brush the scones with heavy cream before sprinkling with the sugar, it will give them a nice golden color.
Bake immediately for 12-16 minutes until they are golden brown.
For the glaze, while the scones are baking mix together the powdered sugar, vanilla and heavy cream in a small bowl. Add more heavy cream or powdered sugar to adjust consistency. It should look a bit thicker than condensed milk.
Once baked, place tray on a wire rack to cool and while the scones are still warm, spoon the glaze over the scones, spreading gently to cover the tops.
Allow the scones to cool for 3-5 minutes in the pan and then remove them to a wire rack to cool completely.
Store in an airtight container at room temperature.
Notes
Recipe adapted from Taste of Lizzy T