Traducir a Español
Jump to recipe
It's me again! with a Chocolate recipe. These cookies are extremely easy to put together and it is ideal to make with kids 🙂 It is so easy that all you really need is a few ingredients, a bowl, a wooden spoon (or any spoon should work too!!) and your beautiful hands.
I had eyed this recipe in one of my baking magazines for so long, I wasn't sure what type of cookie it was from only looking at the picture, so it was hard for me to commit to making them until one day, I read the ingredients and the instructions and remember saying "ah! this recipe has condensed milk!!!" and I LOVE condensed milk. Everything you cook with it will come out wonderful: brigadeiros, papitas de leche, tres leches, cookie dough, dulce de leche….
These cookies are 'brownie' like. The texture is dry and set on the outside but as you bite into it you discover the Hershey's kiss in the middle, and everything starts to come together like a nice piece of fudge.
Now that I have described this strange looking / strange ingredient cookie, please, give it a chance, try them out and see how addicting and yummy these cookies truly are.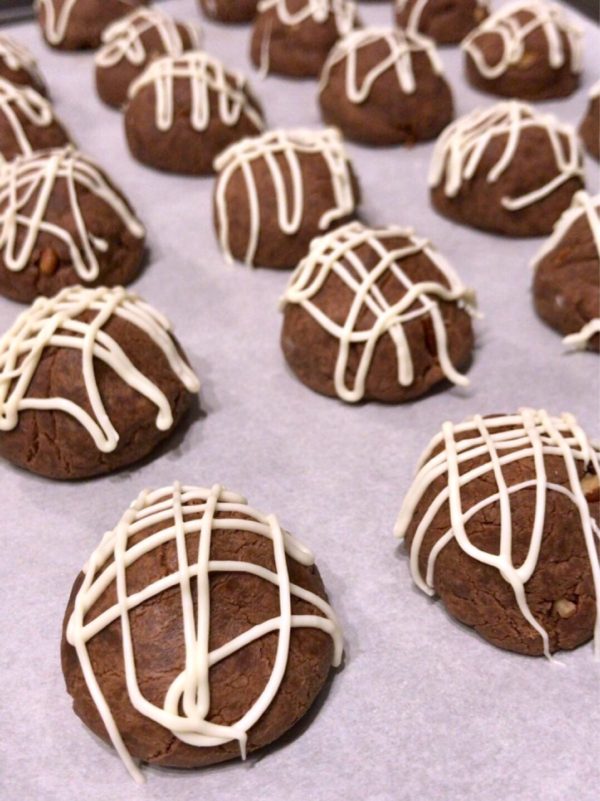 Ingredients
2 cups all-purpose flour
1/2 cup finely chopped pecans (almonds or walnuts can be a substitute)
2 cups (12 ounces) semisweet chocolate chips
1/4 cup butter, cubed
1 can (14 ounces) sweetened condensed milk
1 teaspoon vanilla extract
1 package (12 ounces) milk chocolate kisses unwrapped
2 ounces white chocolate
1 teaspoon canola oil
Instructions
Preheat oven to 350°F and line a cookie sheet with parchment paper.
Combine flour and pecans in a large bowl and set aside.
Melt chocolate chips and butter in a microwave safe bowl and stir until well combined and smooth. Mix in condensed milk and vanilla. Add flour to the mixture and mix until well combined. Batter will be tough and will have a fudge or fondant texture, similar to play-doh.
Let dough cool off before the next step. Once cooled, shape about a tablespoon of dough around each chocolate kiss making sure it is all covered in cookie dough.
Place them in the cookie sheet about 1 in. apart. Bake 9-12 minutes or until tops begin to crack. Remove cookie sheet from the oven and cool on a wire rack.
In another microwave safe bowl, melt white chocolate and oil. Stir until smooth. Fill a piping bag (or ziploc bag, cutting the tip of the bag just a bit) and drizzle white chocolate over cooled cookies.
Notes
Store cookies in an air tight container after white chocolate is completely set and dry. Can be stored at room temperature. Freeze unfrosted cookies for up to 3 months. Wrap them in plastic and stack in an air tight container. Thaw before decorating and serving.

Recipe slightly adapted from Taste of Home