Jump to recipe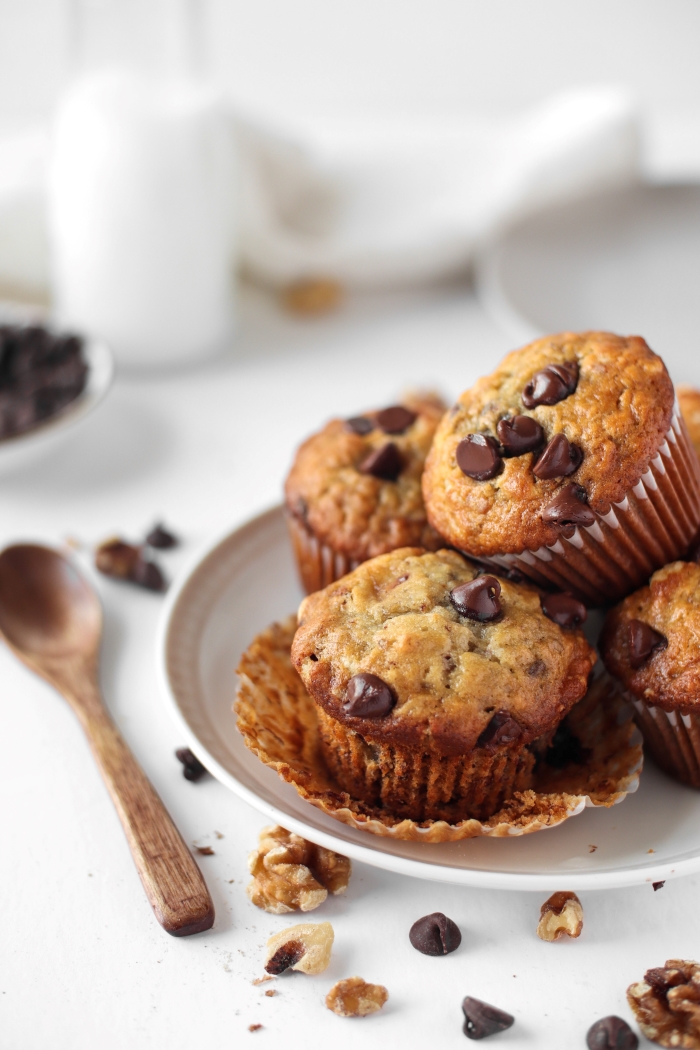 This banana bread recipe is my favorite, it is quick, easy, and doesn't need a mixer. It's all positives, people! I would typically make this in a loaf pan – like this one -, however, I make it into muffins when I am in a rush and I don't feel like waiting for the loaf to set in the middle (it's always a struggle!). Baking time is cut in half, plus, it's easier to share with friends and neighbors. Even if you don't have muffin liners, just grease the muffin tray with spray oil and you should be good to go, there is no need to leave the house for muffin liners – see? All positives! I have never had issues with this recipe sticking to my cake pans, as long as the mold is properly greased.
Banana bread is just a classic. Most people like it, and who doesn't have a few over-ripened bananas sitting around the kitchen that NO ONE wants to eat? My favorite way to eat bananas is when they are JUST ripened to that nice bright yellow color but once they start developing those black spots…the flavor changes and let's say…it is not my favorite. Now, when making banana bread, that is exactly what you want (and even a bit more ripened!!)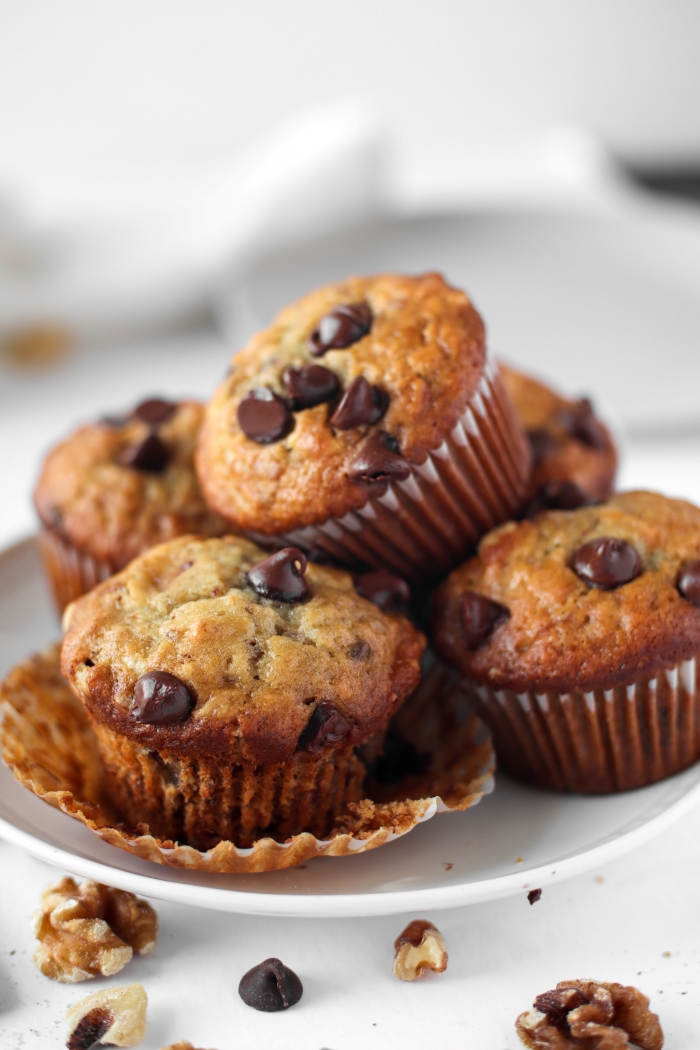 I don't mean to bring you memories of that time during the pandemic when everyone was baking banana bread, but I know it will come to mind so I'm just going to let it out now! I refuse to let banana bread become a pandemic memory because, to me, it's a childhood memory, just the smell of it brings me back to being 8 years old, impatiently waiting for the banana bread to come out of the oven to have warm, thick slice with a glass of cold milk. Back then, my mom used to make it into bundt cake pans, and it would bake SO beautifully, there are so many options to making this banana bread.
Banana Bread Muffins Recipe
Ingredients
2 cups flour
1 teaspoon baking soda
¼ teaspoon salt
1 egg
1 cup sugar
½ cup vegetable oil
2 tablespoons buttermilk or milk
½ teaspoon vanilla
3 medium very ripe bananas, mashed well
½ cup chopped walnuts
1/2 cup chocolate chips
Instructions
Preheat oven to 350F degrees. Grease a muffin pan or prepare with muffin liners.
In a small bowl, add flour, baking soda and salt, whisk and set aside.
In a large bowl mix egg, sugar and oil and stir until well combined
Add the dry ingredients to the wet and stir. This mixture will be thick and dry but mix or fold until you have very few streaks of dry flour.
Add milk, vanilla and mashed bananas and mix until incorporated.
Fold in walnuts and chocolate.
Divide the batter evenly among the prepared muffin cups. Sprinkle chocolate chips or walnut chunks on top.
Bake 22-25 minutes (adding time if needed) until the tops of the muffin spring back to the touch. The muffins should be lightly browned.
Remove from the oven and let cool on a wire rack for 10 minutes. Carefully remove each muffin from the tray onto the cooling rack.
Notes
This recipe can be baked in a loaf pan ( 8 1/2 x 4 1/2 x 2 1/2 inch pan ) for about 55-60 minutes or until a toothpick inserted in the middle comes out dry and clean.
These muffins last for about 4 days if stored in an airtight container in a cool place.
Ideally, banana bread is made with very ripe bananas. I've tried this recipe with only two large bananas and works just as good too!