Jump to recipe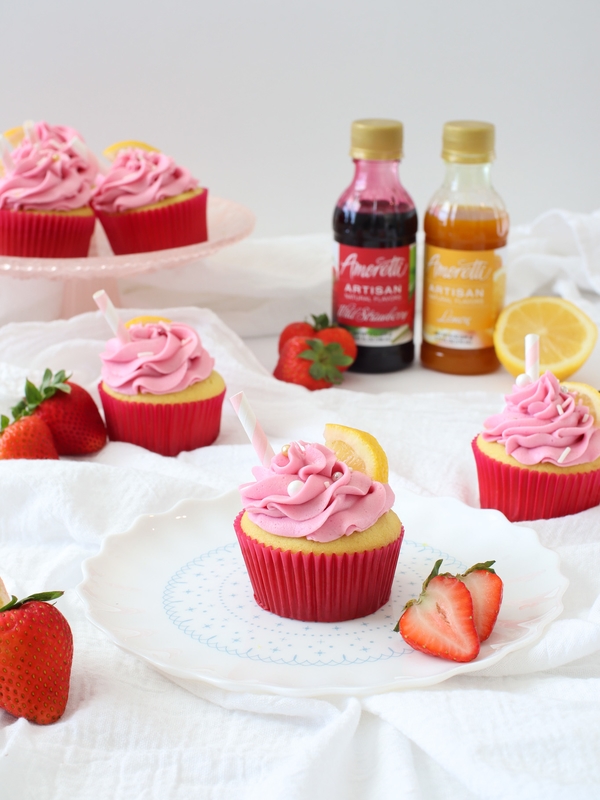 These cupcakes are screaming SUMMER TIME!! The Lemon cake is so light and fluffy, the strawberry frosting is so tasty and the inside, that strawberry filling is extremely refresing and delicious! Honestly, I can't wait for you all to make this cupcake. Look at that cut! I call this DECADENT SUMMER TREAT, HAPPY CUPCAKE, LOVE SUMMER TIME CUPCAKES, haha!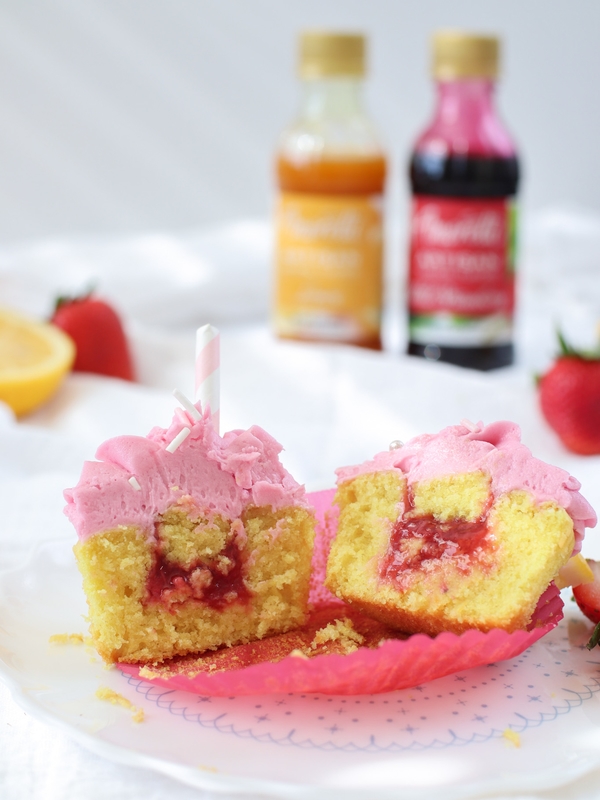 This post is sponsored by Amoretti, and I have used their Amoretti Natural Lemon Artisan Flavor in the base of the cupcake, and I've used their Amoretti Natural Wild Strawberry Artisan Flavor  to bring out that delirious Strawberry flavor through the buttercream. Strawberry flavor is one of the difficult ones to achieve without using ALL the strawberries available, because you need to make a sauce, reduce it, cool it and then it takes forever, so using Amoretti's Natural Wild Strawberry Artisan Flavor helps me skip a bunch of the steps, bring out the flavor and STILL be all natural, with that home baked feeling and none of the artificial flavor stuff.
See the recipe below!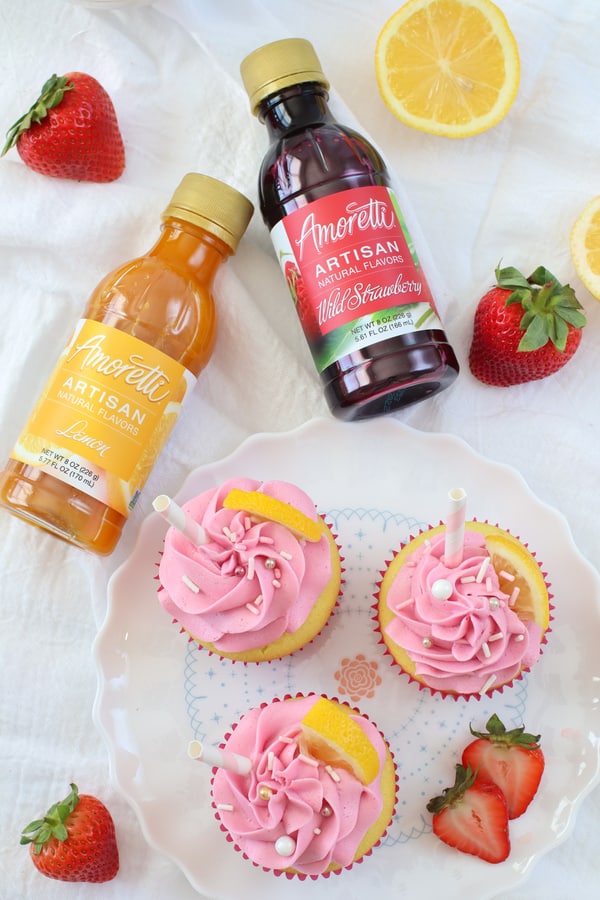 Strawberry Lemonade Cupcakes
Ingredients
Lemon Cupcakes

:
1 3/4 cups all-purpose flour
2/3 cups granulated sugar
1 1/2 tsp baking powder
1/4 tsp salt
1/4 cup unsalted butter softened
1 large egg
3/4 cups milk (2% or whole)
1/4 cup vegetable oil
1 tbsp greek yogurt or sour cream
1 tbsp Amoretti Natural Lemon Artisan Flavor
Zest from 1 lemon.
1/2 tsp vanilla extract
3-4 drops lemon yellow gel food coloring (optional)
.
.

Strawberry Filling

:
1/2 lb (225 g) strawberries, washed, hulled and chopped.
1/4 cup white sugar
1 tbsp cornstarch
1/2 tbsp lemon juice
1/2 cup water (divided)
1/8 tsp salt (pinch)
*Buttercream Frosting:
2 cups (230 grams) confectioners sugar, sifted
1 stick (1/2 cup) unsalted butter at room temperature
1/2 teaspoon vanilla extract
½ tbsp Amoretti Natural Wild Strawberry Artisan Flavor
2 tablespoons milk.
2-3 drops pink gel food coloring (optional)
Lemon slices and paper straws for decoration (optional)
Instructions
Strawberry Filling

:
In a small saucepan combine chopped strawberries, half the water (¼ cup), sugar, lemon juice and salt.
Cook on medium heat until all the sugar is dissolved. Bring to a simmer and cook for 1 minute.
Use a potato masher to mash the fruit slightly.
In a small bowl, combine cornstarch with the remaining amount of water until well mixed and add to the saucepan while whisking to prevent lumps.
Cook on medium heat and bring to a boil. Continue cooking until the mix becomes thick and glossy, and covers the back of the spoon.
Remove from the heat and place in a shallow bowl. Cover with plastic wrap and refrigerate until it is completely cooled and set.

Lemon Cupcakes

:
Preheat the oven to 325°F and line a cupcake tin with cupcake liners.
In a small bowl, combine egg, milk, oil, yogurt, lemon zest and Amoretti Natural Lemon Artisan Flavor, whisk to combine and set aside.
In a mixing bowl, combine flour, sugar, baking powder and salt and whisk to combine.
Add the softened butter to the dry ingredients and mix on low speed until the mixture is crumbly and resembles wet sand.
Add the wet ingredients to the dry ingredients slowly while mixing at low speed until all the dry ingredients are incorporated. Scrape the sides of the bowl and mix for another 15 seconds to ensure all ingredients are fully incorporated. Do not overmix.
Fill cupcake liners ¾ full. If available, use an ice cream scoop to transfer the batter and fill the liners.
Bake for 25-30 minutes, or until a toothpick inserted in the middle of a cupcake comes out clean. Remove from the oven and allow the cupcakes to cool completely on a wire rack before frosting. While the cupcakes are cooling, prepare the buttercream frosting.

Buttercream Frosting

:
In a mixing bowl, using a hand mixer or electric mixer, cream the butter until smooth and pale.
With the mixer on low speed, gradually add the confectioners sugar. Scrape down the sides of the bowl.
Add milk and beat on high speed until buttercream is light and fluffy. Add more milk or confectioners sugar to adjust consistency if needed.
Add vanilla extract and Amoretti Natural Wild Strawberry Artisan Flavor and mix to combine.
Fit the end of a piping bag with your favorite tip (1M pictured), fill with buttercream frosting and set aside.

Assembly

:
Once cupcakes are completely cooled and strawberry filling is cold and thick, core the cupcakes using an apple corer or a knife, set aside the cupcake tops that are removed to place back on top after filling each cupcake.
Fill the center of each cupcake with strawberry filling, cover with cupcake top.
Pipe the strawberry frosting, swirling around the top of the cupcake.
Top with lemon slices and a paper straw for a final "Lemonade" touch.
Cupcakes last about 1 week if refrigerated. Enjoy at room temperature.