Traducir a Español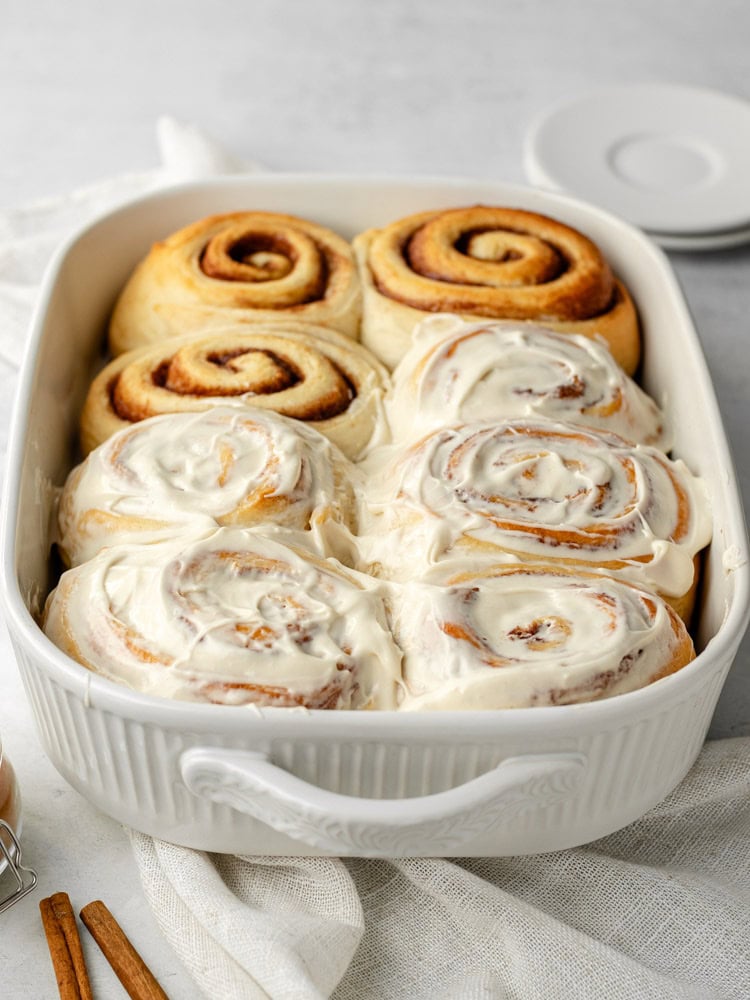 BREADS – JULY 5, 2023
homemade tRADITIONAL CINNAMON ROLLS
These delightful Cinnamon Rolls consist of a soft, yeasted dough rolled out and filled with a delicious mixture of butter, cinnamon, and sugar. These are a classic version of cinnamon rolls topped with cream cheese icing.
Jump to Recipe
Introducing: a delicious recipe for homemade Cinnamon Rolls! What could be better than freshly baked cinnamon rolls at home? As they bake, the filling melts into a gooey, caramelized perfection, infusing the rolls with sweetness and warmth. To top it off, a creamy and tangy cream cheese frosting is generously spread over the rolls, adding the perfect finishing touch.
I know Cinnamon rolls may seem intimidating, but I promise you they are totally worth it. Plus, I am here to guide you every step of the way. There are a few things that could go wrong, for example, not proofing the yeast or the bread correctly, so I have prepared a series of steps that include using kitchen gadgets like thermometers, or just feeling the temperature by hand. Although I truly recommend using a stand mixer, you can surely make these by hand as well, it will just take some arm strength and patience.
I bet your guests will be impressed with this 'from scratch' cinnamon recipe that you will be making at home and no one will be able to resist their cinnamon aroma, soft and fluffy texture, and indulgent buttery flavor.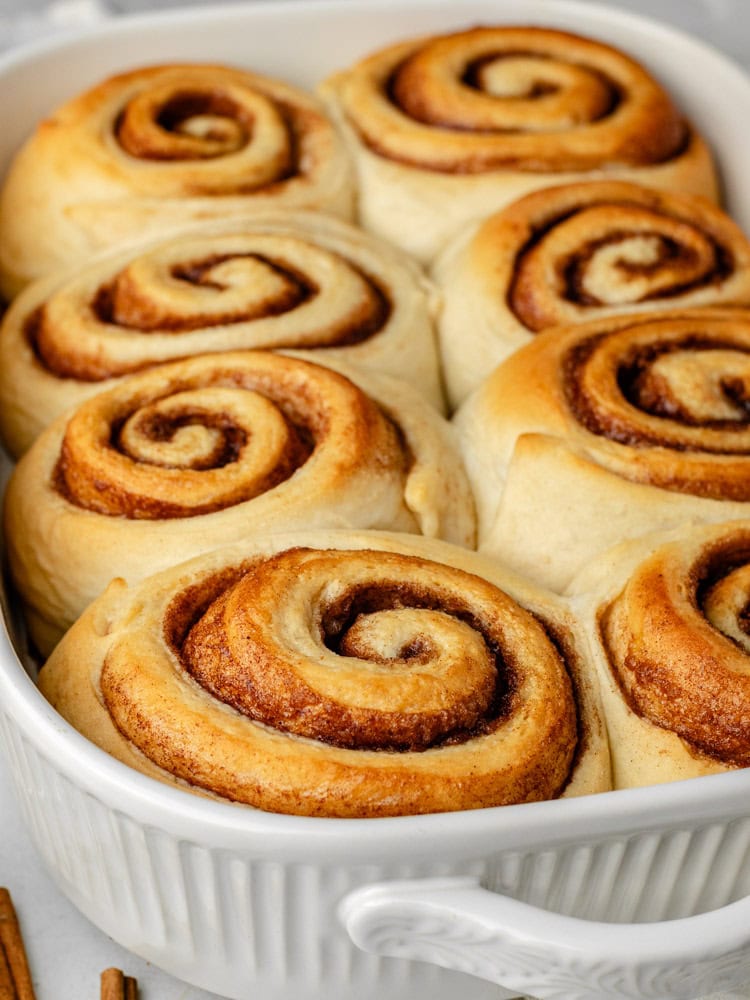 Why you will love them?
There's no denying the obsession with cinnamon rolls, and once you taste this homemade version, you'll understand why they're an all-time favorite. First and foremost, these delectable rolls offer a perfect balance of softness and fluffiness that will melt in your mouth. Especially if you enjoy them still warm.
Moreover, can we talk about the magical aroma that fills your entire home while baking these rolls? Now, that is for sure heaven and preparing your brain with high expectations on what you will be about to devour. The combination of cinnamon, sugar, and buttery warm dough floating through the air will make you feel like you've stepped into a cozy bakery, ready to have one of the most delicious desserts.
And lastly, the versatility of this recipe is incredible. Don't feel like baking them with cinnamon sugar filling? Swap it for Nutella, dulce de leche, caramelized nuts, or your favorite fruit jam and you have a new sweet and delicious roll to enjoy.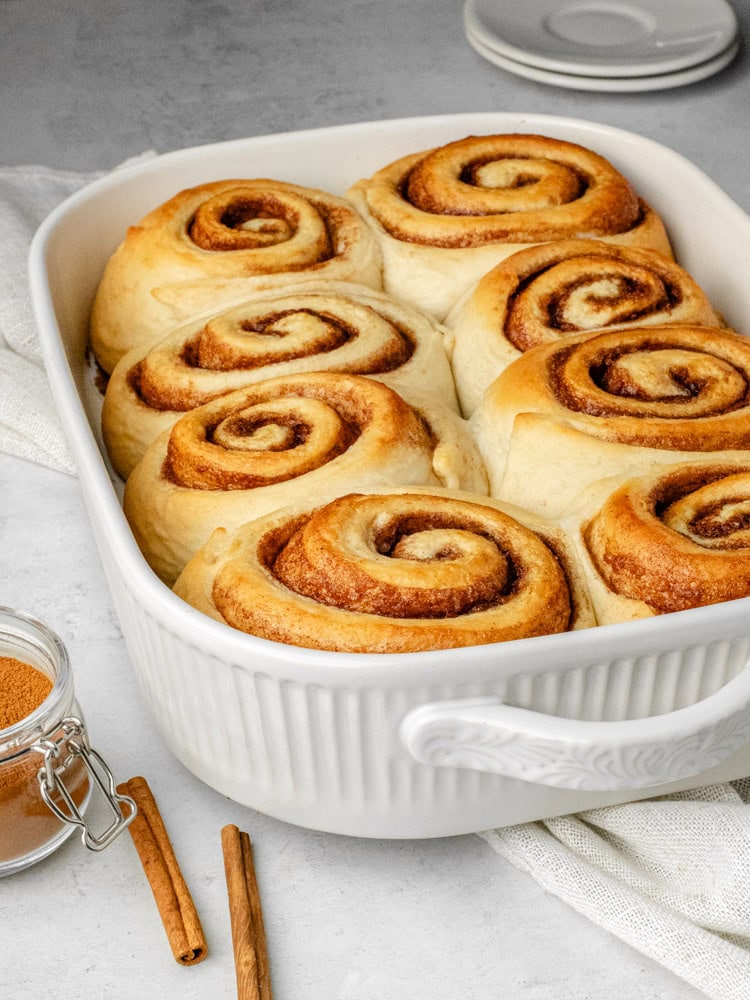 Ingredients for Cinnamon Rolls:
For the bread rolls:
All-purpose flour: all-purpose flour is ideal because it yields a chewy and tender crumb without developing too much gluten.
Granulated sugar: Adds sweetness to the dough and aids in activating the yeast.
Yeast: Acts as the leavening agent, helping the dough rise and create its airy texture. I use Active dry yeast and always proof it before using it to make sure it's alive although this step is not always necessary. You can substitute for Instant yeast too!
Salt: enhances the overall flavor of the dough and balances the sweetness.
Milk: Adds moisture and richness to the dough, resulting in a tender crumb.
Butter: I use unsalted butter. Provides richness, tenderness, and flavor to the dough. If using salted butter, skip the added salt.
Water: Helps hydrate the dough and activate the yeast.
Egg: Adds moisture and acts as a binding agent, contributing to the structure and texture of the cinnamon rolls.
Filling
Butter (softened): Make sure it is at room temperature as it is spread over the rolled-out dough, providing richness and flavor to the filling. It also helps the cinnamon-sugar mixture adhere to the dough.
Brown Sugar: is preferred over granulated sugar because of its caramelized flavor and added moisture.
Ground Cinnamon: the soul of a cinnamon roll. Adds the cinnamon flavor and aroma.
Salt: deepens the flavor.
Icing
Cream Cheese (softened): Cream cheese forms the base of the frosting and adds a tangy, creamy element to balance the sweetness of the rolls.
Unsalted Butter (softened): Butter adds richness and creaminess to the frosting, contributing to its luxurious texture and flavor.
Powdered Sugar: Powdered sugar is the primary sweetener in the cream cheese frosting. It dissolves easily and creates a smooth consistency while adding sweetness.
Vanilla Extract: Vanilla extract enhances the overall flavor of the frosting, providing a subtle and aromatic note.
Milk: helps loosen the icing so it is spreadable and smooth in texture.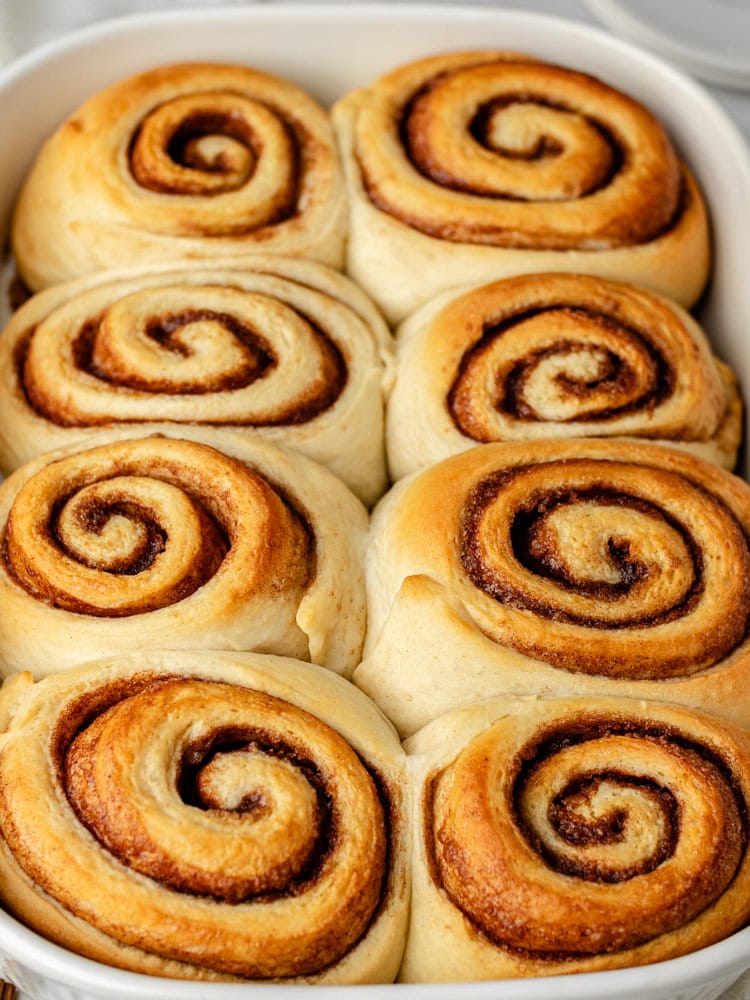 Common mistakes when making Cinnamon Rolls and how to avoid them:
While making cinnamon rolls can be a fun experience, a few things can potentially go wrong. Here are some common issues and how to avoid them:
Dense or Tough Rolls: If your cinnamon rolls turn out dense or tough, it may be due to overmixing the dough. Overmixing activates the gluten in the flour, resulting in a dense texture. To prevent this, knead gently until it becomes smooth and elastic. Manipulate the dough gently while shaping it after the first proof and work with it while the gluten is relaxed.
Dough Doesn't Rise: If your dough doesn't rise properly, it may be due to inactive yeast or incorrect proofing conditions. Ensure that your yeast is fresh and active by proofing it in warm liquid (around 105-110°F or 40-43°C) with a pinch of sugar before adding it to the dough. Avoid adding the egg cold and avoid your milk and butter from being too hot after melting them in the microwave. Cold temperatures slow the proofing process, and temperatures that are above 110°F may kill the yeast. Additionally, tightly cover the bowl of your dough with plastic film and choose a warm, draft-free spot for the dough to rise, such as a corner of your counter.
Filling Leaks Out: some leaking is normal, especially at the bottom of the rolls, however, if your filling oozes out excessively during baking, it could be because you rolled the dough too tightly. To prevent this, roll the dough gently but firmly, sealing the edges as you go.
Uneven Baking: Unevenly baked cinnamon rolls can occur if they are not arranged properly in the baking pan or if your oven has hot spots. Place the rolls snugly in the pan, leaving a little space between each one for them to expand. Rotate the pan halfway through baking if your oven tends to have uneven heat distribution.
Frosting Melts or Runs Off: If your cream cheese frosting becomes too soft or completely melts off the rolls, it may be due to adding it to the rolls while they are still hot. For this reason, allow the rolls to cool slightly before generously spreading the frosting on top.
By being mindful of these potential pitfalls and following the recipe and tips closely, you can ensure a successful batch of cinnamon rolls without it being overwhelming. Below I will summarize my top 6 tips for making the roll successfully.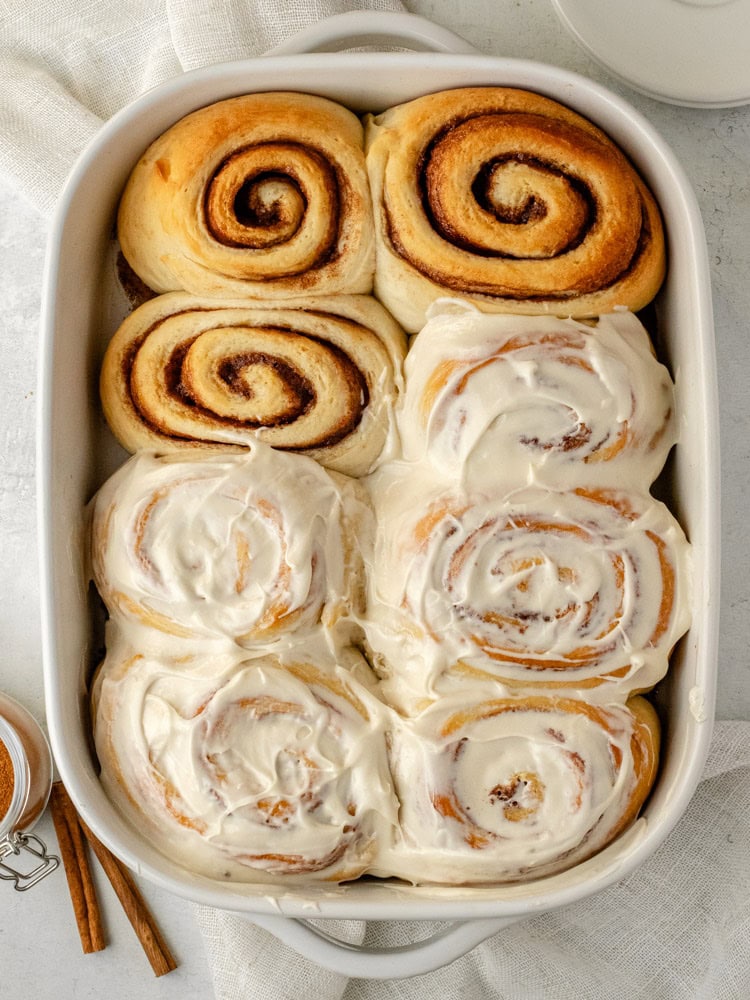 Tips for making the best Cinnamon Rolls:
Now that you have all the ingredients ready, here are a few tips to ensure your cinnamon rolls turn out absolutely perfect:
Pay attention to the yeast: if using active dry yeast, proof it first as suggested in this recipe to ensure it is alive. You can also use instant dry yeast by directly mixing it into your dry ingredients. Avoid ingredients that are too hot, or too cold.
Be patient with the dough: Proofing the dough undisturbed in a warm spot will also help it rise beautifully. Do not overproof by leaving it longer than suggested or they will deflate.
Be generous with the filling: Don't skimp on the filling. Spread it evenly across the rolled-out dough, ensuring even coverage and leaving ½ inch at the top so the dough sticks to itself.
Roll out to an even thickness: When rolling out the dough, aim for a thickness of about ¼ inch. This will typically give you a rectangle of around 18×12 inches. The thicker dough will yield a perfect balance between softness and structure. As you roll, maintain a gentle but firm pressure to ensure a consistent thickness throughout.
Carefully cut and arrange: Use a sharp knife or unflavored floss to slice the rolled dough into individual rolls. For even baking, place them snugly in a greased baking pan, leaving a little space between each roll. This will allow them to rise and expand while baking.
Frost generously: Once the cinnamon rolls are out of the oven and slightly cooled, generously spread half of the cream cheese frosting over the tops and let it melt on the warm rolls. This will make the frosting reach those cinnamon swirls into each bun. Later, spread the other half to enjoy them extra creamy!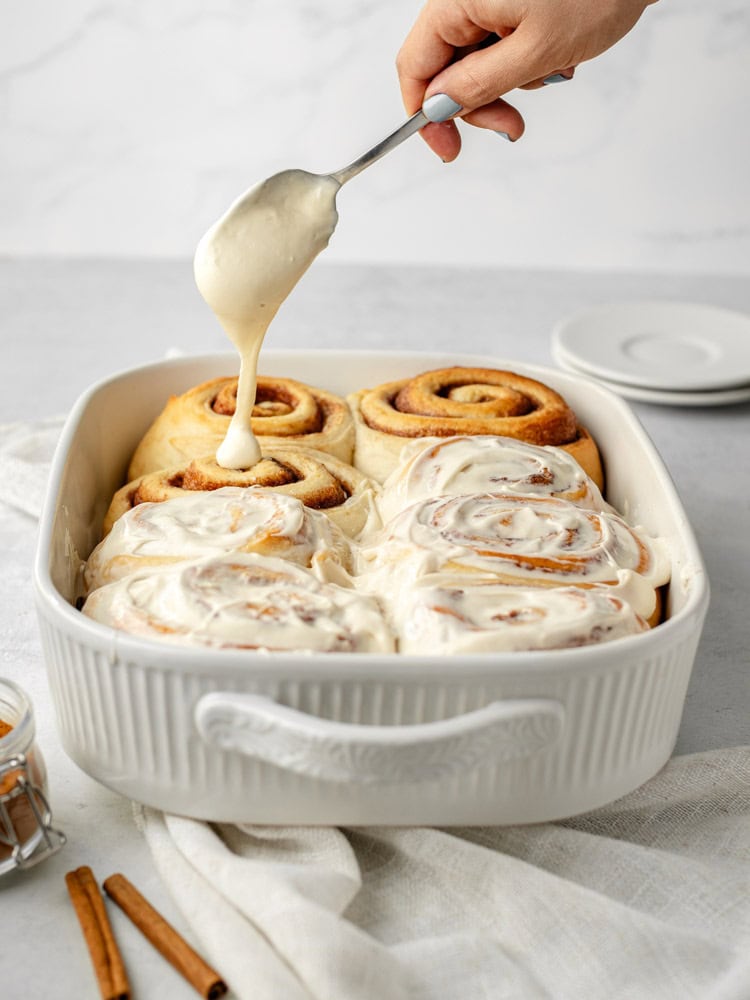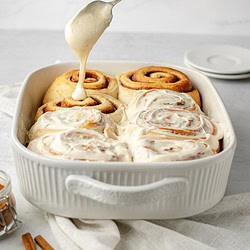 Homemade Traditional Cinnamon Rolls
These delightful Cinnamon Rolls consist of a soft, yeasted dough rolled out and filled with a delicious mixture of butter, cinnamon, and sugar. These are a classic version of cinnamon rolls topped with cream cheese icing.
Ingredients
For the dough:
¼

cup

lukewarm water

60 ml

2 3/4

teaspoons

(9 grams) of active dry yeast or

2 ¼ teaspoon (7 grams) instant dry yeast. *See recipe notes if using instant dry yeast.

4 to 4 ½

cup

all-purpose flour, more as needed

480 grams or more

1/2

cup

granulated sugar

100 grams

1 1/4

teaspoon

salt

10 grams

1

cup

milk

8 oz or 250 ml

1/2

cup

butter

1 stick or 113gr

1

egg at room temperature

50 gr without shell
Filling
1/4

cup

unsalted butter room temperature

57 grams

1

cup

light brown sugar

200 grams

1 1/2

Tablespoon

ground cinnamon

12 grams

¼

teaspoon

of salt
Icing
4

ounces

full-fat block cream cheese, softened to room temperature

113g

2

Tablespoons

unsalted butter, softened to room temperature

28g

1

cup

confectioners' sugar

120g

1

teaspoon

pure vanilla extract

5 ml

1

tablespoon

milk

15 ml
Instructions
Warm the water in the microwave for 15-20 seconds until lukewarm or until a thermometer reads 110℉. Add the active dry yeast and 1 teaspoon of your sugar. Combine and let it sit for 5 minutes before adding it to the wet ingredients. *Skip this step if using instant dry yeast and add the yeast directly to dry ingredients.

In the meantime, in the bowl of a stand mixer or a large bowl, mix the remaining sugar, salt, and 4 cups of flour. Set aside.

In a microwave-safe bowl, add milk and butter and microwave for 30-45 seconds until warm and the butter is mostly melted. The mixture should be warm to the touch, but not hot. If it is too hot, let it cool before adding the yeast to prevent killing the yeast. If you have a thermometer make sure it registers below 110℉ before adding in the proofed yeast. Without a thermometer, check the temperature with your fingers, if it feels too hot then it's too hot for the yeast. It should be just warm.

Whisk in the egg and the proofed yeast to the warm milk and butter. Slowly add it to the dry ingredients while mixing at low speed using the dough hook or a wooden spoon until moistened and no dry flour remains.

Gradually increase the speed to high until a cohesive dough forms. Add in an additional ½ cup of flour in two parts and continue beating for about 2 minutes. The dough should start to become more elastic and consistent and it should be a bit sticky. If the dough is still too wet and isn't yet pulling from the sides of the bowl, continue adding flour 1 tablespoon at a time until it cleans the sides of the bowl. Be careful of adding too much flour, it could become tough and dry.

Turn the dough onto a floured surface and knead with your hands for 6-8 minutes until smooth and you can stretch a piece of dough out between your fingers without it breaking easily.

Form a smooth round ball and place it seam down in a lightly greased large bowl and cover it tightly with plastic wrap. Let it rise until doubled in size, about 1 hour.

While the dough rises, prepare the filling. In a small bowl combine the sugar, cinnamon, and salt. Set aside.

Once the dough has risen, press down the dough and turn onto a lightly floured surface. Roll out into a long rectangle about 18 x 12 inches. Spread softened butter over dough, leaving a ½-inch border around the top edge. Sprinkle with sugar mixture and press down lightly to adhere to the butter.

From the long end, roll dough away from you into a firm cylinder, keeping the roll tight as you go. Pinch seam closed and reshape the cylinder as needed to keep the 18 inches length.

Using unflavored floss or a sharp knife, cut the roll into 8 or 12 even rolls. Place them in a 9×13 inch ceramic or metal pan (see notes on pan selection) lightly greased or lined with parchment paper. Cover loosely with greased plastic wrap until doubled in size, about 1 hour.

Bake the cinnamon rolls at 350°F for 30-40 minutes or until they are golden brown and filling is melted. Cool on a wire rack while you prepare the icing.
FOR THE ICING
In the bowl of a stand mixer or in a large bowl with an electric mixer beat the cream cheese and butter together until smooth, scraping down the sides of the pan. Add the remaining ingredients and continue mixing until smooth. Spread half of the glaze onto the warm rolls in the pan, spreading the remaining glaze after another 30 minutes. Optionally, you can let the rolls cool for 30 minutes and add the entire glaze then.
Video
Notes
If using Instant dry yeast, incorporate it directly into the dry ingredients and adjust the measurement to

2 ¼ teaspoon or 7 grams.

Ceramic or Metal pan? Metal conducts more heat than ceramic, hence, keep an eye on your cinnamon rolls if using a metal pan. The metal pan will cook and brown your bread more underneath and on the sides compared to a clear ceramic or glass pan. You can also use round pans and place them evenly distanced from each other to allow them to rise properly.