Traducir a Español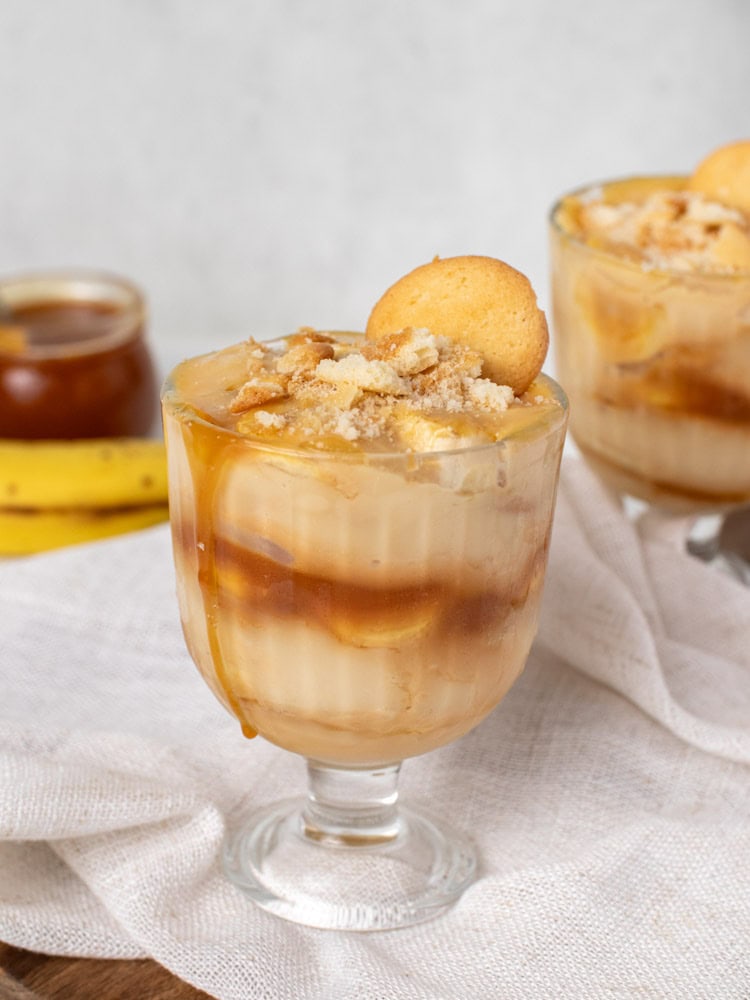 PIES – AUGUST 2, 2023
salted caramel banana pudding
This salted caramel banana pudding brings together the richness of caramel, the sweetness of bananas, and the creaminess of pudding for an indulgent experience.
Jump to Recipe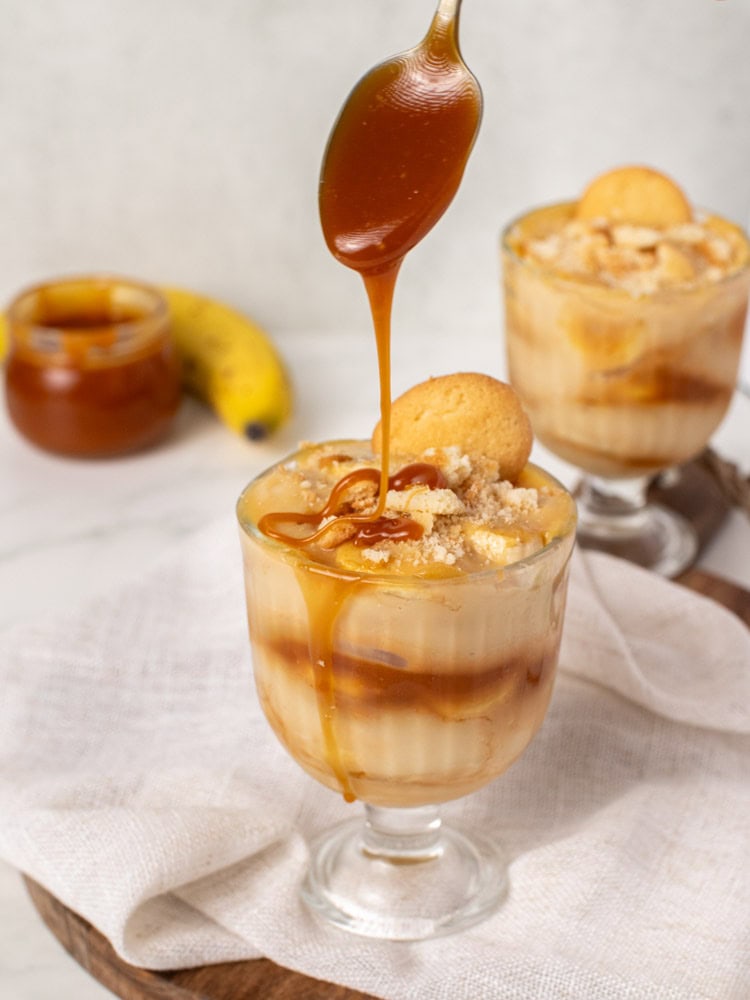 This salted caramel banana pudding is truly delicious!! Something special happens when you combine salted caramel, vanilla, vanilla wafers (like Nilla wafers), and bananas, it is like their flavors were meant to be together. I must say, I am not a fan of banana pudding but this delicious dessert is always a hit with my guests so I figured it's worth sharing!
This is a small batch (max 3-4 servings depending on your serving size), so you can actually make my homemade salted caramel recipe in advance, let it cool, and then assemble your puddings, using only what you need.
Why you will love it?
First of all, most people LOVE banana pudding. It is a staple dessert that everyone enjoys and trust me when I say adding salted caramel elevates it to the next level. It feels like a gourmet, indulgent, irresistible experience because all the flavors work so well together.
Secondly, it is very easy to make. You may think making everything from scratch seems like a huge hassle, but all that needs cooking here is the pudding. If you want to make this easier you may use instant pudding, however, this homemade vanilla pudding recipe is incredible and I'd be worried you have anything left to assemble your puddings!
Moreover, the ingredients are fairly easy to find: milk, sugar, eggs, vanilla wafers, bananas, cornstarch, and vanilla extract. If you prefer skipping on the caramel sauce, head over to this recipe.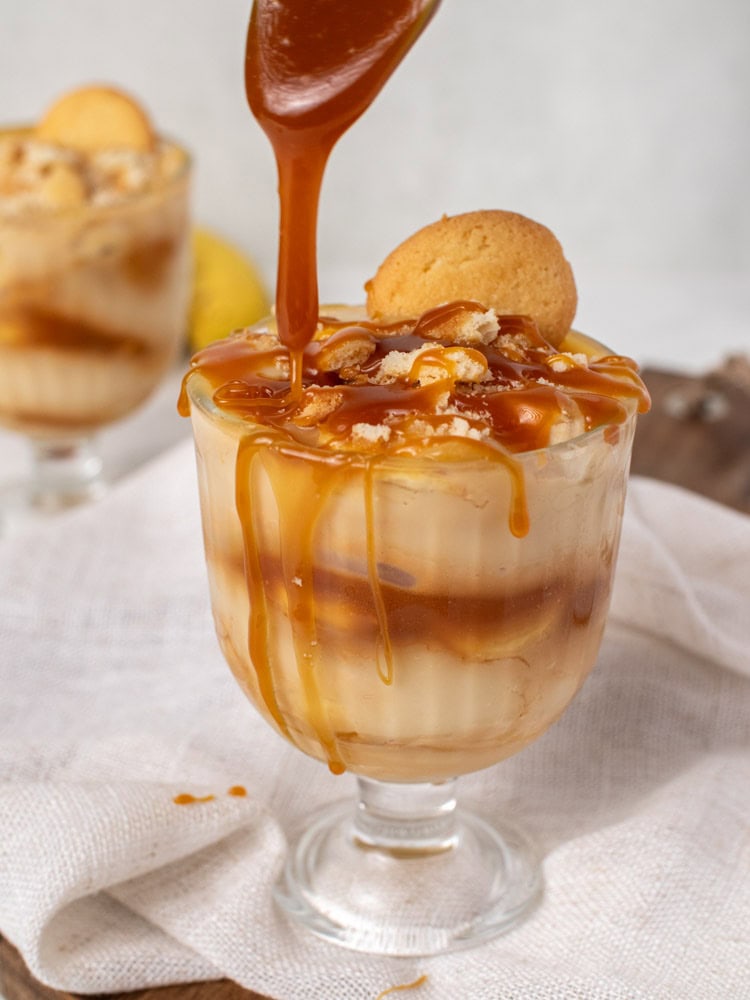 Ingredients for Homemade Salted Caramel Banana Pudding:
Some substitutions are allowed to make this an extremely easy dessert, however, I have not tested those other methods and the quantities may be a tiny bit off when you assemble this if you decide to substitute any item.
Ripe Bananas: The star of the show! Ripe bananas bring natural sweetness and a creamy texture, elevating the pudding to a whole new level. The bananas' mellow flavor pairs perfectly with the richness of caramel, creating a harmonious blend of tastes.
Salted Caramel Sauce: Ah, the soul of this dessert! The salted caramel sauce adds a luscious depth of flavor, balancing the sweetness of the bananas and the creaminess of the pudding. Drizzled on top or layered in between, it's what makes this dessert special.
Milk: whole milk is the best option here as it makes the pudding creamier. You can substitute for 2% milk and you will barely notice the difference.
Sugar: granulated white sugar sweetens your milk base.
Egg yolks: add richness to the pudding and helps it thicken.
Cornstarch: thickens the pudding further to make it sturdier as it cools, giving the pudding some structure.
Vanilla extract: Adds that delicious vanilla essence and flavor. This is the one I like to use.
Salt: enhances sweetness and deepens the caramel, and vanilla flavors.
Bananas: just ripe and firm, you don't want to use overly ripe bananas.
Vanilla wafers: Not only do they add texture, but they also add an extra layer of vanilla flavor, complementing the bananas and caramel delightfully. The most common is Nilla wafers. You could substitute with Maria cookies if that's your preference.
Whipping cream: for topping, optional if desired.
Instant vanilla pudding: this is your substitution for the pudding ingredients. It can simplify the process and ensures a smooth texture if you prefer an easier recipe.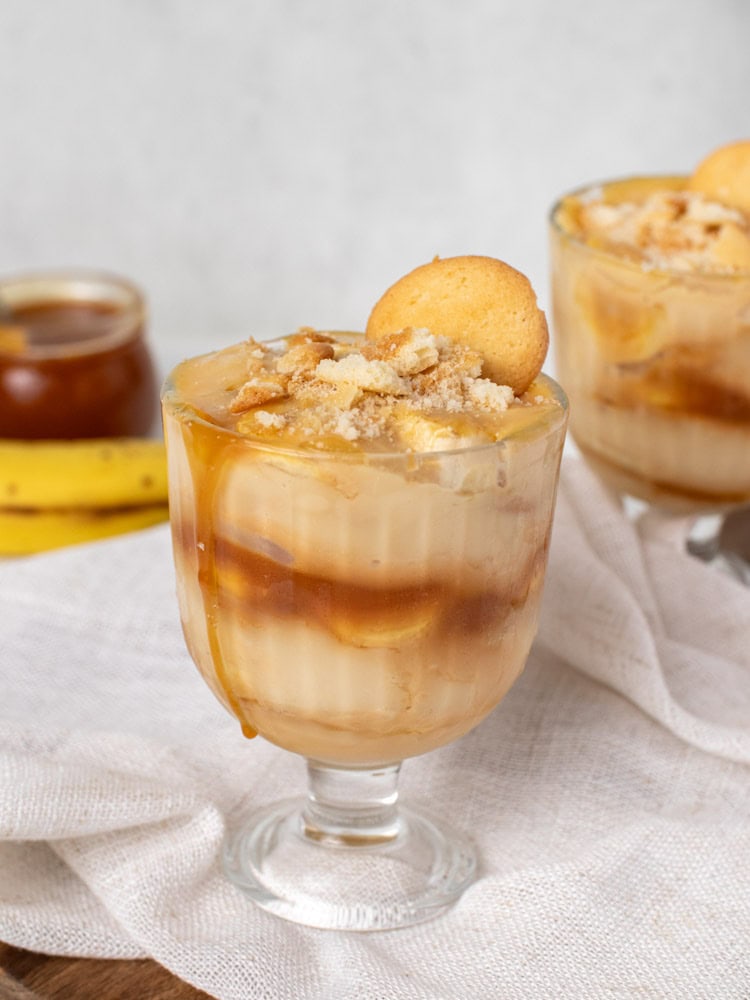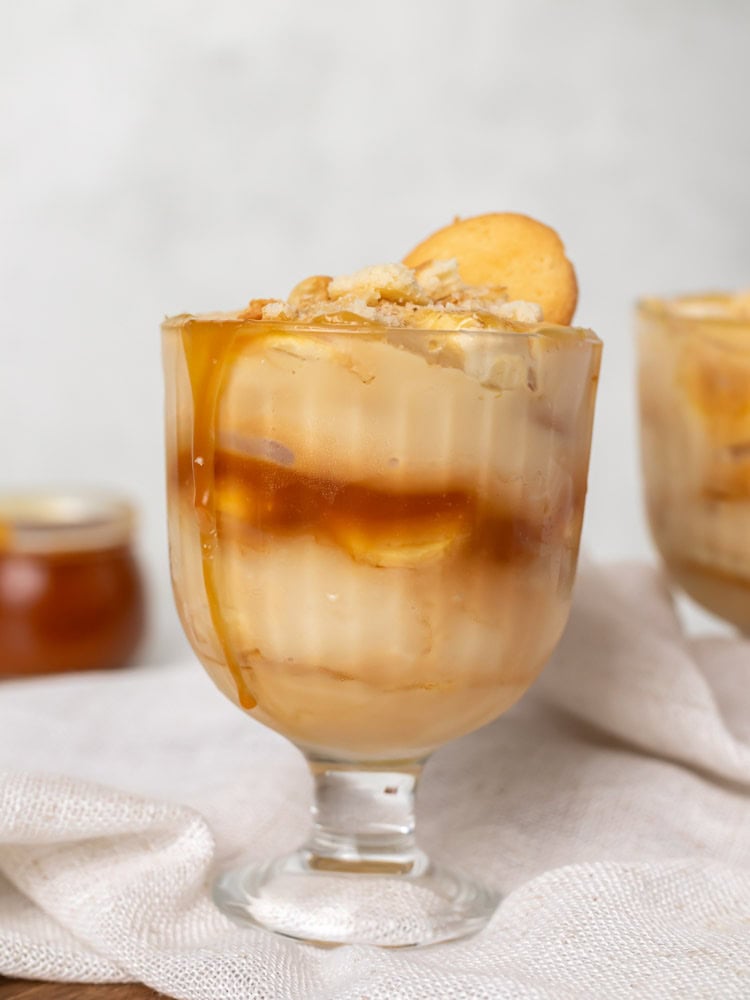 Tips for making the best Salted Caramel Banana Pudding:
Although homemade pudding can be tricky, I recommend you follow these suggestions to make your Salted Caramel Banana Pudding come out perfectly each time:
Stir constantly: stir the milk constantly while heating it on medium/low heat so it won't stick and burn at the bottom. Stirring the pudding while it cooks also ensures a smooth, velvety consistency.
Use Ripe Bananas: Ensure your bananas are ripe but not overly mushy. The perfect balance of sweetness and texture is essential for an outstanding banana pudding.
Layer it Right: When assembling the dessert, alternate layers of banana slices, vanilla wafers, and salted caramel to create a harmonious blend of flavors in every spoonful.
Chill and be patient: After assembling the layers, refrigerate the pudding for a few hours or overnight. This allows all the flavors to meld together, resulting in a refreshing dessert experience.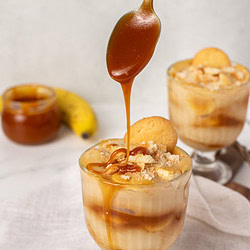 Homemade Salted Caramel Banana Pudding
This delectable dessert brings together the richness of caramel, the sweetness of bananas, and the creaminess of pudding for an indulgent experience.
This recipe makes a small batch of 3 individual servings depending on the size of your cups for serving. For an 8-inch pan of about 10 servings, double this recipe.
Ingredients
For the Caramel
1

recipe salted caramel* see notes for a clickable link
For the pudding:
2

cups

milk

500 ml

1/4

cup

sugar

50 grams

2

egg yolks

3

tablespoon

cornstarch

12 grams

1/4

tsp

salt

1

tsp

vanilla extract

5 ml
For the layers:
2-3

medium bananas not overly ripe

it needs to be firm

1

cup

Nilla wafers Vanilla wafers

more if needed

Whipping cream for topping

optional
Instructions
In a 2 quart sauce pan mix milk, sugar, egg yolks, cornstarch and salt and cook under medium heat whisking constantly until mixture becomes thick and starts to bubble.

Continue whisking to avoid milk from burning on the bottom of the pan until it is think enough to cover the back of a spoon. Rremove from the heat and add mix in the vanilla extract. Let cool at least 15 minutes before layering.

Pour a layer of pudding in ramekins, or serving cups, followed by a layer of vanilla wafers, sliced bananas and about 2 tablespoons of salted caramel (more or less to taste). Repeat layers of pudding, vanilla wafers, bananas and caramel until reaching the top. You can also use an glass bowl or pan to layer the dessert.

Top with crushed wafers, more salted caramel and whipping cream if desired. Refrigerate for at least 4 hours and serve cold. Banana pudding will hold for up to 3 days in the refrigerator.