Affiliate Disclosure: This blog may contain affiliate links. This means that if you click on a link and make a purchase, we may earn a commission. However, please note that we only recommend products and tools that we use and genuinely like. We always prioritize our readers' best interests. By clicking on these links, you won't incur any additional costs, but it will help us keep this site running. Thank you for your support!
Traducir a Español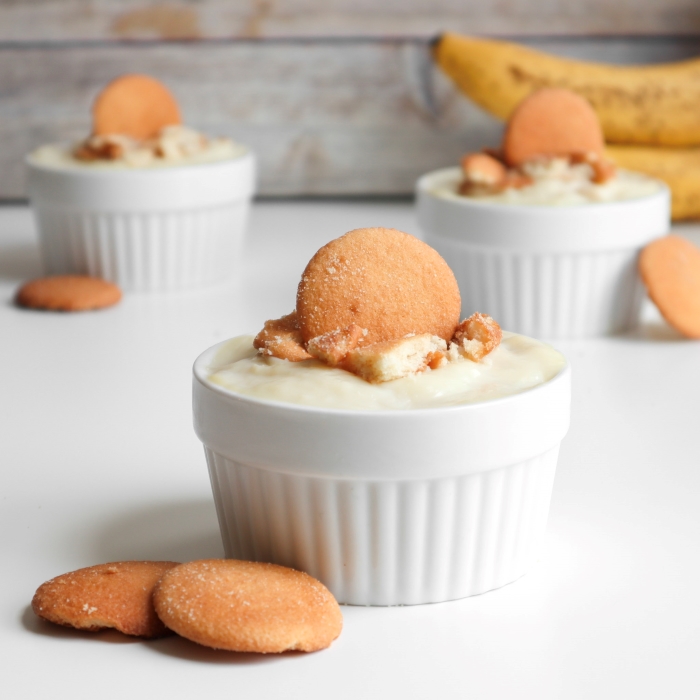 COOKIES – APRIL 04, 2020
easy banana pudding
Creamy and delicious vanilla pudding layered with vanilla wafers and banana slices. This is an easy banana pudding recipe!
Jump to Recipe
This has to be the easiest banana pudding, the easiest dessert! Similar to "Venezuelan Marquesas", this banana pudding is a layered pudding dessert. It is layered with vanilla wafers and fresh banana slices and is so delicious and indulgent that you will want to make this often.
If you want an easy dessert on the weekend, especially with kids, this is it! The easiest Banana Pudding, made from scratch with items you probably already have in your kitchen.
I'd never had Banana pudding ever in my life before until I tried it at Magnolia Bakery in NYC. I doubt mine is on that same level, but I am pretty sure it is good enough to satisfy my craving. You probably can add whipped cream or meringue on top to make it fancy. I honestly wanted to keep it simple for today.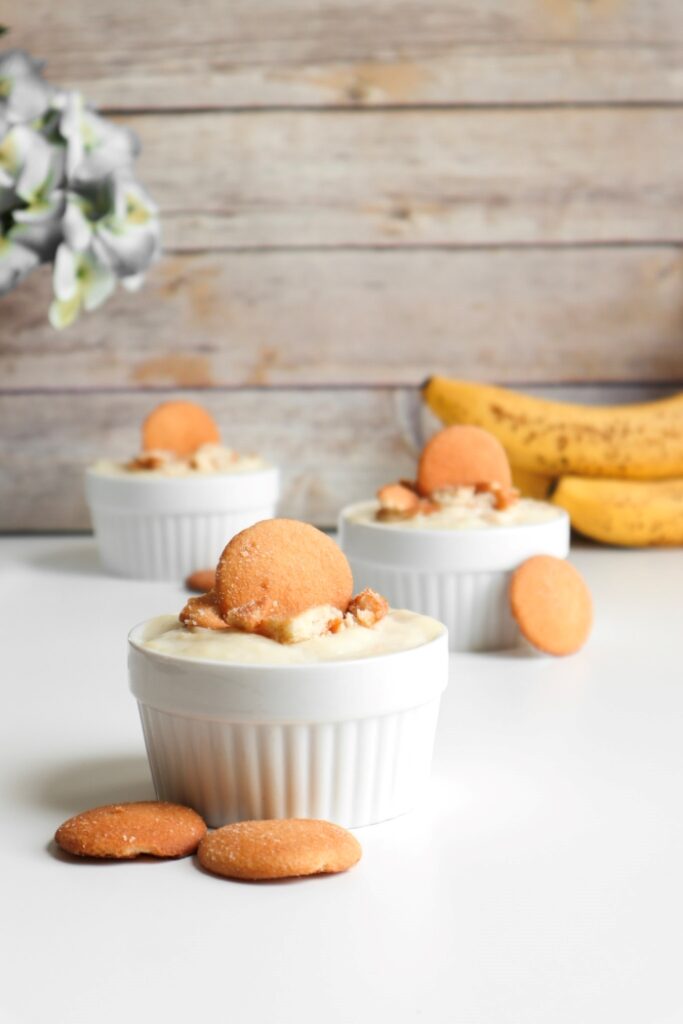 Why you will love it?
This is a no-bake dessert that is very easy to make and has the most delicious refreshing banana flavor! Besides cooking the pudding there is no other heating process involved aka. baking. It truly does come together in 10 minutes.
This dessert comes in handy during this covid quarantine since it doesn't need any flour, or yeast, which is both currently hard to find at the grocery store. It is truly a winner for so many reasons.
This recipe for Banana pudding has only a few ingredients and the only thing you need is a saucepan, a bowl, and a spoon. There is no "grease and flour your mold", no "preheat the oven", none of that. We can say this is a beginner-friendly recipe,
All ingredients with the exception of the banana and the cookies are mixed in the saucepan and heated until it boils and becomes thick. Then all you need to do is layer them on a bowl with the bananas and cookies in ramekins (I like these ones!) or a glass bowl (like this one!).
Ingredients to make this easy banana pudding:
Milk: This is the base for your pudding. Full fat or 2% Milk work for this recipe. Full fat will create a creamier and richer pudding.
Sugar: white sugar is our choice for this pudding to sweeten it just right.
Egg yolks: egg yolks help with thickening the pudding and adding richness.
Cornstarch: thickening agent for your pudding to set.
Salt: deepen the flavor
Vanilla extract: highlight vanilla notes of the pudding.
Bananas: not super ripe, it needs to be firm.
Vanilla wafers: I love Nilla wafers.
Whipping cream: optional for topping if decorating.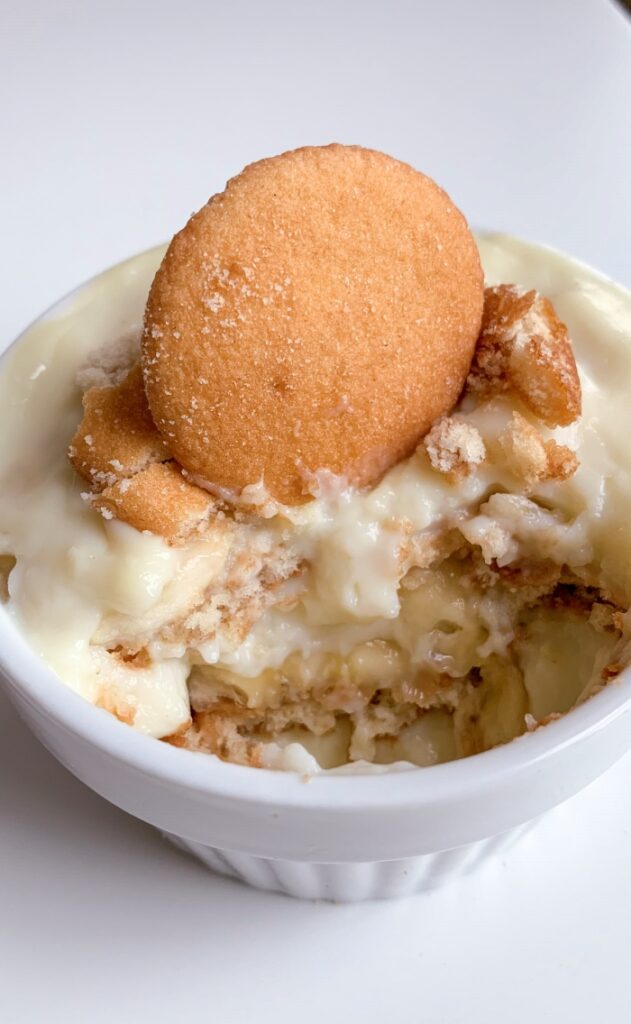 Tips for making a banana pudding
You will want to use yellow bananas without too many black spots. Unless you like very ripe bananas. I found my banana puddings more refreshing when the bananas were just ripe so they still hold a bite and aren't extremely sweet and soft.
Cook the pudding on medium heat. Stirring frequently to avoid the milk from sticking and burning at the bottom of the pan.
The pudding needs to come to a boil to cook and activate the cornstarch. otherwise, it will be too liquidy.
Use Nilla wafers or their equivalent. There is something about nilla wafers that I LOVE when they are combined with the hot pudding and the banana slices. It's like it becomes infused with the dessert.
I use ramekins for my small batch since it is easier to serve this way. If you double the recipe you can make it in an 8×8 glass pan, or in a trifle serving bowl.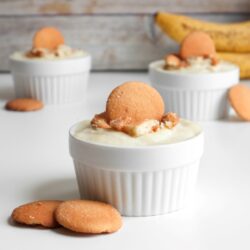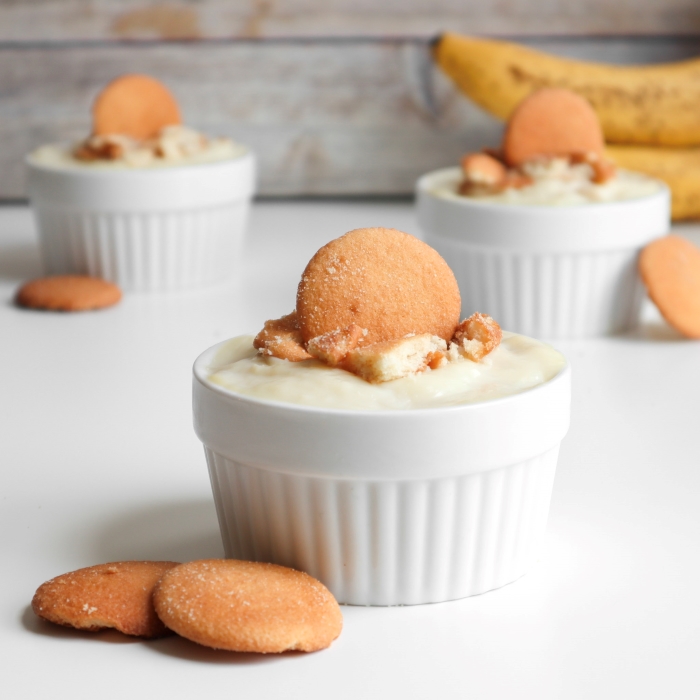 Easiest Banana Pudding Recipe for Three
Creamy and delicious vanilla pudding layered with vanilla wafers and banana slices. This is seriously the easiest banana pudding recipe!
This recipe is for a small batch of 3 ramekins. Double the recipe for more servings and make in 6 ramekins, an 8×8 square pan or round triffle bowl.
Ingredients
2

cups

milk

1/4

cup

sugar

2

egg yolks

3

tablespoon

cornstarch

1/4

tsp

salt

1

tsp

vanilla extract

1-2

medium bananas

not super ripe, it needs to be firm

1

cup

Nilla wafers

Vanilla wafers

Whipping cream

for topping, optional
Instructions
In a 2 quart sauce pan mix milk, sugar, egg yolks, cornstarch and salt and cook under medium heat whisking constantly until mixture becomes thick and starts to bubble.

Continue whisking to avoid milk from burning on the bottom of the pan.

Once it is think enough to cover the back of a spoon, remove from the heat and add mix in the vanilla extract.

Let cool for 15 minutes before layering.

Serve a layer of pudding in ramekins, followed by a layer of vanilla wafers and sliced bananas, repeat layers of pudding, vanilla wafers and bananas until reaching the top. You can also use an glass bowl or pan to layer the dessert.

Top with crushed wafers and refrigerate for at least 4 hours. Serve cold.

Banana pudding will hold for up to 3 days in the refrigerator.
Video