Traducir a Español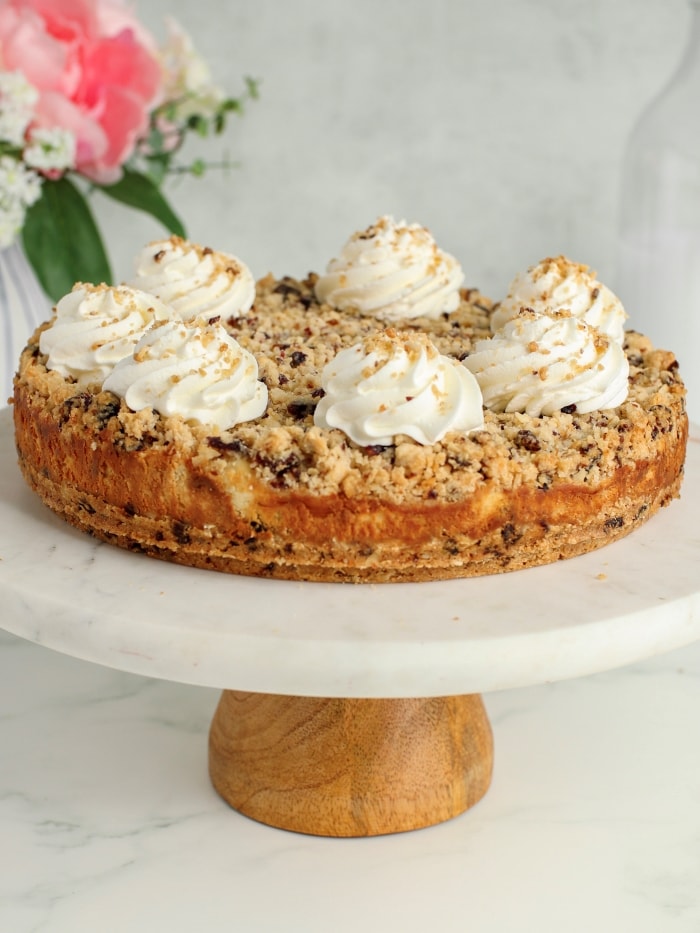 Cranberry Crumb Cheesecake
This Cranberry Crumb Cheesecake is a dessert that combines the richness of creamy cheesecake with the tartness of cranberries, resulting in a delightful balance of flavors.
Jump to Recipe
Introducing you to a new dessert that may not be so popular, but it sure is delicious with the flavors of a buttery crumb with tart cranberries, and the delicious creaminess of a tangy cheesecake.
We had a similar version of this dessert on our trip to South Korea last October in a bakery called Nakwon. This bakery was train station themed and so very beautiful! I have a story highlight on my Instagram account with all the places and food we had in South Korea, if you're interested in seeing that.
My husband, being the cranberry lover he is, immediately saw it and ordered it along with a delicious Chestnut latte. We were not disappointed at all! Since then he has been asking me to make a version of it, so I did it for his birthday, and here is the result!
If you like a more traditional cheesecake I also have a delicious Guava Cheesecake recipe for two that everyone loves every time!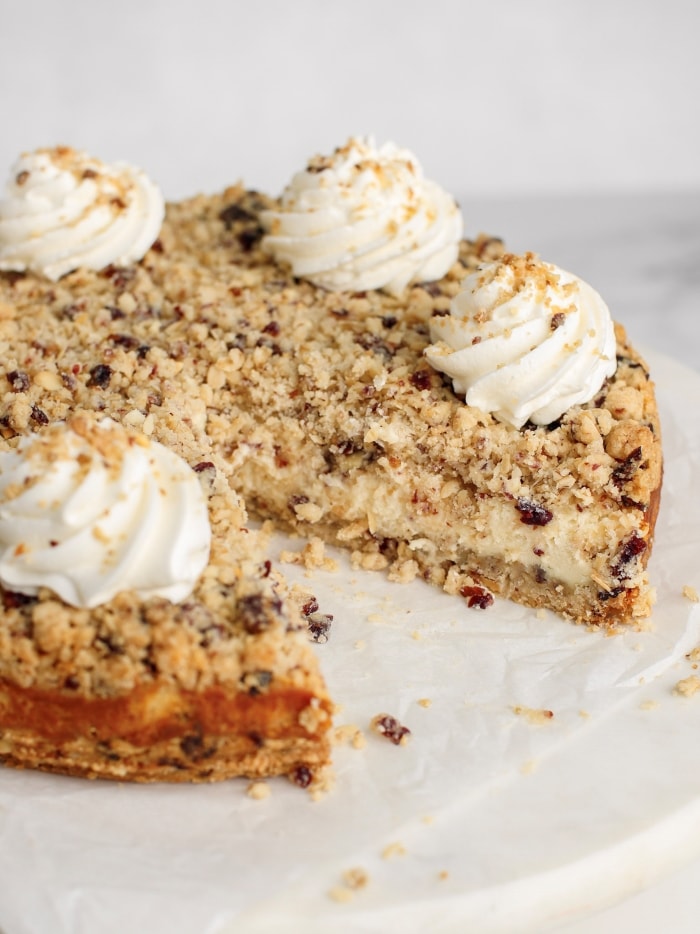 Why you will love it?
In the first place, it is CHEESECAKE, alright? So that means: Delicious, smooth, luscious, and creamy cheesecake contrasted by layers of a crisp base and a crumb topping.
The buttery and crisp crumb adds an incredible texture and depth of flavor to the cheesecake. Coupled with tart dried cranberries, it is the perfect flavor combination between buttery, sweet, and tangy.
On the other hand, this dessert comes together quickly. Particularly since your base is the same as the crumb topping and if you have a food processor, this will do all the work for you. The cheesecake layer comes together quickly with a hand mixer or a stand mixer and has very simple ingredients.
The presentation of this dessert is also very flexible. You could make this into a deep pie dish, a spring-form pan, or a 9×13 rectangular pan and cut it into squares for cranberry crumb cheesecake bars. Similarly, you could bake it in individual ramekins, however, bake time would vary compared to a larger pan, meaning you would need to keep an eye on it at about 20-25 minutes. Still, I have not tested this last method yet on this exact recipe.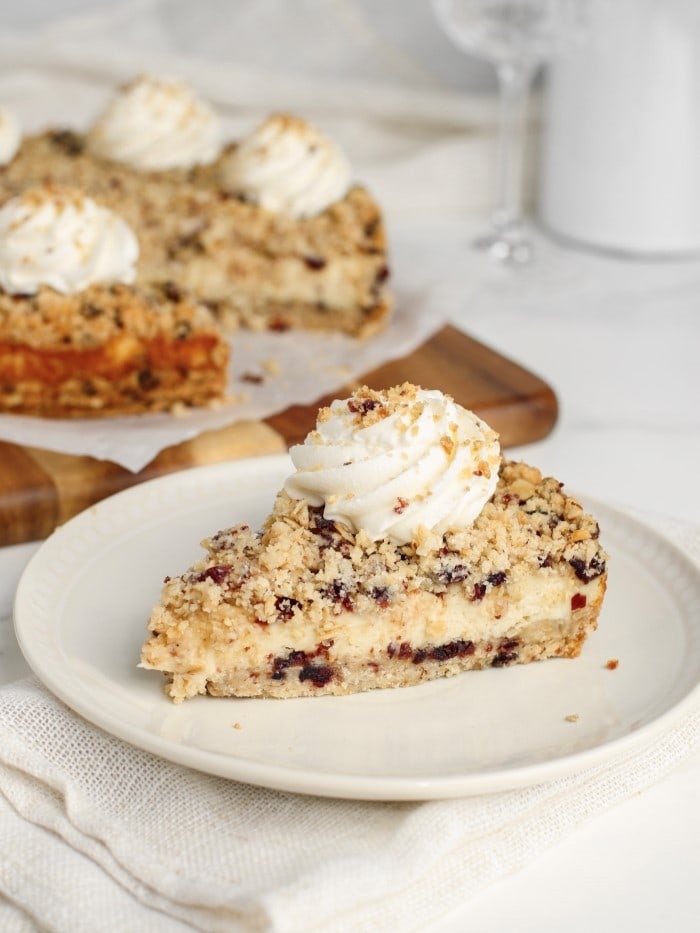 Ingredients for Cranberry Crumb Cheesecake
To create this innovative dessert, gather the following ingredients:
For the Crust and Crumb:
All-purpose flour: Creates a crumbly texture and adds structure to the topping. Can probably substitute with gluten-free flour.
Oats: Aids with texture while adding a nutty oat flavor. This recipe uses old-fashioned rolled oats because we are using a food processor. If you aren't using a food processor, use quick oats like these that are already finely chopped.
Butter: Unsalted and cold and cut into 1/2-inch cubes. Creates a buttery and crisp texture.
Granulated sugar: adds sweetness and a crispy texture.
Brown sugar: adds a caramelized flavor to the crumb.
Baking powder: makes the crumb tender.
Salt: regular table salt to highlight flavors.
Almonds: can use slivered or chopped almonds. Can substitute it with your favorite nut.
Dried cranberries: dried cranberries have that sweet and tart flavor that will add a delicious tang to the crumb. However, you can leave it out and make a crumb cheesecake.
For the Cheesecake Filling:
Cream cheese softened: Forms the creamy and smooth base of the cheesecake. This is my favorite brand.
Granulated sugar: Adds sweetness to balance the tartness of the cranberries.
Eggs: Contribute to the richness and structure of the cheesecake.
Vanilla extract: Enhances the overall flavor profile.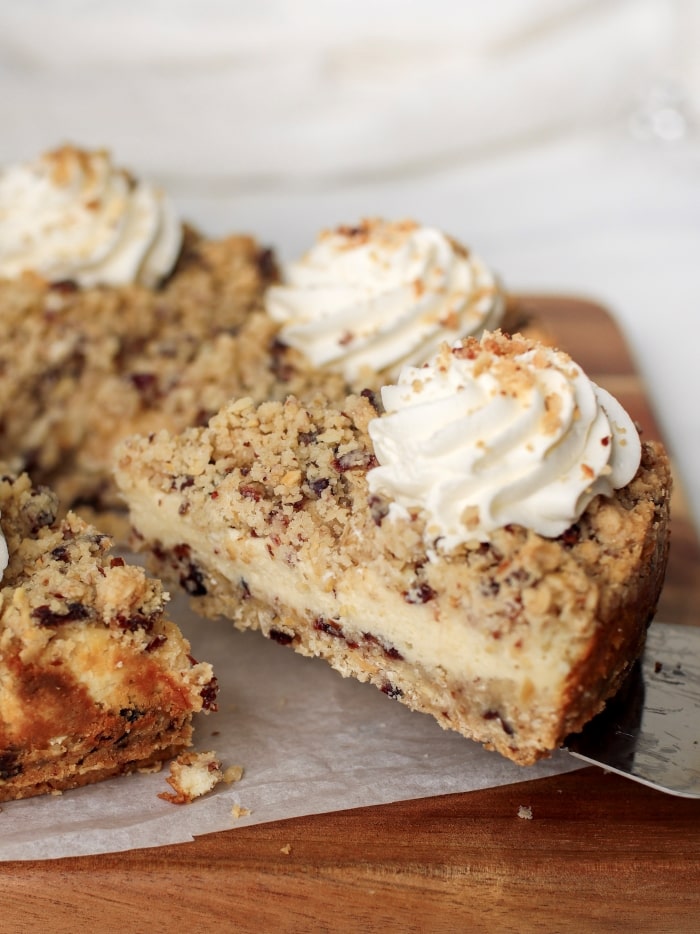 Tips for making the best Cranberry Crumb Cheesecake.
To ensure your Cranberry Crumb Cheesecake turns out to be a show-stopping dessert, here are a few essential tips to keep in mind:
Prepare the pan: Grease the sides of the springform pan and line the bottom with parchment paper to prevent the crust from sticking and ensure easy removal of the cheesecake.
Do not overmix the cheesecake batter: Generally, overmixing the cheesecake batter incorporates too much air. This creates an uneven bumpy, or cracked surface in your cheesecake while baking.
Use chilled butter for your crumb: This will help the crumb stay crispy and crumbly. Warm and overworked butter will give you a tough crumb.
If you don't have a food processor: use your fingertips, a pastry cutter, or a food processor to combine the butter with the dry ingredients just until coarse crumbs form. Use quick oats instead of rolled oats to create an even texture in your crumb. Otherwise, you will have large chunks of oats.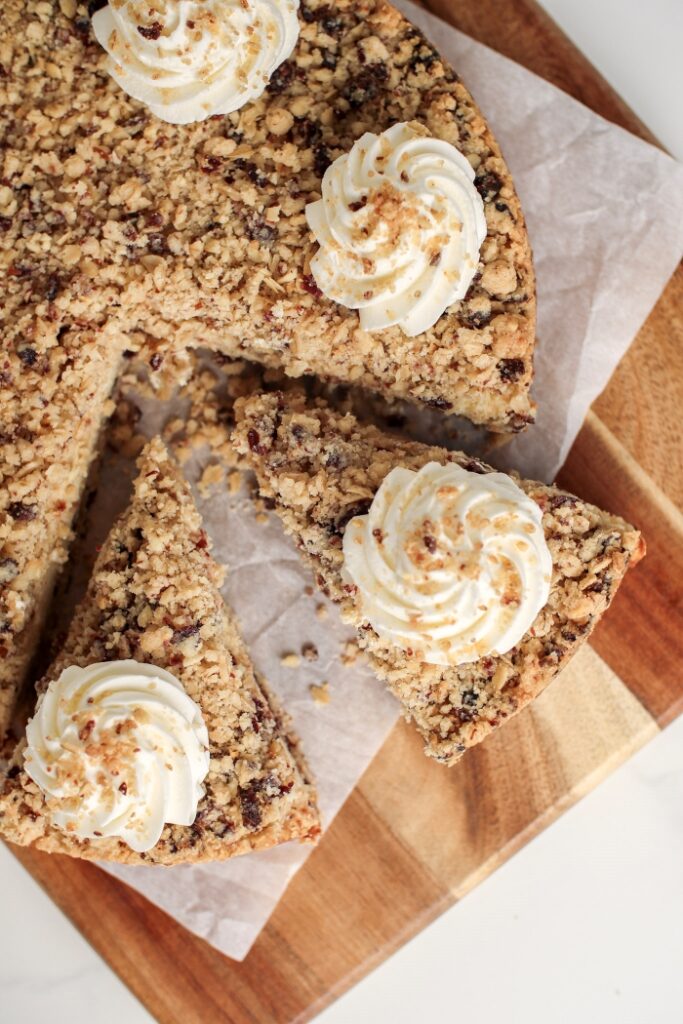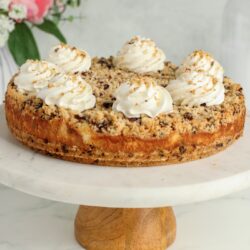 Cranberry Crumb Cheesecake
This Cranberry Crumb Cheesecake is a dessert that combines the richness of creamy cheesecake with the tartness of cranberries, resulting in a delightful balance of flavors.
Ingredients
Crust and Crumb topping:
2

cups

all-purpose flour

240 grams

1 1/2

cups

old-fashioned rolled oats

150 grams

1

cup

unsalted butter

cold and cut into 1/2-inch cubes, 226 grams

1/3

cup

granulated sugar

68 grams

1/3

cup

packed light brown sugar

68 grams

1/2

teaspoon

baking powder

1/2

teaspoon

salt

1/2

cup

chopped almonds

or slivered almonds, 60 grams

1

cup

dried cranberries

about 130 grams
Cream Cheese Layer:
2

packages

8-ounces each cream cheese softened, 454 grams

½

cup

granulated sugar

100 grams

2

large eggs

1

teaspoon

vanilla extract
Instructions
Crust and crumb:
Preheat the oven to 350 ℉. Grease and line a 9-inch or 10-inch round springform pan with parchment paper (or a 9×13" pan with parchment paper overhang to remove the bars).

In the bowl of a food processor, add flour, oats, sugar, brown sugar, baking powder, salt, slivered almonds, and dried cranberries and process a few times until the mixture is crumbly. Add in the cold cubed butter and pulse a few more times until combined. It should look like wet sand and hold its shape when you press it together.

Remove ⅓ to ½ of the mixture and place in the refrigerator until needed. This is to top the cheesecake layer.

Press the remaining crust mixture into the prepared pan and using your hands, a spoon, or the bottom of a measuring cup, press firmly and evenly around the bottom of the pan. Bake for 10-15 minutes.
For the filling:
While the crust is baking, in a large bowl with an electric mixer or in the bowl of a stand mixer fitted with the paddle attachment, beat the cream cheese and sugar until smooth. Add in and mix one egg at a time until evenly combined. Mix in the vanilla. Scrape down the sides of the bowl frequently and as needed. Do not overmix the cheesecake batter when adding the eggs.

Pour the filling mixture over the baked crust, spreading it evenly.

Sprinkle the reserved crumb topping over the filling, distributing well.

Bake for 45 to 50 minutes, or until the edges of the crumb are golden brown and the filling is set. Do not overbake, the center of the cheesecake should jiggle just a bit if you gently shake the pan. Remove from the oven and place on a wire rack to cool completely.

Cover the pan with plastic wrap or foil, place in the refrigerator, and chill for 6-8 hours before unmolding.

To unmold, run a knife through the edges of the cheesecake. Open the springform pan removing the ring. Serve in the same base of the pan or transfer to a serving plate by sticking a baking spatula or a large knife under the crust and lifting carefully to slide it to a serving plate.

Serve chilled with a dollop of whipping cream if desired.
Video